Has New York Jets safety Jamal Adams already zoomed by Giants Landon Collins as the king safety in the Big Apple?
W
hat a difference a year makes. 
Landon Collins
of the
New York Giants
knows all too well.
The 33rd overall selection in the 2015 NFL Draft didn't live up to expectations that rookie season. Snagging just one interception and often finding himself out of position, LC wasn't stellar. The season of 2016 brought an entirely new set of circumstances, a set that saw Collins finish as one of the NFL's best defensive players. The man was so dominant that he finished as one of two safeties on the coveted First-Team All-Pro roster.
What a difference two years make.
It's now 2017 and Collins has been anything but first-team worthy. Through four losses, Collins has snagged no picks, deflected three balls, forced one fumble and tallied 20 total tackles. But forget stats. Something's off. In Tampa Bay's game-winning drive on Sunday, it was his man, Cameron Brate, who came away with a huge gain in helping the Bucs to the 25-23 victory.
Don't get it twisted. Collins isn't suddenly terrible. He's just not that Pro Bowler we witnessed just 12 months ago.
Has New York Jets young stud Jamal Adams already passed him as the Big Apple's king safety? It's a legitimate question with a bevy of answers.
Four games are four games. It's not an entire 16-game slate, but it is a nice chunk of NFL action. It is literally a quarter of the season. And by judging safety life on these four games, Adams is clearly the best safety in New York.
Leading the way for the 2-2 little brothers, Adams is everything and more. He's that do-everything safety an NFL defense needs in order to turn elite. We chronicled his game film back in June and did so again at the big boy level a couple of weeks ago.
The 21-year-old pro's collected 12 tackles, two passes defensed and one sack for a defense that's on the rise. More impressive is the notion that Area 33 seems to be the place that generates the hype, gets the troops going. Only his football IQ and genuine love for the game and position can match his raw physical skills.
Think about the Miami Dolphins victory. When was the stadium at its peak? When Adams broke up a Jay Cutler pass on second down and sacked the man on third.
Jamal Adams is already one of the best safeties in the NFL. Can do it all, deep half, edge, centerfield and get after the passer. #Jets pic.twitter.com/snSd71gORu

— Elite Sports NY (@EliteSportsNY) September 24, 2017
Unlike No. 21, 33 is playing on all spots of the field. Collins can play in the box and does quite frequently, but rarely will Steve Spagnuolo throw a package together that features two safeties over-the-top in addition to Collins as the third man down low — like Todd Bowles does with Adams and his unit.
Packages aside, Collins is literally getting beat badly this season and in huge spots.
Up one point with their backs against the wall, the Giants defense needed to reaffirm their status as one of the top units in the league. They needed to stop Jameis Winston and the Bucs.
On 1st-and-10 at the Jints 39, the Bucs came out with a three-receiver set with one of them in the backfield. The Giants, in their nickel, had to send Collins out left on the tight end who was in an Iso situation. What's important to look at here is the free safety's positioning. He's all strong side. He's shadowing the loaded WR side, leaving Collins on an island with tight end Cameron Brate.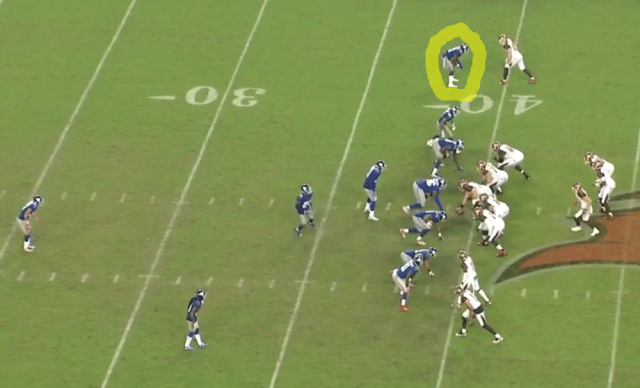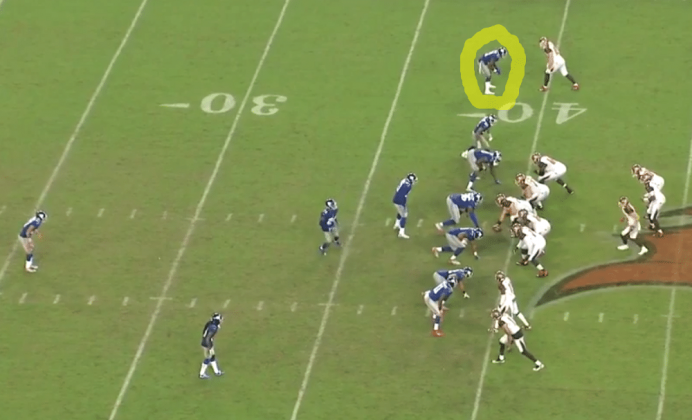 Due to the league today, this is tough cover no matter what. But we're talking about Landon Collins here. We're talking about the (almost) NFL Defensive Player of the Year in 2016 and the pick for many to do it this season.
He must find a way to not get beaten on the play.
What I don't understand is the press look on the play. There's no safety help and Winston knows it immediately. Understandably, one yard from here makes a huge difference. But 26 yards, the result of the play, turns a "maybe" field goal from Nick Folk into a gimme for the game-winner.
The NFL Defensive Player of the Year needs to come up huge in that spot. And hey, he was my preseason choice for the award this season:
Collins's run support has been as great as usual. It's his coverage skills that have once again taken a turn for the worse, circa 2015. The Jints defense currently ranks 25th in the NFL overall.
On the sunny side of North Jersey, Adams has led the Jets unit to a No. 6 ranking in pass yards allowed. He's literally doing it all from run support to playing the deep half and rushing the passer to playing the edge like a superhuman. It seems every play he makes is spot on in generating buzz for the entire squad.
Edge Play:
Run Support:
Deep Half:
Rushing the Passer:
You have every right to be that individual who claims four games can't make pass up one great season. That's fine. It's a legit argument and one I wouldn't aggressively rebuff.
But this is the NFL. This is a, "What have you done for me lately?" league. This is the, as Jerry Glanville so eloquently put it one time as captured on NFL Rocks, the "Not For Long" league.
Landon Collins was phenomenal a season ago. Jamal Adams of the New York Jets is a better player right now. Twelve games are still left to be played to see if it ends up in this pecking order for king safety of the Big Apple.