Attention New York Jets fans: stop the silliness immediately. I don't care what you want, you're not landing USC stud Sam Darnold.
Dreams do come true every so often.
Dreams came true when Neil Smith stood in front of a podium in 1996 and claimed that he and his New York Rangers signed Wayne Gretzky.
Dreams came true when the New York Mets of 1986 somehow rallied with Keith Hernandez in the dugout smoking a cigarette and drinking some suds.
When Joe Namath swept a nation off its feet during January of 1969, dreams came true.
If Sam Darnold somehow becomes the next quarterback of the New York Jets next spring, so many dreams will come true. For a franchise that's been stuck in quarterback hell, a kid like Darnold would be everything and then some.
This is why we're all watching silliness from fans — silliness in the form of either legit or makeshift Darnold Jets jerseys.
With USC facing off against Washington State on Friday night, naturally, a Darnold-Jets jersey was caught on film (photo above).
This one surfaced earlier in the season:
Don't do it, Sam pic.twitter.com/2v1LRtL0hr

— SB Nation CFB (@SBNationCFB) September 23, 2017
And, of course, we have the dudes who go all makeshift on us while pinching pennies: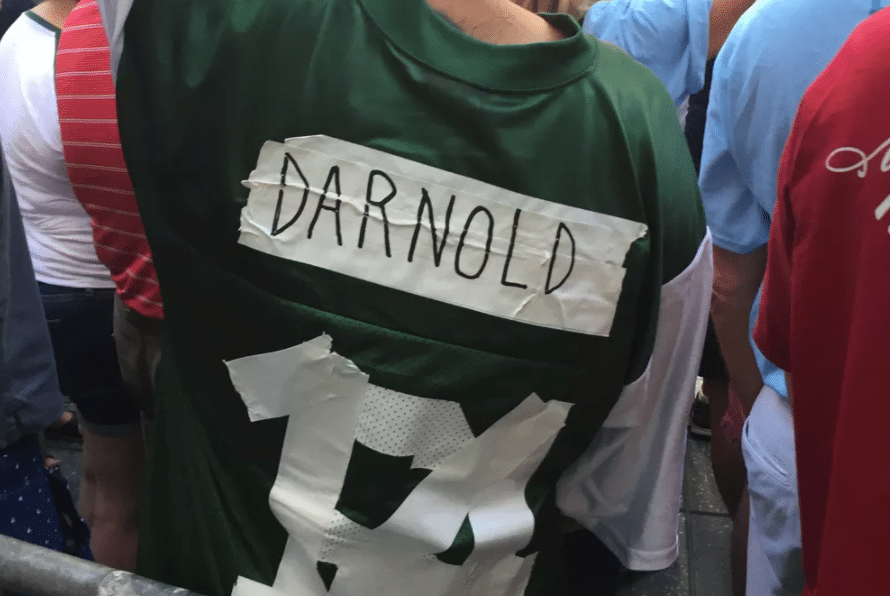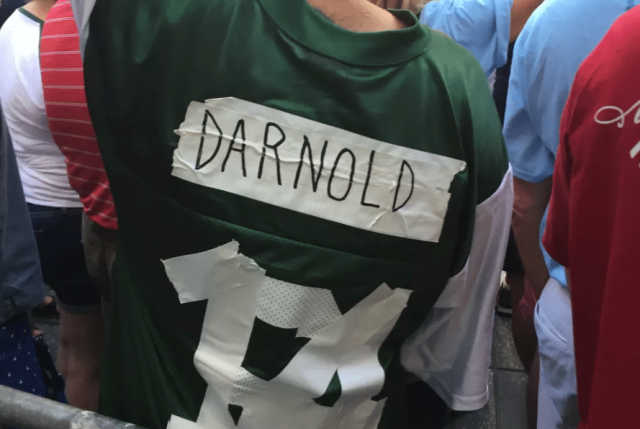 Listen, Elite Sports NY shouldn't be one to talk. We have our very own "Suck for Sam" t-shirt in the hope the fans can make it through the season.
Do you see where we ride differently? Adding Josh … or Josh … is critical during this process.
The odds that the Jets scoop up Darnold are slim to none.
First of all, when do things ever go right for the Jets? Never. So just when you think they're tanking it, they'll rattle off eight wins.
Most importantly, this roster has actually improved since last year.
We've touched on it many times leading up to the season. Look at the depth chart. Other than at wide receiver, the roster is younger, faster and better at every position. Names such as David Harris, Nick Mangold, Darrelle Revis and Eric Decker carry weight. This fooled all of the nerds who cover the Jets up close and personal. It takes a real football individual to understand that these names offer very little production.
Rather than tanking it, Mike Maccagnan successfully took a course of action that was appropriate. Instead of spending money for a couple of extra irrelevant wins (in looking to make himself look better), he held his chips back in a noncompete season.
Shouldn't we be blasting him if he spent bad money?
Anyway, Jamal Adams and this defense is just too good to be involved with a team that's the worst in the league. It's just not gonna happen.
The 2017 New York Jets will win at least four or five games. It's just the way it is. The talent is better than last year's 5-11 version.
The only way Sam Darnold is wearing green in 2017 is if Mikey Mac trades up into the No. 1 slot.
Stop the silliness now, folks.