Why would anybody expect a winless season? Watch the New York Jets pull a "Jet-like" move and finish 8-8, ruining their franchise QB chance.
O
ne-and-sixteen, 4-12, 2-14 or even 0-16, a historically inept season that some (including Gary Myers of the
New York Daily News
and Fox Sports' Colin Cowherd) are predicting, seem to be on par in terms of what's expected concerning the 2017
New York Jets
.
The tank is in full session. Engineered by Mike Maccagnan after his failed "aggressive rebuild" and even backed up by preoccupied politician owner Woody Johnson, the Jets are in finally in the enviable yet painful position to land a supreme talent at the quarterback spot — something that's eluded them since the shot at Dan Marino in 1983.
There they are, all ripe for the taking. UCS's Sam Darnold, UCLA's Josh Rosen and Wyoming's Josh Allen are all expected to be available on Thursday night, Apr. 28, 2017.
Despite the depth chart's ugliness leading most to believe this unintentional intentional tank for a young QB is in full flow, most are casually overlooking one fact that's always hovered like the darkest cloud over Florham Park, NJ.
These are the Jets. Finishing 7-9 or even 8-8 during a tank season — ruining any chance of the top three boy wonders — would be entirely too "Jet-like."
The diehards understand.
The only two parties linked more than this franchise's offseason connection to the young USC signal-caller is Mia Khalifa and the latest athlete to slip-n-slide into her DMs. But honestly, what do we actually know about this young, unproven and inexperienced roster?
A clear and concise argument can be made that this 2017 personnel batch is much improved from what we saw a season ago during a five-win season that featured a historically rough first seven contests.
The offensive line, though I have little faith, has improved based on the idea Kelvin Beachum is better than Ryan Clady and Brandon Shell improves over the course of his second season. The running back remains the same. The tight end improves a bit with the addition of Jordan Leggett. The wide receiver spot has weakened incredibly, obviously.
Are we making the claim that the combination of Christian Hackenberg and Josh McCown is worse than Ryan Fitzpatrick and Bryce Petty?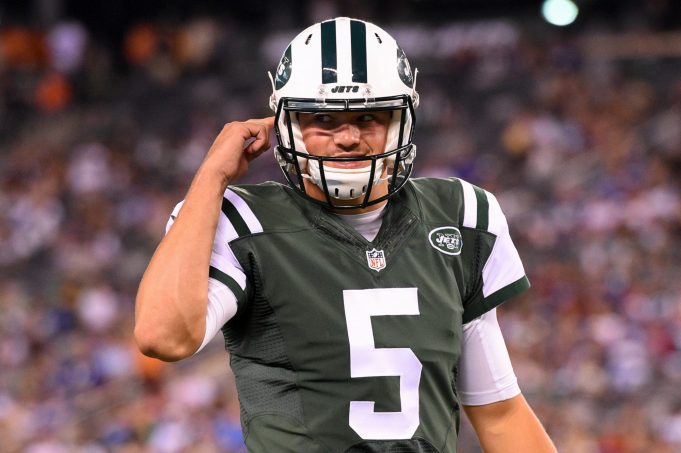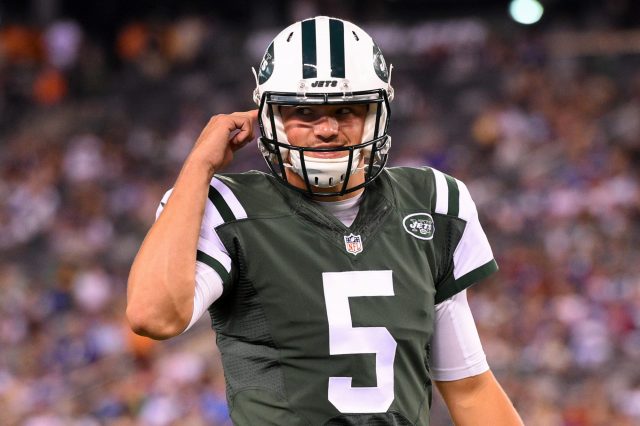 Defensively, the interior defensive line remains the same. Possibly, it improves based on the idea that Todd Bowles finally plays Sheldon Richardson at the 3-technique, his natural area on the football field. The edge spot is improved purely based on Dylan Donahue's presence. The cornerback is improved due to the truthful idea that Morris Claiborne is much better than a broken-down Darrelle Revis. And the safety duo, forget about it. With young Jamal Adams and Marcus Maye, it literally went from one of the NFL's worst to quite possibly the best (in due time).
The inside linebacker spot all depends on what you think about David Harris. To me, as great as Harris was, this current version is nothing to play with. In such a heavy passing league, his liabilities in the passing game are not only notable, they're alarming. Darron Lee is entering his sophomore season and Demario Davis actually finished 2016 with a better run-stop percentage with Harris, 7.4 to 6.1.
Literally, the only group that has inarguably declined in talent is at wideout.
Talent evaluation isn't the only reason to think eight wins is feasible for such a franchise. How many times have these guys in green screwed themselves during Week 17? Seemingly every lost season that a loss during the final week would dramatically help draft positioning, the Jets go out and win.
What about the seesaw battle in terms of overall season expectations?
The feeling many Jets fans feel surrounding this organization oozes of the unknown. Just when you think New York is ready to take on the league, they fall flat on their faces. We saw this in 2003 when Chad Pennington's broken arm against the Giants in the preseason ruined the season. We also saw this a year ago.
Just when you think these guys need a year or two to develop, they surprise. We experienced this in 2006 when Eric Mangini's "worst talent in the league-type" roster rattled off 10 wins en route to a playoff berth and eventual loss in Foxborough. We also witnessed it in 2015 just when we thought the roster was in desperate need of gelling time — perhaps a season of time to come together.
Would it surprise you that much if 2017 turns out in a positively shocking fashion?
Listen, if you're one who believes this squad is playoff bound, run to the bathroom and pay close attention to the mirror. Stare at it for a good while. These guys aren't competing for anything in 2017. This much is certain as this offense has a great chance to finish with the historically awful.
Under the same breath, there's a huge difference between one and eight victories. The difference isn't anything of the moral variety. Rather, it has everything to do with showcasing a rotten team at the exact right time (something the Indianapolis Colts know all too well concerning Andrew Luck).
For the Jets, right now is the right time.
Anything can happen and nothing is guaranteed. Look no further than 1997 to understand this. With Bill Parcells accepting Leon Hess's offer to take full control and show a franchise how to properly run a football team, everybody thought Tennessee's Peyton Manning was on the docket.
As we know, he declined. He decided to stay in college for the fourth year and Keyshawn Johnson became their guy and "Just Give Me the Damn Ball" became the post-1997 slogan. Sam Darnold can choose the same fate as the elder Manning, for he is only three years removed from high school once 2018 comes. Both Josh's, Allen and Rosen, can also choose the same path (forgoing the NFL Draft while returning to school for a senior season).
But all three of them doing the same thing? Extremely unlikely.
It couldn't be any more perfect for the Jets. There isn't just one guy ripe for the taking. There are three, and that's exactly why Jets fans are more nervous than ever.
In not understanding what a franchise QB is since Joe Namath, "perfect" is downright frightening.
When it comes to the New York Jets, they usually find a way to screw up "perfect."