There's just one thing the "tanking" accusers and outsiders just don't understand about these 2017 New York Jets: the roster has improved.
T
anking, awful, winless, a disgrace — the beat goes on as it pertains to the ugly words flying in from every corner of the football world regarding the 2017
New York Jets
.
It's enough to make you sick, diehard fan or not.
These outsiders see names such as Eric Decker, David Harris, Nick Mangold, Darrelle Revis and Brandon Marshall no longer wearing green and immediately raise that right index finger in accusation mode. More specifically, they point that finger in a "tanking" accusation mode.
Daniel Jeremiah of NFL Network has an unnamed executive labeling the roster the worst in a decade.
From an NFL exec- "I think the Jets might have the worst roster I've seen in a decade."

— Daniel Jeremiah (@MoveTheSticks) June 7, 2017
We already dispelled that hilarious notion with a comparison to the winless Detroit Lions of 2008.
Brian Costello of the New York Post has a source explaining how the entire league laughing at the current Florham Park situation, a team with "no plan." And Gary Myers of the New York Daily News has even already laid out the team's path to a 0-16 season.
There's just one little detail about this personnel grouping as opposed to a season ago that these people — outsiders or not — fail to grasp.
This New York Jets roster is greatly improved from a season ago.
Take a look up and down the depth chart. What the club lost were names, not talent. They stripped themselves of names with little value rather than skill that has yet to be identified.
Nick Mangold, as great as he was in the 11 years with the team (missing only 12 games), is pretty much done. The team heads into 2017 the very same way they finished last season, with Wesley Johnson in the middle.
Darrelle Revis, we already know isn't the same guy. If he doesn't make the Charles Woodson-like switch to safety (which he can, due to his smarts and tackling ability), he'll remain on the open market.
David Harris, the beloved defensive leader of the Jets since 2007, can't cover your grandmother in the open field. Mind you, this is a passing league in which defenses are only as strong as its weakest unit through the air. Harris simply doesn't have the quicks anymore to keep up.
Eric Decker, another beloved Jet despite his short three-year tenure, is coming off a season that saw him play just under 10 quarters of football a season ago. He's coming off major surgery and playing wide receiver at the age of 30 guarantees nothing in this league.
The lone exception of the big name guy who was unwanted by this franchise is now playing in blue. Though 33-years-old, Brandon Marshall still represents a difference-maker on the offensive side of the ball.
While a guy like Odell Beckham Jr. is a nightmare for defensive coordinators, to stop him a safety is needed over-the-top due to his speed. When it comes to B-Marsh, a second guy is needed within 10-yards of the spot. His possession skills and big frame represents an offensive bonanza when healthy. That second defender can't simply play over-the-top against Marshall. In some situations, he's needed within five yards.
Still, he's 33-years-old. Who knows if he loses a step.
Aside from those five big names, who have the Jets cast aside with an eye towards tanking? And oh yeah, all but one (Marshall) are still free agents looking for work.
Does Ryan Fitzpatrick count? I really don't think so. Nobody's crying about the loss of Calvin Pryor, and how the Cleveland Browns will ever play the slow-footed Louisville Slugger with another slower safety in rookie Jabril Peppers, I'll never know.
Who exactly are these extraordinary talents New York shed itself of this past offseason?
Nobody. The roster has greatly improved.
As it currently stands right now, the team is looking at a little over $25 million in cap space. Newcomers include Morris Claiborne, Demario Davis and the talented Kelvin Beachum. I suppose the reason most are claiming "tanking" is because the Jets didn't use all of the money at their disposal?
Why would they?
If Mike Maccagnan decided to use all of his cap space in an effort to win in 2017, he'd simply be compounding a bad situation and making it worse. He'd be panicking. He'd be looking out for his own job rather than doing the correct, necessary thing for the franchise. And if he did this, everybody would be getting on him for terrible money spent, rather than "tanking."
Maccagnan, a guy who we've never had a problem bashing, is navigating the course correctly. Instead of signing one or two more free agents in an effort to come up with a six or seven win season, he's holding chips back in the appropriate manner.
This is what happens when an "aggressive rebuild" is attempted. The names and bad money must be shed and a year or two of suffering will be experienced. It's happened to the New York Giants and Jerry Reese over the last decade too, only Eli Manning and Tom Coughlin added wins to bad rosters. It wasn't until the summer of 2016 that Reese was finally able to shed bad contracts and start clean again, nailing every free agent signing.
But tanking? Take a look at the roster and back to the original point. The 2017 version is a more talented team.
Quarterback: No Change
I mean, unless you're driving for your own agenda, there's no chance you can tell us the QB spot has weakened.
Running Back: No Change
Matt Forte and Bilal Powell are still in tow. At fullback, it is what it is. Many fans love Tommy Bohanon, but Connor Harris could prove to be a solid pro.
Wide Receiver: Weakened
Yes, the wide receiver position has weakened. Losing both Marshall and Decker will weaken the crop. There's no doubt about that. As previously mentioned, Marshall is that one big loss as long as he doesn't fall off at 33.
Tight End: Slightly Strengthened
Simply calling the name of Jordan Leggett out on draft day strengthens the position.
Offensive Line: Strengthened
The Ryan Clady experiment did not work. Mangold's days are over. The possible improvement of Brandon Shell and signing of Kelvin Beachum has this unit improved.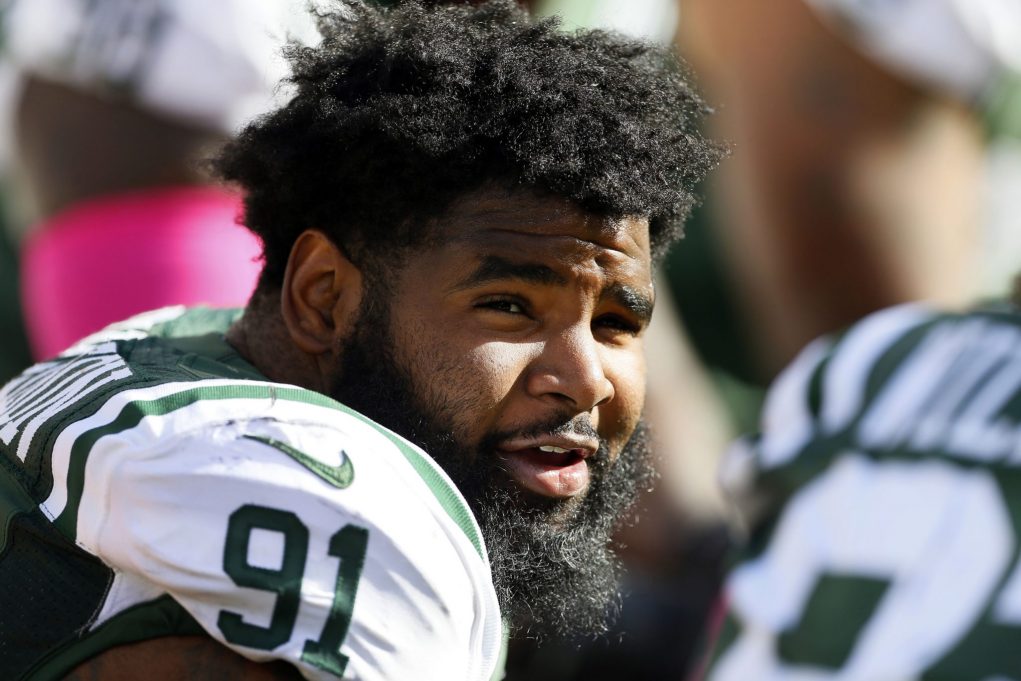 Defensive Line: No Change
All three studs, Muhammad Wilkerson, Leonard Williams and Sheldon Richardson are still employed (although they shouldn't be), and Steve McLendon is still here. In fact, one might argue it's improved with Big Mo's conquest to prove 2016 was a fluke and Sheldon on his walk year.
Edge: Slightly Strengthened
Jordan Jenkins and Lorenzo Mauldin are still the paper starters, but rookie Dylan Donahue has a chance to outwork the competition and find the field.
Linebackers: No Change
The outsiders with no clue will tell us the Jets linebacking group has been weakened. They'd be wrong. In 2016, David Harris's run stop percentage according to Pro Football Focus was 6.1 percent. Demario Davis's ended up better at 7.4. Both struggle against the pass. The impending improvement or decline of Darron Lee is what'll define this group.
Cornerbacks: Slightly Strengthened
Revis is just a name. The switch from Revis to Claiborne is a great improvement. This is how poor and slow-footed Revis was in 2016.
Safeties: Greatly Strengthened
Forget about it. The rookie combo of Jamal Adams and Marcus Maye will not only impress the entire league this season, but compete for the best starting duo at safety in the league.
Now that we've gone through each position, where exactly have the Jets lost a step? Are they on track for the playoffs in 2017? Obviously, there isn't a chance in the world. Crazier things have happened, but the QB situation in a league that values the gunslinger to an incredible degree has things looking down.
But winless? One win? Let's all calm down.
This team won five games last season with a terrible roster against a historically rough schedule, and now, they are coming into 2017 with an improved roster.
You can throw around the "tank" word to a certain degree as it pertains to the thought process, but you can't claim this roster is historically awful. Most of these so-called experts just don't understand the idea of shedding "names" over "talent," and in a salary cap world, this is a necessity at times.
What the Jets are doing needs to be met with enthusiasm, not depression. Finally, they're waving away public perception and they're doing the right thing with an end goal in mind — something they've never been able to truly accomplish during the Woody Johnson era.