Now that Sheldon Richardson's been shipped to the Great Northwest, this New York Jets defense can finally roll up its sleeves and get to work.
I
t was
Sept. 11, 2016
. The (supposedly) mighty New York Jets welcomed in the equally (supposedly) mighty Cincinnati Bengals to MetLife Stadium for the first of a terrifying seven-game opening to the 2016 National Football League schedule.
Though the 23-22 defeat stung, not one person who left the building thought the home defense was something made of good old nastiness.
The team racked up seven sacks on Andy Dalton, constantly pressuring him with the unit's unique blend of power within an attacking 3-4 base. Leonard Williams came away with 2.5 sacks. Muhammad Wilkerson tallied 1.5.
The beasts were fully showcasing that prowess that made them the preseason favorites as the best interior defensive line in the league.
Then, suddenly, they stunk up the joint.
Sheldon Richardson returned to the team after his one-game hiatus (suspension, as what else is new?).
Once big Sheldon returned to the lineup for Week 2 against the Buffalo Bills, Todd Bowles implemented his infamous "four-man heavy defensive line." It featured not one edge player on the field with Big Cat, Big Mo, Sheldon and Steve McLendon all featured on the line in a 4-3 base.
After a solid performance in Buffalo, the system failed epically.
Whether the base is a 3-4 or 4-3, two true edges are needed. Players who can rush the passer off the edge and also play in space is what's always worked on the edge in this league and it's not surprising guys like Sheldon (OLB in a 3-4) and Mo (DE in a 4-3) didn't play up to their usual standards. Both are Pro Bowlers when out-quicking guards as opposed to out-muscling tackles.
Now that Sheldon is off to the Great Northwest, it's game on for this Jets defense.
The proof is in the numbers.


When the three played together in 2016, the defense, especially pass defense, was terrible. (Look at the 19-2 TD-INT ratio.)
Bowles — thanks to the hand he was provided — was attempting to throw away nearly a century of defensive football and rewrite the books by starting and playing four interior defensive linemen.
Interestingly enough, the Jets very best defensive performance of 2016 came against the Baltimore Ravens at home. And guess what? Big Mo missed the game via injury and Sheldon was afforded the chance to go back to his natural position inside. All he did that day was rack up a sack and collect three tackles for loss.
Make no mistake about it. Mike Maccagnan was correct in accepting the gracious gift that was Leonard Williams with the No. 6 pick in the NFL Draft. Still employing all three DT studs is where his crime lies.
A true defense cannot ever lift off the ground unless its integrity is in place. At ESNY, we've been harping on it for years now.
If Big Mo is playing the defensive end in the sub package, his limited speed along the edge compromises that entire side of the football field. Development of younger players becomes tougher. Every man living up to his responsibility on a given play becomes more complex.
Everything plays chaotic.
Sheldon ridiculously playing outside linebacker in a 3-4 was beyond moronic. Again, that side of the football field thanks to Richardson on the edge was completely compromised and opposing offensive coordinators knew it.
To make matters worse, this heavy front-line compounded the problem that is Bowles always matching up heavy (playing nickel when he should play dime or quarter). But that's another story for a different day.
Now, suddenly, Big Mo has a new lease on life. The 3-4 is completely back with Big Cat, Mo and McLendon as the front line while Jordan Jenkins and either Dylan Donahue, Josh Martin or Lorenzo Mauldin will always represent two true edges.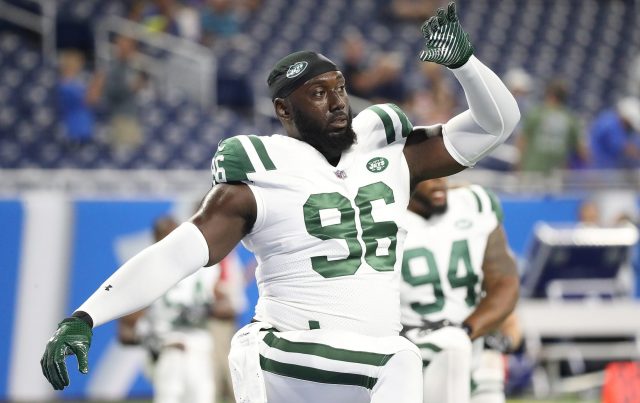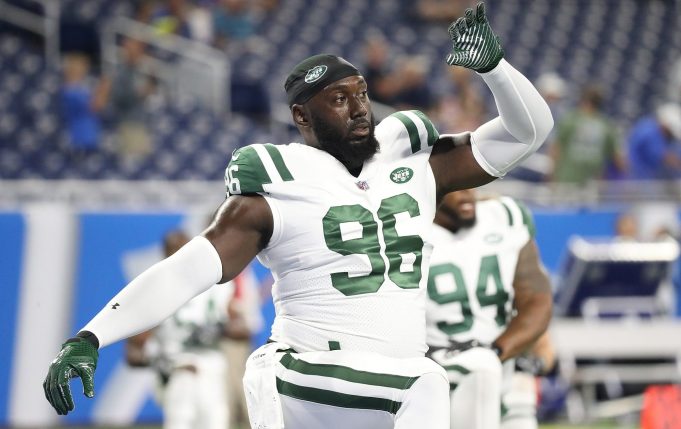 NT: Steve McLendon
DT: Leonard Williams
DT: Muhammad Wilkerson
OLB: Jordan Jenkins
ILB: Darron Lee
ILB: Demario Davis
OLB: Dylan Donahue, Josh Martin or Lorenzo Mauldin
Although the casual fan can't quite grasp the notion, yes, this unit is much better now that Richardson is gone. Addition by subtraction works in this case.
Could the argument be made that Wilkerson leaving this past summer with the intentions of keeping Richardson field a nastier unit? Yes. But that's not the point.
The point for today is quite simple: this Jets defense, for the first time in two full seasons, finally brought integrity back to the table by removing one of the three interior studs.
Now and finally, they can move forward with a real defensive plan while keeping a stern eye on developing players.
And oh yeah, just watch out for Muhammad Wilkerson in 2016. He's now officially back to the spot (full-time) he's been known to dominate.