Over two seasons as head coach of the New York Jets, Todd Bowles has provided too much evidence to prove he's in over his head.
I
t's been said over and over and over again. NFL franchises cannot thrive unless continuity is in place. Take one glance at the Cleveland Browns who change coaches and general managers like Tic-Tac flavors, and then check out the Pittsburgh Steelers who've only employed three head coaches over the entirety of their existence.
Continuity is important. Nobody can argue that point.
Part in thanks to that point, New York Jets fans have been crazed lunatics for the better part of existence.
From Al Groh to Herm Edwards, Rex Ryan to Eric Mangini, the head coaching carousel has been fast-paced since the Big Tuna. From Mike Tannenbaum to John Idzik to Mike Maccagnan, the franchise's general manager situation isn't too far behind.
No matter though. If continuity is practiced with the wrong guy, organizational progress is impossible.
This is exactly what Woody Johnson and company are facing today with head coach, Todd Bowles.
No fanbase is more positive when it comes to a new head coach. In 2006, Jets fans finally thought they had snagged their man in Eric Mangini, simultaneously crushing Bill Belichick and the New England Patriots. In 2009 and 2010, they had thought Rex Ryan and his mouth had turned into their green savior.
In fact, each time the Jets bring in a new sideline boss, the rookie season turns out in a flourishing fashion.
Al Groh, 2000: 9-7
Herm Edwards, 2001: 10-6 (Playoffs)
Eric Mangini, 2006: 10-6 (Playoffs)
Rex Ryan, 2009: 9-7 (Playoffs)
Todd Bowles, 2015: 10-6
Unfortunately, these happy times never continued in any of the above cases and in the case of the Jets current head man, there is too much negative evidence to ignore.
2015 Was a Fortunate Fluke
Fitzmagic, Brandon Marshall, a stout defense — we now fully realize it was a complete fluke. Just take a look at how easy a schedule New York faced that season. It was historically easy as the team was fortunate enough to play not just the two worst divisions in football, but in the history of football.
The AFC East played the NFC East, a division that sported a four, six, seven and nine-win team. They also played the AFC South, a division that showcased a three, five, eight and nine-win team. Neither division boasted a 10-win squad and these eight teams made up half of the Jets entire schedule.
With that incredible luck, Bowles should have led his team to a 12-win season.
His Defensive Schemes Boggle the Mind
This man, this defensive mind who won a Super Bowl with the Washington Redskins as a safety in the 1980s, is simply not living in the present time. Instead of understanding the pass-heavy concepts of today's league, Bowles continues to reside in an antique version of football.
On far too many occasions a season ago, we witnessed Bowles place players out of position.
Let's take a glance at what he did defensively against the Kansas City Chiefs. For some stubborn reason, even while knowing Travis Kelce is basically another wide receiver, Bowles matched his DBs up with WRs, not including the KC TE.
In this example, in a 3rd-and-7 with KC showcasing three wideouts and Kelce, Bowles played nickel, meaning he left two linebackers out there to go along with five DBs:
On what planet does a smart defensive mind look to cover Kelce with a LB or safety in a passing situation?
OK, I mean, anybody can live with one goof, right? The problem with this guy is that it's a constant overall philosophy that maintains a stubbornness in defending the run first regardless of the situation.
Later in the same drive, Andy Reid came at the Jets with a 3 WR, 1 TE, 1 RB look on 1st-and-10. Bowles matched up in Nickel with Harris and Lee as the backers.
On a simple angle route by the running back, the Jets linebackers couldn't handle things. Instead of matching up with a nickel here, Bowles needed to treat Kelce as a wide receiver and go dime. Instead of Harris on the field, leave Lee as the lone backer and lean on that beastly defensive line to stop the run in the passing situation.
On the capper of the second drive, Smith found Kelce to give the Chiefs their first score of the afternoon:
Bowles already knows David Harris is one of the worst cover backers in the game, yet plays this way?
Trust us, this boneheaded scheme wasn't just limited to the KC game. In fact, it went on like this all season long.
Against the Seattle Seahawks, a 27-17 loss, Bowles continued to march out heavier defenders against a lighter offense. Jimmy Graham went for 113 yards and a score on six receptions.
Apparently, Bowles hadn't learned his lesson. On a 2nd-and-goal from the 10-yard line, a passing situation, Bowles allowed his defensive to maintain a vulnerable pass defensive state by leaving both middle linebackers on the field. It led to C.J. Spiller embarrassing Harris and the first TD of the day:
Perfect. Throw.@DangeRussWilson threads the needle to… @CJSPILLER! ??? #SEAvsNYJ https://t.co/Q2OKj2ZSRj

— NFL (@NFL) October 2, 2016
Against the Pittsburgh Steelers, his team was burnt from the start thanks to a Cover 2 look that had both a slow-footed CB and Calvin Pryor trying to keep up with speed burner Sammie Coates:
In a two-over look, what in the world was Pryor doing not getting to his half? That is inexcusable defense. Moreover, this is a 3rd-and-7. There's no reason to even provide a Cover 3 look presnap. Pryor, who's not even linebacker quick, should have been in his area from jump street.
And again, both Darron Lee and David Harris were on the field together in a pass-only situation. What's wrong with six DBs in this situation?
Later in the game, in another passing situation, Markus Wheaton burned Erin Henderson on a crossing route:
Again, playing two linebackers when it's not necessary is ancient thinking.
This film brought the real insider the true definition of insanity. Bowles continued to play this way all season long.
Not Handling the DL Situation
This situation is more on Mike Maccagnan. By employing all three individuals, Muhammad Wilkerson, Sheldon Richardson and Leonard Williams, the Jets defense is put in the unenviable situation of attempting to plug a round block through a circle hole.
The two top defensive efforts of the season came when one of the three were sidelined. Just check it out. In the opening game against the Cincinnati Bengals with Richardson suspended, the D was solid. A few weeks later with Big Mo sidelined, again, the defense played well.
Against the Arizona Cardinals on Monday Night Football, Bowles had Sheldon standing up as a middle backer. In theory, he plugged the A-gap, manning a DT spot, but it still caused a disastrous result: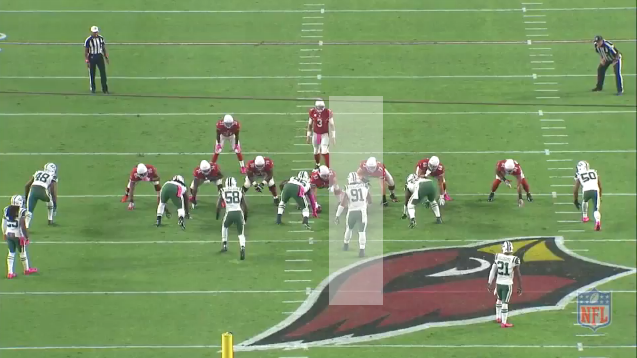 In trying to fit all three on the field at the same time, one of them is forced to play the edge. Richardson, similarly to Wilkerson, should not be playing along the edge, a position reserved for lighter, quicker defenders.
This play illustrates Richardson's lack of quickness along the edge:
The next quarter, yet again, the heavy four-man front came to destroy the Jets defensive integrity:
Even in 2015, this look destroyed the Jets. Check out Week 17 in Buffalo, as Richardson's lack of quickness hurt them a few times:
In a 3rd-and-3 situation, Bowles matched the Bills full house backfield with nine in the box (eight of which were DL and LB). The play-action movement had the entire line shift to the defense's left (strong side).
The sin of the play comes on the right side when Sheldon Richardson — who is playing way out of position at OLB in a 3-4 scheme — swims to the inside instead of maintaining outside leverage. Allowing Taylor to get outside that easily, with his legs, is an act that simply cannot happen to a good defense.
Here's a critical third and short situation the Bills converted early in that drive. They overloaded one side and once again took advantage of a lumbering Richardson at OLB who couldn't seal the edge:
What the front needs to look like would look a little like this and, unfortunately, Bowles didn't even consider moving one of the three to nose tackle until the final quarter of the season:
Todd Bowles needs to ditch the insanity of the heavy four-man front and start getting REAL edge players out there. #JetUp #NYJ pic.twitter.com/wi5dDlHJa8

— Elite Sports NY (@EliteSportsNY) October 22, 2016
Terrible Messages to the Media, Team
If his terrible schemes and fortunate schedule in 2015 wasn't enough for you, perhaps this will do the trick.
"It's part of it," Bowles said at the NFL owners meeting on Tuesday. "Sometimes you're late to work. It's life. It's not life threatening … Sometimes your alarm clock isn't going to go off."
In reference to lateness to team meetings, Bowles responded in a rationalization-type fashion. The man actually said, "It happens."
I mean, I don't about you, but this is taking the term "player's coach" to another stratosphere.
For an organization that's struggled mightily in the PR and success department, this may be the exact opposite message to send to your employees. Actually, I'll go out on a limb and claim this is the most ridiculous thing said since LaVar Ball opened his mouth this year.
Additionally, Bowles has also experienced a player sucker punching his starting quarterback in the locker room. He's gone through one of his defensive linemen asking, "Where the b*tches at?" And he's also seen Brandon Marshall get involved in a war of words with other players.
If this is leadership, then Bill Belichick needs to be cryogenically preserved as an example for all mankind in 200 years.
Final Thoughts
Of course, the goal should always come with a dash of continuity. It's tough to measure who has the goods and who's fluky when head coaches are constantly shipped through the door.
That also doesn't mean you set yourself back via holding onto a poor head coach.
Through 32 regular season games and two calendar football seasons, Todd Bowles has proven to be anything but the real deal and the New York Jets not coming to this understanding has set them back even further.