There are a few critical yet fundamental reasons this 2017 New York Jets defense looks a lot faster and more dominant from a season ago.
P
ow, as our dearly beloved John Madden used to say as he roamed the broadcast booth alongside
Pat Summerall
, is something
Todd Bowles
is hoping to bring back to his
New York Jets
defense in 2017. "Pow" can also be related to Jackie Gleason (depending on context, right in the kisser), but that's an unrelated topic.
Or, perhaps it is related.
"Pow" and "right in the kisser" can relate to this Jets defense after the look they provided in Week 1 of the preseason this past Saturday night.
It's evident these Jets are looking to fly around the field with an intent to smack football players up … right in the kisser. They did this not only just when the big boys were on the field for the first couple possessions, but from the first kickoff to the final whistle.
And there are two critical yet fundamental reasons why this Jets defense feels electrifying as opposed to a season ago.
The front-seven is deploying two edge players.
David Harris and Darrelle Revis aren't anchoring the speed of the unit at an NFL low.
Finally, Todd Bowles has come to his senses and ditched the big man out of position completely out of the building. No longer will Sheldon Richardson be playing out of position in the base and Muhammad Wilkerson on the edge in the sub package.
Despite employing one too many studs on the interior, Bowles is truly rotating the three studs (including Leonard Williams at two spots). While the casual fan won't understand it, the real football strategist does.
If all three guys are on the field at once, then one of the defense's edges is sacrificed. If a 300-plus pound man is playing out there in space, the offense can abuse that side at this level of football. And despite what some fans may think, 3-4 or 4-3 doesn't solve this problem.
Think of a 3-4 as a 5-2. In this case, there will be three interior defensive linemen (two interior defensive linemen or ends as they call them in a 3-4 and a nose tackle). The edges (representing the fourth and fifth defensive linemen when you're thinking of it as a 5-2) are the outside linebackers. Therefore, in a 3-4, only three interior defensive linemen can play. Since none of the studly three are big enough to play nose tackle every down, Steve McLendon is inserted and one must roam the sidelines.
A 4-3 base makes the situation worse. Instead of three interior defensive linemen, only two are on the field at the same time. A 4-3, if played correctly, would then move the Jets outside linebackers (Jordan Jenkins, Lorenzo Mauldin, Freddie Bishop, Dylan Donahue), to the defensive end as the edges of the defense.
Get it? Well, even if you don't, we have a little footage to wrap your head around it.
The first-team defense came out in Bowles's standard 3-4 set.
McLendon lined up at nose tackle while Big Mo and Big Cat started at each defensive end. The starting inside linebackers were Darron Lee and Demario Davis. The starting outside linebackers (edges) were Jenkins and Bishop.
Interior DL: McLendon, Big Mo, Big Cat
Inside LB: Lee, Davis
Outside LB: Jenkins, Bishop
The first four plays of the game featured this set (as Tennesee remained in its base offense). Tennessee actually found a little running room to the tune of two first downs.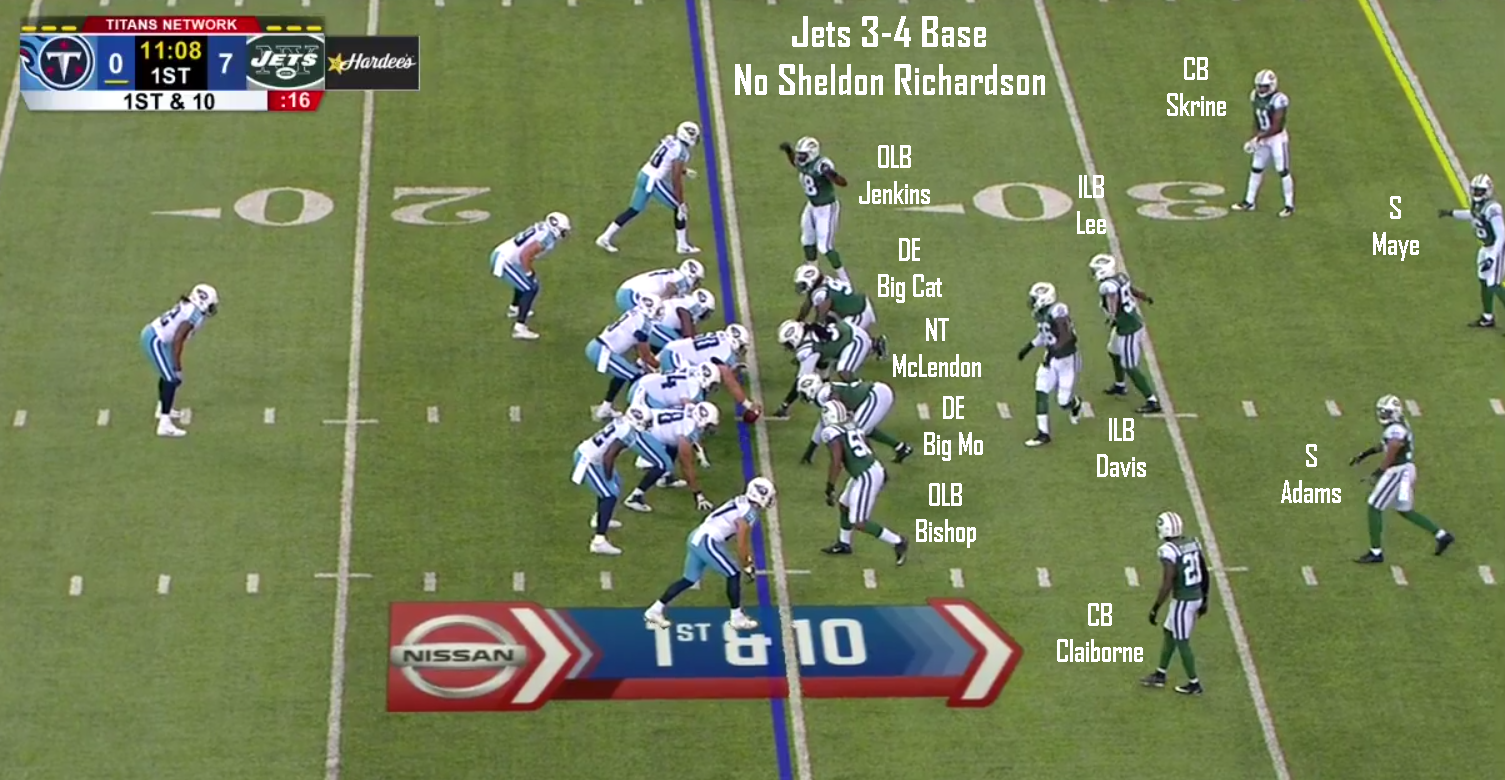 It wasn't until a passing situation came to fruition that Sheldon saw his first snap of the game, in a 2nd-and-17 down on the fifth play of the game.
Bowles countered the Titans extra receiver look with a 2-4-5 nickel defense. Sheldon and Leonard played the two interior big boys while the four linebackers remained in the same spots.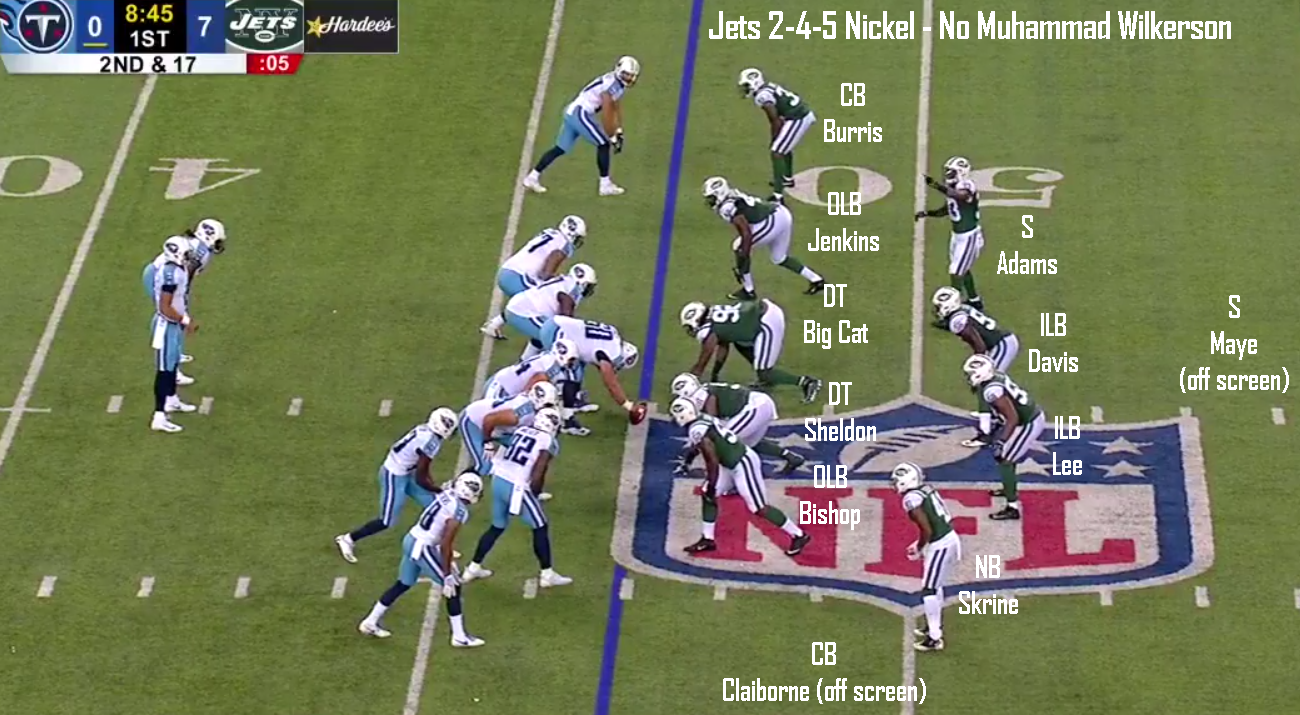 On the following play, a 3rd-and-21, Bowles again stayed with his 2-4-5 nickel with Big Mo on the sidelines.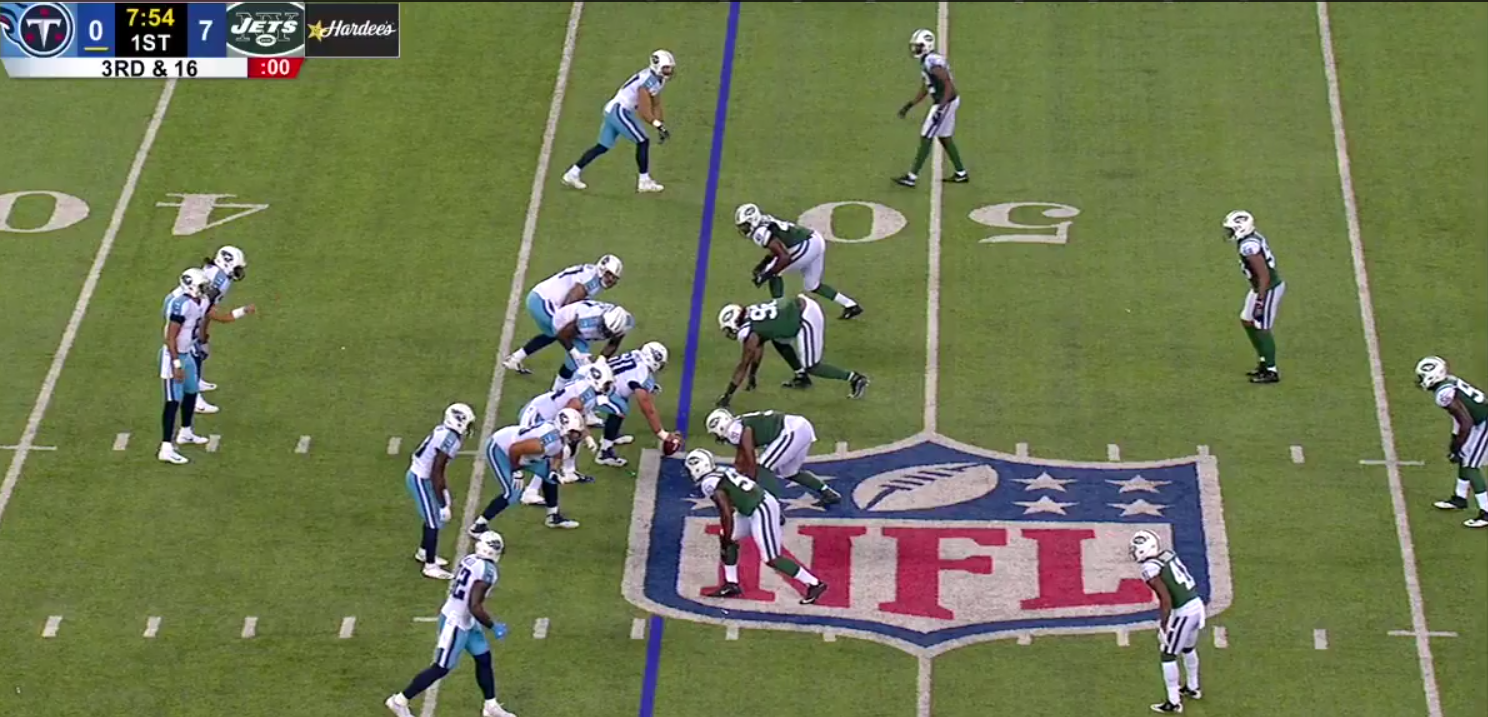 This last situation is one I personally don't agree with.
Bowles is notorious around the league for matching up too big. He rarely goes to a dime defense and instead, relies on his nickel (two inside linebackers) in almost every passing situation. In this league, a pass-heavy league, a dime (six defensive backs as opposed to five in the nickel) is what the doctor should order every time on a 3rd-and-21 snap.
But I'll take baby steps. Bowles and I haven't always agreed on his personnel usage on the defense side of the ball these last two seasons.
Finally not attempting to play all three big men at the same time is a tremendous win for the strategy of this defense. The increase in speed is amazing in truly deploying two athletic edges.
Now we get to the other half of the equation — the old man theory.
When everybody lost their minds over the surprising cut of David Harris, I couldn't, for the life of me, figure out what all the hoopla was about.
The man is an all-time great Jet. Nobody will ever deny that. He'll probably find himself in the ring of honor one day and if not for his surprising cut, would have passed Kyle Clifton as the Jets all-time leading tackler.
The Harris we've witnessed over the last few years has been anything but an all-time great Jet.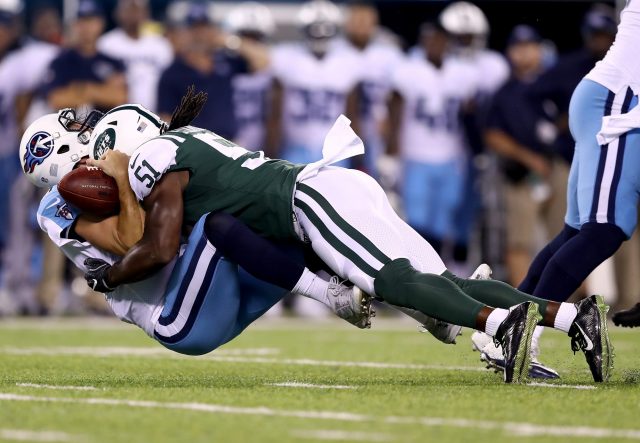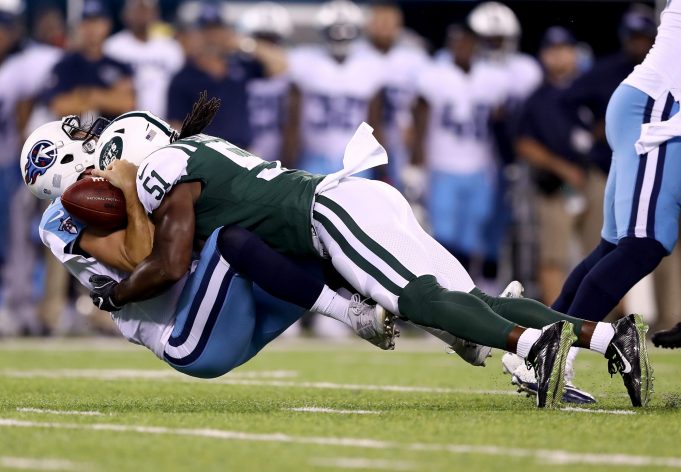 He's slow. He cannot cover. He crippled the defense at every turn at the current age he's sporting. While he could still pop it with the best of them in the run game, his sideline-to-sideline speed greatly compromised the defense. The same can be said for Darrelle Revis, although his lack of speed hurt the Jets from a vertical standpoint.
Now that both Harris and Revis are gone coupled with the injection of Demario Davis and Morris Claiborne, the Jets defensive team speed is where it needs to be in order to compete. And oh yeah, having Jamal Adams and Marcus Maye on the backend doesn't hurt either.
And oh yeah, not playing a 300-pound man on the edge also helps.
Finally, instead of Todd Bowles continuing to force the diehard football fan to scratch his or her head, he's taking charge and sticking to core football fundamentals — one of them being a defense must deploy two athletic edges.
Of course, the three points, 223 yards allowed, eight sacks and one interception performance in Week 1 will come with one great big asterisk — for this is still the preseason and we all remember Browning Nagle.
But there's no denying the actual talent, strategy and direction this defense is heading. And it's a positive direction that should have fans giddy, grinning from ear-to-ear every day of the week until Cleveland.