Instead of jumping on that bandwagon known as "trash the New York Jets," fans need to truly grasp what's happening right now.
H
ere I am, a 34-year-old frustrated, warped fan of the New York Jets. There's no need to go into details. As WFAN's Joe Benigno would say, "Oh, the pain."
From Bruce Coslet to Rex Ryan, Wayne Chrebet and Al Toon to Jerricho Cotchery, it's been a bumpy ride. It's why I've never had a problem with roasting the organization I've loved for nearly three decades.
The ineptness of Todd Bowles has been pointed out, the horrid culture within the Jets organization has been bantered about, and Mike Maccagnan's subpar talent evaluation, as well as Woody Johnson's totally ridiculous ownership principles, have been brought up entirely too much on this website to count.
The fact Mikey Mac still hasn't traded Sheldon Richardson especially sticks with me. Drafting Leonard Williams at No. 6 was a great haul. Still employing all three stud 3-4 DEs when they can't fit within the same defense is a fireable offense to me.
But I digress. It's safe to say Elite Sports NY has no problem calling out those boys when necessary.
Then the shocking (to many) cuts of David Harris and Eric Decker happened and everybody lost their minds in one fell swoop.
This makes absolutely no sense. Finally, Maccagnan and the organization that resides in Florham Park, New Jersey, is doing the correct football thing and everybody wants to lose their minds?
Brian Costello of the New York Post, one of the greatest Jets voices of our time, recently revealed that many around the league feel the Jets "have no plan." He's claiming, without naming any true names, that many are "roasting" the organization.
OK. Who cares? It's been like this for awhile with this franchise. Until they truly get it done, it'll remain this way, shocking cuts or not.
Maccagnan is Not Idzik
Many are bringing up comparisons to John Idzik. This is completely unfair. Over the course of two years, Idzik showed zero ability in even negotiating properly. His plan was to create cap space and then leave cap space. That is a man with no plan.
Maccagnan, on the other hand, has already proved he can negotiate and bring in the big boys of the NFL. As soon as he took the reigns, he used that space to bring in Darrelle Revis, Marcus Gilchrist, James Carpenter, re-sign David Harris and trade for Brandon Marshall.
His offseason actions, which included bringing in journeyman quarterback Ryan Fitzpatrick, led to a surprising 10-6 season. He preferred to call it an "aggressive rebuild."
Now, two years later, he's paying for this "aggressive rebuild." The point, though, still holds true: through signing players and building a 10-win team, he's already proved he's not Idzik.
In the NFL, we witness this cycle all the time. Jerry Reese, the fine general manager of the New York Giants, found himself with a bevy of cap space a summer ago thanks to many misses he struck out with the previous few seasons. He capitalized on the money with ex-Jet Damon Harrison, Janoris Jenkins and Olivier Vernon, to name a few.
During the years his talent was horrid, Eli Manning and Tom Coughlin each contributed to fooling everybody with a better record. That's what a hall of fame QB and coach will do for an organization.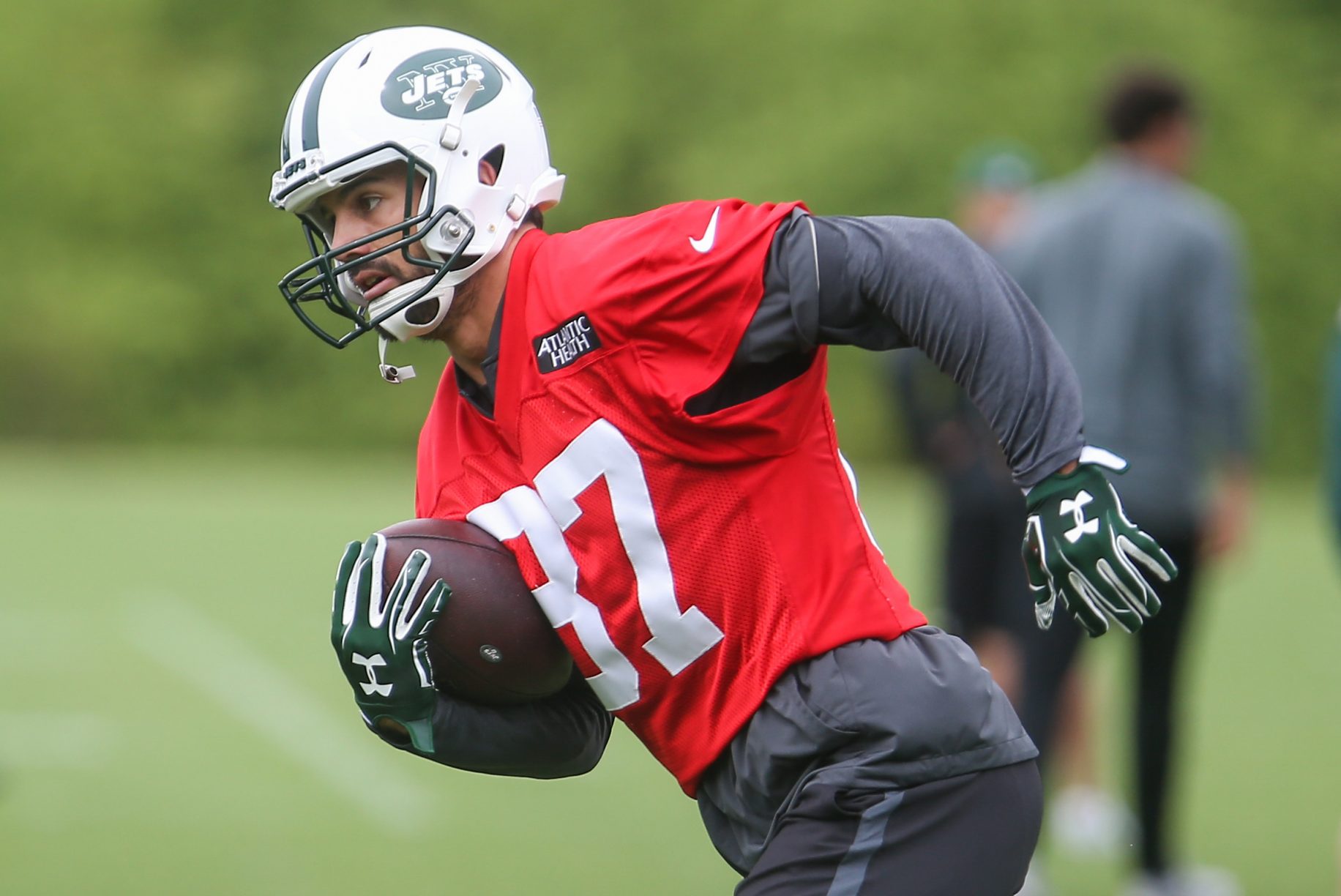 Harris and Decker Aren't Huge Losses
Suddenly, Maccagnan and the Jets should feel the heat for cutting two veteran players aged 30 and 33, respectively?
It makes little sense.
With or without Decker and Harris, the Jets will struggle in 2017.
Decker is a No. 2 or 3 wide receiver who only excels when a stud is playing ahead of him (i.e. B-Marsh, Demaryius Thomas) and is coming off major surgery. Harris is a 33-year-old inside linebacker who simply can't move anymore. He can't cover you (much less an NFL tight end) and his replacement, Demario Davis, outperformed him in 2016.
2016 Run Stop Percentage, via Pro Football Focus:
What exactly have the Jets lost in Harris and Decker? It's time to see if Darron Lee can get the job done with the headset.
The real issue lies in the Jets not replacing the real Harris, the guy who roamed sideline-to-sideline from 2007 through 2012 or so. It's not replacing this over-the-hill Harris. They attempted to replace the real Harris with the older Harris in 2015 when the guy everybody is roasting provided the man with a handsome 3-year, $21.5 million deal. It was a deal that felt pretty generous considering age and recent production, which leads us into the next topic of discussion.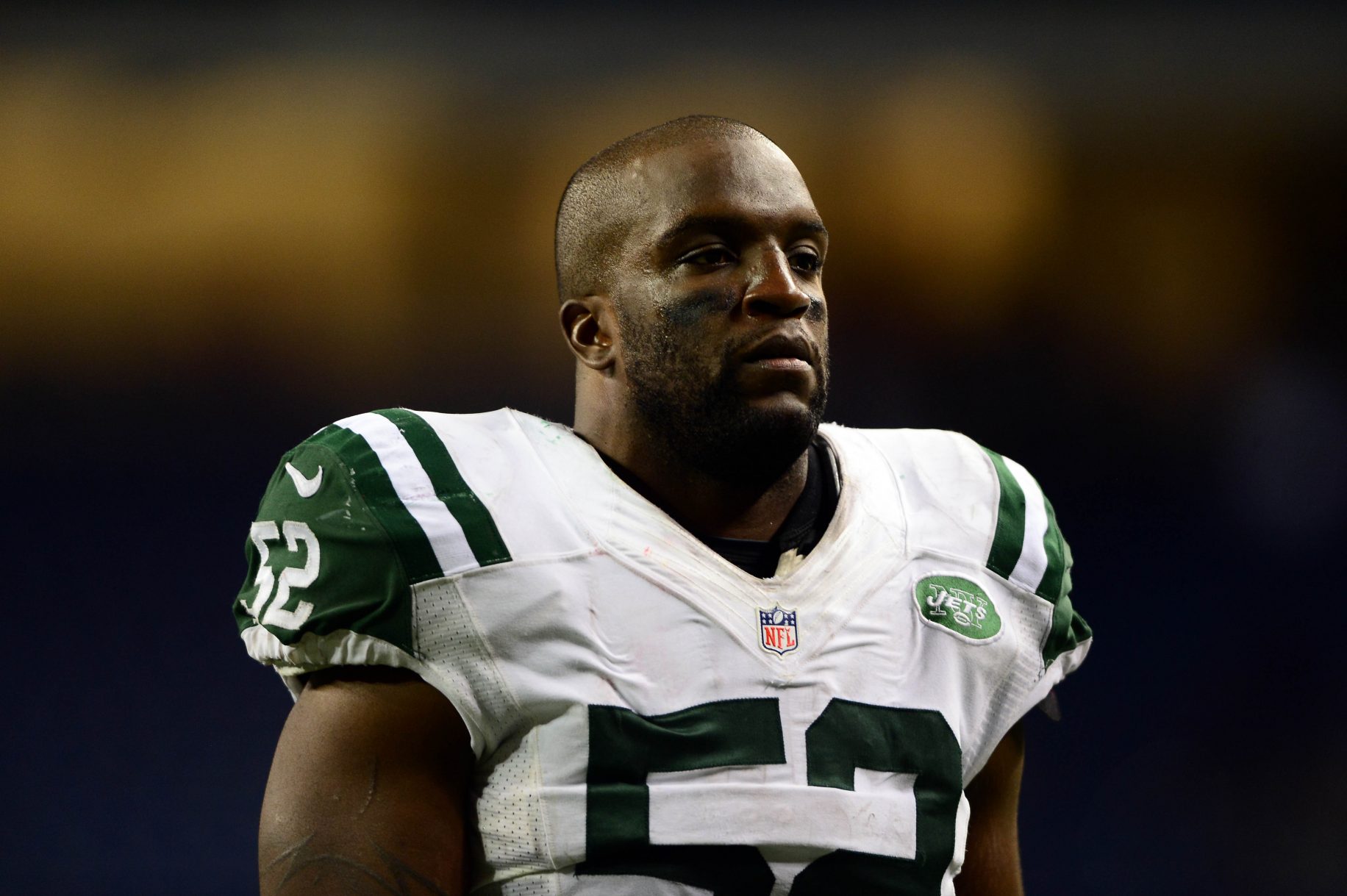 The Jets Don't Owe Harris or Decker Anything
This is the NFL. It's a league operating under a stringent collective bargaining agreement. The players agreed to this setup.
Therefore, when you see a player holding out, it's understood.
By the same token, when a GM cuts two vets in June, it's also understood.
Jun. 1 was the magic date. Cutting either of these guys prior to the date wouldn't save the Jets the maximum number of dollars next season, and isn't that the entire point of rebuilding?
#Jets should be in the ballpark of $66M in cap room for 2018 not counting carryover. https://t.co/JdRg7AJ5FG

— Jason_OTC (@Jason_OTC) June 6, 2017
Do you honestly believe other players will look at this situation and say, "Damn, the Jets cut Decker and Harris with such little class that I'm not going to sign there."
No chance.
If the Jets have that generational quarterback and/or an excellent roster and/or show a player the money, he will sign. Make no mistake about that. The true players in this league understand it's a business and certain dates during the calendar year are meaningful.
Harris will receive is due when he's inducted into the Jets Ring of Honor.
Final Thoughts
It's rough to think about. Maccagnan already knows this personnel grouping isn't going to win in 2017. He understands both Decker and Harris aren't huge losses in the grand scheme of things. So he cuts them at the proper moment — post-Jun. 1 — so he can maximize his cap space in 2018 and receives nothing but criticism.
It doesn't make sense.
I criticize Maccagnan for the draft selection of Devin Smith. I criticize him for still employing all three 3-4 DEs, improperly setting up a defense for failure while hindering the development of other defenders in the compromised defense. I criticize him for the Christian Hackenberg experiment.
I can't criticize him for grasping reality, cutting ties with guys who don't matter in 2017 and increasing his chances in 2018.
Organizations find trouble when they value the sentiment card. When they can't cut ties at the proper moment, they extend suffering rather than putting an end to it. In this case, the Jets length of suffering will be decreased — say, to only 2017, rather than prolonged thanks to sentiment towards both Harris and Decker.
That extra money next year goes a long way. A total number of $66 million plus carryover in cap space in 2018?
That seems like a pretty straightforward plan to me. Just because Idzik didn't spend doesn't mean Maccagnan won't. Hell, he already proved he can negotiate.
There is a plan. For obvious reasons, he just can't admit what the plan is. The plan is landing a franchise QB in the spring while adding pieces in free agency to compliment the core members of the team that were had through the draft.
The plan shows, for the first time ever, Woody Johnson and company aren't afraid of public criticism. Rather than appeasing fans and the public, they're after the end goal.
Isn't that what we've wanted all along?