Almost two seasons into the new regime, it's evident that the last two New York Jets rookie classes are poor, courtesy of Mike Maccagnan.
F
or the most part, Mike Maccagnan's stature remains in the category of "good graces."
He's viewed as smart, cunning and very crafty. He's looked upon as the guy who Charley Casserly handpicked for Woody Johnson as the guy who'll take the New York Jets into the new age — a new age full of promise and relevance.
He comes with the slogan "In Mac We Trust," according to many who root on the green and white. 
Why? This is the ultimate question.
Why have fans turned on Todd Bowles, yet haven't on the general manager? Bowles, just like Mac, won 10 games a season ago.
Maybe, perhaps, it's because he's not John Idzik.
Rex Ryan was a fan favorite, a coach who not only sung his tune to his players' delight, but the fans as well. As disappointing as Rex's final four seasons were, Bowles had big shoes to fill.
Maccagnan … well, Maccagnan simply had to spend money, something Idzik was unable (or unwilling to do). How hard is it to spend $50-plus million dollars upon the immediacy of taking the job?
The names started to flood in: Darrelle Revis, Antonio Cromartie, Marcus Gilchrist, James Carpenter, and Buster Skrine. Only one player (Carpenter), has been worth the hassle.
Unfortunately, it doesn't stop there. What's really troubling about Maccagnan's short regime is the lack of development.
His first two NFL Draft classes have been underwhelming.
Obviously, Mikey Mac's first ever pick as NFL boss was a winner. Graciously accepting the gift that was Leonard Williams with the No. 6 pick in the 2015 NFL Draft was a no-brainer, even with the surplus of 3-4 defensive ends in tow (Muhammad Wilkerson, Sheldon Richardson). While it has certainly created many schematical issues up front for Bowles's defense, Williams was considered (by many) to be the best talent in the class.
Sadly, the Big Cat is Maccagnan's only star.
Take a quick glance at the rest of his selections over his first two seasons:
2015
Round 2, No. 37: Devin Smith, WR
Round 3, No. 83: Lorenzo Mauldin, OLB
Round 4, No. 103: Bryce Petty, QB
Round 5, No. 152: Jarvis Harrison, OL
Round 7, No. 223: Deon Simon, DT
2016
Round 1, No. 20: Darron Lee, LB
Round 2, No. 51: Christian Hackenberg, QB
Round 3, No. 83: Jordan Jenkins, OLB
Round 4, No. 118: Juston Burris, CB
Round 5, No. 158: Brandon Shell, OL
Round 7, No. 235: Loc Edwards, P
Round 7, No. 241: Charone Peake, WR
Where are the players? Where are the studs? Where is the development?
This isn't baseball or hockey, a place that boasts multiple farm teams that allow organizations to cultivate and develop talent.
This is the National Football League, a place where immediacy matters.
Darron Lee hasn't been poor by any means. Playing inside linebacker in a 3-4 scheme is tough enough for a rookie, but Lee having to do so as a light linebacker presents incredible challenges.
He shows speed and flashes great potential, even in the area of pass coverage (something the Jets desperately need in favor of the older, much slower David Harris), but his status as a No. 1 NFL pick is very much in question. On the season, Lee's started six games and amassed 35 solo tackles to go along with a sack.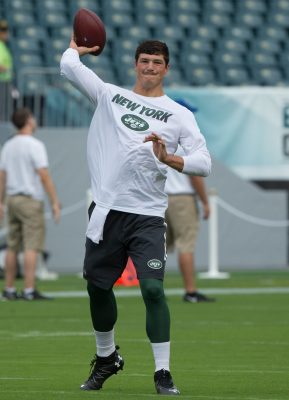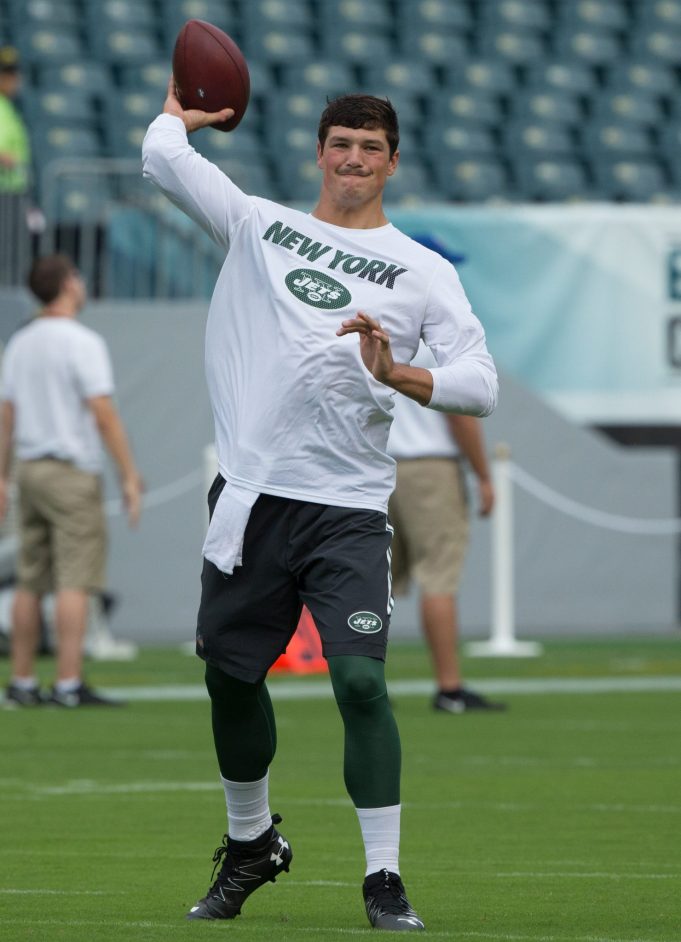 Obviously, both Bryce Petty and Christian Hackenberg are raw talents at the QB spot. This is OK, of course, but the question becomes, "Why draft two such guys who would essentially act as a redshirt freshman?"
Lorenzo Mauldin has been oft-injured and incredibly disappointing. He was needed to fill a void at the edge pass rushing spot and has failed miserably. Both Charone Peake and Juston Burris have made some strides, but nothing to write home about.
Deon Simon and Jordan Jenkins are extremely solid players. Devin Smith, Jarvis Harrison and Brandon Shell are either all busts, have contributed nothing, or are no longer with the club.
Understandably so, Jets fans felt optimism towards the idea of a Maccagnan-run regime. He's a local boy with a keen eye towards scouting. He's a guy who's created a calling card on talent evaluation. And, after all, he's not John Idzik.
But has the fanbase become transfixed on an idea rather than actual production? Just ask yourselves that while taking a hard look at the disappointments from his first two NFL drafts.
Development was the keyword for Maccagnan and Bowles entering the 2016 season. It wasn't playoffs or wins. We knew how hard the first six games were. The schedule felt like a cruel joke rained down upon Florham Park, New Jersey as a joke, repaying them for such a cakewalk in year one.
Developing talent was the goal in year two.
Along with the acquiring of players in the draft, Mike Maccgnan has failed miserably in this regard.