Throughout his 13 seasons in the NFL, New York Giants quarterback Eli Manning has achieved some amazing feats and accolades that will one day land him in the Hall of Fame.
E
li Manning is in the top 10 all time in touchdown passing touchdowns (320) and in passing yards (48,218), and his 8-4 playoff record has earned him a reputation of being a clutch quarterback. More importantly, he is a two-time Super Bowl champion and two-time Super Bowl MVP.
But there's one thing that has eluded him in his career: the NFL MVP award.
Eli will be the first to tell you that he's more concerned with team goals and winning championships, but considering his brother Peyton Manning is a five time league MVP, winning this award had to come across Eli's mind whether he'll admit it or not.
This season Eli Manning will play with the best group of playmakers that he's ever played with. So despite his 36-year-old age, 2017 will be his best chance to capture the one title that has eluded him.
This will be his fourth year playing in the west coast offense and the fourth year playing with Odell Beckham Jr. In three seasons, the Manning to Beckham connection has been good for 288 receptions for 4,122 yards and 35 touchdowns. No matter who you ask, Beckham is at minimum a top three wide receiver who's reception totals have gone up each season.
After suffering through crucial drops in the Giants wildcard loss to the Green Bay Packers, Beckham has added motivation coming into this season. His receptions may go down this year with the weapons the Giants have added on offense. But once again, the Manning to Beckham connection will connect on double-digit touchdowns.
One of the biggest free agent signings this offseason was the Giants acquiring six time Pro Bowl wide receiver Brandon Marshall. At 6-foot-4, Marshall will provide Manning a tall and physical wide receiver that he hasn't had since Plaxico Burress. Don't let the 59 receptions and 788 yards and three touchdowns that Marshall had last year with the Jets fool you. He's still a top 15 wide receiver in this league and now, he'll be playing with the best quarterback he's played with in his career.
Don't be surprised if Marshall and Manning also connect on double-digit touchdowns.
Sterling Shepard had a very productive rookie season catching 65 passes for 683 yards and eight touchdowns. Shepard will work primarily out of the slot where he'll single covered and will be targeted often by Manning on third downs with under 10 yards to go. We've seen what Manning can do when he's throwing to a healthy and reliable slot receiver in the past (Steve Smith & Victor Cruz). So look for Shepard to have another productive season.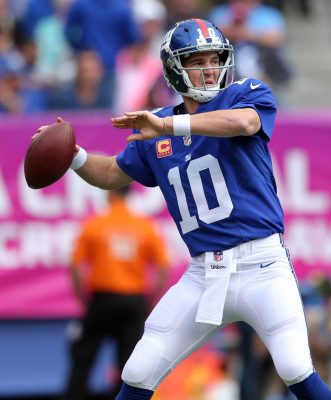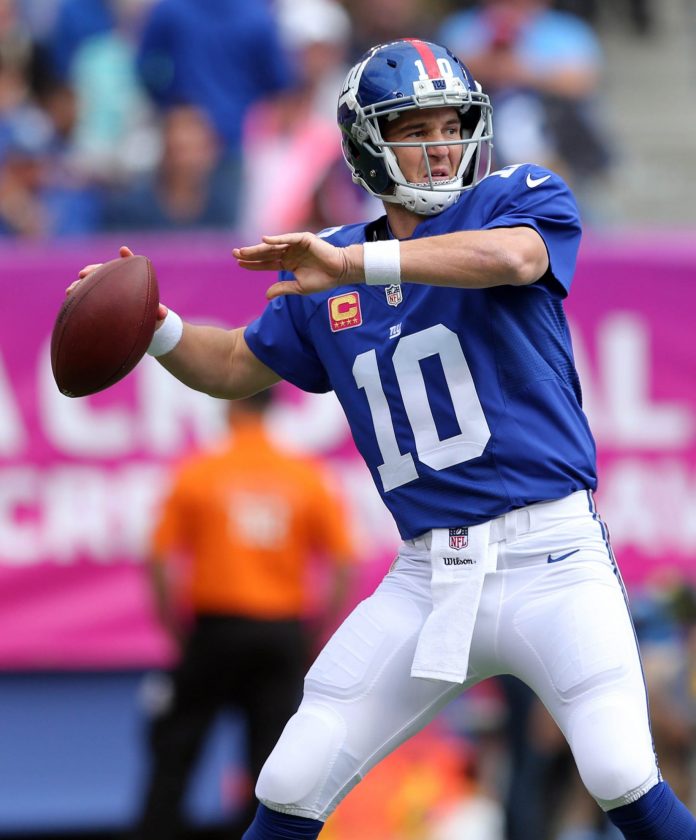 For the first time since playing with Jeremy Shockey, Manning will have a quick and athletic tight end in rookie Evan Engram. To say Engram is quick would be an understatement as he had the fastest time by a tight end in the 40-yard dash at the NFL combine (4.42).  At 6-foot-3, he's another tall target for Manning to throw to, and will make fade passes in the red zone a staple in the Giants play calling. He'll also be a viable option on seam routes, and will prevent safeties from helping to cover Beckham and Marshall, because tight ends won't be able to cover Engram one on one down the field.
When you look at all of these offensive weapons Manning has to throw to, and then you add that he'll have Shane Vereen and Paul Perkins catching passes out of the backfield, it's hard to imagine this offense being contained on a game in and game out basis.
You can look at all the other 31 teams in the league, and none of them match the offensive playmakers the Giants have. Defensive coordinators will have many sleepless nights trying to figure out how to deal with the Giants offense.
The offensive line is still a concern coming into this season, but the addition of D.J. Fluker will help. Plus, you add the fact that when the Giants have OBJ, Marshall, Shepard, Engram and Vereen on the field, it will force defenses to get in their dime formations and only rush their lineman, which will help the Giants pass protection.
If Manning and the rest of the Giants stay healthy, there's no reason why he cannot have his best season and throw for 5,000 yards and 40 or more touchdowns, and bring home his first league MVP award.