Esden and Sabo bring ESNY's official New York Jets 2017 NFL Draft preview and predictions. Will Mike Maccagnan get it done this week?
A
gain, we have arrived. We have finally rallied all involved and forced them to accept their invites to Philadelphia, Pennsylvania, Thursday night, Apr. 27, 2017, for the 2017
NFL Draft
.
For many organizations, the draft represents a bonus, an extra add-on strategic purpose for already solid personnel. For other teams, it represents that last possible chance to turn a solid depth chart into a championship contender.
For the New York Jets, this draft represents nothing but hope.
With, arguably, one of the worst personnel groupings in the National Football League, this draft in Philly can only be viewed as the starting line for the team who calls home Florham Park, New Jersey. Coming off a 5-11 campaign, one that turned bitterly disappointing after a 10-6 season prior, veterans such as Brandon Marshall, Nick Mangold and Darrelle Revis were provided their walking papers.
There is no aggressive rebuild this time around — only hope of a new start.
Mike Maccagnan and Todd Bowles understand this better than anybody, so it's only fitting that they'll be in charge come Thursday night when the Jets are on the clock at pick No. 6.
Here's our official New York Jets 2017 NFL Draft preview:
Top Needs
Esden:
QB
TE
CB
S
EDGE
OL
Sabo:
QB
S
OL
CB
EDGE
TE
ILB
Round 1, Pick No. 6
The Prospects:
(In no particular order): Jamal Adams, Malik Hooker, O.J. Howard, Mitchell Trubisky, Deshaun Watson
Best Case Scenario:
Esden: Trade Down
The best case scenario for the New York Jets is to trade back. They have way too many holes and not enough draft picks to fill them. There have been rumors about dropping to 12 with Cleveland and that's a good start.
Since the Browns are likely trading up for a quarterback, the Jets can demand more (33rd pick in the draft). I know the bible of the NFL Draft is the value chart, but that gets thrown out the window pretty quick when the atheists walk in.
So then the Jets, in theory, will get a chance to nab three impact starters with their first rounder and two second rounders. If the Jets are unable to consummate a trade the player I believe they're drooling over is Jamal Adams, for multiple reasons.
As Sabo pointed out so judiciously earlier, the Jets slit their wrists and did some ritual bloodletting, the goal is that less is more, at least for 2017. The veteran core that got this team within one game of the playoffs two years ago is gone. So not only do the Jets have to replace the talent, but they have to replace the leadership.
Adams has all the intangibles you'd like to see at the quarterback position. Ironically enough, the safety is the quarterback of the defense. He's got a swagger about him and he's an in the box safety which would likely spell the end of Calvin Pryor's reign, at least as a full-time starter. This would be the Jets ideal draft scenarios.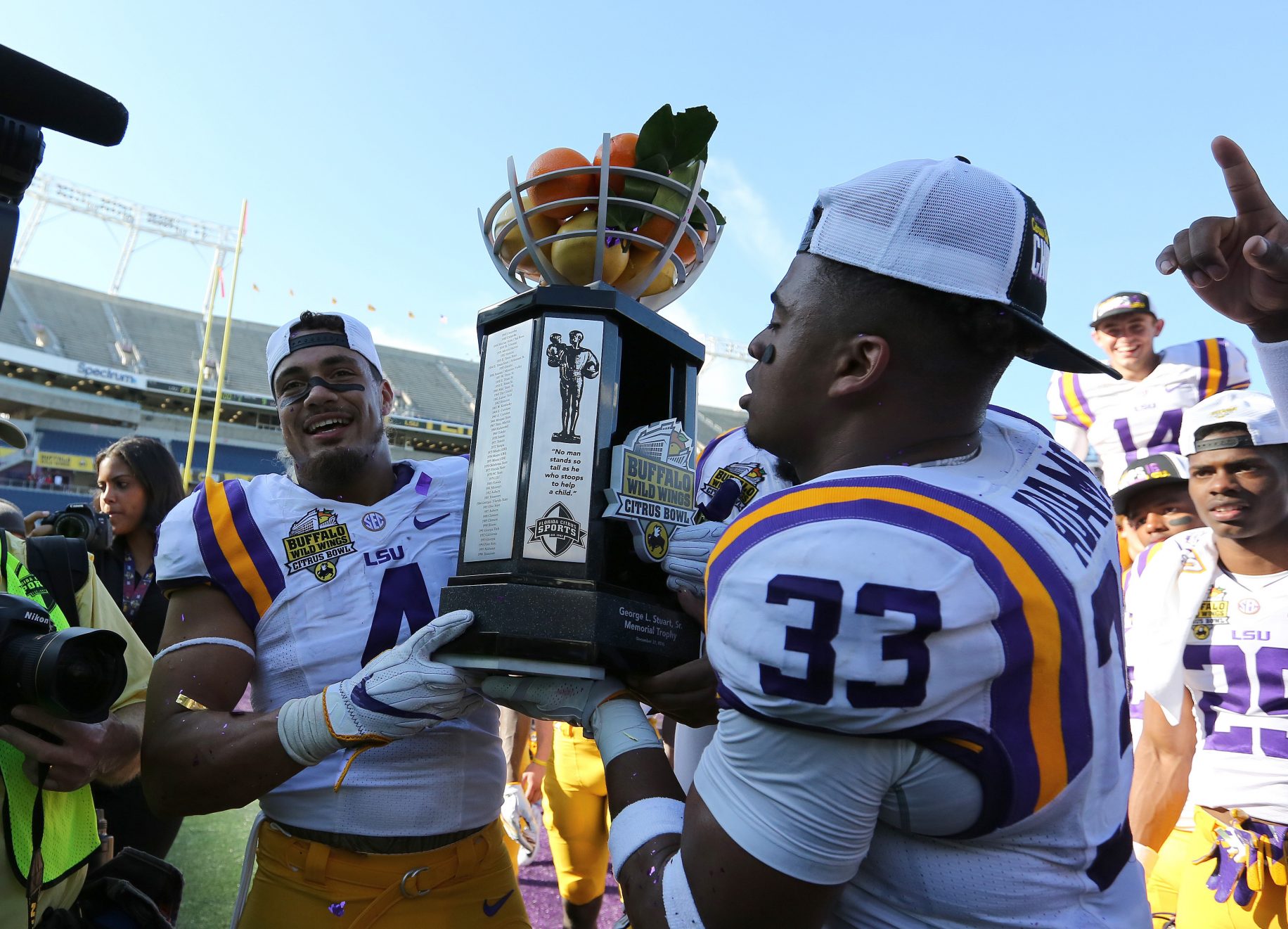 Sabo: Trade Down or Jamal Adams (S-LSU)
I 100 percent, completely agree with Elite Sports NY's New York Jets expert, Paul Esden Jr. Mike Maccagnan's best course of action is to trade down and acquire assets. While I don't think we can already predict "worst in the league status" prior to the NFL Draft, this personnel grouping is horrid and doesn't fit together.
Mikey Mac went for his, now infamous, "aggressive rebuild" two summers ago. It didn't work. He now needs to roll up the sleeves and build a real foundation.
QB, RB, TE, T, C, EDGE, LB, CB, S — all are positions of need, believe it or not. Finding somebody eager to trade up at No. 6 for a nice haul is the best case scenario here.
If the Jets can't trade down, LSU safety Jamal Adams is my guy here. The safety position is incredibly important in today's hybrid, fast-paced league and with David Harris showcasing his "worst coverage LB skills in the league" and Darron Lee taking baby steps, Adams can act as a solid foundation in the box or as the middle-third.
Malik Hooker would be my second option while O.J. Howard as a distant third. I love Howard, but TE takes a backseat when CB and safety are so thin. I'd stay away from Marshon Lattimore due to those pesky injury concerns.
Worse Case Scenario:
Esden:
The worst case scenario is that the Jets are forced to make a 2015 draft decision. Maybe Solomon Thomas or Jonathan Allen are on the board. Let's take off Jamal, Malik, Trubisky and Marshon Lattimore.
We'll make this an even worse scenario: no trade back scenarios are on the table either. So now the Jets are in a pickle. They can't go after the consensus top QB, so they could go after another if he's high on their board. O.J. Howard is 100% going to be there at six, but is six too high? We haven't seen a TE go that high since Vernon Davis.
Could the Jets go running back? Christian McCaffrey and Leonard Fournette are likely still on the board. Wide receiver for me would be a real reach in this class. If they go offensive line I'll start my own version of the purge on the streets. One last option could be a red-flag prospect like a Reuben Foster. He had a diluted urine sample, a.k.a. a failed drug test at the NFL Combine. Conveniently he said he was sick, I can't confirm or deny those reports, but regardless of how that test came back negative, it did.
Sabo:
Early on, I believed Solomon Thomas could be that edge rusher the Jets have coveted for quite some time. With Sheldon Richardson still in-house, I want nothing to do with him, based purely on position (as I'm scared he's too much of a tweener).
Should the Cleveland Browns stay at one and snag Myles Garrett, as they should, I fear that they'll trade to No. 5 with Tom Coughlin and the Jacksonville Jaguars at which point they'll snag Mitchell Trubisky.
This would be the worst-case scenario if the Jets are QB-hungry. I could see them reaching for Deshaun Watson here. While I love Watson as a college QB, he doesn't thrill me as a pro. His legs are necessary for his game and he can't beat you purely from the pocket. Hopefully, the Jets brass enters this draft with an open mind (beyond QB).
Nevermind. Scratch Watson as a worst-case scenario. Leonard Fournette would be the absolute worst-case selection here. Although talented, he's the type of back that needs an offense to revolve around him, rather than him blending in with the offense. He can't catch the ball out of the backfield and never performed well in the big SEC game.
In a league that has seen the RB position become so devalued, taking a one-dimensional guy like this would be the worst mistake of a GM's career. Dalvin Cook and Christian McCaffrey are both head and shoulders above Fournette in terms of NFL stock.
If New York reached for an O-linemen here, it wouldn't upset me. When rifling through all of the first round positions over the last half-century, O-line has always remained the safest bet. Obviously, they'd be reaching according to the awfully abused mock draft boards, but hey, if a guy's a stud, go get him and stick him on your line for the next decade.
The Jets Official Pick:
Esden: O.J. Howard (TE-BAMA)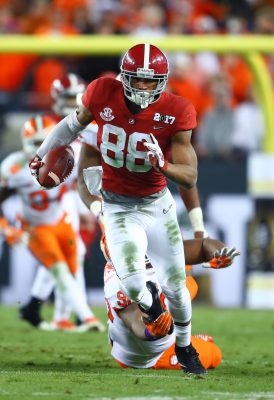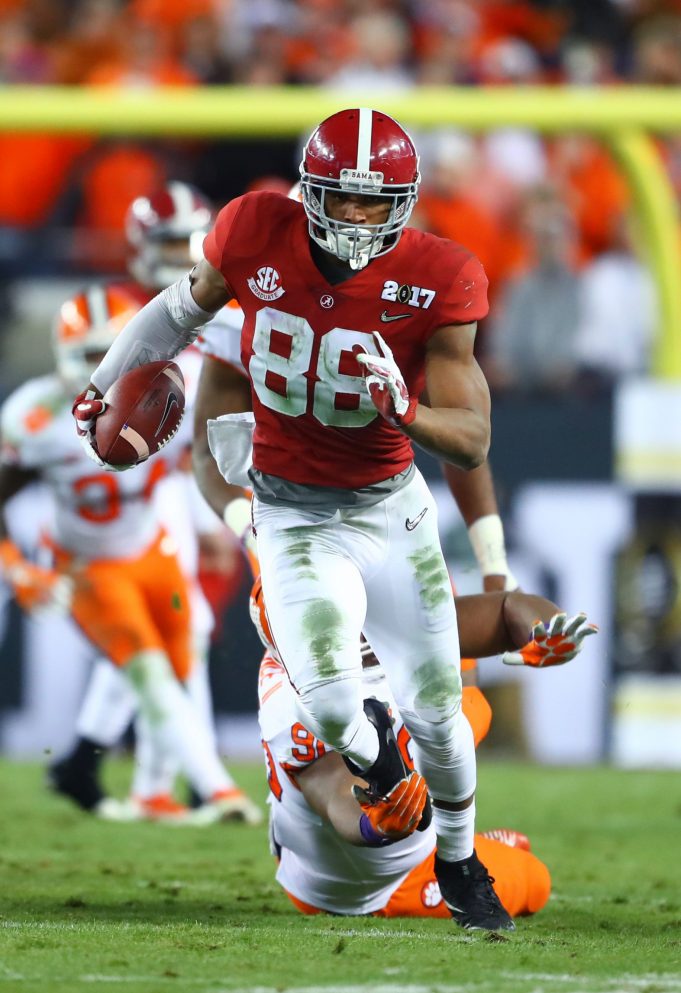 I have a weird feeling the Jets are going to go something crazy here. I don't know if that means taking one of the quarterbacks, or some outside the box pick, but all I'm saying is I have a weird feeling. I think ultimately whether the Jets trade back or stay, their target is the same. O.J. Howard out of Alabama. I think they can trade back with Cleveland and get him at 12, plus get the additional picks.
Sabo: Mitchell Trubisky (TE-UNC)
I wrote a few weeks back that, "If the Jets Love Mitchell Trubisky, they Should Snag Him." And that's exactly what I think will happen.
Cleveland, while they'll try to leap No. 6, won't be able to and Maccagnan will view this one as "third time's a charm" (Bryce Petty, Christian Hackenberg).
I honestly have no idea what to think of Trubisky right now. To me, he's, by far, the top QB prospect in the draft. If I loved him face-to-face and believed he'd be "my guy," I'd draft him (despite the two slow learners in the system). I still prefer Adams, though.
One thing's for sure. If they take him, they better be right. It'd be a tough sell for the organization.
While I believe he'll field calls, I don't think Maccagnan's trigger is quick enough to pull off a nice haul to move down.
Round 2, Pick No. 39
The Prospects:
Joe Mixon, Dalvin Cook, Tyus Bowser, Tre'Davious White, Josh Jones, David Njoku, Jabrill Peppers, Cam Robinson, Budda Baker, Kevin King, Evan Engram
Best Case Scenario:
Esden: Joe Mixon (RB-OU)
I could start off every scenario with, "Wos, the Jets could go a lot of different ways here." Anywho, let's continue, shall we? I know readers are going to shoot this to me as soon as they're done reading this and I'm well aware. This best case scenario may not even happen or have any likelihood of happening due to views shared by the general manager, Mike Maccagnan's wife and her views on domestic violence.
What Joe Mixon did is horrific. I've read up on the story and despite whatever that young lady may have said to Mixon he has to maintain his composure. Players on the field and fans are going to say the same or a lot worse. So putting that aside, the Jets may have a chance to take the best running back in the entire draft off the board in the second round.
I don't know about you, but that sounds like a best case scenario to me. The Jets already have Matt Forte and Bilal Powell, but fans would be naïve if they said that it wasn't an area of need. Mixon can do it all: run the ball, catch out of the backfield, and of course pass protect.
Sabo: Cam Robinson (OT-BAMA)
Line, line, line, line, line …
If there were better prospects in the first round, I'd be preaching the same thing a round earlier. The truth is, there's no need to reach based on current projections. Maccagnan can snag a foundation lineman in the second.
The absolute best case scenario would come if Ryan Ramczyk fell to New York here. It's very unlikely, obviously, but it'd be a home run. Another best-case scenario would be Cam Robinson. The Jets should really invest two of their top four picks in two offensive linemen. Give me Garrett Boles or Pat Elflein at center, if those aforementioned first-round projected tackles are gone.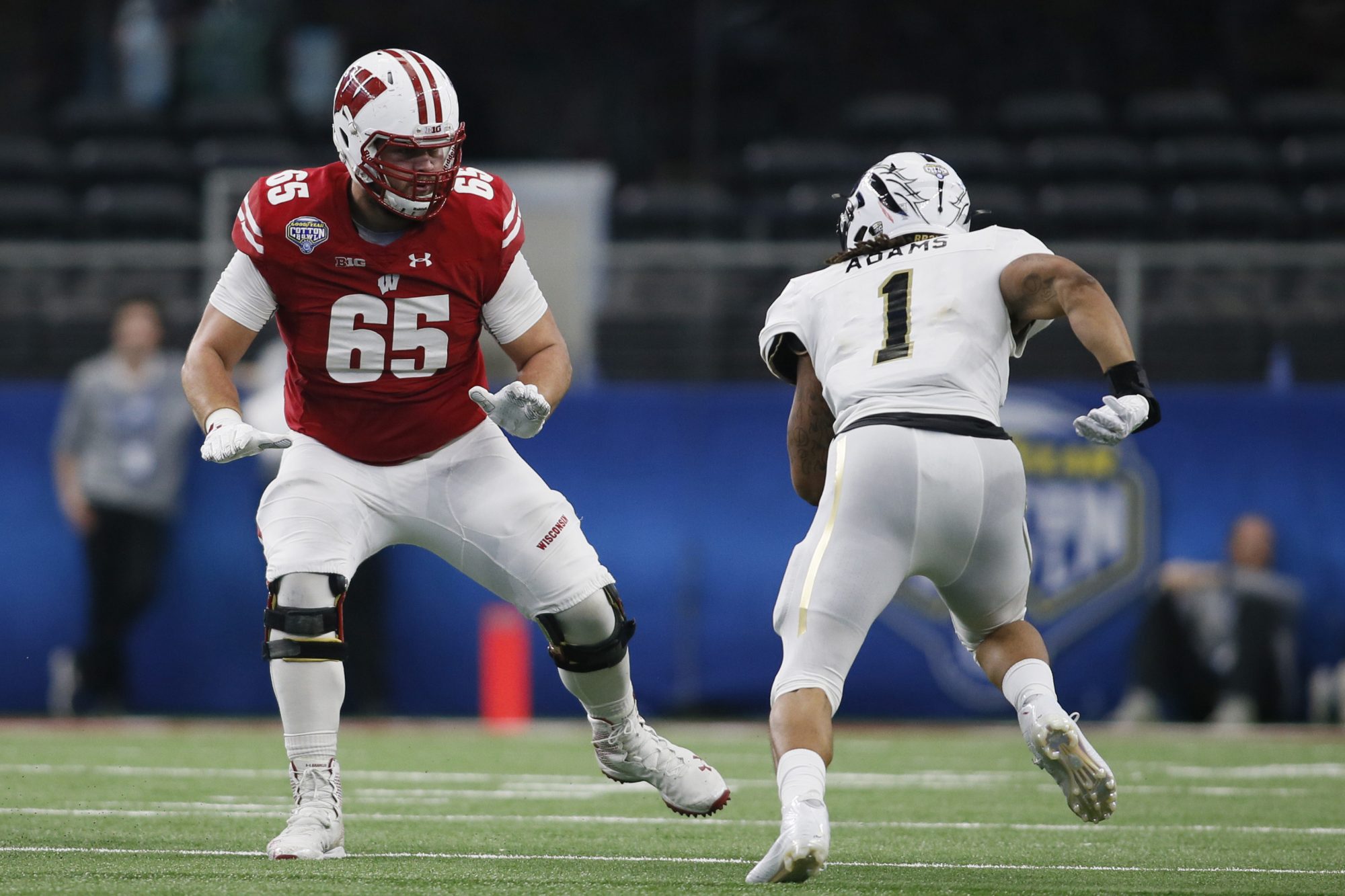 Worse Case Scenario:
Esden:
It's hard enough to predict the draft, but worst case scenarios in terms of who may be off the board 38 picks ahead, may be tough to predict. Regardless that is the exercise we've chosen to do here, so let's play.
Absolute worst case is that the Jets reach on a quarterback. I'm going to sound like a broken record for those who read my columns but it's important to recognize. I have no qualms with the Jets taking a quarterback with the sixth overall choice as long as they believe in him. If you take one in the second round it has to be because one of the top guys fell, if you're reaching on one that didn't, then you have a cluster in the QB room and Mel Kiper Jr. is going to say classic Jets and I may not be too far behind.
Sabo:
I agree with Esden. If the Jets reach on a QB early in the second round here, the odds are completely stacked against them in any QB they chose. Most likely, Trubisky, Watson and Patrick Mahomes will all be gone. After that, it'd be tough to add another unsure QB prospect to Petty and Hackenberg.
Nathan Peterman out of Pittsburgh intrigues me, but not in the second round.
The Jets Official Pick:
Esden: Joe Mixon (RB-OU)
The Jets are known for going defense more times than not. I know they have needs on that side of the ball, but I'm going offense. I think one of these running backs slip to them: a Joe Mixon or a Dalvin Cook. Whichever one is there, I'd really think long and hard about pulling the trigger.
My official pick is Joe Mixon. Dalvin Cook worries me with the shoulder injuries and the huge workloads he had in college, he's got a ton of tread on the tires. While Mixon's concerns are in the PR department more so than anything on the field. The Jets have a chance here to add two Pro Bowl talents to the offensive side of the ball and help out Christian Hackenberg when he inevitably gets his shot this season.
Sabo: Joe Mixon (RB-OU)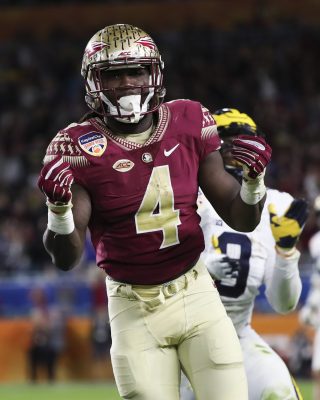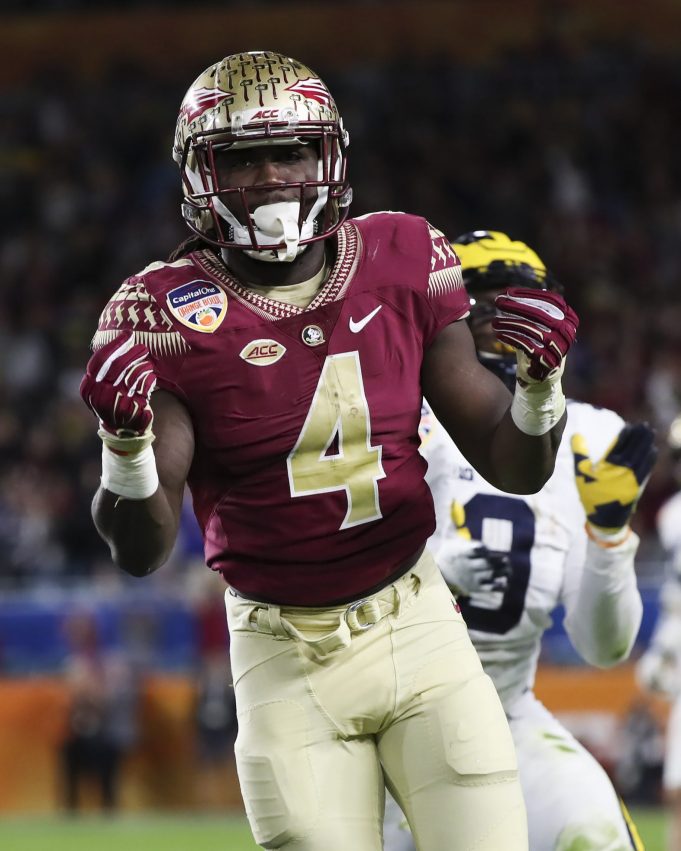 I still want no part of a running back during this entire draft, in fact. Give me the offensive line prior to worrying about running back. Worry about running back in 2018 after the O-line starts to mesh a little bit.
Having said that, these are the Jets. I see them screwing up royally by selecting a running back or tight end. I love Dalvin Cook and what he's going to do at the next level, but I don't love him for the Jets at this very moment. The Jets need to learn to crawl before they can walk. O-line first and there should be somebody here.
Unfortunately, give me Dalvin Cook, who I believe will drop thanks to Christian McCaffrey leapfrogging him. Cool will be a terrific pro, just not the right selection for this team right now.
Odds are, Cook will be gone. At the same time, don't overestimate the reality of the devaluation of the running back position in the NFL.
Round 3, Pick No. 70
The Prospects:
Tim Williams, Sidney Jones, Carl Lawson, Nathan Peterman, Pat Elflein, Ryan Anderson, Chris Godwin, Jake Butt, Quincy Wilson, Caleb Brantley, Alex Anzalone, Joshua Dobbs, Teez Tabor
Best Case Scenario:
Esden:
With the Jets going offense with the first two picks, their hope is that in a defensive oriented draft, the depth is still there at safety and corner, which it is. So best case scenario suggests that you take your highest rated secondary player and call it a day. The Jets have needs at both corner and safety so they can't go wrong with this pick.
Sabo:
My best case has them trading down or Jamal Adams in first round and an O-lineman in the second round. The perfect third-round scenario, if I was Mikey Mac, would have my eyes land on the highest-rated CB or safety, as Paul previously suggests. If Adams was snagged in the first, add your highest-rated O-lineman into the equation as well.
T.J. Watt falling to the early third-round might be an intriguing option as a high-motor edge rusher.
Worse Case Scenario:
Esden:
My presumptions are wrong and all the top corners/safeties are off the board. The Jets are sitting their in the third round and I think this is the thought that'll cross their minds, we went with a bit of a risqué pick their in the second, would we do it again? In that list of prospects for one reason or another, they have weird markings by their name in my scouting book: injuries, off the field issues, etc.
In a year where the regime is on the hot seat, would they be willing to play the role of daredevil? We haven't really seen that much during this regime, but that doesn't mean it won't happen.
Sabo:
Again, choosing a running back or quarterback would be the worst case scenario. Actually, throw in interior defensive lineman as well (thanks to the stacked variety of the current depth chart).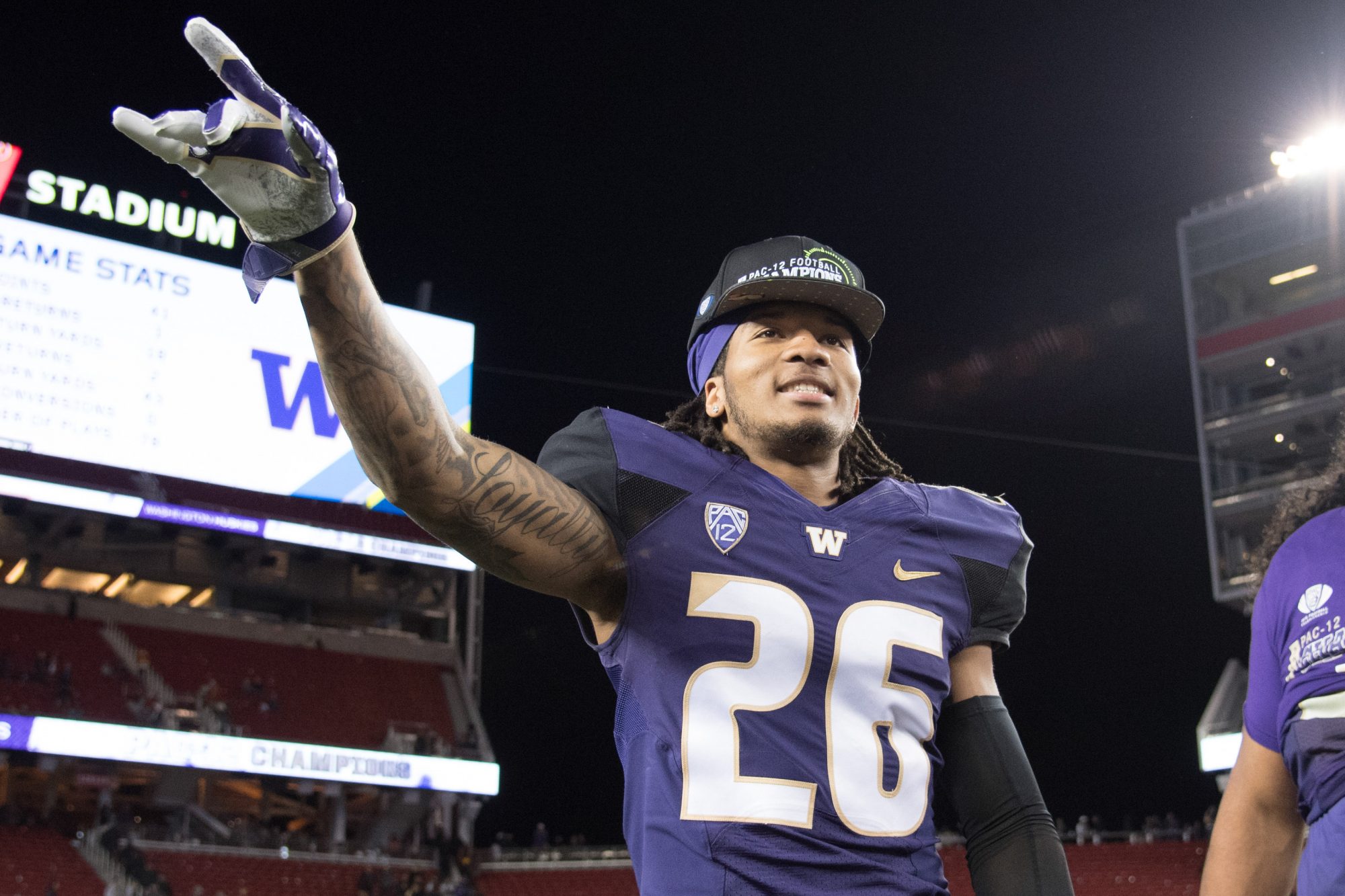 The Jets Official Pick:
Esden: Sidney Jones (CB-WASH)
If the New York Jets do as I prognosticate, I have no doubts that Todd Bowles and Mike Maccagnan are going to the Hall of Fame. With that being said, the next selection for the Jets is Sidney Jones, corner, out of Washington. There are few scouts that I trust in this business without a second thought, but Connor Rogers is one of those guys. We both have the same opinion of this player. I think that if you draft in the short term, you're a bad GM.
It's all about the long term and the future. Sidney Jones is going to be the best corner out of this class in terms of careers. With that being said the Jets are in a position where they can take the best corner and simply redshirt him this season. Whether he plays or not this season won't dramatically affect the team's record and I'm sure they're fine with that.
Sabo: Fabian Moreau (CB-UCLA)
For the official selection, give the Jets CB Fabian Moreau.
Round 3, Pick No. 107 (Compensatory)
The Prospects:
Chris Godwin, Jake Butt, Tim Williams, Damontae Kazee, Teez Tabor, Ethan Pocic, Wayne Gallman, Malachi Dupre, Jamaal Williams
Best Case Scenario:
Esden:
The Jets were awarded an additional third-round pick thanks to some of the major departures of last season and boy can the Jets use it. Also, side note: for the first time, compensatory picks are fair game in trades, so keep that in mind during the NFL Draft.
The best case scenario for the Jets is that someone fell down the board, it happens every year in every round. The Jets are hoping at this point for a nice safety prospect, edge rusher a possibility, and also don't rule out the Jets taking a receiver in this draft.
Sabo:
I agree with Esden 100 percent. Look for value here while staying away from the positions I've already mentioned. Trading down here as well wouldn't be a bad idea.
Worse Case Scenario:
Esden:
Worst case for the Jets the top players are a cluster of quarterbacks. At this point, I see little point in taking a potential signal caller. The Jets are now stocked at several key positions. This offensive line class overall is one of the weakest in the last decade. Do they try to appropriate value?
I think it would be odd, not bad, but certainly odd if they double dipped at positions. They could use another corner, another safety, running back would be a stretch. I certainly expect there to be movement, the Jets could trade up or down, just hopefully not up because they need to gain picks not lose them.
Sabo:
Joe Mixon. If, for some reason, he's still on the board and the Jets pounce, that'd be the worst-case scenario. Sometimes, talent needs to be forgotten about in favor of building a winning and overall solid culture. No more knuckleheads, Mikey Mac.
The Jets Official Pick:
Esden: Tim Williams (OLB-BAMA)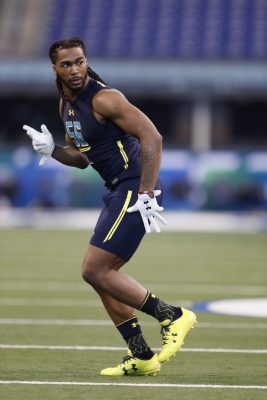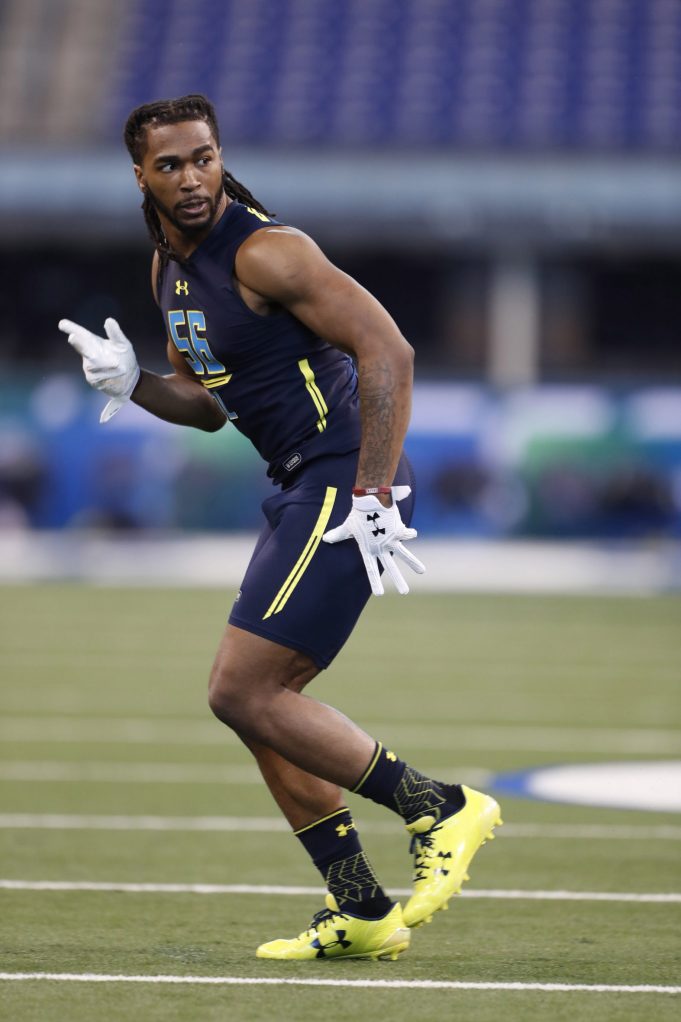 I said I had a weird feeling when we were at the sixth overall draft choice. I guess my weird feeling is that the Jets are going balls to the wall. They take another red flag prospect because they have nothing to lose but their jobs. They need impact players, if Tim Williams didn't have the off the field concerns he would be a first-round draft choice.
I'm not sure he's a three-down player at the next level, but the one thing he does extremely well is rush the passer and the Jets could use as many of those guys as possible. He can immediately step in as a third down rusher and then hopefully with coaching can develop his run stuffing abilities. I like the Jets continuing this recent trend of third round pick linebackers/edge rushers we've had Lorenzo Mauldin and Jordan Jenkins, two ascending players, why not add a third?
Sabo: Tyler Orlovsky (C-WVU)
For the official selection, give the Jets center Tyler Orlovsky or center Ethan Pocic.
Round 5, Pick No. 150
The Prospects:
Ashton Lampkin, Brian Allen, Dede Westbrook, Eddie Jackson, Ifeadi Odenigbo, Nazair Jones, Charles Walker
Best Case Scenario:
Esden:
Best case scenario for the Jets here is cost cutting. Jets could grab a safety here to ensure Marcus Gilchrist future is done with Jets. It's a cruel business, but after he suffered the torn patella tendon, his career with the Jets was over. It's just a matter of when, but that's a formality.
There should be a wide range (you see what I did there) of safeties available. I really think the Jets are coming away from this draft with at least one safety, probably two. Also, the Jets could find a couple sleeper receivers here.
Sabo:
I'm one who already understands Calvin Pryor cannot play safety in this league. He can't cover a soul. Even if Jamal Adams is taken in the first, going after safety Delano Hill in the fifth round should be the ticket.
Worse Case Scenario:
Esden:
We haven't addressed the elephant in the room: Sheldon Richardson. Hopefully by this point, if he's going to be dealt, he has been. Whether he stays or goes, the Jets need a contingency plan in place. They don't have a lot of veteran experienced depth behind their big three of Leonard Williams, Muhammad Wilkerson, and the aforementioned Richardson.
This could be a point in the draft where they add some beef to the trenches. Again secondary remains on the table as does several other positions of need. I love how the draft has fallen so far, there's a lot of flexibility here through the rest of the picks. Worst case here would be if the Jets overdraft, or fall in love with players measurable. Trust the tape and trust the board.
Sabo:
Worst case would be an exact replica of a season ago: trading up during the later stages of the draft to acquire a player who's talents are shaky, at best (Brandon Shell).
The Jets Official Pick:
Esden: Eddie Jackson (S-BAMA)
I teased it a lot there, perhaps too much. Nonetheless, I'm going with Eddie Jackson out of Alabama. The name may sound familiar to some. Players make these decisions all the time and sometimes they come back to bite you, Eddie Jackson shoulda, coulda woulda came out after his Junior season where he was first-team All-SEC. He chose to return to Alabama to defend the crown, he ended up breaking his leg.
Jackson is a dynamic return man and the Jets could sorely utilize that talent (plus he's got some scheme versatility). He's played corner and safety in his career with the Crimson Tide. The concerns with a lot of Alabama players, but especially guys in the secondary is that they're playing behind future NFL prospects and they have the chance to cherry pick easy interceptions and read a picture book on defense. Despite those concerns, I think he's a good risk pick/value pick at this point in the NFL Draft.
Sabo: Delano Hill (S-MICH)
I wouldn't be upset with Esden's choice of Eddie Jackson, but I'll stick with the "best case scenario" for once and stick with it in safety Delano Hill. Fish Smithson out of Kansas is another viable safety option.
Round 6, Pick No. 191
The Prospects:
Charles Walker, Harvey Langi, Ben Boulware, Chad Williams, Tyler Orlosky, Travis Rudolph, James Connor, Zach Banner
Best Case Scenario:
Esden:
The sixth and seventh round is what separates the boys from the men. The pretenders from the contenders. The do's from the don'ts. The Jets over the years have had middling success in these rounds. Although, in the most recent examples of Quincy Enunwa and Charone Peake, they look like real winners. They need to continue to find these gems to fill out the depths of the roster.
Also, they've yet to address the trenches, that being on both sides of the ball. So that's where I see them likely attacking at this point in the draft. Also, the sneaky need at receiver could come into play here for the Jets, there are some late round receivers with a lot of tools. Best case the Jets capitalize on both areas of need and maximize talent/value.
Sabo:
Value. At this point, it's all about value. Yes, positional need can still be near the back of the brain, but value is where the sixth and seventh round selections take hold. Anything with value would be the best case scenario. Tyler Orlosky, center out of West Virginia would be an excellent choice should he drop a round.
Worse Case Scenario:
Esden:
In these final two rounds, there's no real worst case scenario per se. The risk factor decreases because the values of these picks are much lower. In normal scenarios this is where teams could take chances on prospects, the Jets in this draft scenario have done that in most of these rounds.
Sabo:
In full agreeance with Esden.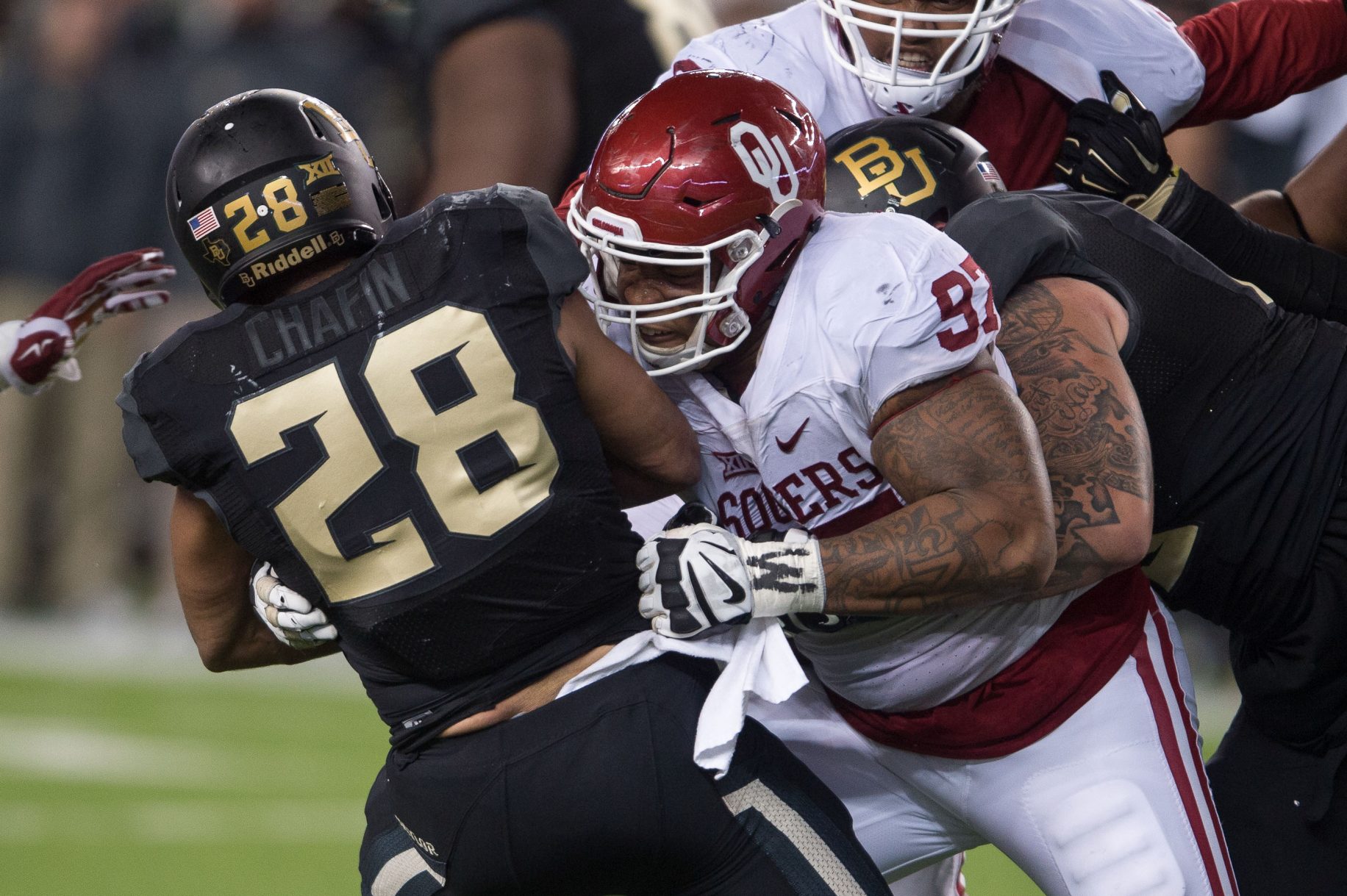 The Jets Official Pick:
Esden: Charles Walker (DT-OU)
They finally address the trenches with a controversial pick. Charles Walker, defensive tackle out of Oklahoma. The reason why his name may sound familiar is because he started the whole conversation about sitting out bowl games, well sort of. Walker had concussion-like symptoms and decided to hang up his season and pay his mind towards his future and the NFL Draft. This raised some eyebrows and one of his coaches called him out as being a bit of a sellout, selfish, etc.
The Jets coaches are going to have to do their homework on this kid, but his value says he should've been taken already. The Jets need depth on that defensive line. If Richardson is traded, they definitely need it, if he's not, he's gone next year as a free agent. The Jets need to protect themselves, Walker is a unique talent worth taking a risk on at this point in the NFL Draft.
Sabo: Jeremy Clark (CB-MICH)
Continue with the offensive line, value at the offensive line. If nobody on the O-line shows face, cornerback Jeremy Clark out of Michigan could turn out to be a steal.
This kid would have been a second or third-round pick had he not tore is ACL in week four of last season.
Round 7, Pick No. 224
The Prospects:
Mario Yakoo, Bryan Cox, Chad Kelly, Jerod Evans, Will Likely, James Onwualu, Steven Taylor
Best Case Scenario:
Esden:
The Jets only got one real corner (Sidney Jones) in this draft so far and he probably won't even suit up this year. The Jets need more corners and they've somewhat forced themselves into a corner here because they need more players at the position. I also like seeing what dominos have fallen around with other teams. The evaluation process should consist of what other teams have done thus far.  
Sabo:
Give me inside linebacker Marquel Lee or tight end Eric Saubert from Drake.
The Jets Official Pick:
Esden: Chad Kelly (QB-MISS)
Despite everything I just said, the Jets will be intrigued by this quarterback still on the board and won't be able to resist. Chad Kelly, quarterback, out of Ole Miss. He has red flags for days, but hear me out. Kelly has injury/durability issues, he got into an odd incident defending his younger brother at a high school football game and seems like a bit of hot head. Although the talent is undeniable, this would suggest that the Jets should do something with Bryce Petty. He's a career backup at best, it's time to spend your time on something that could actually pan out. Kelly could recover and sit and learn and see what he has when healthy. He's definitely worth a flier.
Sabo: Eric Saubert (TE-DUKE)
Instead of fortifying a few positions, they'll likely take a running back or kicker Zane Gonzalez out of Arizona State. Hopefully, Duke tight end Eric Saubert is still available.
Draft At a Glance:
Esden's Choice:
1. Trade Down
2. Joe Mixon (RB-OK)
Jets Choice by Esden:
1. O.J. Howard (TE-BAMA) or Jamal Adams (S-LSU)
2. Joe Mixon (RB-OU)
3. Sidney Jones (CB-WASH)
3. Tim Williams (OLB-BAMA)
5. Eddie Jackson (S-BAMA)
6. Charles Walker (DT-OU)
7. Chad Kelly (QB-MISS)
Sabo's Choice:
1. Trade Down or Jamal Adams (S-LSU)
2. Cam Robinson (OT-BAMA)
Jets Choice by Sabo:
1. Mitchell Trubisky (QB-UNC) or Deshaun Watson (QB-CLEM)
2. Joe Mixon (RB-OU)
3. Fabian Moreau (CB-UCLA)
3. Tyler Orlovsky (C-WVU)
5. Delano Hill (S-MICH)
6. Jeremy Clark (CB-MICH)
7. Eric Saubert (OT-DUKE)
Final Thoughts
Esden:
This was my first full team Jets draft of the season, so a huge shout out to Robby Sabo for setting this up. The Jets may not take this many actual risks in the NFL Draft this weekend, but I implore the Jets to be willing to do some of these moves. The question at the end of the day is: to risk the biscuit, or not to risk the biscuit?
I hope the Jets dare to be different and take some chances because it could pay off in the long run. If the Jets did this draft I laid out for them, they'd fill a variety of their needs and have some impact starters for not only 2017, but for the next several years.
Sabo:
This is a draft unlike most drafts for the New York Jets. Instead of looking for value at every position or taking best available player, Maccagnan needs to build a solid foundation. This is what's necessary when so many holes are present. This is what Stephen Jones did with his Dallas Cowboys a few years ago.
There's no guarantee the Jets finish with the worst record in the league in 2017, so forget about the Suck for Sam campaign. Even the worst teams aren't guaranteed that based on scheduling, etc.
Build a solid foundation, ship out Sheldon Richardson for whatever you can get (it just doesn't work and all three stud interior linemen hurt the defense), and start the necessary hard work.