One aspect of turning the New York Jets 2016 season around will be Todd Bowles recognizing that David Harris is no longer an every down LB.
I
f the Seattle Seahawks decided to just line up their wide receivers on Sunday but not throw one ball to them,
Russell Wilson
would have still feasted on the
New York Jets
defense.
Think about it for a moment. Wilson, on one leg, targeted Jimmy Graham and his running backs all game long. He abused some of the more familiar Jet culprits by way of the forward pass without one inkling of a hiccup.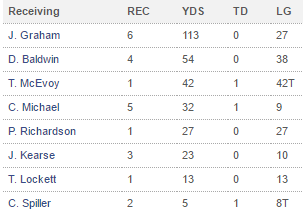 There was Calvin Pryor, who Todd Bowles still believes can cover top flight NFL tight ends in a one-on-one situation.
There was Darron Lee, who, while he flies around, is still learning the NFL game.
And of course, last but certainly not least, there was David Harris.
Harris, the Jets warrior of a leader on defense, has gone through two straight terrible games defensively. He's a veteran who never complains and always shows up (not missing a single game since 2008). His credibility is outrageous and fans simply and appropriately adore him.
All of that goodwill can't hide the fact that the 32-year old middle linebacker is no longer an every-down NFL player. And yet, Bowles is treating him as such.
David Harris might be the worst coverage starting linebacker in the National Football League.
Look no further than the first touchdown of the game against Seattle. Facing a 2nd-and-goal from the New York 8-yard line, Wilson knew exactly where he was going to go with the ball the entire time:
C.J. Spiller ran the famous "angle" route that so many teams have abused the Jets linebackers with through the years. Harris showed himself entirely too hard on the play in thinking Spiller was headed towards the flat. To compound matters, Lee, whose only read is Spiller (just like Harris), cheats over too much to the outside.
What we got was Spiller beating not just one Jets linebacker, but two. This is inexcusable in this situation (in realizing Spiller is the first read for both linebackers).
On the opening play of Seattle's second drive in the 2nd-half, Harris tried to defend Seattle's No. 2 receiver:
Toast. David Harris was hardcore toast on this play.
Making matters worse is the idea that Bowles sent a blitz on the play and only Marcus Gilchrist was deep. Harris's situational play here must be to not give up a big play. He has to keep everything in front of him.
There are other culprits. Make no mistake about that.
Calvin Pryor is one serious liability in any coverage scheme. Darron Lee is still working through the kinks of the NFL game. Darrelle Revis and Marcus Gilchrist are completely on the wrong page leading to busted coverages at least once a drive.
Through it all, though, the personnel needs to be right on the field first. This means Todd Bowles getting away from playing two linebackers against a 3 WR, 1 TE, 1 RB look when the TE in the situation runs like a WR. It's too slow and classic a look to work in today's NFL.
Harris needs to get off the field in that situation in favor of another defensive back, preferably Antonio Allen (who has done a tremendous job in the past covering TEs). Harris, while he still can plug the running lanes on first and second down, simply cannot be on the field on every passing down.
Darron Lee needs to be that lone LB in a dime or quarter look. Bowles is killing himself by not going faster and lighter. Granted, it's tough to take the defensive leader who makes the calls and has the radio in his helmet off the field. But that cannot be the reason you continue the madness of undermatching by putting slower personnel out there to guard faster people.
Jets fans love Harris. It's well deserved. But the man simply can't move anymore when it comes to defending the pass. It's been like this for a couple years now.
Opposing QBs feast on Harris with the RB and the TE in the passing game. I can only imagine Tom Brady feeling those oats right about now when it turns into Jets week for the New England Patriots.