If Mike Maccagnan and his henchmen truly love Mitch Trubisky, the New York Jets should snag him in the No. 6 hole with conviction.
I
magine. There you are, sitting at the bar of your favorite watering hole on the date of Apr. 27, 2017. You sit there, shooting the latest word about your day job until you hear the voice of Rich Eisen or Chris Berman announce that it's time for the sixth selection of the
NFL Draft
.
Suddenly, the TV transforms from background noise to the focal point of the entire establishment.
It won't be Wayne Chrebet announcing the unexpected name of Geno Smith this time around — as Roger Goodell handles all 32 first-round selections. The most hated man in football America gets up to the podium and blurts out the latest fate of the New York Football Jets:
With the sixth pick of the 2017 NFL Draft, the New York Jets select … Mitch Trubisky, quarterback, North Carolina.
That's right. Geno Smith as a second rounder in 2013. Bryce Petty as a fourth rounder in 2015. Christian Hackenberg as a second rounder in 2016. Mitch Trubisky as a first rounder in 2017. Mikey Mac has just chosen his third quarterback from the college ranks in as many seasons.
On the surface, the place goes bonkers. Those few Jets fanatics in the crowd go nuts. Announcers start throwing all Jets bosses out of town. But all of that reaction will be commonplace. It will all be one ongoing piece of overreaction.
None of us will know how the pick shakes out and if the New York Jets truly believe in Mitch Trubisky, they should snag him with the No. 6 pick without hesitation. Despite the current affair of the personnel, if a franchise QB can be had, he should be had.
Granted, it is whacky to tack on another QB to the roster. Hackenberg, representing a second round choice, in theory, should be an NFL player. He, along with Petty, should be enough to head into the 2017 season without cause for concern.
In reality, it's simply not true.
Neither QB has shown enough. Petty, through six appearances and four NFL starts, has put together a stat-line of 809 yards, three touchdowns and seven interceptions on 56.4 percent passing. In 2016, he wasn't blessed with a solid offensive line as this unit was shameful for most of the season. In contrast, his weapons, led by Brandon Marshall, were stout.
No matter how the rationalization shakes out, he didn't show enough.
Hackenberg played the role of NFL redshirt, the same position Petty took hold of in 2015. Josh McCown is now in the building, but does that mean New York automatically passes on any quarterback possibility thrown its way?
Of course, not.
General managers can never be in the position of putting a plan in place and sticking to it religiously, despite any unique situation. If that was the plan of attack, you might as well throw Maccagnan out of the building and replace him with IBM Watson.
Certain situations do arise and in the case of Trubisky at No. 6, uniqueness is present.
The bantering surrounding the Jets love affair with the North Carolina QB started months ago. Manish Mehta of the New York Daily News got this ball rolling, letting us all know how in love they were with the raw talent often compared to Mark Sanchez.
"They got their eyes set on the North Carolina quarterback," one rival scout told the Daily News. "The Jets are all over this kid. All over him. They'll probably deny it if you ask, but they love that kid. That's their guy. They're not going to get him though, because I think that kid is going to get over-drafted."
This bit of news came down in December, with the dreadful season ongoing.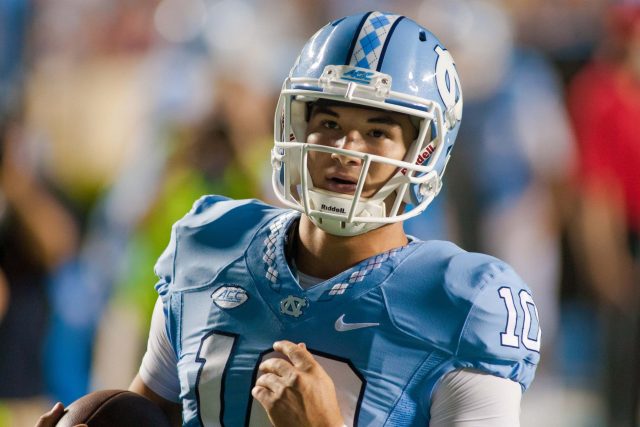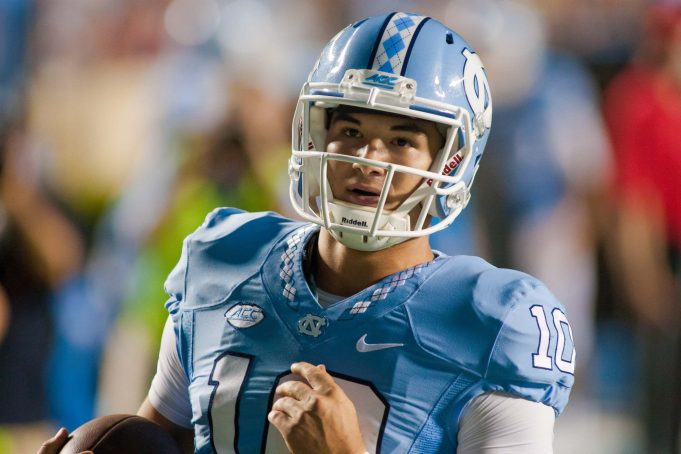 Last week, it continued. The Jets were to officially hold a private workout for the kid. All of the tea leaves are present for a Jets-Trubisky marriage. The only thing holding it back is common sense.
When it comes to the Jets, and the NFL for that matter, common sense needs to be thrown out of the window.
Until a franchise QB is had, the party never gets going.
Gang Green has felt it before. Under Rex Ryan, via the personnel of Eric Mangini-Mike Tannenbaum, the roster was dynamite. From the best O-line in the league to a generational cornerback, two AFC championship game appearances did, indeed, happen. 
If they possessed a franchise QB, two Super Bowl championships probably would have happened.
Right now, the depth chart is in shambles. What's the difference if Trubisky were to walk through those Florham Park doors? Everybody already knows success in 2017 is unlikely.
Yes, the Sam Darnold plan is something of an inevitable reality out there in Jet-land. The majority of fans have relented the upcoming season in hopes to Suck for Sam. But that's a poor strategy in any direction. Drafting a guy during the here and now isn't (if you truly believe in him), regardless of failed QB projects and the previous two draft seasons.
If Maccagnan is unsure about Trubisky, in no way, shape or form should he go near the possibility. If he is snagged at No. 6, he needs to be the guy immediately. No more games of redshirting and projects. This isn't Major League Baseball and there aren't any farm teams. The NFL isn't a developmental league.
The only way Mitch Trubisky should become a Jet is if the franchise fully believes in him as the franchise guy. And if they do, there should be no apologies.
Each situation is unique and each quarterback should be judged on his own merit, despite past QB organizational failures.
Guess what, though, Mikey Mac? If you do take him, you better be right about him.