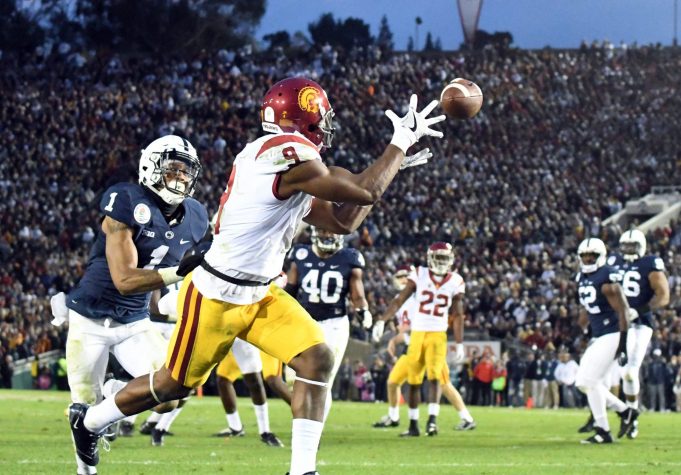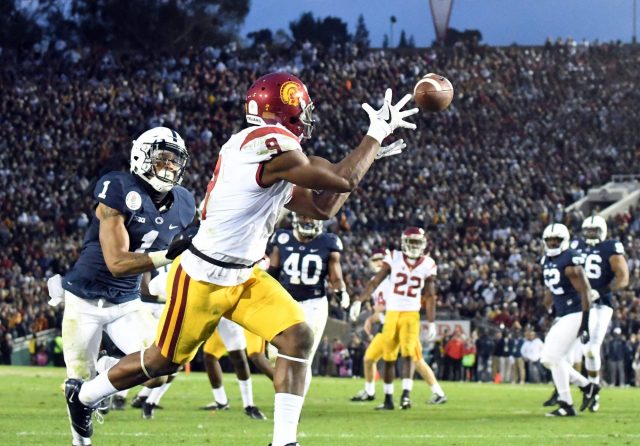 To become a beloved member of the Jets, you need to exhibit a toughness and willingness to do what most other guys won't do. Wayne Chrebet is a great example of this. A player who wasn't the fastest, strongest or most talented, but a player who would give you everything he had and more.
University of Southern California wide receiver, JuJu Smith-Schuster is cut from the same cloth. Where Chrebet may have been undersized, Smith-Schuster at 6-foot-2 and 220-pounds will be able to absorb more of the punishment than Wayne did during his tenure with the Jets.
Comparisons to Anquan Boldin and Pierre Garcon have been used to describe JuJu's game. Smith-Schuster is physical, like Boldin and Garcon, he has no fear to go for that ball that is across the middle, something that will aid him with the 50-50 ball.
Like the tight end that can provide a safety blanket to a young quarterback, Smith-Schuster can also provide that sense of security as a possession receiver. He was able to compile 20 touchdowns over the last two seasons, however, the 2016 campaign included three games of multiple touchdowns. While he is capable of scoring touchdowns, his value comes as a volume receiver. As a sophomore, Juju had 89 receptions and followed up the following year with 70, he bears the sure hands that teams desperately need to move the chains.
If the Jets should miss out on selecting Mike Williams in the first round, Smith-Schuster could be a player for Maccagnan to target later on to build a reliability to what is likely to be a young pass thrower. As much as breakaway speed is important, "sure hands" are a more valued attribute to have.
Alternative Pick: Malachi Dupre, WR, LSU