With an offseason full of question marks ahead one thing needs to be clear, Brandon Marshall needs to stay in New York
M
any questions surround the
New York Jets
this offseason. From who will be under center to
what familiar faces will no longer be around come 2017
, the Jets and General Manager Mike Maccagnan have some tough decisions ahead of them.
Keeping Brandon Marshall around for 2017 should not be one of them.
---
---
Brandon Marshall came to the New York Jets prior to the 2015 season from the Chicago Bears when they traded their fifth-round pick for Marshall and the Bears seventh-round draft pick.
It wound up being one of the better trades the Jets franchise ever pulled off, as Marshall set franchise records in receiving yards and receptions in 2015, and tied the franchise record for receiving touchdowns in a  season.
Although Marshall did see a dip in his production in 2016, those woes could be attributed to the falloff in production from the quarterback position as well as Marshall being a frequent flyer on the team's' injury report.
The 32-year old played through those injuries, for the most part, missing only the week 17 matchup against the Bills.
With questions concerning his character following him throughout his career, Marshall, for the most part, has avoided the negative limelight while playing for the Green and White. Sure, he had a few skirmishes with Darrelle Revis and Sheldon Richardson on the practice field, but Marshall competes on a high level, and that's to be expected.
Without his colorful past, those incidences wouldn't have even been newsworthy.
Besides his own production, Marshall also helped the production of Eric Decker upon his arrival in New York. Decker spent the early parts of his career in Denver as the number two wide receiver and enjoyed success. After outplaying his rookie contract, the New York Jets signed him to be their main receiver after giving him a five-year $36.25 million contract prior to the 2014 season.
As the Jets number one receiver, Decker saw his numbers drop across the board. Some of those losses can be attributed to going from eventual Hall of Fame quarterback
Some of those losses can be attributed to going from eventual Hall of Fame quarterback Peyton Manning throwing him the ball in Denver to Geno Smith tossing him the rock in New York, but his dip from 24 touchdowns in the previous two seasons to just five in his first season with the Jets was alarming.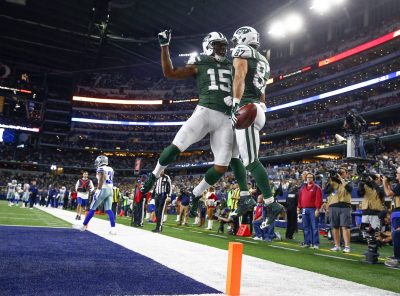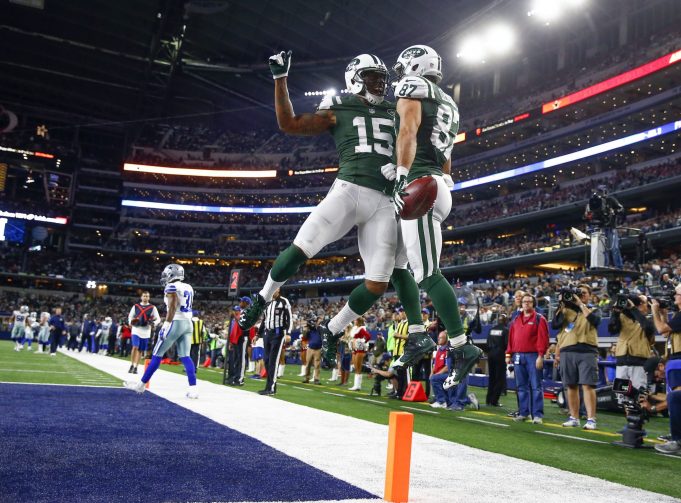 Then came the arrival of Brandon Marshall. Marshall assumed the WR1 responsibilities allowing Decker to assume the WR2 role that he played in Denver.
The presence of Marshall allowed Decker to return to the kind of production that earned him his contract with the Jets, breaking 1,000 yards receiving and once again returning to double-digit touchdowns (12) on the season. Decker and Marshall were arguably the top wide receiver duo in the NFL during the 2015 season.
With the emergence of Quincy Enunwa this season, it would be wise to throw out the combo of Marshall, Decker and Enunwa next season for whoever is under center.
Brandon Marshall has been very vocal throughout his career. Usually, his personality landed him in hot water, as he was traded three times during his career.
During his time in New York, Marshall could have thrown multiple players under the bus, especially this season, but has taken the high road and backed his teammates, even when backing them wasn't the easiest of options.
Brandon Marshall has proven during his New York Jets career that he has put his behavioral problems behind him.
The reason Marshall's name has popped up during questions of who will be with the team next season is largely due to his contract situation.
---
---
Although Brandon is owed $7.5 million next season, he has no dead money attached to his contract, meaning he can be released without the Jets suffering a cap penalty. The problem here is $7.5 million is a modest contract for a wide receiver of his playmaking abilities and is actually $1.25 million less than his counterpart Eric Decker will make next season.
It is a well-known fact that a person who is happy with his or her current job situation will be more productive for the said job. Brandon Marshall enjoys being a member of the New York Jets. So much so, when he thought he was traded this season before the trading deadline, he almost cried.
Marshall has also stated he would be willing to take a pay cut to stay in New York following the 2016 season, as he wants to win more than get paid at this point in his career. Brandon has also let it be known that he want so retire a Jet, and if he is willing to do it for less money, why not allow him that honor?
Bringing along players who want to win more than they want to collect a paycheck usually works out well, especially if that attitude comes along with a plethora of talent. If the Jets want any chance of finding success like they did in 2015 next season, Brandon Marshall needs to be a part of the game plan.
No Brandon Marshall in 2017 could result in the offense looking much like the 2016 season:
"The best way I can describe it is, having a diaper on & never changing it. And just sitting in that diaper the whole year." – @BMarshall pic.twitter.com/4JGuhptJxX

— Inside the NFL (@insidetheNFL) January 4, 2017