The New York Knicks face the Houston Rockets at home on Wednesday, Nov. 2, in the second half of a back to back. It won't be an easy matchup.
The New York Knicks (1-2) and the Houston Rockets (2-2) have both shown the ability to play great offense. The difference being the Knicks were able to put it together for only one game in their first three while the Rockets scored over 100 in three of their first four.
James Harden has been particularly incredible. Harden's move to point guard was one of the league's most talked about storylines during the offseason, with many wondering how the notoriously selfish player would approach the position. So far he hasn't disappointed.
[graphiq id="cXKEd5JsFgh" title="James Harden Profile" width="600″ height="704″ url="https://w.graphiq.com/w/cXKEd5JsFgh" link="http://basketball-players.pointafter.com/l/120/James-Harden" link_text="PointAfter | Graphiq" ]
Last season, Harden was first in free throw attempts and second in three-point attempts, so it's not surprising that he's in the top five in both categories right now.
The Beard has dropped 25-plus points and 7-plus assists in every game. The 27-year-old is first in assists (11.8) and fifth in points (32.3). In Monday's loss to Cleveland, he had 41 points and 15 assists. The dude is on a tear.
Check out this shot chart. Harden's finished on a crazy 61.8% of his attempts in the restricted area. For the amount of contact, he takes at the rim that's even more impressive.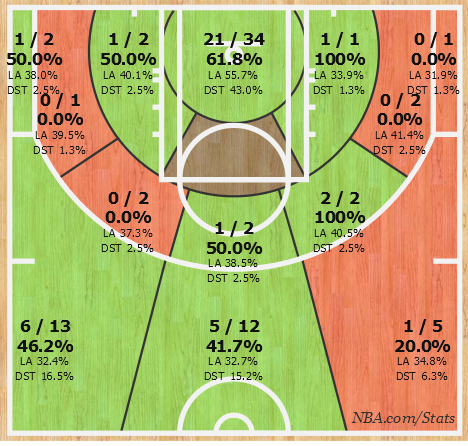 Harden's play has helped the Rockets rank second in effective field goal percentage (adjusts for threes being worth 50% more than twos) and fifth in offensive efficiency (points scored per 100 possessions).
That high-powered offense won't be easy for the Knicks to stop. Outside of Joakim Noah and Kyle O'Quinn the Knicks have looked awful on defense. They're ranked 23rd in defensive efficiency (points allowed per 100 possessions) and 22nd in opponent's effective field goal percentage.
Kristaps Porzingis hasn't looked comfortable on that end of the floor yet, and Marcus Morris cooked Carmelo Anthony last night for 22 points on 9 of 14 shooting.
https://youtu.be/dKF17kSz5BE
As a rookie, Porzingis was arguably New York's best defender behind Robin Lopez so there was hope that he'd continue to develop on that end. It's still early and KP is playing next to Noah. That can only help.
The Knicks have allowed opponents to shoot 41.1% from three-point range this season. Part of that has to do with the poor defense from the Knicks backcourt. Courtney Lee is yet to find his groove and Derrick Rose is still working off the rust. That three-point number is alarming though, considering the Rockets launch 34.0 threes per game.
As bad as the Knicks have been on defense, the Rockets have been far worse. Mike D'Antoni's team is dead last in defensive efficiency (by a wide margin) and 28th in opponent's field goal percentage.
https://youtu.be/nXSuQrra4BU
Houston has proven to be extremely weak on the interior. Per Synergy, teams are shooting an incredible 70.2% in the restricted area and even Clint Capela is struggling to stop opponents in the paint. Opponents are shooting an average of 64.7% on shots from less than 6 ft. from the rim against the 22-year-old center, just 0.3% less than the league average. For context, last season Capela held opponents to an impressive 55.3%.
Anticipate three things tonight: Both teams will score in the 100s, James Harden will drop 30 points, and Carmelo Anthony will take 20 shots. It's going to be that kind of night at Madison Square Garden.
Chip Murphy covers the NBA for Elite Sports NY. You can find him on Twitter @ChipperMurphy.
Save
Save
Save