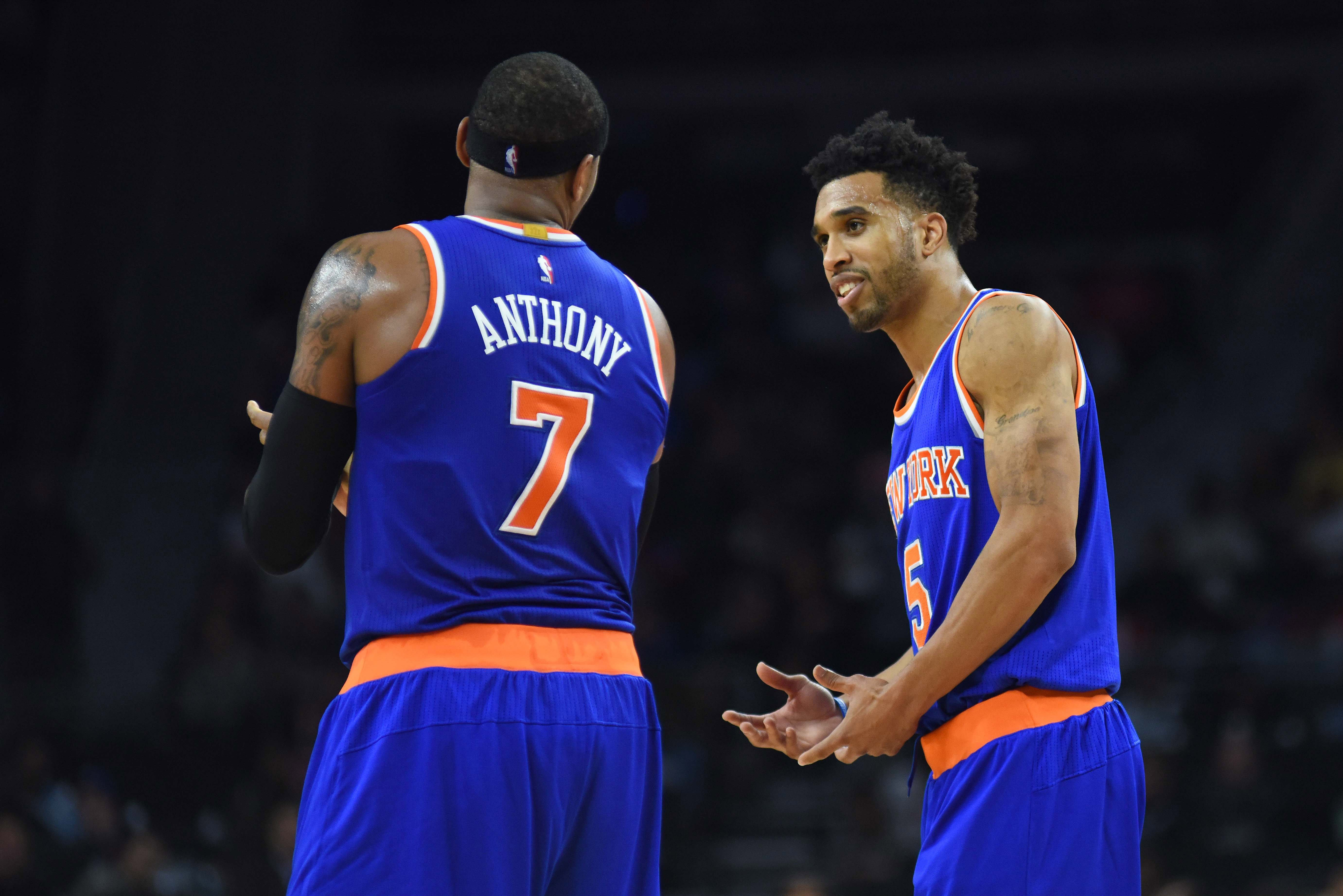 Knicks coach Jeff Hornacek said he wanted his team to play physical defense this season. But against the Detroit Pistons, the New York Knicks were as plush as a pillow.
Detroit, minus its starting point guard Reggie Jackson (knee), poured on 64 first-half points and sent the Knicks (1-2) packing from The Palace of Auburn Hills with a 102-89 loss on Tuesday.
"We didn't come out with the right intensity. We can't give up baskets like that. It gives a team way too much confidence," said Joakim Noah, who finished with a game-high eight assists to go along with 12 rebounds and two blocks. "Especially in the beginning of the game when you're giving up layups and open shots like that. Giving up 30-point quarters to start the game. It's hard to shut teams down when you give them that kind of confidence."
New York allowed Pistons forwards Marcus Morris (22 points) and Tobias Harris (25 points, 10 rebounds) to run rampant, combining for 47 points on 17-of-26 field goal shooting.
Derrick Rose characterized Detroit's offense as "relaxed" as they shot a cool 61.5 percent from three against a porous Knicks perimeter defense. And when they weren't knocking threes down, the Pistons lit up the New York interior for 50 points in the paint.
"All this is a learning process. We're figuring things out. It's only the third game," said Rose, citing New York's tough early schedule with Houston coming to town for the second of a back-to-back on Wednesday. "We're playing against tough teams and we gotta come out and just compete on the defensive end, especially when we're not making shots. If we're not making shots, and they're making it hard on us, it's gotta be vice-versa."
"I think we came out in the first half letting them feel too comfortable on the offensive end," added Kristaps Porzingis, who finished with 18 points on 7-of-18 shooting. "And then our early bad shots led to their transition, which they executed very well. The little things, the little details that we have to watch the film, analyze and learn from."
After halftime, New York was active defensively, holding the Pistons to just 38 second-half points. The Knicks, though efficient much of the game, would regress in the fourth quarter.
They shot 5-of-21 in the final period and did not score in the game's last 5:40. Carmelo Anthony finished with a team-high 24 points but shot just two-of-eight from the field in the fourth quarter.
"I don't think we ran anything. We just came down and made either – someone ran over and set a screen or somebody popped out and tried to go one-on-one," Hornacek said after the game. "And we've got guys out there that can make plays but that's what happens if you don't. Then you can have stretches where it looks really good and stretches really bad. Unfortunately for us, that fourth quarter was bad."
Added Anthony: "I think it just came down to we didn't execute in the fourth. … Especially on the road and we're trying to make a push. I thought we gave ourselves a chance going into the fourth being down six or seven on the road. But we couldn't execute and we couldn't score. You ain't gonna beat nobody scoring 10 points in the fourth quarter to close a game."
Don't get gassed: 
50 points in the paint is a lot to give up for a team that spent $72 million on its starting center and has a 7-foot-3 "unicorn" shadowing the interior.
Hornacek feels his team needs to be in better shape to compete on both ends of the floor.
"Maybe we're not in the kind of condition we need to be in to play offense and defense for all 48 minutes," he said. "I think we did get a little tired and that's gonna affect your shooting. Can't fault the effort defensively in the second half, they really came out and played hard. We just looked like we ran out of gas a little bit."
Establishing an identity: 
New York's age-old defensive woes are brand new to Noah and Rose, both disciples of Tom Thibodeau's hard-nosed thinking.
Rose says developing an identity on defense takes time and will happen as the season progresses.
"We gotta build that. I played on teams where before (T'Wolves coach Tom Thibodeau) got to Chicago, we didn't have an identity," he said. "And he came and changed the culture there. And he changed our identity. And we can do that here, man. We have to and we're going to, but like I said, it takes time. It takes time to build that culture and that effort, and making sure that guys give the extra effort for everyone on the team."
Added Noah: "I think that right now we just have to get better. It's not about Thibbs. I think that right now, that's the past. Right now, this is a new system, a new coach, and we're definitely trying to build an identity. But right now, defensively we're not on the same page. And offensively, we're not on the same page as well. So it's not the end of the world, but it's disappointing because we know we're more than capable."
Noah's signature intensity impacts the game on both ends. Now, he says the rest of his Knicks teammates need to bring the same energy on a daily basis.
"I think (intensity is) an every day (thing)," he said. "Intensity is every day. Defensively, it's about building good habits, being together and understanding rotations. And we're not there yet."
Stock Up
After posting 11 points and six rebounds against Memphis, Kyle O'Quinn did not score but recorded four blocks in just 10 minutes of play.
Justin Holiday was taken to the locker room with lacerated right cheek but returned to give the Knicks depth at the shooting guard. Did not score, but recorded a block in 10 minutes.
Stock Down
Lance Thomas' shooting struggles continued with a one-of-six shooting performance coupled with two turnovers against Detroit.
Brandon Jennings scored 12 points on 5-of-10 shooting but erratic shot selection stifled the flow of New York's offense.
Next Up: Nov. 2 vs. Houston