While there are slight differences, the notion that New York Jets QB Ryan Fitzpatrick reminds us of Chad Pennington is a very raw one.
T
he following is a paraphrased conversation that WFAN's Joe Benigno revealed live, on-air. It's one he had with his good buddy Bill Belichick regarding both the New England Patriots and
New York Jets
quarterback situations.
The conversation took place more than a decade ago when both Tom Brady and Chad Pennington were young pups.
Joe Benigno: "Hey coach. Can you take it easy on my Jets this week? Oh the pain."
Bill Belichick: "Hey Joe. What do you want now?"
Benigno: "It's looking like Tom Brady is the real deal. I'm ecstatic that the Jets have a franchise quarterback too."
Belichick: "You do?"
With that, the hopes and dreams of one Joe Benigno were crushed. No longer did he view Chad Pennington as that franchise guy all Jets fans thought he was when he resurrected the Jets from a 1-4 early hole in 2002 to capture their first AFC East title since 1998 and last to this very day.
It also turned out that Bill Belichick was right. Pennington wasn't a bonafide franchise guy.
He was a fiery, unabashed leader who'd run through a wall for his club. He was a field general who would throw deep bombs to Santana Moss in San Diego during the month of January when his team needed it most.
He'd then flex that perceived weak muscle while doing it all with a torn rotator cuff:
He was a guy an extremely talented roster can win games with. The question of whether he can actually win a Super Bowl always remained the hot-button, $1 million question of the year.
That was 2002. It's now 2016. While the names and faced have changed, these New York Jets are in the same, very familiar situation.
Ryan Fitzpatrick, the 33-year old journeyman coming off a career 31 touchdown campaign, is Chad Pennington, part deux.
The very same reasons Jets fans loved Pennington are the same reasons they adore Fitz. He's fiery, competitive and will literally try to run through a 325 lbs. defensive tackle for his club. It's also the very same reason he's missed so many games, just like Chad.
Coming into 2016, Fitz has garnered an opportunity of 176 NFL games in 11 seasons. He's only participated in a mere 113. Obviously, much of the missed opportunity has come by way of the backup role, but a big chunk of it can be directly tied to injuries.
Pennington, in 11 career seasons, played in just 89. His injury history has been well chronicled. The 2003 season he broke his arm in preseason against the New York Giants and could never full stay healthy thereafter.
Both guys are geniuses behind center. They can read the defense pre-snap as great as any QB in the league. They can each organize an offense superbly.
What they both can't do, which is the most outstanding point for the Jets at this current time relating to Fitzpatrick, is make every throw on the field.
Guys like Brady and Aaron Rodgers have it all. They're equipped with brains and that golden arm. Fitzpatrick simply cannot make every throw necessary at this level.
It limits the Jets in what they can do offensively.
While Fitz's lone interception in Week 1 was a last gasp effort and shouldn't be harped on, it does show fans one important thing. Fitz cannot make that deep out throw. His arm simply isn't strong enough.
Any out route over 15 yards is a throw Fitz struggles with. Pennington featured the very same limited arsenal.
Two plays prior, Fitz showed the world what he can do when the defense allows a fraction of a window in the middle of the field:
If Brandon Marshall didn't pull that choke job, New York would've been set up near mid-field with 30 plus seconds remaining.
Still, though, the point holds true: Chad Pennington also shredded defenses up the middle. They're both guys with long deliveries who do entirely more damage pre-snap than post.
This was the main point fans couldn't quite grasp when they tore apart offensive coordinator Paul Hackett for so many years. Hackett, in knowing the abilities and capabilities of Pennington, had to tailor his offense accordingly. The very same can be said for Brian Schottenheimer when he was the only offensive mind to have success with Mark Sanchez.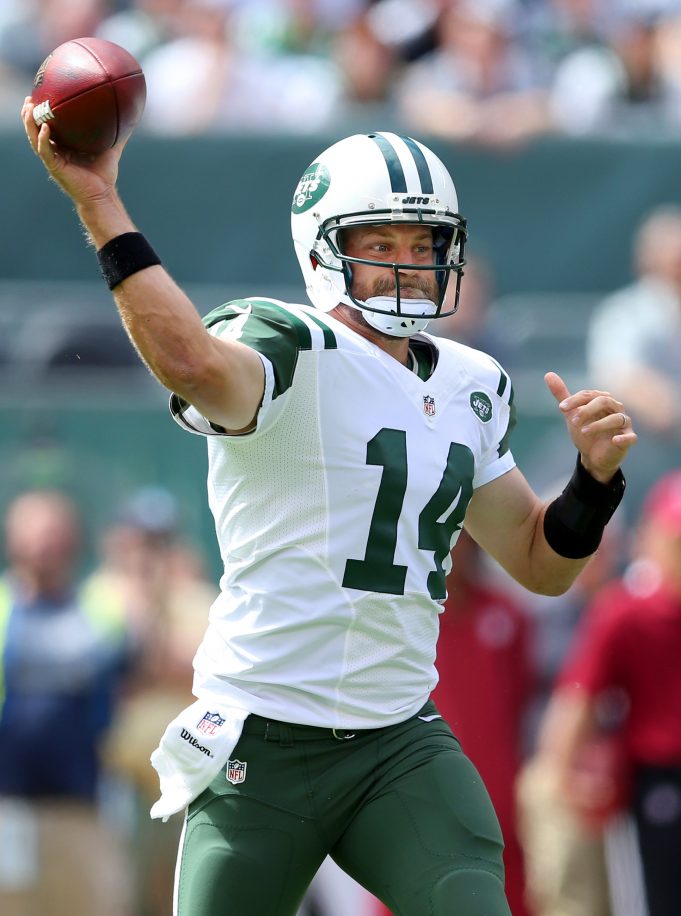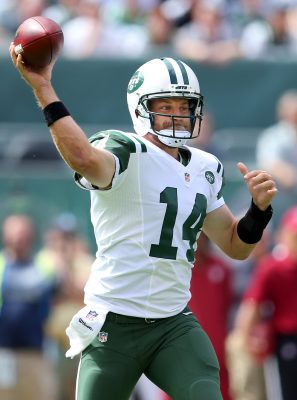 And, of course, the exact same idea is playing true now for Chan Gailey with Fitz.
This isn't to say the Jets can't win with Fitzpatrick. They sure can, and bringing him back on a 1-year deal in 2016 was the team's best chance to win. Blessed enough to possess one of the best rosters in the league, Mike Maccagnan made the right decision in turning to the guy who won the starting job in 2015.
It was also critical to make sure Geno Smith wasn't traded. Having that lottery ticket behind such an injury prone and limited QB was the only move for New York.
Now 0-1, Fitzpatrick will be tested at the highest of levels on Thursday night. Rex Ryan is a guy who knows how to play quarterbacks. Similarly to Week 17 last year, he'll, again, pressure the Harvard grad and ask his defensive backs to use a trail technique on almost every play.
He'll dare Fitzpatrick to go 15-20 yards along the sidelines.
Make no mistake about it, though. They can win with Ryan Fitzpatrick and the man can do serious enough statistical damage to be Pro Bowl bound in 2016. It just takes a little extra oomph by everybody involved.
The question remains: Can such a limited QB win the Super Bowl in such a pass happy league?
Pennington couldn't. Can Fitz?