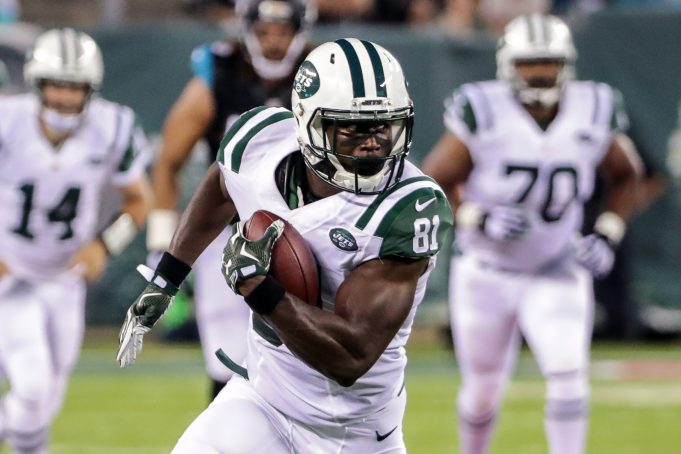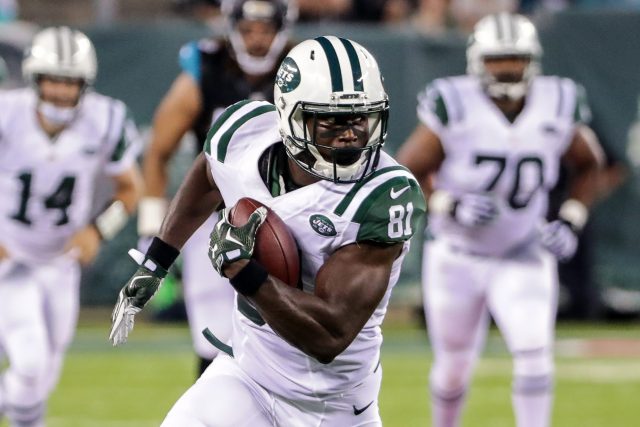 For Enunwa, 2016 bears the fruits of a full, healthy season — a far cry from his first two pro seasons. Last year, while an incremental improvement from his rookie year in which he missed 15 of 16 games, Enunwa played in parts of just 12 games.
The former 6th round pick racked up 22 catches for 315 yards over that span, in which he started six games. While those numbers won't blow anyone away, Enunwa showed flashes of vertical route ability and became a late-season contributor thanks to sure hands and an imposing figure.
Those impressive aspects of his game make Enunwa a good bet to be an integral member of the Jets' receiving core, as he has risen to third on the depth chart at the position.
His size, 6'2″, 225 lbs., is an asset which will allow Chan Gailey to deploy Enunwa in a tight end capacity, something the Jets did last season. Regardless of whether or not Gailey chooses to use Enunwa as a tight end, the third-year receiver will have his opportunities given Gailey's tendency to use four- or five-wide out sets.
With all that in mind, Enunwa is a candidate to emerge as a consistent contributor to the Jets' offense, representing an option to Fitzpatrick vertically or of the traditional tight end variety.