With Teddy Bridgewater going down for the season, the Minnesota Vikings suddenly have a need at QB. Could New York Jets' Geno Smith be a fit?
Do the Minnesota Vikings feel comfortable with Shaun Hill?
This is the all important question.
As you've heard by now, third-year quarterback Teddy Bridgewater sustained a torn ACL and dislocated kneecap in a non-contact drill in practice. The good news – if there is one in this scenario – is that Teddy should be ready to roll in 2017. The awful news is that he's now done in 2016 for a team with playoff aspirations.
36-year old Hill will be the starting quarterback. Undrafted free agent Joel Stave is the immediate backup.
This is a problem and quite obviously, another signal caller is needed in Minnesota.
Enter Geno Smith, the much-discussed backup quarterback of the New York Jets.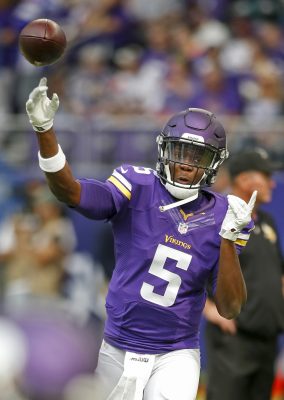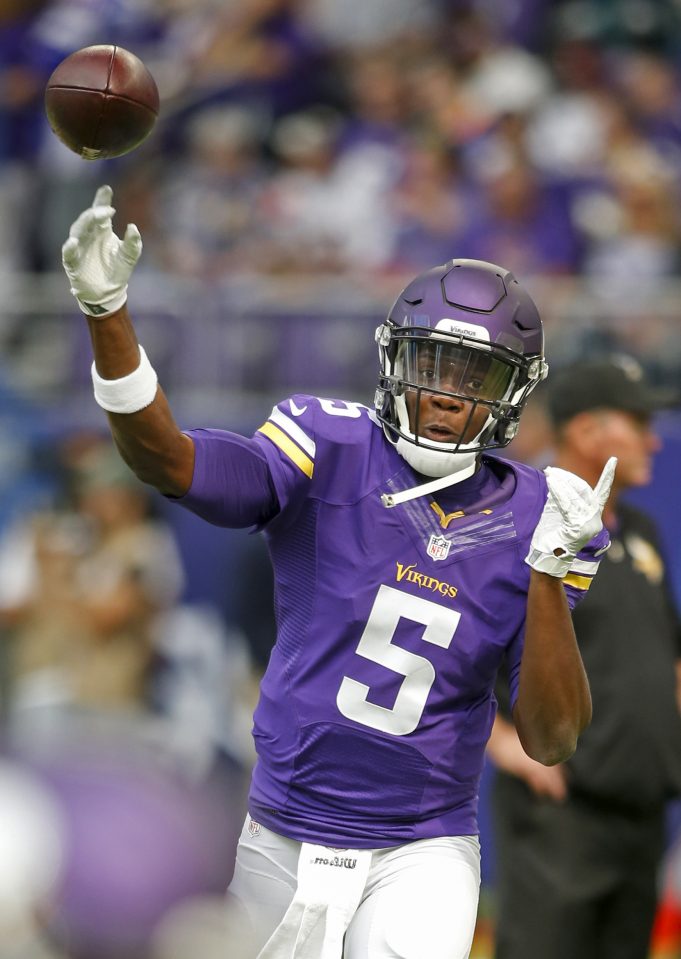 First and foremost, just because 90 percent of the online publishing world has tossed out possibilities for the Vikings after this devastating injury, doesn't mean the possibilities are sound and well thought out.
Geno is included in many of these potential scenarios, but does he actually fit in Minny?
From a Jets point of view, it's possible:
While we still project Mike Maccagnan and Todd Bowles to keep four quarterbacks heading into Week 1, the improvement seen from Bryce Petty could pave the way for a Geno trade. The Vikings would really have to provide above average value thanks to the recent idea that the Jets feel much more comfortable with Smith as the backup to Ryan Fitzpatrick.
Todd Bowles even made mention of the four QB scenario on Tuesday, via Michael David Smith of Pro Football Talk.
It was also revealed that Geno won't play in Thursday's preseason finale in Philadelphia. Most are taking the route that this signals the Jets will, indeed, keep all four guys. Others believe they're holding Geno out to prevent an unwelcomed injury should another team knock their socks off with a Geno proposal.
From a Vikings point of view, it makes complete sense:
Norv Turner, the offensive coordinator in Minnesota, is one of the elder statesmen of the league as it pertains to calling plays. And while his age closely resembles Chan Gailey's, his offense couldn't be more contrasting in style.
Norv still loves to stretch the field, just as he did in Dallas. This is in stark contrast to Gailey's spread, quick timing offense that features a ton of three-step drops.
In either offense Geno would still struggle with the things that have forced inconsistencies upon him during his first two seasons. The proper use of secondary routes, scanning the field pre-snap, and feeling the pressure would still haunt him in Minny.
On the other hand, he would be able to more properly showcase his solid arm in Norv's offense. Wide receivers Stefon Diggs, Laquon Treadwell and Cordarrelle Patterson are classic burners.
Moreover, Smith closely resembles Bridgewater's style of play. Both prototypes are pocket passers who add the element of mobility. The transition could be a nice one for the Vikings.
Final Analysis:
Smith is on the last year of his four-year rookie deal. The cap hit is modest is $1.597M and the Jets wouldn't hurt the cap in any way (freeing up close to $1M if traded). Minnesota has plenty of cap space ($12M plus).
The only question – if the Vikings are, indeed, interested – would come down to the Jets comfort level in Petty as the immediate backup.
Remember, Christian Hackenberg is basically being treated as a NFL redshirt freshmen. He'll never be active on gamedays and will follow Fitz wherever he goes. If Geno is gone, it's almost as if the Jets are carrying two quarterbacks.
Maccagnan, as evidenced by the way he treated Petty a season ago, is a firm believer in allowing the rookie QB to wait it out.
How deep would the Vikings have to go if a Geno trade was possible? A fifth-rounder, perhaps? Would the Jets gamble on Petty as the backup for a mere fifth?
Odds are, New York will still keep all four QBs. It's hard to believe they will feel alright with Petty as the sole backup (considering Fitz's injury history and wreckless behavior on the gridiron).
Still, this is an interesting possibility that Mikey Mac will be sure to make the rounds on.