Even after five wide receivers, New York has more to offer.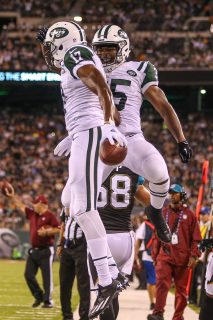 Remember Devin Smith? He's the speed burner out of Ohio State who tore his knee up a season ago. This kid's the lone weapon on the offense who runs a scary straight line time and could add an absurd level of value to this rather slow-footed group.
When he gets back, Fitzpatrick will be surrounded with yet another needed element in making this group scary good.
Then there's Jeremy Ross, Kenbrell Thompkins and Robbie Anderson. Ross and Thompkins, especially, are two solid vets who can easily hold down No. 4 or 5 jobs for many teams in the league.