The biggest storyline to the Jets' offseason is nearly complete. We already knew Zach Wilson was entrenched as New York's QB2 heading into the 2023 season. But when would Aaron Rodgers officially be QB1? It's looking like the only thing left before that happens is a physical, which is probably a formality at this point.
Acquiring Rodgers serves two purposes for the Jets. It helps them upgrade one of their weakest positions from last season, seemingly making them a bonafide playoff contender. This will also be the apprenticeship that'll hopefully get Wilson's own career on the trajectory New York thinks it can be at.
Even when discussing Rodgers, general manager Joe Douglas continued to heap praise on the 2021 second-overall pick:
"Zach's ceiling is unlimited. No one works harder, no one loves ball more than Zach Wilson."

Joe Douglas on how Zach Wilson will benefit from the presence of Aaron Rodgers in the Jets' QB room: pic.twitter.com/bH7KD9zW3K

— Jets Videos (@snyjets) April 25, 2023
Before it was public knowledge that the Jets would pursue a veteran quarterback to play ahead of Wilson this fall, he was asked about it by the media. The young signal-caller said this:
How will Zach Wilson react if the Jets sign a veteran quarterback?

"I'm going to make that dude's life hell in practice every day" pic.twitter.com/hy1IMJNB2a

— Jets Videos (@snyjets) January 9, 2023
That's the kind of mindset every professional athlete needs, especially when they're behind the eight-ball. Bravado can only go so far, though, and the Jets have openly admitted they haven't done a good job of developing Wilson as a quarterback. In the grand scheme of things, though, this is probably the best-case scenario for Zach.
I mean, Rodgers was Wilson's childhood hero. That was a notable storyline heading into their Week 6 matchup at Lambeau Field, which New York won, 27-10. So, if he's going to take a back seat to anyone, it might as well be for Rodgers, right?
As you can imagine, this quote is getting a lot of extra play right now. It's apparently made its way to Rodgers' Twitter timeline, and he liked this particular tweet from Barstool Sports: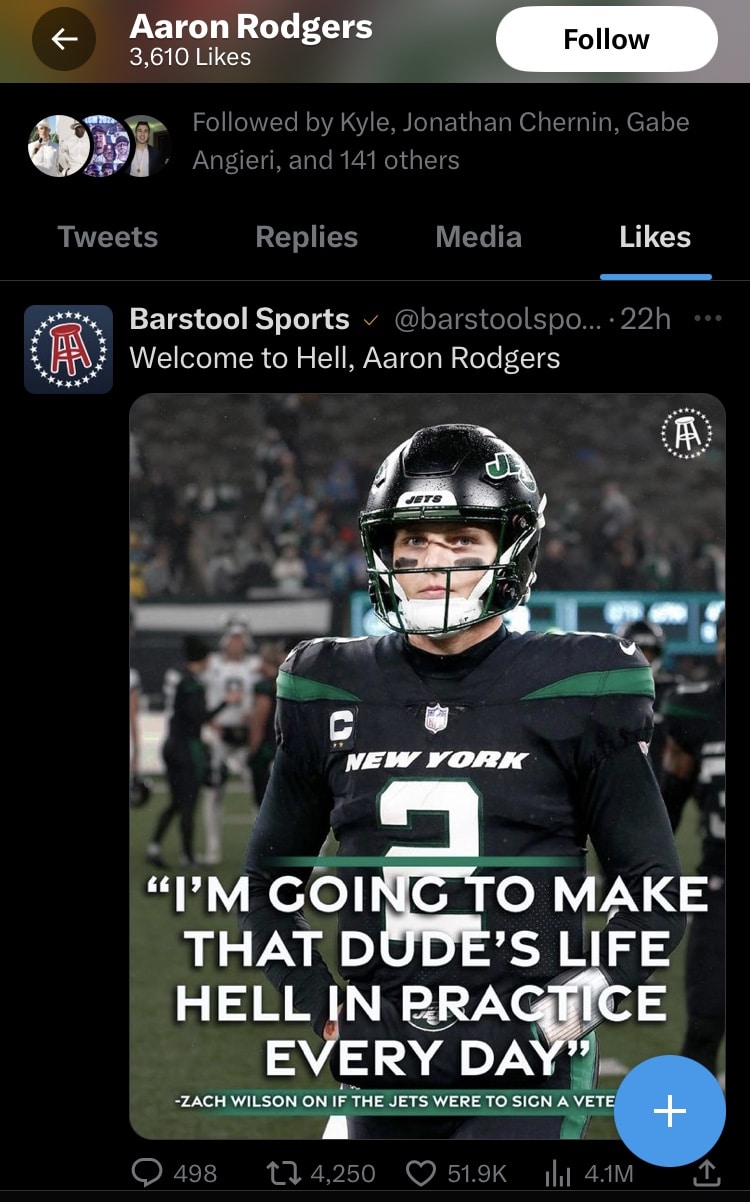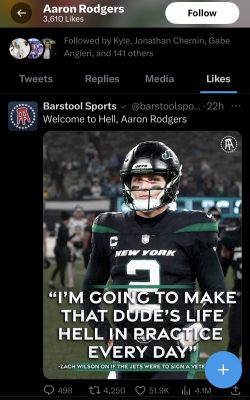 Rodgers probably just thinks this is funny. After all, it's not like this was directed at him — Zach Wilson said this before anyone thought Rodgers would even be a possibility for the Jets. The veteran QB probably also wants Wilson to have this kind of attitude every day in practice because it'll only make him a better player in the long run.
But still, it's funny that he took the time to like it on Twitter. And I doubt Rodgers is scared. For a man who voluntarily goes on darkness retreats, a little healthy competition each week in practice is nothing.
You can reach Matt Musico at [email protected]. You can follow him on Twitter: @mmusico8.