Mets starting pitcher Kodai Senga is gearing up for the second MLB start on Saturday afternoon against the Miami Marlins. I'd say he got all the butterflies and nerves out of the way last Sunday at loanDepot Park, but maybe not. After all, this will be his first start at home in front of the Flushing faithful.
We'll see how it goes, but we know the man will be toeing the slab in style. When facing Miami last week, everyone noticed the "Ghost Fork" design on the webbing of his glove, which is certifiably awesome. But as it turns out, there's a lot more detail and symbolism all over that piece of leather.
The various aspects were broken down on Reddit, which you can see below.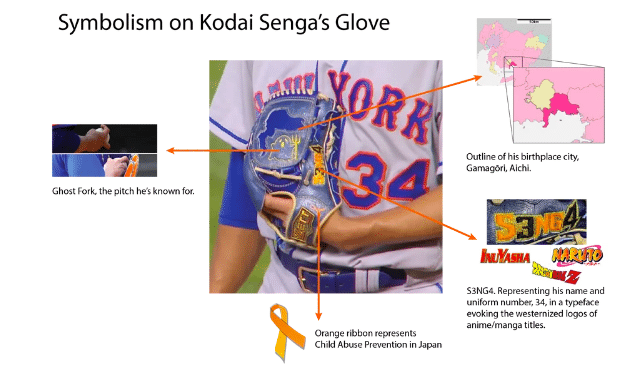 This is awesome. Each time I think Senga can't get any cooler, he does. It'll be awesome to see him take the Citi Field mound for the first time on Saturday. People need to see the Ghost Fork in person to truly appreciate its nastiness.
While he's been waiting around to make his home debut, let's hope Kodai Senga has also gotten a chance to try some real New York-style pizza. I mean, if he loved pizza when he was down in Port St. Lucie, then he'll love it up north.
MORE ON ESNY:
• Mets fan spends actual money to troll Jacob deGrom with custom jersey
• Justin Verlander gives loose (and encouraging) timeline for Mets debut
• Mets must view Francisco Alvarez as the solution … not the 'backup QB'
• Do you already hate MLB's pitch clock? Then this definitely won't help
• Steve Cohen's latest Mets adventure: The maternity ward
You can reach Matt Musico at [email protected]. You can follow him on Twitter: @mmusico8.