There's been more than one sign in recent weeks telling us the Mets need to start playing games to keep us entertained/busy. I didn't need another one, but I got it over the weekend anyways.
We all know how terribly one-sided some trade proposals can be from fans who want elite players from other squads. Mets fans are no different. Even after a historically expensive offseason that has New York projected to be one of baseball's top teams, people are still scheming for more.
And what better place to get more win-now players than the Los Angeles Angels, right? Check out the proposed trade between the Mets and the Angels that's below. Also, look at how many people wouldn't like it! (h/t to Rob Piersall for bringing it to light on the Twitter machine.)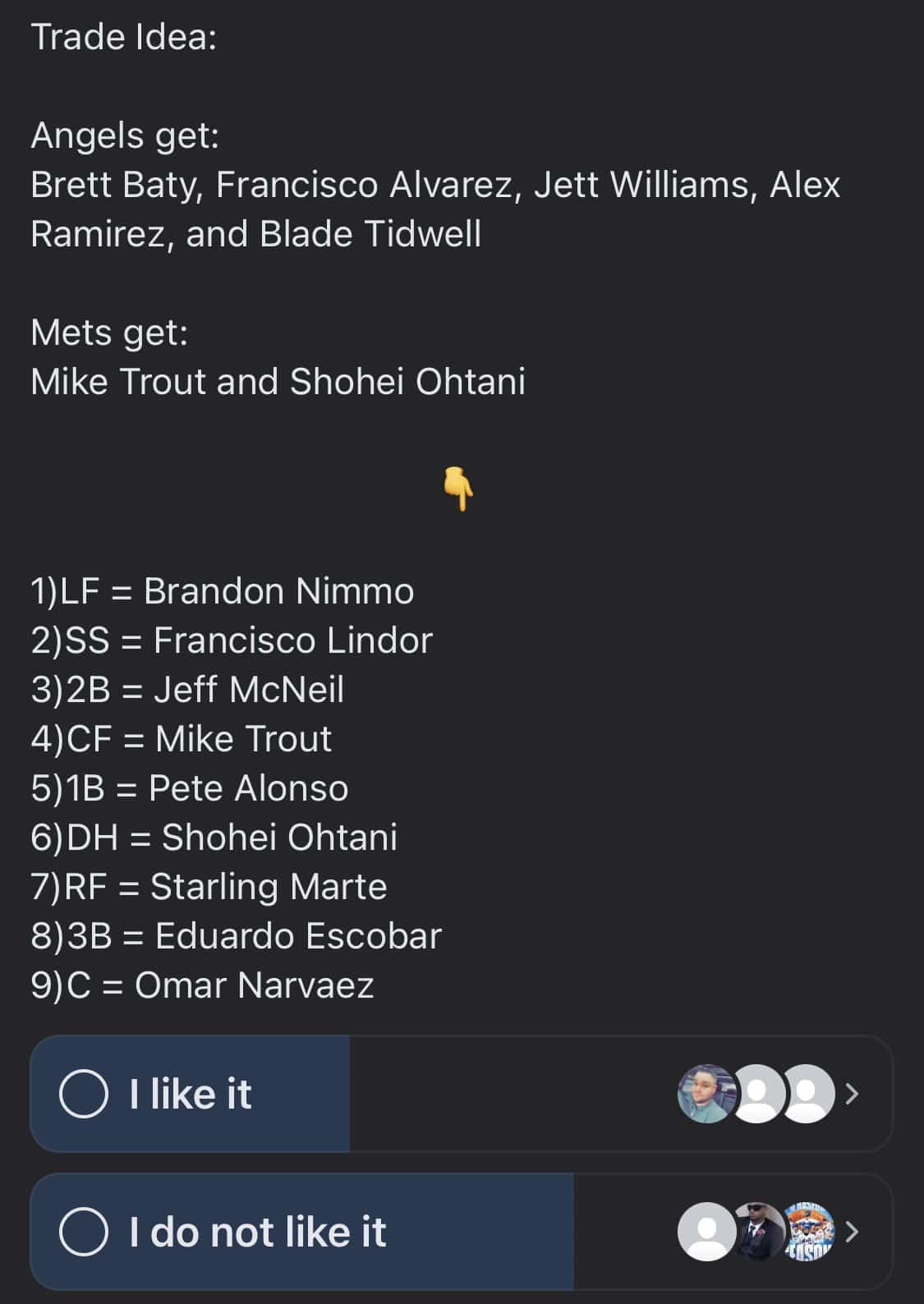 This trade proposal was shared on the "Amazing Mets" Facebook group, which is a private group Mets fans can request to join.
I need to know why people wouldn't like this. After looking through some of the comments, it's mostly because of how unrealistic the swap is. That makes total sense. However, who wouldn't love to insert Mike Trout and Shohei Ohtani into the Mets' lineup while New York only surrenders prospects??
I also love that some people were dismissing this trade idea because it'd gut the Mets' farm system, specifically at the top with Francisco Alvarez and Brett Baty. I get that — rebuilding the minor-league system is a focus for the Mets — but come on, people. There are certain instances where it'd be worthwhile. This is it.
Shohei Ohtani will become a free agent at the end of this season. The chances of him staying with the Angels don't appear great at the moment. While Trout will try to convince him to stick around, Mets owner Steve Cohen is already chomping at the bit to pursue Ohtani.
One thing we can be sure of, though, is that a trade like this would never…never…never (!!) happen. Even if Ohtani became available at the trade deadline, this package of players probably wouldn't be enough. And yes, I know he'd be a rental player.
Angels owner Arte Moreno won't be selling his club anymore. He also isn't a fan of Cohen and the Mets. I have a hard time believing Moreno would green-light any kind of trade to help New York improve its roster.
This is the kind of stuff that happens in February, folks. Spring training games will start this weekend for New York, so that'll at least distract us from making ridiculous trade proposals until Opening Day on March 30th in Miami. Maybe.
Matt Musico can be reached at [email protected] and you can follow him on Twitter: @mmusico8.