Top tier pitching talent is important in any fantasy league. Who should be the ace of your staff this year?



Our 2021 fantasy baseball preview series has walked through all of the batters you'll need for your upcoming fantasy drafts. The next two steps in our series are on the mound. Today, we look at the starters who you'll want to consider early and often on draft day.
This winter has seen some of the biggest names in pitching change uniforms. From Trevor Bauer's record-breaking deal in LA to the trades of Yu Darvish and Blake Snell to San Diego, you might need to check a few big league rosters before making your own this season.
The top of the list will undoubtedly generate some debate. One thing we kept in mind when building our list goes against the trend in analytics today: we care about wins because your fantasy league scoring likely will, too. So defense behind the starter, the bullpen supporting him and offensive support play a role in which starter you should take first (and second and third).
With that, let's start the list of our top 50 starting pitchers for your 2021 fantasy baseball season.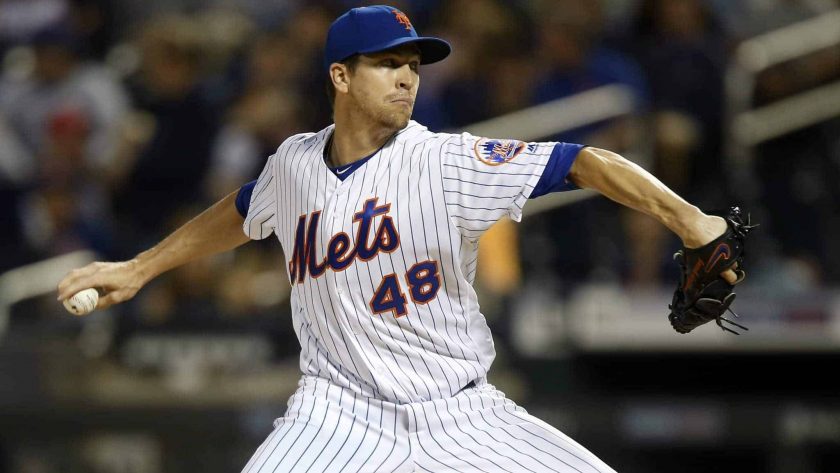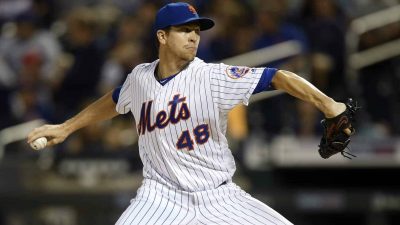 1. Jacob deGrom, New York Mets
The issue for deGrom in fantasy over the last few years was the lack of run support and mediocre defense costing him wins. The addition of Francisco Lindor and move of Jeff McNeil to second base should help the defense and Lindor changes the entire lineup.
2. Trevor Bauer, Los Angeles Dodgers
We're going to put Bauer here ahead of a few other big names because he's an ace who will be slotted as a number three man in his rotation and has a strong bullpen behind him. The Cy Young Award in the National League could come down to our top two fantasy starters this year.
3. Gerrit Cole, New York Yankees
The numbers will be there, but we still have some concerns about the Yankees' bullpen. We also need to see the defense behind Cole be better to help him out.
4. Shane Bieber, Cleveland Indians
You know how deGrom dominated for three years with no offensive support? Welcome to the next couple years in the life of Bieber. He's one of the best pitchers in the game but he'll need to throw a shutout every night to get the wins. He tested positive for COVID-19 so keep an eye on his health closer to the regular season.
5. Yu Darvish, San Diego Padres
Two of our top five starters changed teams this winter. Darvish found something in Chicago and dominated for a couple years before he was traded in a cost-cutting move. He's got a dynamic offense and outstanding defense behind him now, so the fantasy expectations are through the roof.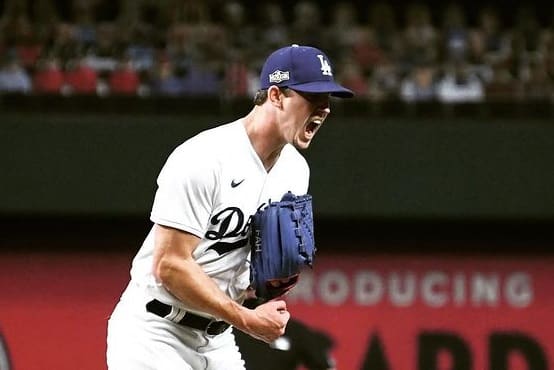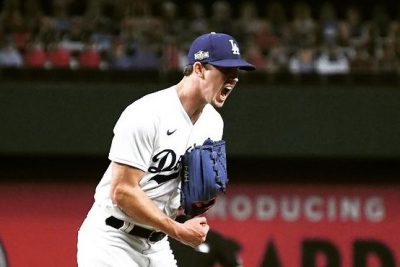 6. Walker Buehler, Los Angeles Dodgers
A guy who should be in the Cy Young conversation is not one of the three starters in his own team's rotation to have one of the awards at home. He's a special talent and an ace on any fantasy roster.
7. Jack Flaherty, St. Louis Cardinals
The addition of Nolan Arenado means Matt Carpenter's bat and glove will struggle to get into the mix for the Cardinals, both of which help the pitching staff. Flaherty isn't talked about as much as he should be. He can be dominant.
8. Max Scherzer, Washington Nationals
The Nats helped their bullpen this winter and added a couple bats, which should help Scherzer pick up a few more wins. He was one of the guys who might benefit from the shortened 2020 season. He's still elite and should be one of the top pitchers again.
9. Aaron Nola, Philadelphia Phillies
Is this the year Nola takes the next step into superstardom? We've been waiting and the Phillies now need him to establish himself as the clear alpha in their rotation. His numbers will be good but he isn't as consistent as the names ahead of him on our list.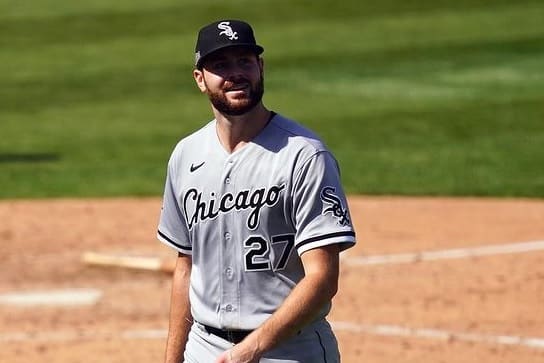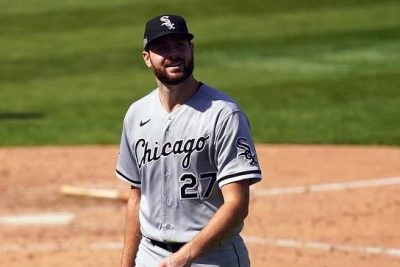 10. Lucas Giolito, Chicago White Sox
The Sox are going to be entertaining this season without question, and Giolito will be their ace. Chicago's got an elite closer now and they're going to score runs. It will be worth watching how he works with the team's new pitching coach, however.
11. Dinelson Lamet, San Diego Padres
The strikeout numbers are fun with Lamet, but he hasn't been on the mound enough for us to risk him being your number one starter. If he can put it all together over a full season, he has the ability to be a fantasy ace without question.
12. Brandon Woodruff, Milwaukee Brewers
In 35 starts between 2019-20, Woodruff has a 132 ERA+ with 234 strikeouts in 195.1 innings pitched. Entering his age 28 season, he'll look to establish himself as a legit all-star caliber number one for the Brewers. He should benefit from a division that has a couple teams rebuilding in Pittsburgh and Cincinnati.
13. Clayton Kershaw, Los Angeles Dodgers
Kershaw appears to have found the fountain of youth and the World Series monkey is off his back. With Bauer in the fold, the pressure will be off Kershaw to lead this pitching staff all year. It's crazy to think the Dodgers have three of the top 13 overall fantasy starters but here we are.
14. Luis Castillo, Cincinnati Reds
The Reds are a team in transition and Castillo might not be in Cincinnati all year. But he has arguably the nastiest changeup in the bigs and continues to grow into a bona fide ace. The strikeout numbers won't be as high as the guys ahead of him on our list, however.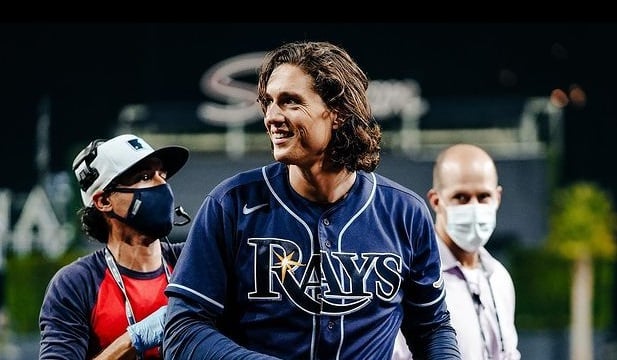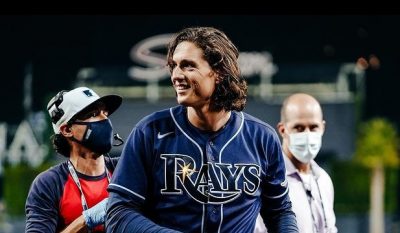 15. Tyler Glasnow, Tampa Bay Rays
With Blake Snell and Charlie Morton gone, Glasnow is your number one in Tampa. He's going to face a loaded American League East a lot this year, which puts pressure on him to be excellent. We think he can be an all-star, and he's worth buying.
16. Stephen Strasburg, Washington Nationals
Coming off an injury last year, Strasburg still has the stuff to be a number one. We do have physical concerns, but the team around him should put up solid offensive numbers and his bullpen is improved.
17. Zac Gallen, Arizona Diamondbacks
A youngster makes our top 20. Gallen has the ability to be lights out. We do have concerns about the team around him in Arizona, but he's a year or two from being a fantasy ace.
18. Jesús Luzardo, Oakland A's
Luzardo is another youngster who has electric stuff. We love his upside as a future number one; he could break out this year and be a key pitcher for a winnings fantasy lineup.
19. Carlos Carrasco, New York Mets
Moving to a team that will score runs and has a solid bullpen should benefit Carrasco, who was solid in Cleveland last year. He'll also benefit from not being asked to lead the rotation for the Mets.
20. Sixto Sánchez, Miami Marlins
If you watched him in the playoffs you know lightning comes out of his hand with every pitch. He's got 100 mph stuff and breaking balls that make batters cringe. Keep an eye on him to have a potentially huge season for the Marlins.
The Rest
View this post on Instagram

21. Charlie Morton, Atlanta Braves
22. Framber Valdéz, Houston Astros
23. Kyle Hendricks, Chicago Cubs
24. Blake Snell, San Diego Padres
25. Sonny Gray, Cincinnati Reds
26. José Berríos, Minnesota Twins
27. Zack Grienke, Houston Astros
28. Max Fried, Atlanta Braves
29. Kenta Maeda, Minnesota Twins
30. Ian Anderson, Atlanta Braves
31. Lance Lynn, Chicago White Sox
32. Hyun Jin Ryu, Toronto Blue Jays
33. Corey Kluber, New York Yankees
34. Nate Pearson, Toronto Blue Jays
35. José Urquidy, Houston Astros
36. Corbin Burnes, Milwaukee Brewers
37. Zack Wheeler, Philadelphia Phillies
38. Patrick Corbin, Washington Nationals
39. Triston McKenzie, Cleveland Indians
40. Lance McCullers, Jr., Houston Astros
41. Chris Paddack, San Diego Padres
42. Dylan Bundy, Los Angeles Angels of Anaheim
43. Luis Patino, Tampa Bay Rays
44. Zach Plesac, Cleveland Indians
45. Julio Urías, Los Angeles Dodgers
46. Joe Musgrove, San Diego Padres
47. Sandy Alcantara, Miami Marlins
48. Shohei Ohtani, Los Angeles Angels of Anaheim
49. Dustin May, Los Angeles Dodgers
50. John Means, Baltimore Orioles