New York Giants rookie quarterback Daniel Jones applies to trademark the "Danny Dimes" moniker for multiple uses.
It seems like Daniel Jones is getting to the business side of the so-called moniker he's been given this year. Per Josh Gerben, who founded Gerben Law Firm, the New York Giants quarterback has applied to trademark "Danny Dimes," which was a nickname that was cemented this past preseason.
Jones plans to use it for clothing, toys, along with other merchandise.
Daniel Jones has filed a trademark for DANNY DIMES.

The filing was made by a Delaware LLC which claims Jones as President.

It also uses the home address of Jones' parents.

In the filing, Jones states he will offer DANNY DIMES branded merch soon.

My analysis?#dannydimes pic.twitter.com/KHPGNNYbMK

— Josh Gerben (@JoshGerben) November 14, 2019
"NFL quarterback Daniel Jones has filed a trademark application for his nickname, "Danny Dimes." The application was filed in October under a Delaware LCC, Hermitage Companies LLC," Gerben said. "In the trademark application, Hermitage Companies claims that Daniel Jones is the owner or member of the company … As for the trademark application itself, Daniel Jones has indicated he plans to offer Danny Dimes-branded computer games, football helmets, clothing, even yo-yos, and inflatable toys."
It's not uncommon you see players of this popularity entering the business side of their careers. Giants' second-year Pro Bowl running back Saquon Barkley recently revealed his "SB" logo in collaboration with Nike for a new line of apparel.
Despite many going back-and-forth on the cheesiness of the "Danny Dimes" nickname, the merchandise Jones releases will surely sell, and quickly.
Thus far, Jones has had an up-and-down inaugural season in the pros. Through nine games (eight starts), he's completed 63% of his throws with 1,984 yards and 15 touchdowns.
He additionally has two scores on the ground. However, the turnover bug has made its way to him much of this year. Jones has thrown eight picks and lost nine fumbles for a total of 17 turnovers.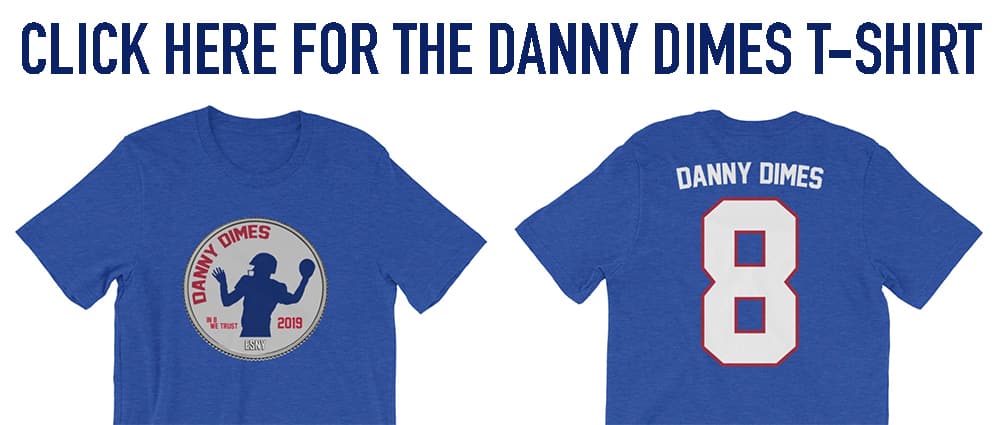 Follow Ryan on TWITTER