The Brooklyn Nets' media day was more than just an entertaining introductory presser. It was a full-scale production.

The second I set foot on the grey carpeted rug, which laid softly on top of the wood floor at the HSS Training Center, and strolled slowly to the line of chairs facing the podium, I could feel it in the air — something special was on the horizon. With Friday morning's press conference being perhaps the most monumental occasion in franchise history, the stage was certainly set. The big dogs were here to play — Bleacher Report's Howard Beck, ESPN's Malika Andrews, SNY's Ian Begley, among others — and this certainly contributed to the gravity of the moment.
Yet, as I put my things down — my phone, my portable charger, my backpack, which had been through countless college classes, trips, and opportunities — and eagerly took my seat, there was something else gripping me. Deep down, the feeling was unshakable.
We were all about to witness history. A spectacle was soon to be born.
Kenny Atkinson entered stage left and addressed the media. He set the tone early, explaining the exciting trials and tribulations that come with implementing star talent, "It's like a wonderful challenge… how to get all of these pieces to work together. We (the coaching staff) did a good job getting last year's group to.. overachieve I guess."
Atkinson continued, touching on the players he expects to see take the leap (Caris LeVert, Dzanan Musa and Jarrett Allen were some of the guys named) as well as the bonding opportunities during the upcoming pre-season trip in China. At one point, he highlighted newcomer David Nwaba for his versatility on defense.
Through it all, you could see it: a sparkle in his eye. For Kenny, the opportunity to lead two surefire Hall of Famers was a first as an NBA head coach. Kenny's a steady guy, yet even he shared the crowd's youthful elation.
Said Kenny with unrelenting sincerity, "the best coaches adapt to their players." He was ready for the challenge, as were the rest of us, fidgeting, adjusting excitedly in our seats.
And so it began, the prologue was over, the curtain was about to be raised. Kenny exited stage right, flashing his trademarked sternness with furrowed brows aplenty. The bright morning beams poured through the practice facilities' windows, yet, somehow, it felt as if a powerful force was slowly dimming the lights. The suspense took shape and hovered over the top of us suited spectators. The crowd turned its attention to stage left again, waiting with bated breath.
Then, he appeared. The cryptic basketball-mastermind himself, Kyrie Irving. The curtain was fully lifted. It's showtime.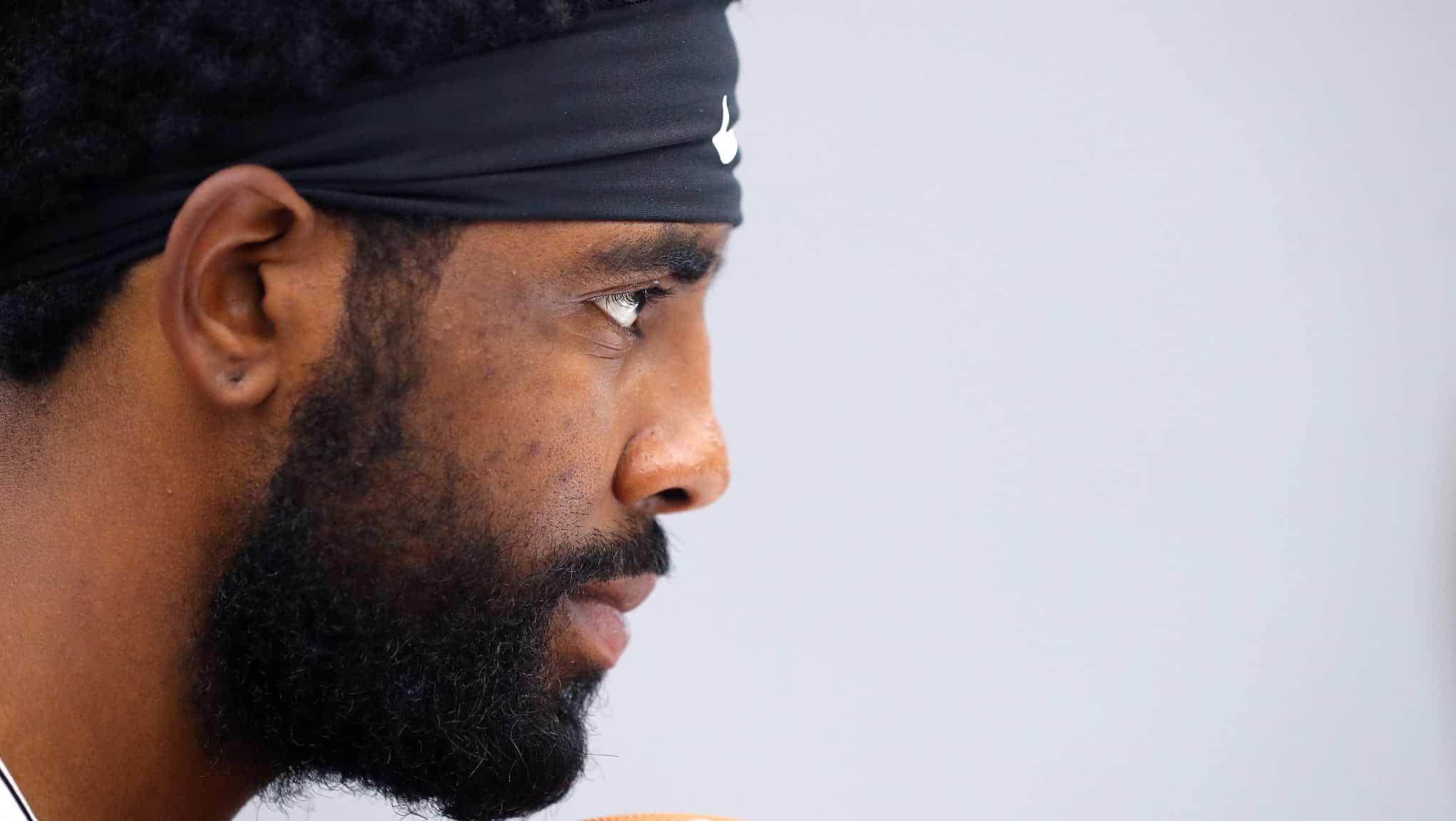 Act I: The superstar with candor.
I'll be the first to say it; I didn't have a shred of an idea for what to expect from the former world champion. With a pep in his step, Irving bounced up the stairs towards the podium, his firey-yellow Kyrie Low 2s contrasting that freshly-minted black Brooklyn Nets jersey.
Kyrie's been in the league for 8 years now; we've all been exposed to plenty of press-day coverage of the NBA superstar. Yet, on Friday, something just felt different. Irving, the hometown kid from West Orange, New Jersey, sat down and leaned in towards the microphone like an excited student with all the answers memorized on a big test day. He approached the first inquiry from YES Network's Ryan Ruocco with unabashed vigor.
"I'm incredibly grateful to be here. It's been a journey that I've taken numerous steps in different directions, and I've failed and succeeded…"
Irving continued, stating that he, personally, had reached out to Sean Marks and the Brooklyn Nets to inform them of his interest, which in his words was "very high." Smirking ever so slightly, the headbanded hero slipped in, "I had some other pieces I wanted to bring with me as well…"
Here was Mr. Irving, the man who once told Cavs.com beat writer Joe Gabriele that he "loved musicals" and had starred in a Duke University theatre production, now exhibiting some textbook foreshadowing. Brilliant.
Irving continued, touching on the Nets' family atmosphere. Things were going smoothly. Kyrie even referred to Brooklyn as "a step away from home."
Then, fully unprompted, Irving addressed the magnanimous elephant in the room — answering the question that even the bravest of reporters would feel at least some hesitation in asking.
In speaking about his experiences as a player, Irving gushed "nine months ago I was sitting in front of the Boston crowd saying that I wanted to re-sign. And after that, a lot of things happened in my personal life that really changed the landscape of how I felt about the game of basketball and actually playing it in a team environment, and that really affected me as a human being."
Holy crap. He did it. He talked about Boston. But there was more.
Irving harkened back to that moment of standing in front of the TD Garden crowd, pledging his allegiance to the league's most decorated franchise.
"'Hey, you know I think I want to re-sign here if you guys have me,' the Boston crowd was immense, it was crazy, they loved me in Boston, I loved the Boston fans. And then two weeks later things just got really, really rocky for me in terms of — when i left for, I believe you know, after the Phoenix game, I went to my grandfather's memorial, and he passed on Oct. 23 and after he passed, basketball was the last thing on my mind. So, a lot of basketball and the joy I had from it was sucked away from me and there was a facial expression that I carried around with me throughout the year, didn't allow anyone to get close to me in that instance and it really bothered me. I didn't take the necessary steps to get counseling or get therapy or anything to deal with someone that close to me dying. I've never dealt with anything like that."
All thoughts and emotions were sucked from that spacious gym. For the first time, Irving had broken his silence on what had gone wrong.
To be truthful, I barely remember the next couple of minutes of Kyrie's presser. All summer long, I had been rooting for Irving to rise to the occasion as a Net. And yes, I did believe there was a good chance he would find himself here in Brooklyn. But to be truthful for a minute, I could never shake that small seed of doubt in the back of my mind. What if history repeated itself? What if Boston was just the beginning?
So much stress is placed upon ensuring mental health for our players. You've heard it before, these guys are more than basketball-playing robots. I've always felt that the product on the floor is only a fraction of what makes these guys, that we look up to, so damn interesting.
Yet here I was, a part of the problem. I had jumped to conclusions and now my reality was shattered. Many times, a great theatrical production is one that challenges and even contradicts one's preconceived notions. I felt that first-hand on Friday morning. I was wrong about Kyrie. I felt guilt. I told you this was a spectacle.
Out of my head, I go, blinking twice, hard, to snap back into reality. Right at this point, Irving shared the most memorable quote of the morning. When discussing his former Boston teammates, Irving stated, "I failed those guys in the sense that I didn't give them everything that I could have during that season, especially with the number of pieces that we had. So my relationships with them personally were great, but in terms of me leading them in that environment and bringing everyone together, I failed."
Towards the end of his presser, Kyrie's attitude changed yet again to an almost vindictive tone. While discussing the Achillies rupture of his new teammate and best friend, Kevin Durant, Irving ferociously laid forth his thoughts. "We all know K was not ready to play in that environment…we put him on a national stage to end up selling a product that came before the person."
Yes, according to Irving, this NBA landscape which we all adore and cherish may not be what it seems. All the while, Irving — 3-and-a-half years Durant's junior — supported his USA teammate with an almost big brother-like charisma. "There isn't going to be any pressure from any of us at any time (to return). And I will make sure of that…"
Before taking his triumphant exit, Irving recalled speaking with DeAndre Jordan and Kevin Durant over Facetime, mulling over their options on the night of free agency. According to Irving, this conversation happened early. Reaallll early.
At 4:16 AM in the morning. Here marks the end of Act I.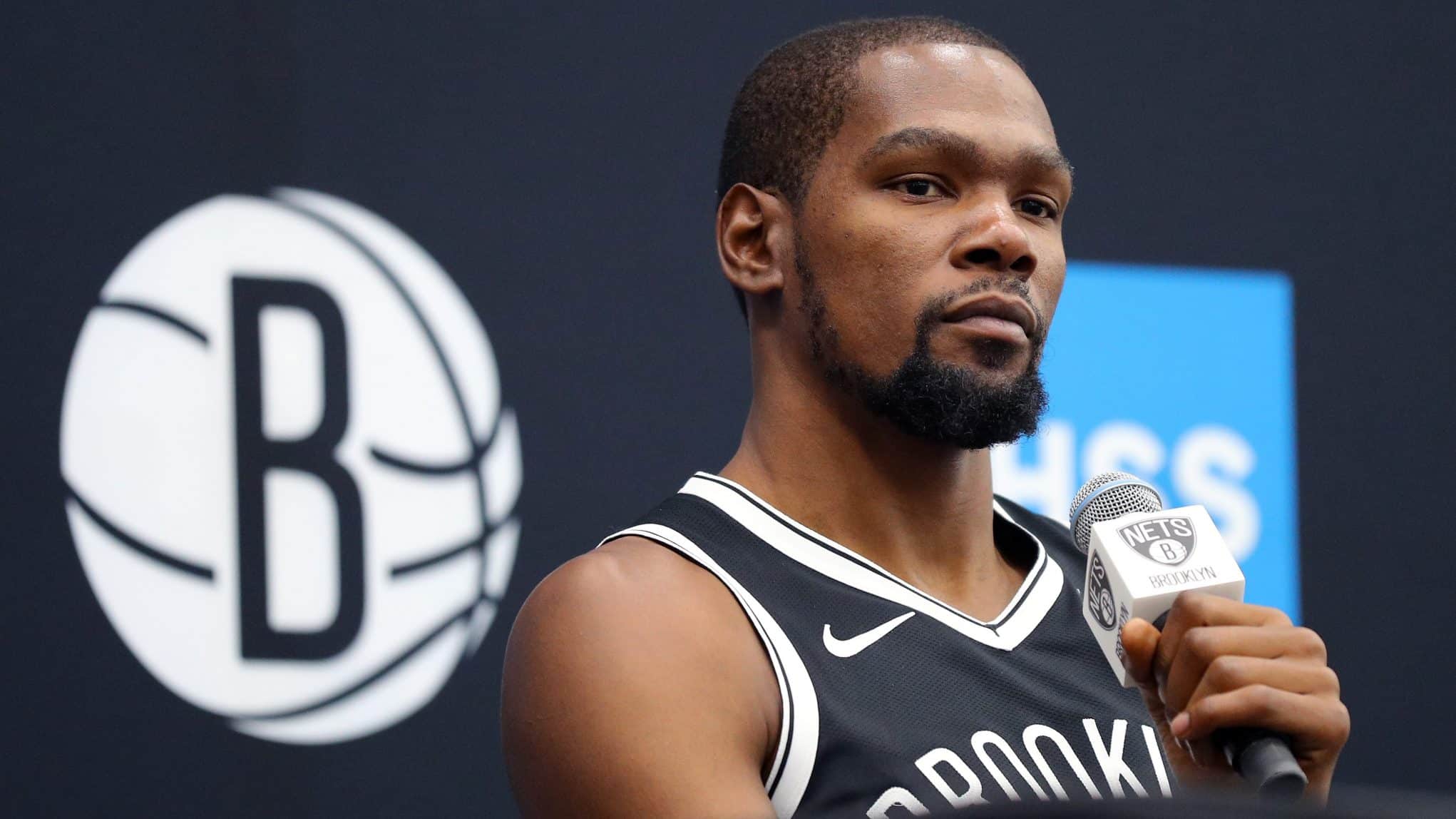 Act II: the reserved Hall of Fame counterpart.
With Irving now gone, it was time to hear from the other half of Brooklyn's new future. Kevin Durant sauntered towards the podium, his seven-foot frame engulfing my line of sight. He's walking well, I thought, excitedly. As he lowered his towering stature to the comically low podium table, key differences between Durant and his best friend Irving were immediately apparent. Kyrie Irving leaned towards the microphone with magnetic energy; Durant, on the other hand, burrowed deep into the chair that stood behind the table.
Not long ago, Durant was described as a shy, quiet player. I thought back to former ESPN writer Tom Friend and his story on a then-22-year-old KD. Within that story, KD recounted hearing jeers as a youngin'. "Why you so tall?" Said Friend in his story, "he became self-conscious from head to toe."
8 years later, and Durant has grown into a man with more knowledge than most of us can even hope to attain. He's accomplished every goal in his career — winning an MVP, grabbing two chips, and living in two of the most boisterous cities in America. On top of this, he's used his celebrity to grow countless business ventures. He's invested in multiple startups (Rubrik, Yoshi to name a few), he's launched his own television series (the Boardroom), and he's even taken the sports app Overtime under his wing.
Yet, through all of his many successes, it became very clear that the press conference setting was an arena he just never really adjusted to. Maybe I'm wrong (I probably am), but one thing seemed certain: Kyrie's comfortability contrasted dramatically in comparison to Kevin.
Durant's answers were short. Very short. As a member of the media force awaiting the next juicy slogan to tweet into forever-land, I would even describe them as frustratingly short. But deep down, I understood Kevin's sentiments. As a 12-year vet, he doesn't have time for surface-scratching questions. In his shoes, there's a good chance I would feel the same way.
In discussing the union with his buddies Kyrie Irving and DeAndre Jordan, Durant celebrated the sheer magnitude of the opportunity. "It's very rare we could meet up at this point… to control our destinies."
Continuing on, Durant then turned his attention to the Nets franchise, calling them "elite" in their commitment to the physical and emotional needs of their players. In response to free agency, although he gave some thought to other options (the LA Clippers, the New York Knicks and the Golden State Warriors) "for a couple of seconds," Durant said, "ultimately, I wanted to be here."
Durant heaped on his Nets-centric praise, this time highlighting Kenny Atkinson's coaching.
"I was doing a lot of YouTube research on Kenny Atkinson and watching interviews to see how he talked after games and stuff. I really liked his approach to his craft as a coach and that's what drew me in pretty quickly."
Kevin mentioned he didn't really conduct much research on other coaches. In a sense, he didn't need to. Kenny's system, which shares many attributes with Durant's early roots, resonated with the once-in-a-generation hooper.
Then, again, an enormous elephant was slain within the make-shift press room. One brave soul asked the hot-button question regarding his impending return. Said Durant, "me and Sean (Marks) have been in contact since day one. If he says (I'm coming back), it's coming from me."
Shortly before taking his exit, Durant recalled the moment in which he, Irving and Jordan decided to commit to Brooklyn. "We were just like, 'are we ready to do it?' and everybody was like, 'yeah.'"
This conversation, of course, occurred at 4:16 a.m. ET.
/end scene.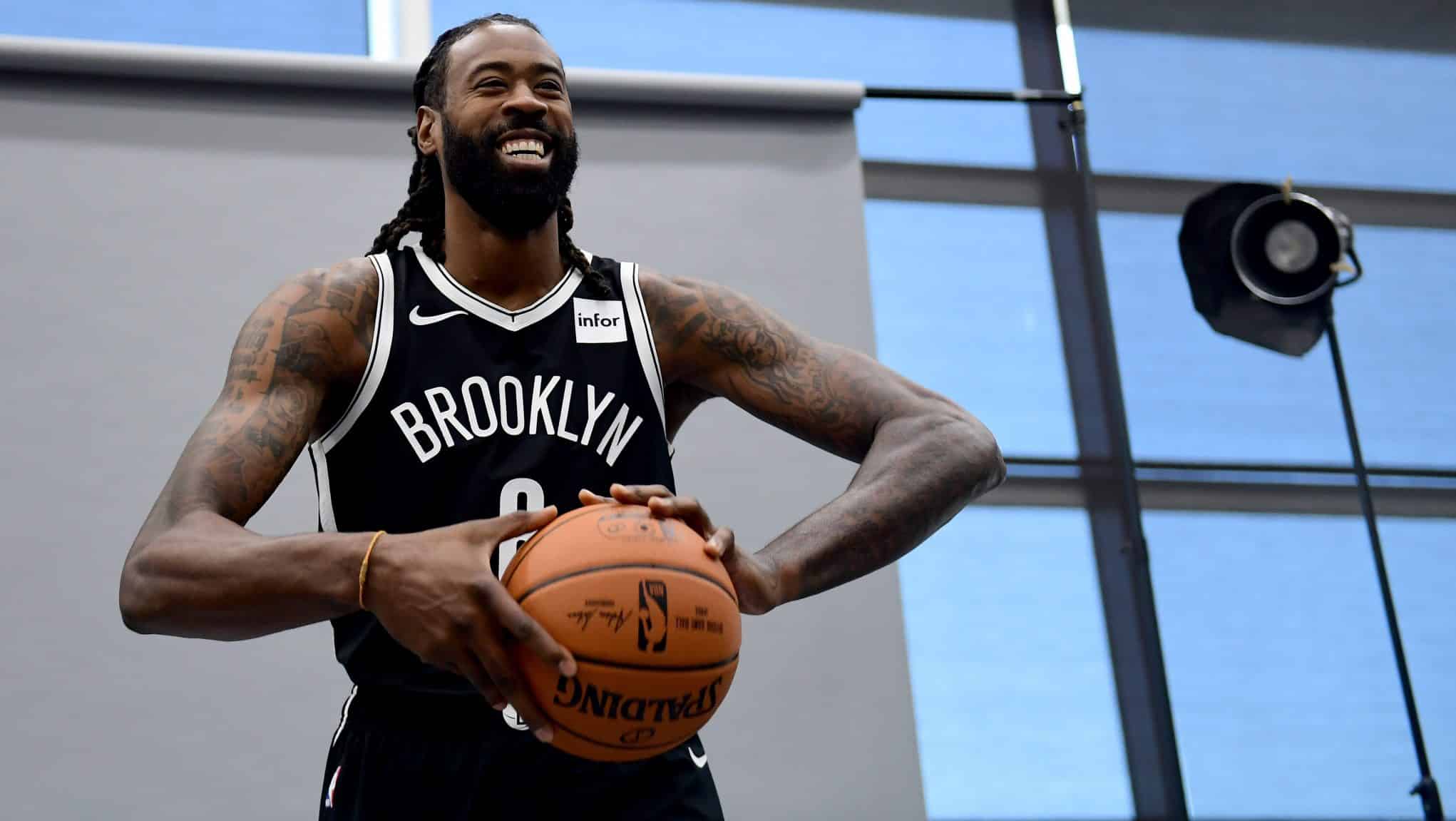 Act III: The duo's lighthearted brother, clad in black-and-white.
By the end of the season, DeAndre Jordan might end up moonlighting as the emcee at the Comedy Cellar. His hilarity was enchanting.
The first question in and DeAndre was off, ushering T-shirt-worthy words with slithering sarcasm (in response to his New York Knicks tenure).
"I played for the Knicks for two months…"
More questions were hurled DeAndre's way, some of which entailed role-modeling opportunities with the Nets' young center, Jarrett Allen. Jordan praised Allen for his rim-protecting, dunk-cramming skillset, but made sure to slip in a petty "well I'm glad they [the league office] are not letting him wear that ninja headband anymore." (At this point, I keeled over laughing).
Other moments of hilarity ensued. At one point, DeAndre Jordan snickered, "you asked like three questions right there" in response to an inquiry that was Inception-levels deep.
During his own personal presser, general manager Sean Marks expanded upon Jordan's potential role on the Nets. "He's extremely vocal. A defensive mindset. Really anchoring your defense back there. Where can his game go to? How can he help develop our young guys?… We're expecting big things from DJ this year."
I'd bet good money DeAndre Jordan's amicable personality carries him far within the Brooklyn Nets' locker room. Much like last year's veteran leader, Jared Dudley, DeAndre's charm should lead well into becoming both a fan-favorite and a general on the hardwood.
Sadly, DeAndre's presser was much shorter than his counterparts. Even so, he was able to flaunt his electric personality while replying to questions about free agency.
"It wasn't as exciting as getting locked in my house," the 30-year-old DeAndre laughed while comparing this summer's festivities to previous free agency periods.
Of course, he had some words for that fateful early-morning Facetime, first giving respect where respect was due.
"You can thank Apple."
DeAndre, feeling himself at this point, said of Durant and Irving "they were begging me to come (to Brooklyn)." The crowd burst out laughing, finally able to feel at ease following that morning's emotional statements. I'm gonna love this guy, I thought to myself. I can see why Kyrie and KD do too.
/fin.
---
Friday's press conference taught us many lessons. Looking back, the Brooklyn Nets' new trio of Olympian stars couldn't differ further in personality. Durant's reservation, Irving's passion, and Jordan's silly nature brought forth three very different approaches to life as an NBA star. In fact, the three Olympians were so all over the spectrum that it almost felt as if each was playing a specific part. How could these three divergent characters possibly vibe together?… I started to question myself… maybe this really is a play.
Relationships in basketball are described with many metrics and buzzwords; "synergy" and "efficiency ratings" are put in place to help viewers better understand the stars we cover. Yet, in reality, those measurements couldn't cause a bigger divide between the players and the media. What Kevin, DeAndre and Kyrie possess is a bond that's unquantifiable by any statistic. In a way, maybe that's why it's so tough for any of us to understand how they really ended up here, in Brooklyn, in the first place.
So, yes, while it seems inconceivable that such widely different — borderline divisive — personalities could coexist on the same roster, perhaps we need to strip things back and think about this from a human component. Together, Jordan, Irving and Durant will share a city and (in Kevin's words) "hang out at the crib, and go to the gym." Friday's proceedings were a friendly reminder that relationships aren't built upon strict similarities in persona. Sometimes, you just click with someone, regardless of what they do, say, or like.
At 4:16 AM, a masterplan was born. Gentlemen, take your bows. What a truly spectacular show.