With Wilson Chandler's 25-game suspension, there may be an opening on the Brooklyn Nets roster. Carmelo Anthony, among others, is not the answer.
I believe I owe you all an apology.
On Thursday, I penned these words: "Sean Marks is doing his best Popeye impersonation this summer. The man can't stop flexing his muscles. After landing two of the summer's top-3 free agents, Sean Marks is in the midst of a victory lap for the ages."
Brooklyn Nets forward Wilson Chandler is facing a 25 game suspension for testing positive for PED use, league sources tell ESPN. The NBA is expected to make an announcement later today.

— Adrian Wojnarowski (@wojespn) August 29, 2019
Welp. My bad. Is it too late to knock on wood?
While this is more of a bump in the road than a ten car pile-up, Sean Marks is facing a tough decision. As reported by ESPN's Bobby Marks, the Brooklyn Nets can technically add a 16th player to the roster during Wilson Chandler's suspension.
Should Brooklyn act quickly and fill that slot with one of the remaining scraps of free-agent talent? Or, should Marks keep the roster as is and hold out hope for a G-League callup or two-way convert?
To fully understand Sean Marks's next move, we must think about who the Nets are losing in the first place. Wilson Chandler, an 11-year veteran, was brought aboard on a minimum contract to provide leadership and role-playing intellect. In spot minutes, it was at least conceivable that the big-bodied 225-pound power forward could bang with the East's larger 4s (i.e. Julius Randle) and keep the defense honest with the occasional three-pointer.
Outside of that, Chandler projected as a 10th, maybe 11th man on this deep Brooklyn roster. Similar to Jared Dudley from last season, his ideal value would come off the floor, and it's likely we would have seen his minutes decline as the season progressed.
In essence, Brooklyn will miss Chandler's toughness and defensive knowledge. Unfortunately for coach Kenny Atkinson, none of Brooklyn's other power forwards can compare in this regard.
The jury on Taurean Prince's true position is still out. In Kenny Atksinon's Ant Man-sized rotations, I do expect him to play a lot at the four. The issue is, the East is shockingly deep at the power forward position; Pascal Siakam, Julius Randle, John Collins, Giannis Antetekounmpo (gulp), Al Horford, Aaron Gordon, and Lauri Markannen possess widely divisive skillsets, yet are all handfuls to defend — especially for an undisciplined defender like Prince.
If you think Rodions Kurucs is the answer, then prepare to be disappointed. I love Rodi — I think we all do — but to expect tremendous growth from the rail-thin prospect in year 2 is flat-out unrealistic. While he projects to be a multi-tooled defender down the line, capable of guarding 1-through-4, he's still figuring out how to exert basic control on his growing, lanky body.
After that, things start to look pretty post-Apocalyptic. David Nwaba is a bowling ball but he's still a grossly undersized 6-foot-4. Nic Claxton is, well… as his Twitter fan page suggests, a project.
There is room on this roster for a power forward. Sam Amico of Amico Hoops provided a comprehensive list of some possible free agent 4s. This includes Ryan Anderson, Marquese Chriss (ha, no), Justin Anderson, Lance Thomas, Luol Deng, Luc Mbah a Moute, Joe Johnson, Dante Cunningham, and of course …
I'll briefly go through some of the names listed. (Apologies ahead of time to the remaining Justin Anderson stans out there.) But for now, let's dig deep on the guy who practically tore the internet apart. Our boy hoodie checkered boxers (?) Melo.
I've already made my stance very clear on what he isn't good at; defense, passing, and most all, playing within a role. So rather than repeating information, let's instead discuss Melo's upside.
Simply put, Melo is a bucket-getter. Even in his worst season, he still averaged 13.4 points. You know his skillset: at 6-foot-8, 240-pounds, he's a brutally strong post player who can knock opponents down with a simple shoulder bump. As a career 34.7% three-point shooter, he's also a serviceable outside marksman who keeps the defense on its toes.
In theory, Melo's microcosm of offensive energy could greatly boost Brooklyn's bench while Kevin Durant sits on the injury reserve. One problem: Melo's hypothetic fit doesn't seem to match the product on the floor.
It's been almost a full year since Melo stepped on the NBA hardwood. After just 10 short games, the Houston Rockets decided to cut bait with the 10-time All-Star. To many, the decision was puzzling. Although his efficiencies were less than satisfactory (40.5% from the field; 32.8% from three), the New York native had some big performances, including a huge 9-for-12 performance against (yup, you guessed it) the Brooklyn Nets.
This wasn't the only time that Carmelo "got off," as the kids like to say. Just one week before, Melo had himself an impressive 24-point, 6-three-pointer performance against the LA Clippers. Here's Melo's full 2018-2019 game log: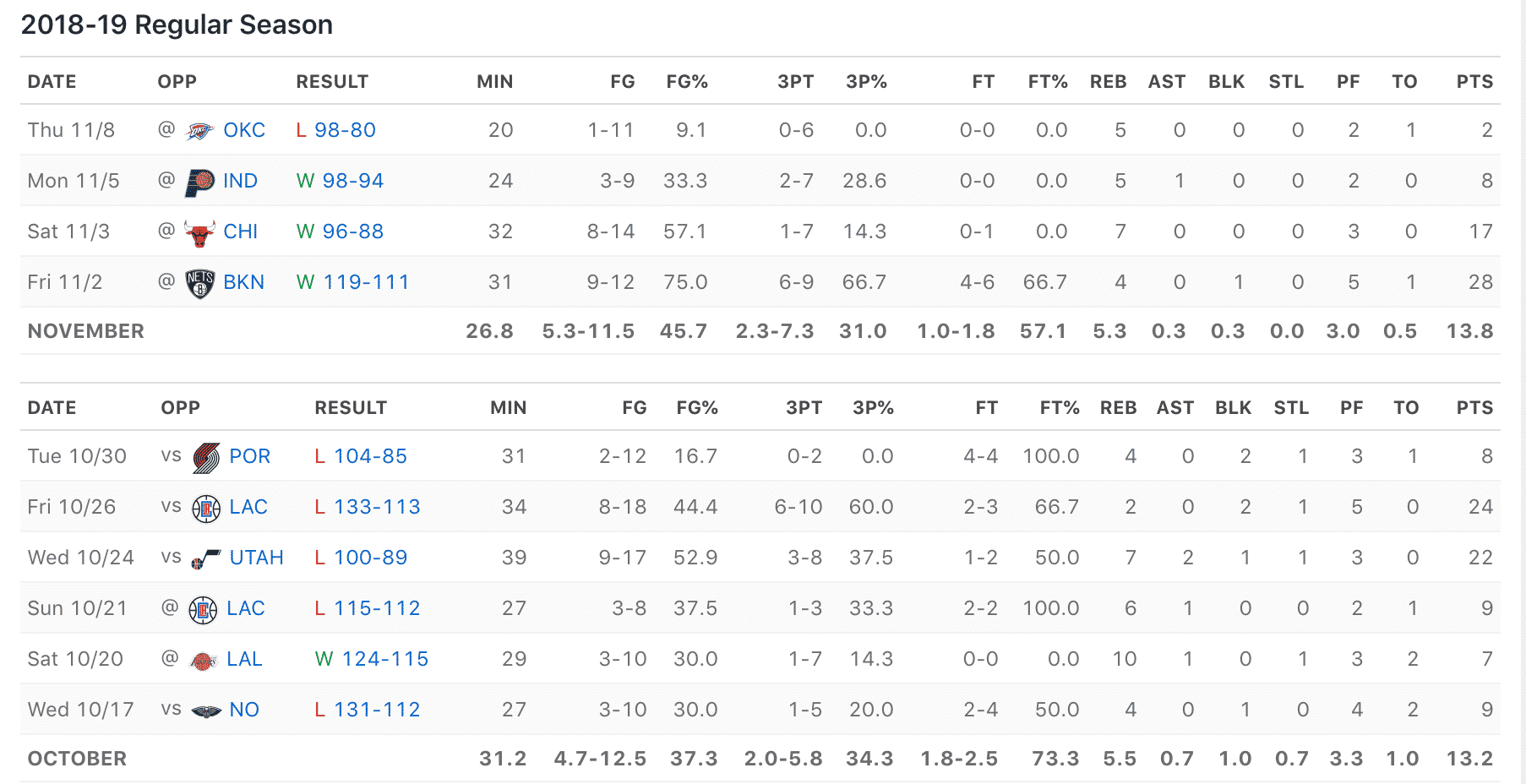 For all my #AntiAnalytics folks, just breathe in for a second. This will be over shortly.
While 10 games are by no means a good, hell, even decent sample, there are some key takeaways. Last season, Carmelo Anthony shot above 40% in 4 total games and averaged 22.7 points. During the other six games, that shooting percentage plummeted to just 25%, as did his scoring, which dropped to 7.9 points on average. It isn't his inconsistency that bothers me. Many teams have hot-and-cold players, some of which were given $170 million contracts this offseason.
The issue can be found within the number of shots Melo took each game. In all of Melo's above-40% performances, the former Syracuse star took (at minimum) 12 shots per game. However, with less than 12 attempts, Melo's effect on the game was next to none.
Last season, the Brooklyn Nets averaged 89.1 shots per game. This is rough math, but using statistics from 2018-2019, let's assume that Kyrie Irving takes 18.5 shots; Spencer Dinwiddie takes 12.2; Caris LeVert takes 14.6 shots (we're using his playoff statistics for this exercise); Taurean Prince hoists 10.8; Joe Harris attempts 9.8; Jarrett Allen takes 7.9; DeAndre Jordan attempts 6.5.
Together, this amounts to 80.3 attempts, and this just includes Brooklyn's top-7 guys. With Atkinson's deep rotation, we still have Garrett Temple, Rodions Kurucs, and David Nwaba to account for.
Finding 12 shots per game for Carmelo Anthony will be tough with this much talent, which is my biggest gripe with this theorized signing. Carmelo Anthony requires heavy volume on a night-to-night basis to offset his deficiencies. With many players who can catch fire on a given night (Dinwiddie, Irving, LeVert, Harris, Prince, etc.), it may actually hurt Atkinson's flow if he has to force-feed the former star such a heavy shot diet. Counting on a guy who contributes every one-of-three games just isn't worth the risk; it could hurt Brooklyn's synergy and growth.
Plus, can you imagine the media scrum if things don't work out between the Nets and Melo? Marks runs a tight operation — there's no need for the hoopla if the team decides to cut bait with the Brooklyn native.
What Brooklyn needs is someone who does the dirty work; someone who boosts that suddenly depleted frontline with hard-nosed defense. Offense isn't the problem here, and, unfortunately, that comes at the expense of a Carmelo Anthony resurgence.
Some of the other available free agents.
This hurts me to say, given the history between Joe Jesus and the Nets, but the former New Jersey star is more of a diet-Melo than an actual bench option. Joe Johnson is four years Melo's senior and quietly was even more disappointing during his final NBA stop; which, coincidentally, occurred in Houston.

Luol Deng had a nice year in Minnesota, averaging 7.1 points on 50% (!!) from the field. While his comeback story was inspiring, his Second-Team All-Defensive skills have declined rapidly after multiple setbacks and surgeries. Now, similar to many of the other available free agents, he only contributes to one end of the floor.
A year ago, Luc Mbah a Moute would have been my top choice to fill Chandler's position. In Houston, Luc was an excellent perimeter defender who landed 36.4% of his 2.8 attempted threes per game. Sadly, his body appears to be breaking down, as Mbah a Moute most recently underwent surgery on his left knee. At 32 years old, he's not getting any younger and his health certainly isn't improving either.
This leaves us with two players, Dante Cunningham and Lance Thomas, both of whom I like. Cunningham quietly had a nice year in San Antonio (shocker, I know), shooting 47.5% from the field and 46.2% from three in just 14.5 minutes per game. He's already enjoyed a brief stay in Brooklyn during the 2017-2018 season and performed pretty well: 7.5 points, 4.8 rebounds, 46.8% field goal percentage and 38.3% from deep. He's a serviceable defender who could fit Brooklyn's gaping stretch-4 hole.
Lance Thomas brings considerably less to the table offensively. While he didn't exactly have a great year in 2018-2019, Thomas was able to crack the 40% three-point mark during the three-seasons beforehand. Lance was lauded by the Knicks' organization for his leadership and team spirit during his 5-year tenure. Plus, he brings more size (6-foot-8, 240-pounds) than someone like Cunningham (6-foot-8, 230-pounds). This would certainly help Brooklyn when facing the bruisers of the East.
If neither of these options sounds appealing, then perhaps it's best to just keep the spot open. The Nets could unearth this season's Danuel House. Or maybe the team settles for a replacement-level defensive stalworth like Treveon Graham. Shoot, I'm feeling especially crazy… maybe Henry Ellenson pops?
Regardless, Brooklyn's best option should be to stay the course and search for guys who fit the culture. While a player like Carmelo Anthony or Joe Johnson may appease fans, Brooklyn must search from within and think about who Wilson Chandler was in the first place.
A proven role player.