It's no secret that Carmelo Anthony is seeking a return to the NBA. The Brooklyn Nets should steer clear at all costs.

August is a weird time of the year to be an NBA fan.
Certain stories, which would normally be total non-stories in any other month, get completely blown out of proportion during the slowest month on the basketball calendar.
Case and point: SNY's Ian Begley and Anthony Puccio reported that Carmelo Anthony was "participating in informal team workouts and scrimmages with Brooklyn Nets players in Los Angeles." (Great story and reporting, by the way. I don't want to discredit anything from those two).
There's an important keyword here, though: informally. Regardless, this story made waves around the Nets' community. Certain figures were at each other's throats regarding the prospect of adding Anthony to the team.
From a meta-perspective, it makes sense. Anthony is a Brooklyn native who has been seeking a return to the NBA for quite some time now. The Nets are down one Kevin Durant and may need additional offensive firepower. Boom. One union later and both problems are solved.
It's worth bringing up that NetsDaily's Net Income swatted the Melo-Brooklyn fantasies into the fifth row, stating that the "Melo workouts with Nets players… (were) merely 'friends working out with friends.'"
Even so, Begley's original story still has its legs. Melo is a beloved figure in the New York area and is a surefire Hall of Famer. The clamor for his return is incessant.
Melo unfairly pulled the short-end of the stick in his last NBA home.
After appearing in just 13 games with the Houston Rockets last season, Anthony — who joined the team on a veteran minimum salary — was cut on Nov. 15. The Rockets at that time were off to a horrendous 6-7 start to the season. (Not exactly a grand way to follow up a 65-win season.)
Melo ended up being the fallen man for a Rockets team that never really got it together. Fair or not, he was the test-case scapegoat for a team that desperately needed to improve its chemistry.
Anthony's last "real" year in this league occurred back in 2017-2018 with the Oklahoma City Thunder. At that point, Melo was the Thunder's third banana next to Russell Westbrook and Paul George.
The Ringer's D.J. Foster recently unearthed some juicy OKC stats in a very Pro-Melo article. See for yourself.
"In the 2017-18 season with the Oklahoma City Thunder, Anthony took more catch-and-shoot jumpers than pull-ups, something he hadn't done in the previous four seasons. His usage percentage (23.2%) dropped well below his career average (30.8%), and his 3-point attempt rate (40.6%) more than doubled his career average."
Foster also pointed out that Melo knocked down a solid 37.2% of his spot-up threes in 2017-2018, indicating that the former Syracuse star could thrive in a somewhat ancillary role.
While all of this may be true, there are two major flaws with a Melo chapter in Brooklyn.
The first is his fit in Kenny Atkinson's system. After the All-Star break, the Nets played at the league's seventh-fastest pace. When Spencer Dinwiddie and Caris LeVert returned from their respective injuries, that pace only accelerated. From March 1 (the date of Dinwiddie's return) and beyond, Brooklyn was the league's fifth-fastest team.
I'm acting under the assumption that Brooklyn will continue to play at a blitzing pace next season. Brooklyn's roster was revamped with more shooters this summer, and pushing the pace in transition will lead to more open threes. Adding a trotting 35-year-old Melo to the mix seems like a recipe to disaster.
For all of the chatter about Melo's willingness to change his game during 2017-2018, he was still a bit of an old-school black hole. Well…maybe more than "a bit." In his 78 games played, Melo averaged 5.9 mid-range attempts per game — the fifth-most in the association.
Brooklyn isn't exactly known for its love of the midrange. Last season, the Nets averaged the third-fewest midrange shots per contest. I can't imagine Atkinson enjoying Melo's fancy for halting the offense — just to jab-step to oblivion and jack up contested 15-footers.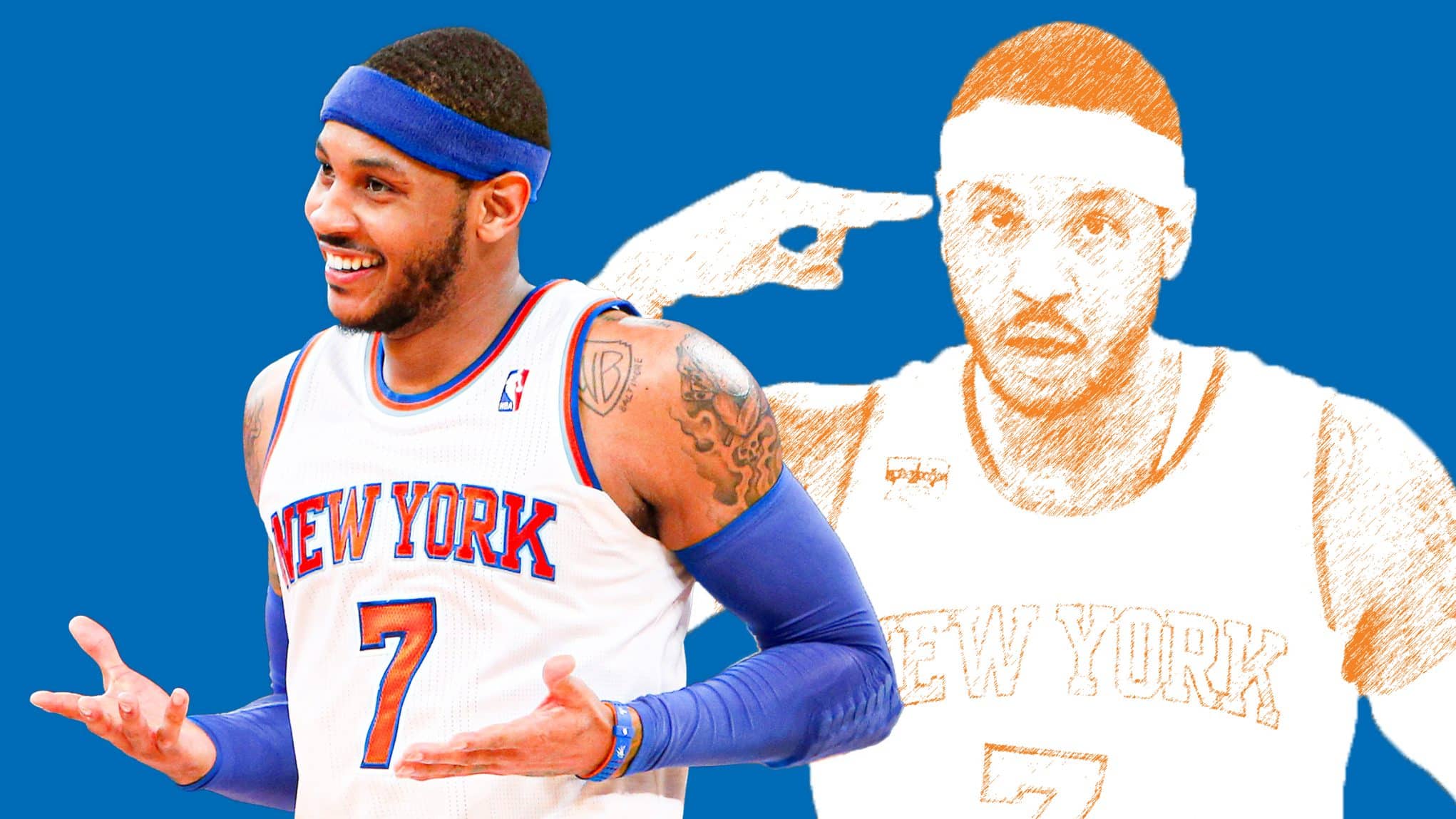 We haven't even mentioned Melo's defense, which, even in his prime, was bad at best. Now, at 35 years old and well out of his heyday, his impact on D will be…well, I'll let you do the math and come to your own conclusion.
The second major flaw with the Melo-Brooklyn Venn diagram mainly pertains to opportunity cost. Brooklyn already filled out its 15 roster spots. Adding Melo to the mix would mean cutting or trading one of Brooklyn's existing players.
Would this mean the end of Theo Pinson's dancing on the bench?
Even worse, would Brooklyn potentially lose some of its exciting depth? In my eyes, three players would be at risk for losing their spots: David Nwaba, Dzanan Musa, and Nic Claxton. All three young guns bring more exciting packages to the table than Melo.
Nwaba might be the Nets' best defender, and they'll need him to clamp up opposing guards. Musa, while he is extremely raw, has a sniper stroke from deep and has flashed basic playmaking chops during his G-League stints.
Even Claxton, a rookie, is an enticing candidate to make an impact this season. Based on a very, very small summer league sample, he flashed the ability to guard opponents all the way to the three-point line. This gives Clax the leg-up over Brooklyn's other bigs, DeAndre Jordan and Jarrett Allen, both of whom prefer to stay close to the cup and are more traditionalist rim protectors. Claxton brings something different to the table and that shouldn't be taken lightly.
While an Anthony signing may attract wandering New York eyes and could sell a few additional tickets, he wouldn't really help Brooklyn win games. Adding Melo would mean the loss of a promising young player and he could be counterintuitive to what Brooklyn is building.
Stats courtesy of NBA.com. Be sure to follow Matt on TWITTER.