NFL dreams, some temporarily, have ended for a group of New York Jets, as the team trimmed down to 53 men on Saturday.

(Players were waived unless otherwise noted)
WR Quincy Adeboyejo-Formerly of Baltimore, Adeboyejo signed with the Jets in late August.
LB Stephone Anthony (Released)-The former first-round pick previously worked with both Adam Gase and linebackers coach Joe Vitt in Miami and New Orleans respectively.
DL Justin Alexandre-An Incarnate Word alum, Alexandre was the Jets' lone rookie free agent hailing from a Division II school.
OT Calvin Anderson-Anderson was a three-year starter at Texas.
OL Ryan Anderson-The Wake Forest alum previously joined the Jets in July alongside early release Dee Delaney.
CB Bless Austin (NFI Reserve)-The Jets' 2019 sixth-round pick has been sidelined all offseason by injuries that marred his time at Rutgers.
OL Ben Braden-Braden partook in two regular-season games with the Jets last season.
CB Alex Brown-A strong game against New Orleans (five tackles, two pass defenses) wasn't enough to save the undrafted rookie from South Carolina State.
CB Kyron Brown-Brown had previously worked with Jets defensive backs coach Terrell Buckley in college at Akron.
LB James Burgess-Burgess has 84 regular-season tackles in the NFL, took an interception back for a touchdown against Atlanta, and earned seven tackles against New Orleans.
WR Deontay Brunett-Sam Darnold's fellow USC Trojan earned 12 receptions this preseason and caught a touchdown against the Falcons.
CB Tevaughn Campbell-The Ontario native played a big part in the win over Atlanta with six tackles and three pass deflections.
LB Brandon Copeland (Suspended)-The Jets' starting linebacker is suspended for the first four games of the season for violating the NFL's PED policies.
CB Marcus Cooper (Released)-The Jets traded a sixth-round pick to Detroit to acquire Cooper, who had an interception in the preseason finale.
P Matt Darr-Lachlan Edwards retained the punting job from Darr, a Gase alum from Miami.
QB Luke Falk-Another former Gase Dolphin had a very strong preseason, completing 29-of-36 passes for 230 yards and a pair of touchdowns.
TE Chris Herndon (Suspended)-Herndon will miss the first four games of the year for violation of the NFL's substance abuse policies.
RB Valentine Holmes-The former rugby player and Australia native will be maintained as an 11th practice squad member through the NFL's international player rules.
S Godwin Igwebuike-After a rookie season in San Francisco and Tampa Bay, Igwebuike earned 12 tackles this preseason in New York.
S Derrick Kindred-Nicknamed "Peanut" during his days at TCU, Kindred spent this summer in both Colts and Jets camp.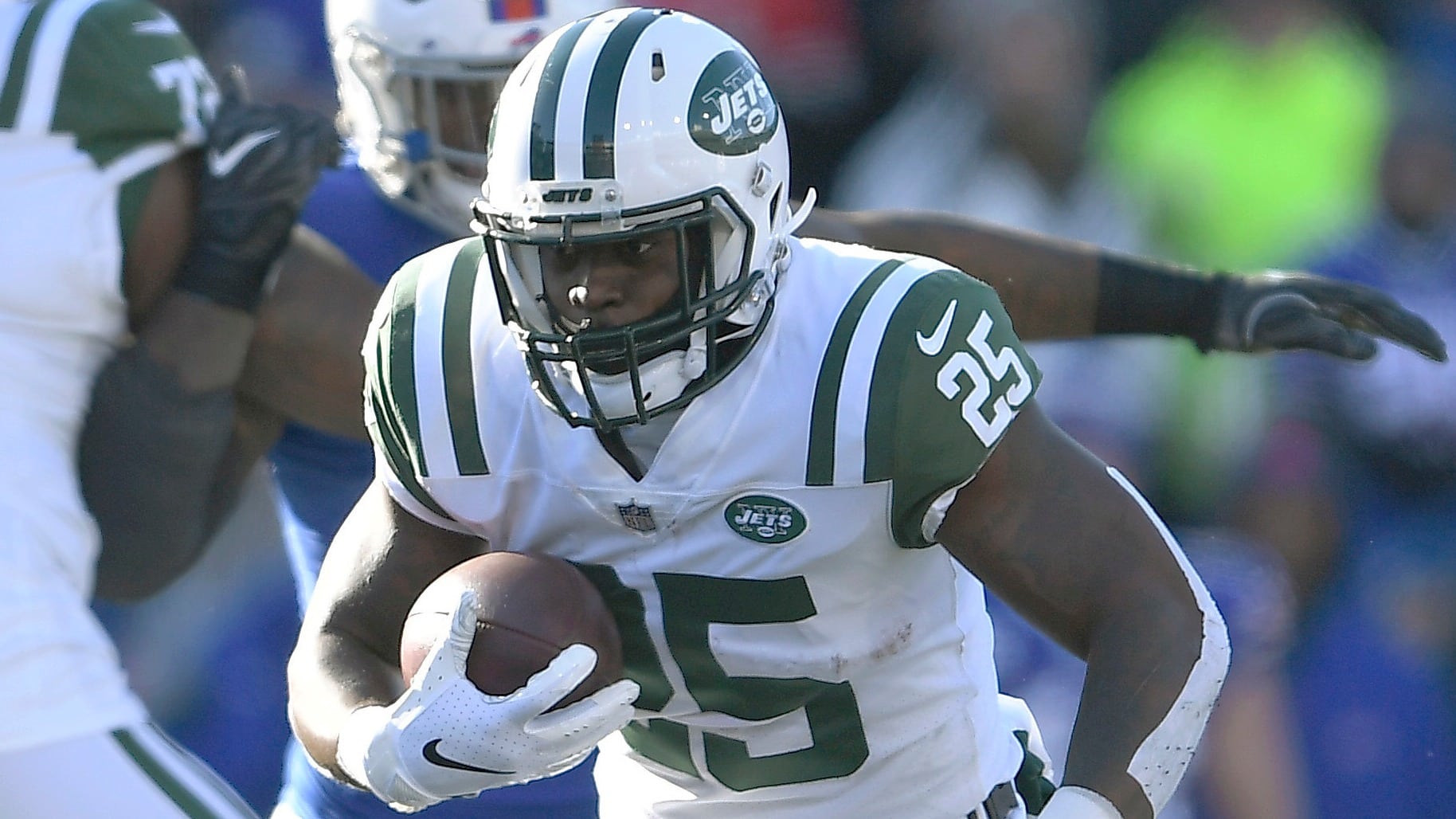 RB Elijah McGuire-The third-year running back's departure leaves just two members left from the 2017 draft class (Jamal Adams and Marcus Maye).
OL Wyatt Miller-Miller was a two-time All-AAC lineman at UCF.
OL Jordan Morgan-Formerly a fifth-round pick of the Chicago Bears, Morgan spent last season on Tennessee's practice squad.
LB Jamey Mosley-Summer injuries prevented the younger brother of starting linebacker C.J. from making a true impact at camp.
CB Mark Myers-Formerly of Tampa Bay's camp, Myers had four tackles with the Jets this summer.
CB Parry Nickerson (Traded)-The sixth-round pick from 2018 was traded to Seattle in exchange for a 2021 conditional pick.
WR Charone Peake-Peake, who mostly made his mark as a special teams contributor, was about to enter his fourth season with the Jets.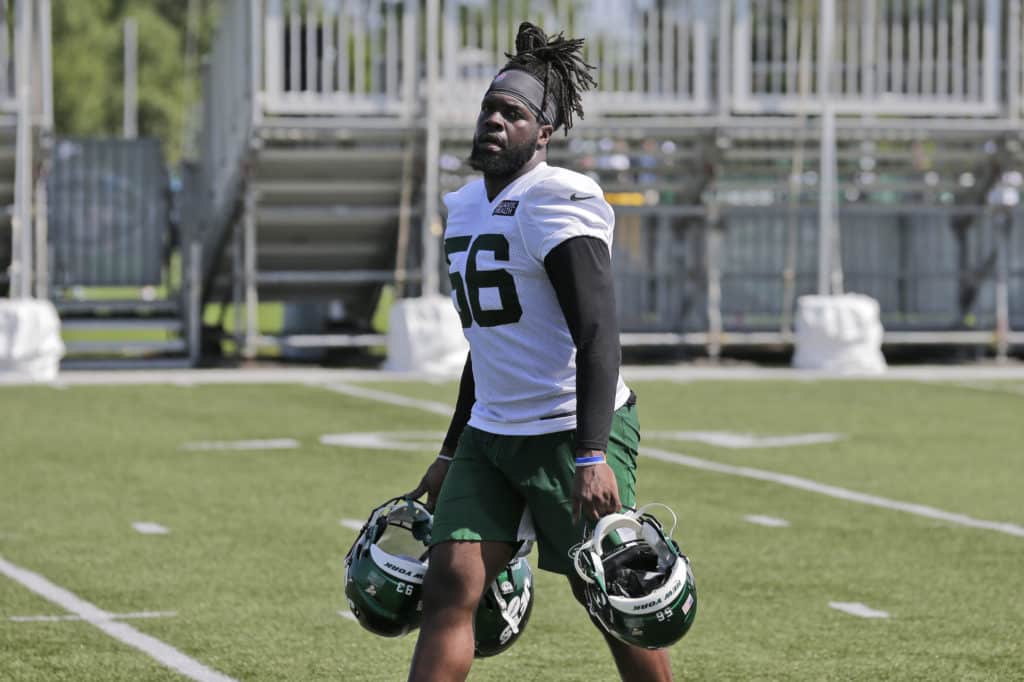 LB Jachai Polite-The Jets continue their purge of the Mike Maccagnan era, bidding farewell to one of the third-round picks from the fallen general manager's final draft.
S Santos Ramirez-The undrafted rookie was waived after the team signed Matthias Farley from Indianapolis.
DL Trevon Sanders-Sanders recovered a fumble in the Jets' Week 2 preseason win in Atlanta.
OT Eric Smith-Smith was another former Gase pupil, working with the head coach in Miami.
WR Jeff Smith-The Boston College product did not partake in any preseason games.
DT MyQuon Stout-The Appalachian State alum had three tackles this preseason.
WR Deonte Thompson (Released)-The seven-year vet had 59 yards on six receptions this preseason.
TE Eric Tomlinson (Released)-Tomlinson re-signed with the Jets in March, but got lost in the tight end battle that established after Chris Herndon's suspension.
C Jon Toth-Toth started in the middle of the offensive line for the Jets' preseason finale against Philadelphia.
QB Davis Webb-The former third-round pick of the Giants finally ends his Meadowlands journey after the summer saw him throw four interceptions in preseason competition.
WR Tim White-Formerly of Arizona State, White had 44 yards on five receptions during the exhibition quartet.
LB Anthony Wint-The FIU alum partook in two regular-season games last season, forcing a fumble in December against Green Bay.
Follow Geoff Magliocchetti on TWITTER