Be extremely wary about Patrick Mahomes as the bonafide QB1, for fantasy football quarterback tiers in 2019 feature extreme depth.
Quarterback is crazy deep this season, like every year. In case you haven't figured it out by now, the quarterback position will always remain deep due to the way the NFL has bent the rules. Fantasy Football is just another beneficiary of the high-flying action.
If you aren't only of the first two to three to draft a quarterback this season, just wait. I like the approach of waiting on QB and drafting two of them in the middle to late parts of my draft and playing the one with the better matchup.
Adding running backs and wide receivers early in your draft and add depth to your team. Wait on drafting a QB and get one of them in the Tier 4-range who will give you solid production on a weekly basis.
Tier 1
Patrick Mahomes, Kansas City Chiefs
There is little doubt of who the number one quarterback is (for some) this year, but don't draft him based on last year's stats. Fifty touchdowns will be hard to repeat and the Kansas City Chiefs do have the hardest schedule against quarterbacks this year.
He won't throw for 50 touchdowns again. Expect that number to be in the 35-40 range. Keep in mind that during the fantasy playoffs, the Chiefs will face New England, Chicago and Denver. All three defenses will be in the top 10 against the pass. He's still worth being the first QB taking off the board but tamper your expectations and don't reach for him before round three.
Deshaun Watson, Houston Texans
Deshaun Watson will be one of the few quarterbacks that will throw for around 4,000 yards while rushing for another 500. His legs are what vaults him into the top tier along with having one of the top pass catchers in the league in DeAndre Hopkins.
Last season, Watson became one of only three QB's in NFL history to throw for over 4,000 yards and rush for over 500 yards (Cam Newton, Russell Wilson) in a season. Huge upside but he has torn both ACL's in the last couple of seasons, make sure you have a legitimate backup if you draft Watson.
Aaron Rodgers, Green Bay Packers
Aaron Rodgers is my number one quarterback heading into the season. Rodgers played last season with a fracture in his leg and still finished as the sixth-best QB in fantasy. The savvy vet is a great choice in the fifth or six-round in drafts this year. Draft two running backs and wide receivers, and then go after Rodgers. This will give your team a big advantage over the team that drafted Mahomes because they are picking him in the second round instead of drafting a stud at RB or WR. If you draft Davante Adams (my No. 1 WR), do your best to draft Rodgers as your QB, thank me later.
Tier 2
Baker Mayfield, Cleveland Browns
Baker Mayfield broke the rookie passing touchdown record (27) in just 12 starts. Another season in Freddy Kitchens's offense along with adding Odell Beckham Jr. will lead to a monster season for Baker. He adds some value with his legs and if he can find the endzone a handful of times rushing the ball, he could challenge to be the number one quarterback for the season. In a dynasty leagues, he should be the second quarterback taken off the board right behind Patrick Mahomes.
Matt Ryan, Atlanta Falcons
He's boring, consistent and usually falls in drafts because people don't like boring on their fantasy team. Over the past three seasons, Ryan has scored the most fantasy points. He has an abundant of weapons to throw the ball to and he finished fifth in the league in pass attempts on the season. If your league gives minus points for interceptions, Ryan is a great pick because he takes care of the ball only seven interceptions last season.
Andrew Luck, Indianapolis Colts
It seems like every other year, Andrew Luck has an injury that leaves fantasy owners frustrated on draft day. When he's healthy, he's a lock to finish inside the top five at the position but it seems like this isn't going to be one of those seasons. It's tough to tell now if he's going to be ready to start the season but if he falls in your draft, get him and put him on the IR if he is hurt. Once he returns, he will give you tremendous value on a per-game basis. The Colts fantasy playoff schedule is the best (based on last season's stats) for quarterbacks, he will face Tampa Bay, Carolina and New Orleans. Draft and stash Luck and when it comes to the fantasy playoffs, you could get monster numbers from Luck.
Carson Wentz, Philadelphia Eagles
If you have no problems drafting Deshaun Watson, you should have no problems drafting Carson Wentz. He rushed coming back last season and it showed. He's healthy and this season he will have a full training camp under his belt.  The Eagles have one of the best rosters in football and there are plenty of playmakers for Wentz to target in the passing game. He's going around round 10 in drafts, if you can get him there as your starting QB, your team is going to be stacked. He's got top-five upside and will be a steal in drafts this year.
Tier 3
Cam Newton, Carolina Panthers
Cam Newton never ends up on any of my fantasy teams because he has never thrown for over 3,900 passing yards. However (Steven A. Smith voice), his legs are what gives him value. Over the past six seasons, he has rushed for over 3,300 yards and 36 touchdowns. Draft him for his rushing ability and hope his shoulder is 100 percent by the time the season starts
Russell Wilson, Seattle Seahawks
His passing attempts and yards have gone down in the past three seasons, but his passing touchdowns have gone up in all three. The Seahawks are going to run the ball a lot (lead the league in rushing yards and were second in attempts) but Russell Wilson will also be a part of the rushing attack. If they allow for him to pass the ball more this season, he could be the No. 1 QB in fantasy this season.
Jared Goff, Los Angeles Rams
This is what you do with Jared Goff if you draft him, play him in favorable matchups. If you decided to go with Goff as your starting QB this season, you will likely need to add another one on the weeks against a tough secondary. It will take a little bit of homework and looking at other QB's schedules but if you can draft the right second QB, you could end up with enough points combined to give you the production of a top-five QB on the season. Tons of weapons to throw to and he's in a great offense but he's not a QB you can start every week regardless of match-up.
Drew Brees, New Orleans Saints
Drew Brees's pass attempts have gone down over the past three seasons, but he's a lock to throw for around 4,000 yards and 30 touchdowns. He's not the elite fantasy option that he once was but he has two elite pass-catching options and he's got a favorable fantasy playoff schedule. He might be the QB you draft if you go with Jared Goff. Goff has tough matchups in weeks five, 11, 12, 14 and 15 and Brees will be going against Tampa (5,11), Carolina, San Francisco and Indianapolis. You'll get QB1 production that you will be able to get in the middle to later part of your draft with a Goff/Brees combo.
Kirk Cousins, Minnesota Vikings
Over the past four seasons, Kirk Cousins has averaged over 4,300 passing yards, 27 passing TD's and he's also rushed for 14 touchdowns in that span. He's in year two of the Minnesota Vikings offense and he has two top 12 WR's in Adam Thielen and Stefon Diggs. A full year of a healthy Dalvin Cook will only make Cousins and the Vikings offense more explosive. What's not to like with Cousins? He's going undrafted in most leagues and if you decide to wait on QB, Cousins is the guy to target.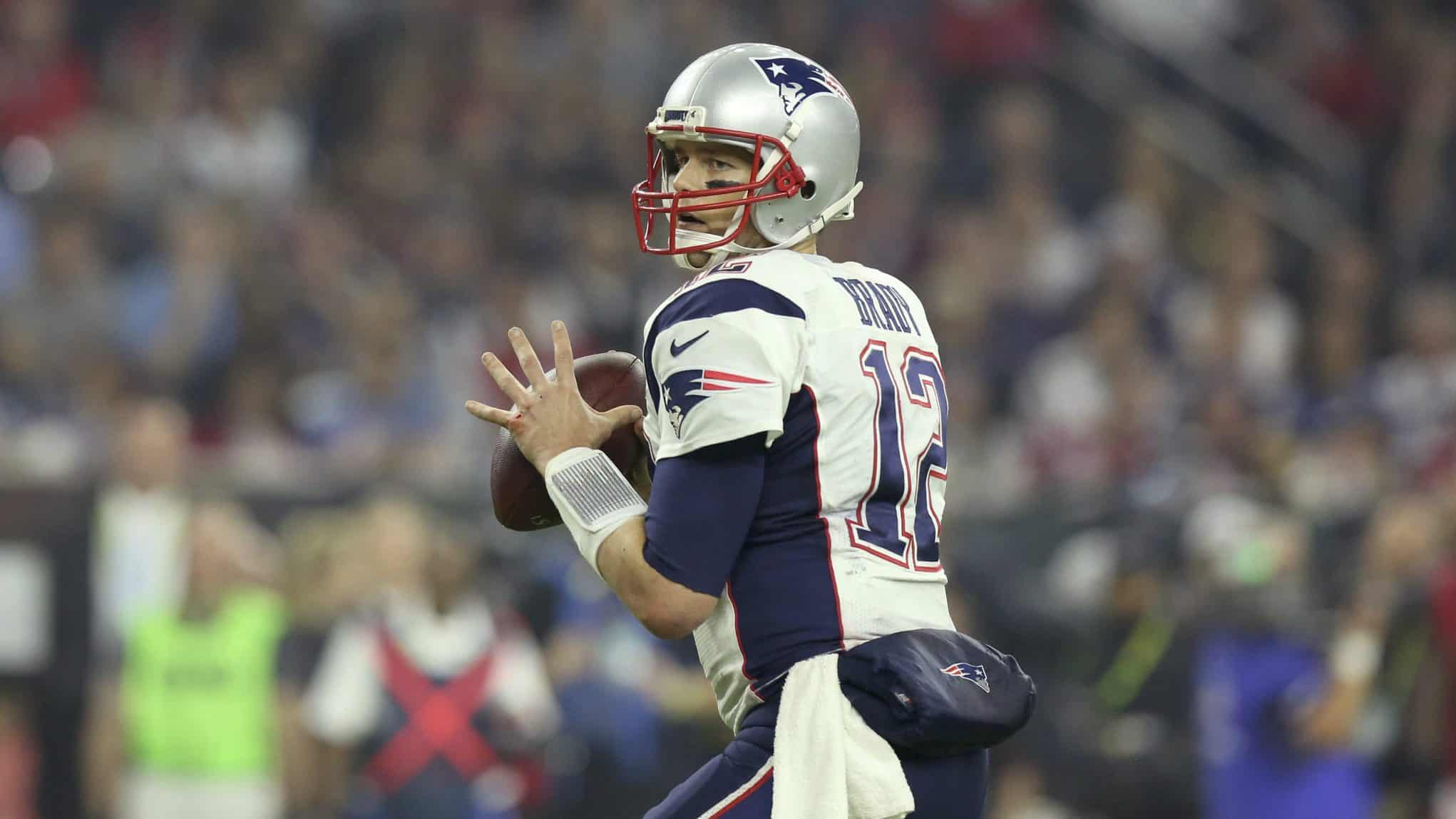 Tier 4
Ben Roethlisberger, Pittsburgh Steelers
This is our first look in a long time to see Ben Roethlisberger without Antonio Brown and Le'Veon Bell. Pittsburgh has a strong run game and a good offensive line but Big Ben only has one reliable pass-catcher in JuJu Smith-Schuster. Play him at home and in favorable matchups, the upside isn't there of a top-five to seven fantasy QB anymore.
Tom Brady, New England Patriots
The New England Patriots are a run-first team, but over the last week, they have gotten healthy at wide receiver. Josh Gordon and Demaryius Thomas are back on the team, and with the former on the field for New England, Tom Brady's average passing yards per game went from 200 (without) up to over 300 with him. Add him at the end of your draft as your second QB and if your starter has a tough match-up, just enter the G.O.A.T.
Jameis Winston, Tampa Bay Buccaneers
Jameis Winston is a popular "break-out" candidate this season. He's in a new system and he's got three very good pass catchers in Mike Evans, O.J. Howard and Chris Godwin. Tampa Bay will be behind in almost all their games because of a horrible defense, which will lead to many pass attempts for Winston. To go along with no running game, Winston will be forced to throw a ton and if he keeps the interceptions down, he will rocket up the QB rankings as the season progresses.
Kyler Murray, Arizona Cardinals and Lamar Jackson, Baltimore Ravens
Kyler Murray and Lamar Jackson's value will come from their legs this season. Murray can barely see over the offensive line and Jackson is what they like to call a work in progress for when it comes to his passing. Both have limited talent for when it comes to pass catchers, but Murray has David Johnson and is in an offense that will throw the ball a ton. I like Murray more, but Jackson and his rushing totals will be worth owning in all leagues this season.
Philip Rivers, Los Angeles Chargers
Philip Rivers has been my starting QB in fantasy for the past five seasons. He's the perfect QB to wait on (along with Kirk Cousins) and to stack the rest of your team with RBs and WRs. Put it in the bank, Rivers will throw for over 4,300 passing yards and 30 TD.
Tier 5
Dak Prescott, Dallas Cowboys
He's an average quarterback in fantasy and in real life. He's never thrown for more than 4,000 yards or passed for 24 or more touchdowns. He value has come from his ability to score rushing touchdowns (six per season) and if Ezekiel Elliott is back for week one, he's the focal point of the offense. Just do yourself a favor, avoid drafting and playing Dak.
Mitch Trubisky, Chicago Bears
Another quarterback whose value will come from his legs. There isn't much talent when it comes to pass catchers in Chicago, but he'll be around the 12 to 15 QB by the end of the season. He's a solid bye-week fill-in or when he has a favorable matchup. Draft him as your back-up, not as your starter.
Josh Allen, Buffalo Bills
All of the value comes from his legs. Josh Allen had more rushing touchdowns last season then Ezekiel Elliott, Christian McCaffrey and David Johnson, all first-round picks. Anything he gives you with his arm this season is a bonus.
Jimmy Garoppolo, San Francisco 49ers
Jimmy Garoppolo is in the perfect offensive scheme to be a fantasy stud. However, he is coming off a season-ending injury and he has only one reliable pass-catcher in George Kittle. Draft him on his upside but don't expect him to be every week starter for you to start off the season. Draft and stash Jimmy G.
Tier 6
Matthew Stafford, Detroit Lions
The days of Detroit throwing the ball 50 times a game, is a thing of the past. He'll have his weeks in good matchups but overall, avoid drafting him in your standard 10-12 team leagues.
Andy Dalton, Cincinnati Bengals
Without A.J. Green healthy, it will be tough to count on Andy Dalton for any consistent production. Cincinnati has an awful defense which will lead to plenty of passing opportunities for Dalton. When Green comes back, he will have three good playmakers including Joe Mixon and Tyler Boyd. Dalton is a better daily fantasy play then reliable season-long QB.
Derek Carr, Oakland Raiders
Derek Carr has Antonio Brown, but he has shown in the past the inability to get the ball to a number one receiver. He played last season with an injury but he's another matchup based QB for the season.
Marcus Mariota, Tennessee Titans
There's a good chance Marcus Mariota is a back up in the NFL next season. Injuries have slowed him down, but he's got some decent playmakers around him. I am avoiding him but he could be a sneaky daily fantasy play in the right game.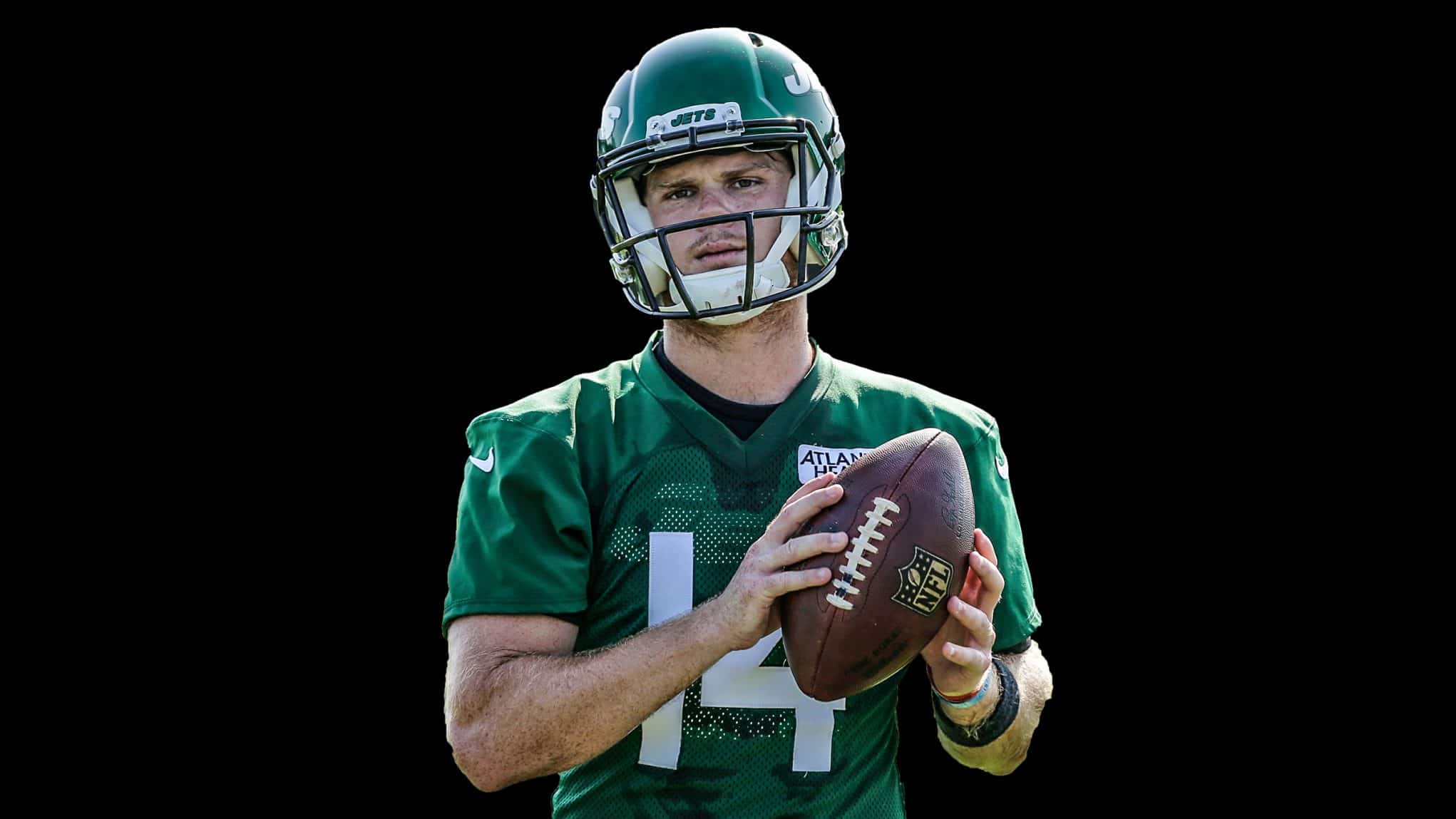 Tier 7
Sam Darnold, New York Jets
Nope, just no. Sam Darnold is a much better real-life QB then fantasy QB. The Jets are going to play a snail pace this season and they might give Le'Veon Bell the ball 400 times. Avoid, move on, don't even think about it, just draft someone else.
Nick Foles, Jacksonville Jaguars
Run-first team with shaky pass-catchers? It's a no from me.
Joe Flacco, Denver Broncos
Is Joe Flacco still elite? It's debatable, but for fantasy football, nah.
Dwayne Haskins, Washington Redskins
Not in a re-draft but has value in dynasty leagues.
Eli Manning, New York Giants
Unless OBJ comes back, just avoid Eli Manning.
Ryan Fitzpatrick, Miami Dolphins
Showed his upside last season, but a new team and a different system make him undraftable.
Josh Rosen, Miami Dolphins Daniel Jones, New York Giants, Drew Lock, Denver Broncos, Will Grier, Carolina Panthers
Draft in dynasty. In any other format just don't.
Jacoby Brissett, Indianapolis Colts
If Andrew Luck were to miss significant time, he could be worth the add. Other than that, not worth adding a backup