Predicting who will start for the New York Giants on the offensive side of the football come their Week 1 matchup.
We are officially five weeks away from the first regular-season game for the New York Giants. They'll face off against the Dallas Cowboys on Sunday, Sep. 8 at 4:25 p.m. ET in Arlington, TX.
Right now, there are numerous players who are essentially locked in as starters on the offensive side of the ball. What some fail to realize though is that there are certain positions where the starters are currently undetermined. It's not all set in stone, even if the season is just around the corner.
Therefore, being that we're all anxious for the regular season to start, here are the offensive starter predictions for the Giants' Week 1 matchup:
The Givens
Left Tackle- Nate Solder
Nate Solder started every game last season for the Giants at the left tackle position. As a matter of fact, he played every single offensive snap during the 2019 season. The Giants signed Solder to a four-year, $62 million deal, so his durability was something that they'd hoped for.
While struggling in the first half of the year (allowed six sacks and 20 total pressures), Solder improved immensely as the year went on. In the final eight games of the regular season, Solder only allowed one sack and 13 pressures. He also had two false start penalties and two holding penalties throughout the year.
Left Guard – Will Hernandez
Will Hernandez is another lineman who started every game for the Giants in 2018. He also played every single offensive snap for them along with Solder right beside him. Big Blue drafted Hernandez with the No. 34 overall pick in the second round of the NFL Draft last year out of the University of Texas-El Paso.
Hernandez proved to be one of the better offensive linemen for New York. He only allowed four sacks last year, and only was called for one holding penalty and one offsides penalty.
Right Guard – Kevin Zeitler
The Giants acquired guard Kevin Zeitler in a March trade when they shipped Pro Bowl linebacker Olivier Vernon to the Cleveland Browns.
Going into his eighth season, Zeitler has proven to be a consistent guard in this league and will definitely help the Giants offensive line improve this season.
Zeitler is very durable, having started and played in every game in each of the last four seasons (two with the Cincinnati Bengals and two with the Browns). In 2018, Zeitler only allowed 2.0 sacks and was called for three false starts and two holding penalties.
Quarterback – Eli Manning
Just going to preface this now: there will be no quarterback competition! No matter how much you want one, a competition between Eli Manning and Daniel Jones will not occur.
Manning is the quarterback for the Giants, and while starting for them (at least initially), he'll play some sort of a role in mentoring and molding Jones into the quarterback of the future. Manning's still here, and barring injury and/or low production, he'll continue to be.
Running Back – Saquon Barkley]
Pretty self-explanatory. Saquon Barkley was the MVP of the Giants last year and will continue to be.
In his rookie year, he rushed for 1,307 yards and 11 touchdowns, with 91 receptions for 721 yards and four touchdowns. His 2,028 scrimmage yards led the NFL.
In addition, Barkley won the AP Offensive Rookie of the Year, the Pepsi Rookie of the Year, the FedEx Ground Player of the Year, and made his first Pro Bowl.
Tight End 1 – Evan Engram
Despite what some people may think, Evan Engram can be a very effective weapon on the offense when healthy. He just has to stay out of the trainer's room, as he only played in 11 games last year.
Engram is a versatile figure, and can play on the line as a tight end, in the slot, and split wide in a receiver-type role as well.
Tight End 2 – Rhett Ellison
He's not as athletic of a tight end as Engram, but Rhett Ellison is still a reliable option. He can be a target for Manning in the passing game (25 receptions on 34 targets for 272 yards and one touchdown in 2018).
Ellison can also be used in the run game, as he and tight end Scott Simonson can both bee utilized as run blockers.
Wide Receiver 1 – Sterling Shepard
Yes, he has a fractured thumb. Yes, he'll be ready for Week 1. No, I'm not being overly-optimistic.
Sterling Shepard is currently practicing and isn't even wearing the yellow non-contact jersey anymore. He's on a week-to-week evaluation basis and will be good to go against Dallas on Sep. 8.
The Giants made a statement with Shepard this offseason as well. They gave him a four-year, $41 million contract extension in April. He'll be their No. 1 guy at the receiver position en route to moving on from Odell Beckham Jr.
Yet To Be Determined Starters
Center – Spencer Pulley
Last year, the Giants made Jon Halapio their starting center for the 2018 season. He started the first two games and looked to be their clear-cut guy in that role. Unfortunately, Halapio went down with season-ending lower leg injuries during a Week 2 loss in Dallas.
The Giants then picked up former Chargers center Spencer Pulley off waivers. Pulley played 13 games for the Giants at the center position, starting in nine of them.
Big Blue re-signed both Halapio and Pulley this offseason, making way for one of their biggest position battles leading up to the regular season. Both are taking first and second-team reps during training camp.
I understand money doesn't mean the production is going to come on the field. Looking at their contracts gives you somewhat of an idea though that the Giants are making more of an investment in Pulley going forward. Pulley's contract was three-years, $8.025 million. Halapio's deal, on the other hand, was only for one-year and $645,000.
Halapio's past injury history has me second-guessing him as well, so I'm going to go with Pulley in this situation.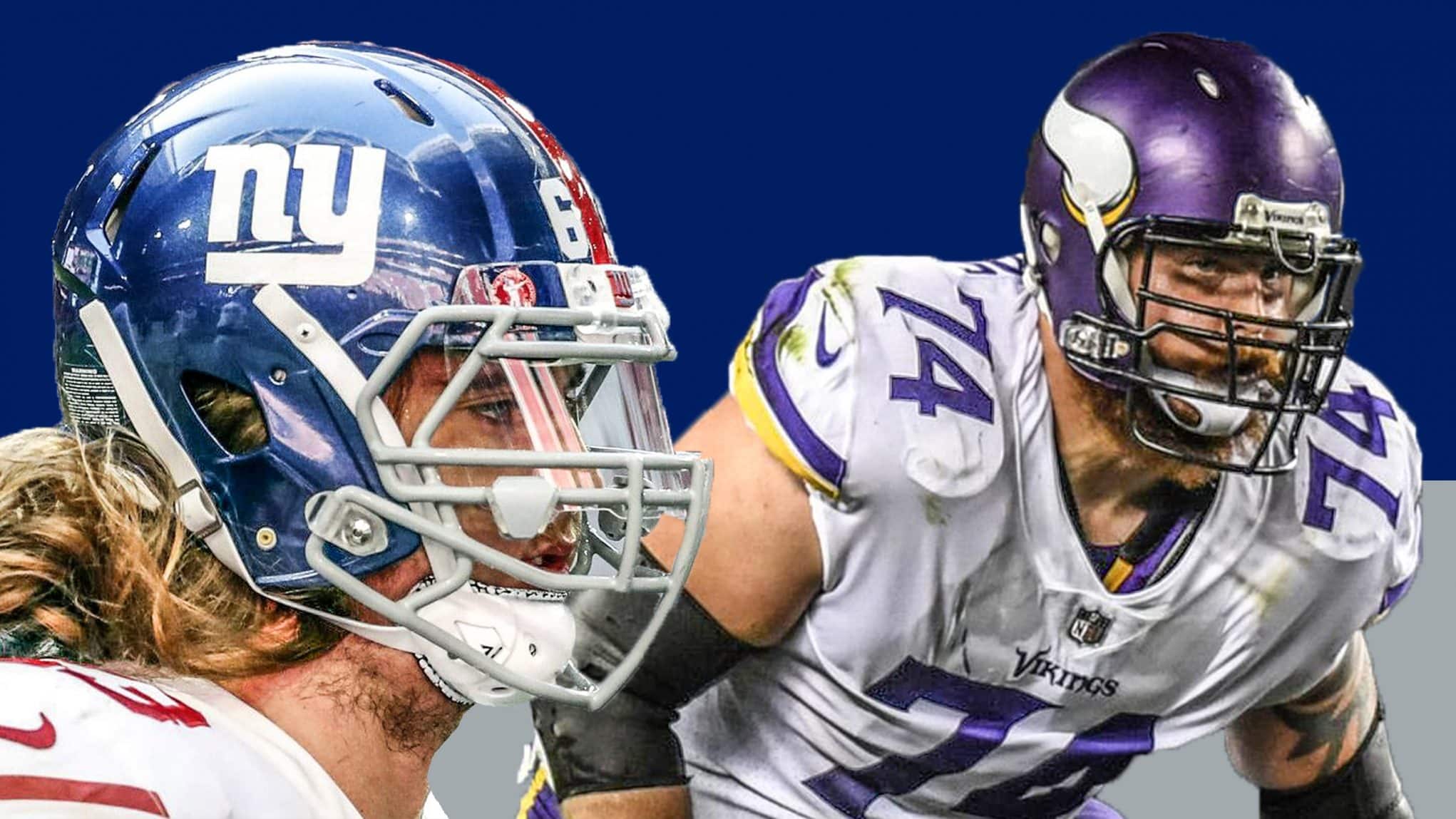 Right Tackle – Mike Remmers
Chad Wheeler played in 16 games for the Giants last year at the right tackle position, starting in 14 of them after the benching and eventual release of Ereck Flowers. In the process, Wheeler ended up finishing as the lowest-performing offensive lineman.
He had the lowest Pro Football Focus grade on the Giants last year, with a score of 47.1. He also had the lowest run blocking PFF grade out of every tackle in the NFL. PFF had the Giants offensive line at 21st in the league last year, and Wheeler was ultimately a big reason for that.
The Giants went out and signed veteran tackle Mike Remmers to a one-year, $2.5 million ($1 million guaranteed) deal in May. Right now, he seems like the favorite to win the starting job at the right tackle position.
Remmers has experience in Pat Shurmur's offense as well. He spent the last two years in Minnesota, where Shurmur was the offensive coordinator in 2017.
Along with Kevin Zeitler, Remmers is expected to help the Giants offensive line improve greatly from their disappointing 2018 outing.
Fullback – Elijhaa Penny
Elijhaa Penny played in 14 games for the Giants last year, starting in three of them. He proved to be someone who can definitely lead block for Barkley as well as swing out of the backfield as an option on pass plays, which is why the Giants re-signed him in March.
Penny had eight receptions on nine targets for 50 yards last year.
The Giants did sign running back Rod Smith this offseason, who's a bigger back than most. He could compete for the fullback spot, but the Giants would be better off with someone who already has experience in Shurmur's offense. That's why Penny should edge the others out for this job.
Wide Receiver 2 – Bennie Fowler
With Corey Coleman's ACL tear and Golden Tate's four-game suspension, some reserve receivers will need to step up. Veteran Bennie Fowler, in my opinion, will be the top guy to do that.
Fowler appeared in 10 games for New York last year, starting in five of them. He's already acclimated to the system and has great experience. Last year, Fowler caught 16 balls (27 targets) for 199 yards and a touchdown.
Look for Fowler to become one of the main targets for Manning prior to Tate returning from suspension.
Wide Receiver 3 – Darius Slayton
Yes, the unsung rookie will get his chance early on. The Giants chose Darius Slayton in the fifth round of this year's NFL Draft out of Auburn University. He's taken a few reps with the first team thus far, as the Giants definitely see potential in him.
In his final season with Auburn (11 games), Slayton had 35 receptions for 670 yards and five touchdowns. He's currently dealing with hamstring issues, but he should be fine for Week 1.
Slayton definitely has the skills to succeed with the Giants, he just needs the right coaching and quarterback. Luckily, he'll be catching balls from a longtime franchise quarterback and eventually another first-round selection in Daniel Jones.
Cody Latimer is also an option here, but he may produce more in the kick returner/punt returner role for Big Blue, at least initially. That's a big reason why I'm ultimately going with the rookie Slayton.
Follow Ryan on TWITTER