There can only be four, which means constructing the New York Jets Mount Rushmore becomes an incredibly difficult chore.

There can only be four. That's what makes the New York Jets Mount Rushmore such a difficult chore.
Greatest player in Jets history comes a little easier. Sure, the rebels will dismiss Joe Namath and his questionable statistics, but the overall majority of football fans who understand what Super Bowl 3 meant to the NFL make the "greatest in team history" quite simple.
The top 10 players in organizational history is also a simpler exercise, as is assembling the Jets all-time 53-man roster.
But only four? That's what makes this one incredibly frustrating yet overwhelmingly frustrating.
The qualifications are what everybody can probably agree upon.
Only contributions to the Jets organization count.
The greatest collection of dominant single-seasons mean most (Super Bowls and All-Pro and Pro-Bowl seasons).
Longevity is also a great factor.
No. 1: Joe Namath
Time served with Jets: 1965-1976
27,057 passing yards, 170 passing touchdowns, 215 interceptions
Pro Football Hall of Famer, 1 Super Bowl (1968), 2 division championships, 2 postseason victories, 1 Super Bowl MVP (1968), 2 AFL Player of the Year (1968 and 1969), 1 First-Team All-Pro (1968), 5 Pro Bowls (1965, 1967, 1968, 1969, 1972)
Yeah, go ahead and look at that 215 number (220 when mixing in his lone season in Los Angeles) and laugh. Go ahead and mock. Do your thing while pointing your index finger at the screen while hysterically chuckling.
All you'll be doing is wasting your time.
The single most important event that's led us to the modern-day NFL was spearheaded by Joe "Willie" Namath. His called shot prior to Super Bowl 3 and subsequent 16-7 victory over the Baltimore Colts as an 18-point underdog provided legitimacy to the AFL and eventual courage needed to treat the two leagues as real rivals.
Once the Kansas City Chiefs rode that AFL wave a year later, the modern-day NFL was born. Without Namath's heroics, this league wouldn't have surpassed baseball.
There's no question Namath is overrated from a traditional production standpoint. The real takeaway, however, is understanding that he belongs in a special class that few athletes ever reach.
Forget Jets history for a moment; Joe Namath may still be the NFL's most important figure over the last 65 years. He was that big not only in the world of sports, but for society's culture as a whole.
No. Don Maynard
Time served with Jets: 1960-1972
11,732 receiving yards, 88 receiving touchdowns, 633 receptions
Pro Football Hall of Famer, 1 Super Bowl (1968), 2 division championships, 2 postseason victories, 1 First-Team All-Pro (1969), 4 Pro Bowls (1965, 1967, 1968, 1969)
Those who'd like to toss Namath aside almost universally elect Don Maynard as the greatest Jets player of all-time.
Maynard is the Jets all-time leading receiver in yards, touchdowns and receptions, and it's not even close. He's also maintained his grip on these marks despite the league constantly moving into a more passing-free era.
Namath and Maynard are the two no-doubt-about-it choices for the Jets Mount Rushmore.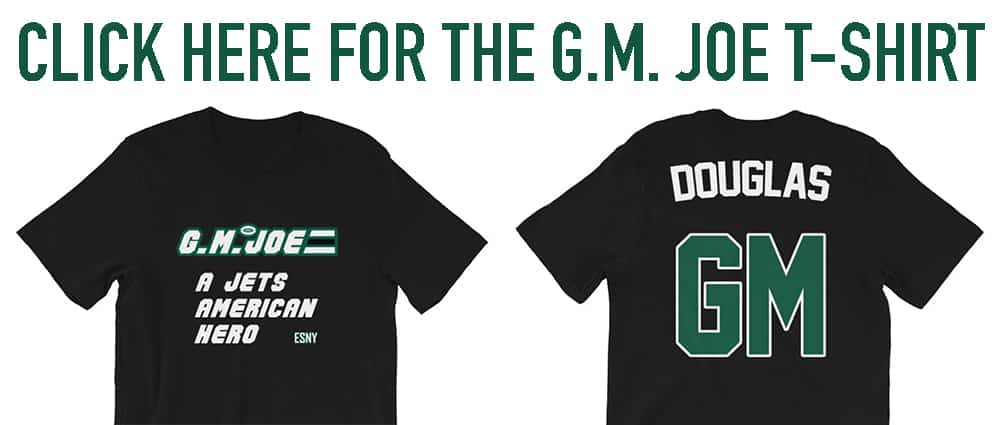 No. 3 through 5: Curtis Martin, Joe Klecko, Darrelle Revis
The real crux of the Mount Rushmore debate comes after Namath and Maynard. Which two of the next three round out the mountain?
Those missing the conversation are Larry Grantham, Winston Hill, Freeman McNeil, Wesley Walker and Mark Gastineau.
Curtis Martin
Time served with Jets: 1998-2005
10,302 rushing yards, 58 rushing touchdowns, 4.0 yards per carry, 2,349 receiving yards, 5 receiving touchdowns, 367 receptions
Pro Football Hall of Famer, 2 division championships (1998, 2002), 3 postseason wins, 1 First-Team All-Pro (2004), 3 Pro Bowls (1998, 2001, 2004)
Curtis Martin's name oozes the color green. It feels as though he's a lifelong Jet. But he isn't.
Martin captured the AFC Offensive Rookie of the Year to go along with two Pro Bowls with the New England Patriots during his first three years in the NFL. Nonetheless, his eight seasons in New York made him the Jets all-time leading rusher.
Martin's first season with the Jets helped the organization capture its third division championship and first AFC East crown in 1998.
Joe Klecko
Time served with Jets: 1977-1987
24 sacks. 9 fumble recoveries
3 postseason wins, 2 First-Team All-Pro (1981, 1985), 5 Pro Bowls (1981, 1983, 1984, 1985)
Joe Klecko qualified for the Pro Bowl at four different positions along the defensive line. Perhaps the greatest Pro Football Hall of Fame snub in sports history, the man may represent the greatest defensive player in organizational history (in close competition with Larry Grantham and Darrelle Revis).
Of course, sacks weren't a thing when Klecko played (at least not until 1982). That's a great shame. He unofficially recorded 20.5 sacks in 1981 and 50.5 over his first five campaigns.
Darrelle Revis
Time served with Jets: 2007-2012, 2015-2016
25 interceptions, 112 pass deflections, 3 touchdowns, 10 fumble recoveries, 386 tackles, 4 tackles for loss
4 Postseason Wins, 3 First-Team All-Pro (2009, 2010, 2011), 5 Pro Bowls (2008, 2009, 2010, 2011, 2015)
Speaking of those villains from the north, in most Jets fans' minds, Darrelle Revis simply vanished to his very own island during the 2014 season.
Revis's 2009 and 2010 seasons were perhaps the most dominant Jets seasons of all-time (save for Klecko in 1981). Robbed of the NFL Defensive Player of the Year (Charles Woodson), Revis played a game that hardly heard his name called. Like Klecko, statistics don't do his service justice.
For a several-year span, Revis may represent the greatest pure cover-corner in NFL history (at least the runner-up to Deion Sanders).
The Jets Official Mount Rushmore
Joe Namath
Don Maynard
Curtis Martin
Joe Klecko
Darrelle Revis is the man who misses the cut.
Honestly, Martin, Klecko or Revis can all miss the cut and it wouldn't be outrageous. There's a reason for choosing any two of the three and calling it a day.
Taking it a step further, Larry Grantham, a man who has a Super Bowl ring and an incredible five First-Team All-Pro teams to his name, could claim to be the greatest snub. Grantham isn't considered in the top five purely due to spreading Mount Rushmore over different eras. The inclusion of Namath and Maynard make it tough for the greatest linebacker in team history.
The main reason Revis misses the list is due to substantial longevity.
Although Martin and Revis both played eight seasons, the latter missed one due to injury and was always at odds with the organization over financial matters. It's hardly something that could factor into such a discussion, but when splitting hairs, it becomes a tiebreaker. (He was also terrible during his second stint while strapping the team with a horrible contract.)
Martin never left the Jets. Revis did. Perhaps when Revis hears his name called at Canton, we can revisit and Klecko becomes the odd-man out. Time will only tell.
For now, Joe Namath, Don Maynard, Curtis Martin and Joe Klecko represent the New York Jets Mount Rushmore.