The Brooklyn Nets drafted Nicolas Claxton at No. 31 overall. He needs work, but that doesn't mean he won't be able to contribute right away. 
As a sophomore with the University of Georgia Bulldogs, Nicolas Claxton made a remarkable leap. He ultimately transformed himself from a forgettable role player into the team's centerpiece. In 32 contests, he averaged 13.0 points, 8.6 rebounds, and 2.5 blocks. The latter two marks were third and first in the SEC, respectively. Such dramatic improvement proved Claxton could be an NBA player sooner than later. He made the case to be a late first-round pick, and it's surprising he stayed on the board as long as he did. 
The Bulldogs were the SEC's second-worst team this past season. They finished 11-21. The driving force behind their futility was the lack of talent. Although Claxton was stellar, his play wasn't that of someone who could consistently be the first option. The South Carolina native led the team in scoring but wasn't the most talented offensive player. He shot 46.0% from the field but didn't have a dedicated playstyle. Tom Crean put him in a variety of situations. His synergy chart features seven play types with more than 25 possessions, and the effectiveness varies. 
Even though Claxton's offense is a diverse amalgam, there's a solid foundation hidden there. First, he's a fabulous finisher around the basket; 71.2%, according to hoop-math.com. His size helps considerably. Claxton measured 6-foot-11.75 in sneakers at the combine, and he complements that with an intimidating 7-foot-2.5 wingspan. Guards have a higher margin of error on lob passes, for example, because Claxton is big and athletic enough to haul in errant throws. Since the Brooklyn Nets have a surplus of ball handlers, those instances are going to increase. In that regard, Claxton is similar to Jarrett Allen. After that, though, the two contrast more and more.
Upon watching Claxton's tape, it's shocking how often he created offense for himself. He's comfortable playing in the post and also spends a decent amount of time lingering around the basket. Those are typical spots to be in when you're a center, but Claxton enjoys hanging out on the perimeter and manufacturing points off the dribble. That part of his game is underrated but also presents a potential conundrum with certain lineups. 
Claxton is an adept ball handler relative to other centers. He plays under control in transition and has found himself leading the break quite frequently. The motions look fluid and natural. Sometimes, larger players labor with every bounce. However, not with Claxton. That same confidence permeates his halfcourt attack. Whether he's at the top of the key, on the wing or in the corner, Claxton is comfortable putting his man in a blender. His crossover is impressively smooth, and the footwork isn't shabby either. According to Synergy, Claxton ranked in the 92nd percentile on isolations. The sample size was small, however, with 29 possessions. 
On the play below, Claxton shakes Auburn's Austin Riley with a left-to-right cross and effortlessly elevates on the mid-range jumper. The sequence isn't the quickest, but it's vital to remember that Claxton is pushing seven feet.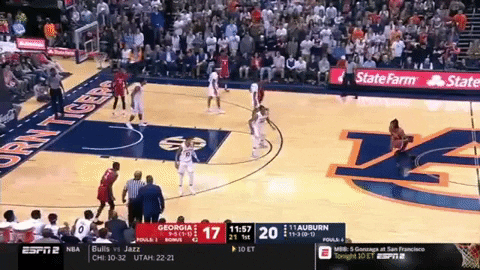 It's unlikely that Kenny Atkinson and his staff mimic the opportunities that Crean created for Claxton in college. But that doesn't mean they'll go away entirely. Having a center who can create from the perimeter is a fascinating dynamic. Even if it's only a few times per game, those are possessions when the primary ball handlers get to conserve some energy. A prominent concern, of course, is how effective Claxton is going to be against NBA defenders. He faced some stiff competition at Georgia, but the professional ranks are different. 
Claxton is likely to struggle with the physicality. Further, there seems to be an over-reliance on his left hand. Even when he drives right, he likes to spin back to his left side. Defenses will feast on that. Not all is bad, though. Claxton created an astonishing amount of contact this past season. He finished fifth in the SEC in free throw attempts (192). However, he posted a less-than-stellar clip of 64.1%. It was, however, a significant improvement on his freshman mark of 52.3%. 
Now, Claxton's inaccuracy is going to impact the lineups he plays with. He made 18 of his 64 attempts from three this season. The majority of his offense is going to come on cuts and flashes, similar to Allen. Claxton may eventually become a legitimate post threat, but, until he proves that, the Nets' gameplan won't change much. He's not a great passer and struggles with decision-making, both in regards to scoring and playmaking. That, however, doesn't negate his potential. It also doesn't overshadow his boundless potential as a defensive anchor. 
At 20-years-old, Claxton is already an elite shot blocker. I previously mentioned he led the SEC with 2.5 swats a night, but the sophomore also finished sixth in the country in block percentage (8.0) among players with at least 1,000 minutes played, trailing the likes of Brandon Clarke and Matisse Thybulle. 
Thanks to his youth, Claxton is only going to improve. He could very well evolve into one of the NBA's premier shot blockers. All of the tools are there. He's also got the necessary intangibles, and they're emphasized by how he limited his fouls this past season. Per 40 minutes, Claxton averaged 3.6 personals to 3.2 blocks. His IQ is much higher than it is offensively, and he does a tremendous job of picking his spots. His length is also bothersome to shooters, and he slides his feet well enough to give ball-handlers issues on their drives.
Much like on offense, Claxton's strength deficit will impact how he handles guys in the post. The Nets have had the disadvantage in physicality in recent years. Claxton won't help that yet. However, the team is interested in adding DeAndre Jordan, and the veteran could provide a wealth of information to both Claxton and Allen.
Claxton's unique approach to offense and stifling defense could quickly make him Allen's full-time backup. The Nets would have two formidable defenders on the floor at all times. That luxury will prevent opponents from going big and feasting on a four-guard lineup.
The Nets waited until the second round to make their first pick on draft night. They got a solid player in Claxton. More importantly, they got someone who's not going to face an absurd amount of pressure. Although Claxton has the tools and skills to make an impact as a rookie, he still needs a considerable amount of refinement. If things weren't to pan out right away, he could use the G-League to his advantage, and there'd be nothing wrong with that.