Allen Crabbe's albatross contract is gone, and the Brooklyn Nets are officially in the race for stars. The sweetener? Taurean Prince is great.

On Thursday, the basketball world lost their collective minds after ESPN's Adrian Wojnarowski dropped a face-blasting nuke regarding the Brooklyn Nets.
Brooklyn had finally done it. The team sent swingman Allen Crabbe packing to Atlanta in return for Taurean Prince. Brooklyn was also forced to give up its own 2019 first-round draft pick as well as a 2020 first-rounder (protected 1-to-14; per Zach Lowe of ESPN).
At first glance, I had a couple of gut reactions. The first: Allen, my guy, I told you to get familiar with using Kayak.com.
The second (and on a more serious note): Two draft picks is a big price to pay for a salary dump.
Ridding themselves of Crabbe's $18 million gives the Nets more flexibility when maneuvering as big-spending mercenaries. Without getting too—math-y, the salary cap is set at $109 million for the 2019-2020 season. Now that Crabbe is cleared from Brooklyn's books, the Nets have $46 million in cap space.
However, this includes D'Angelo Russell's $21 million cap hold. If the Nets were to give Russell his big payday and bring aboard Kevin Durant and Kyrie Irving, they could then fill out their roster using multiple veteran minimum level players (i.e. Corey Brewer or Luol Deng). Brooklyn would also have the mid-level exception to work with, which would be the taxpaying $5.7 million. Of course, they would need to find trade partners for Spencer Dinwiddie, Joe Harris, and perhaps others.
The Nets could choose to renounce Russell and let him walk. According to cap expert Albert Nahmad, the Nets could theoretically create $68 million in cap room with this scenario in mind.
This would likely mean the end of Shabazz Napier and Treveon Graham's tenures in Brooklyn. Graham is due $1.65 million next year and Napier is due $1.85 million. However, both salaries are non-guaranteed, meaning that if the Nets were to waive both players before July 10, those figures would dissipate from Brooklyn's cap.
Even with all of these moves, in a cruel turn of events, Brooklyn would still be about $2 million short of grabbing free agent targets Durant and Irving. Why? Because of a man by the name of Deron Williams and his $5.4 million in dead money. Leave it to Deron to continue haunting this franchise!
Don't give up hope yet! There are a few more housecleaning things we can do.
The Nets could renounce Theo Pinson's qualifying offer of about $1.64 million to create extra room.
Brooklyn also has two picks in the upcoming draft: No. 27 (via the Nuggets) and No. 31 (via the Knicks). The salary of each first-round pick is configured to a preset "rookie scale." According to Real-GM.com, pick 27 of the 2019 draft is projected to earn $1.65 million in 2019-2020. Second-round picks are not bound to any salary scale, so that number is TBD. Last season, Phoenix's 31st overall pick Elie Okobo landed a deal worth $1.24 million annually, so let's use that figure in our example.
Potentially, the Nets could have $3 million (-ish) of their cap tied up in a late first-round pick and an early second-rounder. Brooklyn could actually work their way around this cap hinderance by doing what is called a "draft and stash."
Essentially, Brooklyn would use picks 27 and 31 and select two players who are under contract overseas. Instead of bringing them into the States immediately, Brooklyn would allow these players to continue their contractual obligations across the pond.
Once these contracts were completed, Brooklyn could add these players to their roster and cap. (If Brooklyn wanted to acquire both players prior to contract completion, the Nets could simply buy out their remaining overseas salaries.)
Now you may be wondering … why would the Nets select two players who wouldn't immediately contribute to the team?
Well, if the Nets were to "stash" both picks, neither salary would count towards Brooklyn's 2019-2020 cap figure. Meaning that Brooklyn would save around $3 million from their books. Brooklyn would, however, hold the rights to both picks—to the point where no other NBA team could sign either prospect even while playing overseas.
The draft and stash would give Brooklyn $70 million in cap space, which could be used to sign Irving and Durant. Meanwhile, the Nets would still keep the core of Dinwiddie, Harris, Prince, Rodions Kurucs, Jarrett Allen, Dzanan Musa, and Caris LeVert intact.
Either way, the Nets are left with great options. The team could build around Russell, Irving, and Durant's star power. OR the Nets can feature Irving, Durant, and reasonable depth. Again, a win-win situation all around.
This is the value of dealing Allen Crabbe. Brooklyn's options are more open than ever, and the Nets are officially in the race for the big guns. I'd say that's worth the sacrifice of a protected first.
The Prince That Was Promised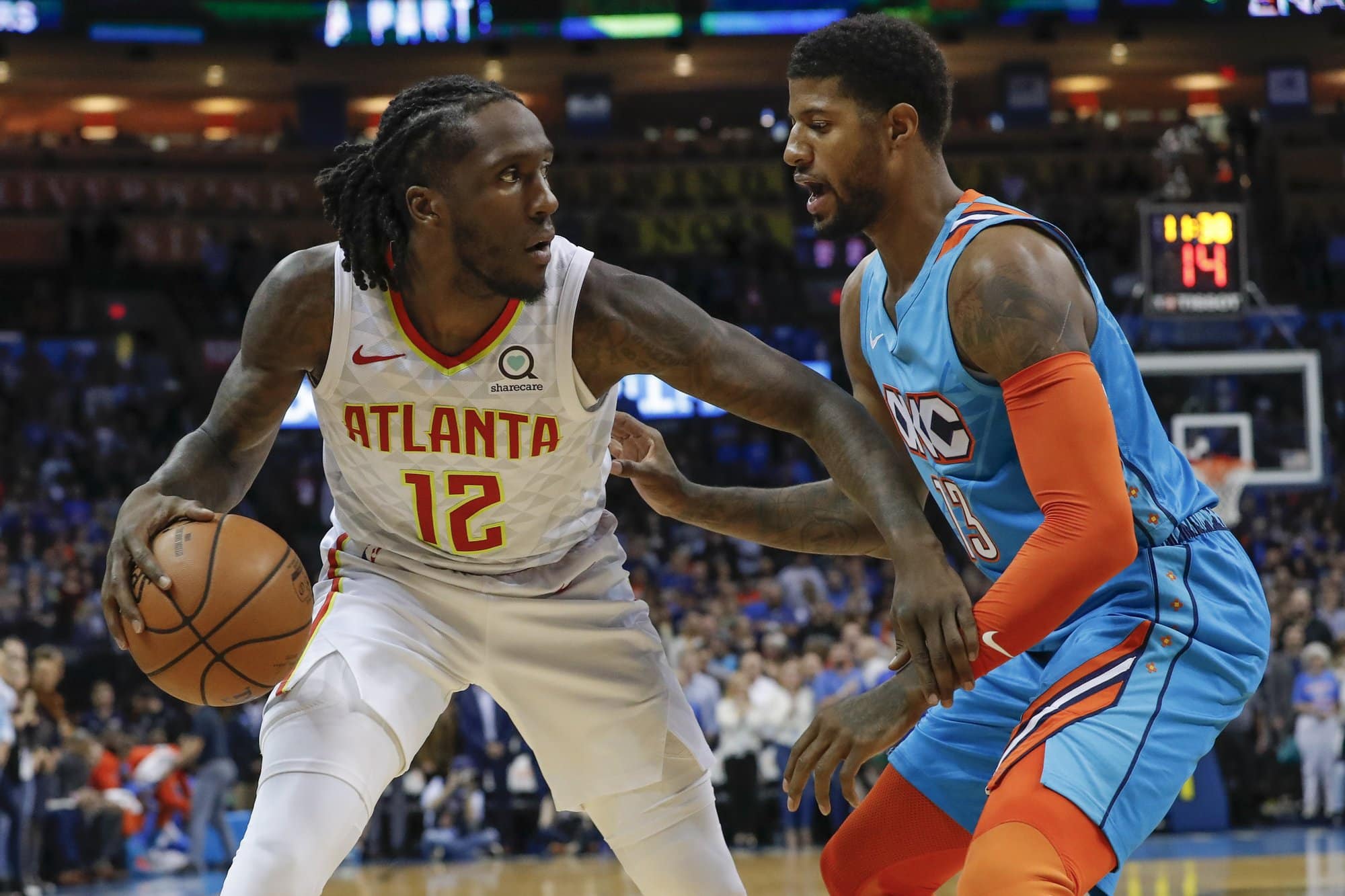 There is another angle to explore when looking at this trade. 25-year-old Taurean Prince is more than just a throw-in. He's exactly who the Nets have been looking for.
Prince could best be described as a 3-and-D specialist. Nominally speaking, he's a three in today's league. However, at 220 pounds, he has the size to play some four.
Now, to be clear, the "D" part of that label is a little more theoretical than any of us would like to admit. In Prince's rookie season, he made immediate waves across the league by credibly guarding LeBron James during a playoff series.
Since then, for whatever reason, Prince's defensive intensity has wavered. Perhaps it's a product of Atlanta's losing culture.
Advanced metrics were not kind to Prince's defense. According to Basketball-Reference.com, Prince yielded a -1.5 defensive box plus/minus on average. That's obviously not great. However, this may be influenced by some of his former teammates in Atlanta, who, um, couldn't guard me (looking at you, Trae Young).
Strike two for our boy Prince? Defensive win shares weren't too courteous either.
Defensive stats are flawed, yes, but with his physical gifts, Prince should be able to cumulate more than 1.7 total defensive win shares. I, personally, have high hopes that Kenny Atkinson will bring out the best in Prince. The potential is certainly there. It's all about locking in.
Prince's offense, on the other hand, puts a smile on my face. At this point, you've probably seen his raw numbers: 13.5 points, 3.9 rebounds, 2.1 assists, and a nifty little shooting split of 44.1/39.0/81.9. The shooting numbers are especially appetizing considering he was on a bad team.
On paper, Taurean Prince is a match made in heaven for Brooklyn's offense.
As a team, the Nets generate a great deal of "open" looks. NBA.com defines a shooter as "open" when a defender is 4-to-6 feet away.
More than 16% of Brooklyn's three-point shots were considered "open"—the second-highest frequency in the association. This works pretty nicely for Taurean who, by no coincidence, was outstanding at shooting the ball when left alone. Per NBA.com, Prince canned 39.2% of his 147 total open threes—a mark that is just 0.4 percentage points lower than world-renowned sharpshooter Kevin Durant.
Outside of spot-up looks, Prince is good for the occasional drive. In 2018-2019, Taurean Prince recorded 314 drives in 55 total games and scored the ball at a reasonably efficient 48.1% from the field. This is considerably better than his predecessor in Brooklyn, DeMarre Carroll, who converted on just 40.3% of his downhill looks.
With one year remaining on his current deal, 2019-2020 could represent Taurean Prince's official audition for a slot on Brooklyn's future roster. He's a young player with a killer stroke who can conceivably match up with opposing wings in a devastating Eastern Conference. Some of these names include Giannis Antetokounmpo, Aaron Gordon, and quite possibly, Kawhi Leonard, Jimmy Butler, and Durant.
Prince's cherished 3-and-D skillset alone is more valuable than pick 17 from a shallow draft. Don't believe me? Here's a list of every player picked 17th since 2013.
Gun to my head, I'm picking Taurean Prince over every single player listed. The Brooklyn Nets got their guy and it didn't cost an arm and a leg—just a couple mid to late first round draft picks. On top of this, they dumped Crabbe's albatross money for a fractional, heavily-protected price.
You know what? This trade might be pretty good after all. Hoorah for Sean Marks!