A Brooklyn Nets backcourt of D'Angelo Russell and Kyrie Irving is about as exciting as it gets, but there are concerns about the fit.

All hell broke loose on the internet when SNY's Anthony Puccio broke the news of reported interest between Kyrie Irving and the Brooklyn Nets. According to Puccio, Brooklyn would be open to pairing D'Angelo Russell and Irving in a Rucker Park-style scoring backcourt.
Puccio's original report was only strengthened by Bleacher Report's Ric Bucher, who stated that Irving's decision was "between Brooklyn and the (Los Angeles) Lakers." Bucher expanded, stating that Irving recently "bought a place in South Orange, (New Jersey)."
Let's get this out of the way: the Brooklyn Nets should absolutely, 100% sign Kyrie Irving assuming that he's available. 
While I may not be as bullish on the fit of Irving and Russell as Brooklyn's front office (more on this in a second…), I am always, always in the camp of "grab the asset, figure the rest out later." Brooklyn has, realistically, never had this good of a shot at a player with Uncle Drew's talent. In fact, as Puccio so kindly pointed out, the team's biggest free agent signing might be Armen Gilliam.
Kyrie Irving would bring the spotlight to Brooklyn. His star power would surely accelerate the improving attendance numbers at the Barclays Center. Irving would also act as a lifeline to net other free agents (no pun intended). But most all, Irving would take Brooklyn's ceiling up from "surprising playoff team" to "perennial postseason participant" (say that three times fast!).
Let's dive into the biggest pro for signing Kyrie.
Impact on Offense
Kyrie Irving and D'Angelo Russell would create one of the most dynamic and entertaining backcourts in the league. They would also test the ceiling of a fairly duplicative 1-2 punch.
If you like sick handles, you'll like the pairing of D-Lo and Irving. Imagine back-to-back possessions as each player pulls off the God Shammgod move. No need for the Harlem Globetrotters, we'll have the Brooklyn Nets!
Irving and Russell bring more to the table than just a nice 2K dribble package. The two are among the twelve best pull-up scorers in the association, per NBA.com. Kyrie has detonated many a team with his isolation scoring—most famously in Game 5 of the 2016 NBA Finals. Russell, meanwhile, almost single-handily erased the Sacramento Kings' 28-point lead during the biggest regular-season comeback of the 2019 season.
Most teams search to the ends of the earth for clutch scorers. Brooklyn would have the unique bounty of possessing two of such players. Irving's resume doesn't even need to be discussed. Russell has had AntiFreeze pulsating through his veins since draft day.
Offensively speaking, the comparison between Russell and Irving, and Damian Lillard and CJ McCollum, is a good one. Lillard and McCollum represent a successful, undersized backcourt that has made the playoffs every season since its formation. The two play well off each other, spotting up when necessary while taking control of the offense accordingly. As the years have gone by, both Lillard and McCollum have become credible off-ball sparkplugs. This season, Lillard and McCollum shot 38.9% and 39.4% off catch-and-shoot threes, respectively.
I have no doubt in my mind that both Russell and Irving can become comfortable alternating as off-ball threats. Irving has already showcased his ability to score off movement during his time in Cleveland with LeBron James. Russell—while he wasn't particularly active without the ball in his hands last season—showed flashes of spot-up talent as a part of the archaic Kobe Bryant Retirement Tour-Lakers.
Kenny Atkinson could also stagger the minutes of Russell and Irving to give the team 48 minutes of All-Star point guard play, similar to year one of the Chris Paul and James Harden experiment. With the two stars playing separately, budding star Caris LeVert could enjoy a more pronounced role within the offense as the number two option in most lineups.
There are a good 50-to-60 points of scoring between Irving and Russell each game. That alone can carry the Nets to the second-round for years on end. The question is, does the journey stop there?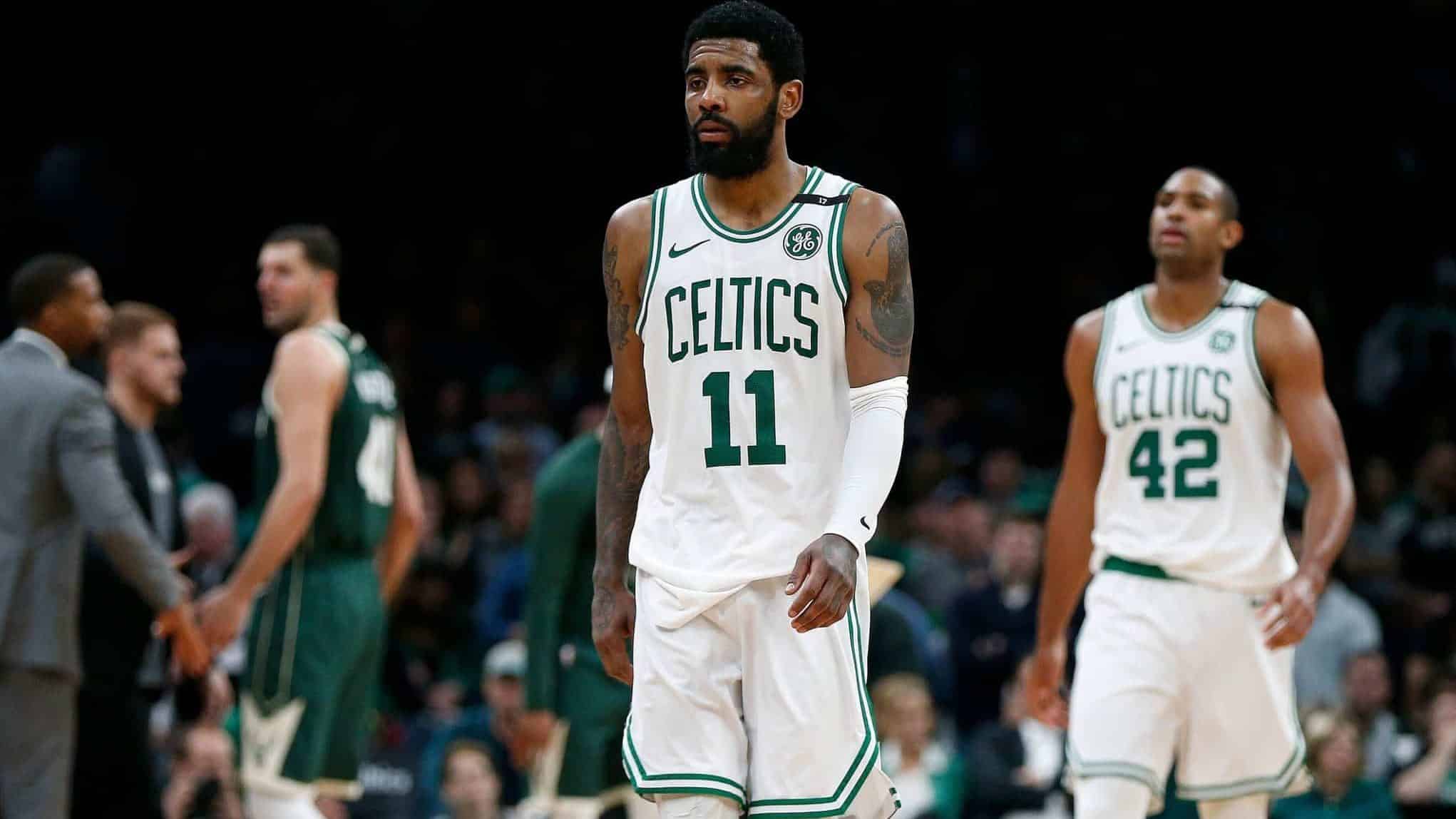 Defensive Issues From the Jump
This is, by far, the biggest source of pause when envisioning a D-Lo/Kyrie-centric future.
The Nets were an average team defensively last season. Although their defensive rating briefly ballooned during Brooklyn's impressive January-to-March run, it fell to 15th by the end of the season.
Adding Irving to the equation would only accentuate the Nets' problems on defense. The Boston Celtics were left for dead against the Milwaukee Bucks for many reasons, but perhaps the biggest was Kyrie's ineptitude on defense. Irving appeared completely lost while attempting to track Milwaukee's shooters. He let Eric Bledsoe scamper right by him like he was a yellow light during heavy traffic. But worst of all: for no reason, he picked up Giannis Antetekounmpo during multiple possessions of the biggest game of Boston's season.
Celtics defensive decisionmaking in the 4th was a bit confusing. Kyrie points to Morris to guard Middleton here so he can take…Giannis? pic.twitter.com/Wu4gfQK2vj

— Brian Robb (@BrianTRobb) May 7, 2019
Russell, while he has improved on defense, is still below-average. Unfortunately, he's hindered by footspeed; a cruel fate for someone with as much passion for the game as Russell. On offense, Russell counterbalances his lack of athletic gifts with jawdropping fakes, a quick-twitch stroke, and unique expertise from the midrange. But on defense, Russell has nowhere to hide. D-Lo is a flatfooted runner, and opposing guards take advantage of this by zipping past Russell during drives to the rim.
This is all speculation, but if Russell and Irving were to play together, D-Lo would likely pick up two-guards. Russell is 6-foot-5—the same height as many shooting guards in today's league. But he's only 198 pounds—much lighter than some of the league's brightest talents at the off-guard position: James Harden (220 lbs) and Klay Thompson (215 lbs), for example.
During the 2018-19 season, there wasn't as much pressure on Russell's slender shoulders to build muscle. But, if D-Lo was allotted the role of the two-guard, bulking up would become immediately imperative to Brooklyn's success.
Let's cut back to that Damian Lillard and CJ McCollum comparison, shall we?
The Portland Trail Blazers recently went to the Western Conference Finals, which indicates great things ahead for the D-Lo/Irving Nets. One problem: the Blazers stumbled into a pretty forgiving path via the playoff bracket. Instead of drawing someone like Houston or Golden State in the second round, Portland faced the Denver Nuggets—a young, dear-in-the-headlights ballclub that still should have won the series.
The real test for Portland came in the Western Conference Finals… where they were promptly swept by the KD-less Golden State Warriors. The Blazers' backcourt was completely incapable of keeping pace with the Splash Bro's everlasting off-ball movement. Even worse, the Warriors pick-and-rolled Portland to death.
Now, you could make the case that no team stands a chance against the Golden State Warriors. Which, fair.
But this wasn't the only time that CJ and Dame's porous nature cost Portland a playoff series. Just one year ago, the New Orleans Pelicans feasted on Portland's undersized backcourt and scored 97.4 points per 100 possessions in the half court; which, per The Ringer's Kevin O'Connor, would have placed Portland among the bottom six in the league of half-court defenses during the 2017-2018 season. Reminder: the 2018 New Orleans Pelicans boasted a backcourt rotation of Jrue Holiday, Rajon Rondo, and Ian Clark. Yeah, not exactly a murderer's row of shot creation.
For as exciting as CJ and Dame are, teams salivate at the thought of scoring against them. I fear that Irving and Russell would suffer the same fate. As stated before, I expect the team to be a perennial second-round participant with this theorized core in place. However, the fun would likely stop there.
Although Irving and Russell are slightly taller than CJ and Dame, they are still at a size disadvantage as a collective backcourt. It's tough for smaller players to keep their heads afloat amidst the physicality of heated playoff games. Not to mention, both Kyrie and D'Angelo can lack focus on defense and tend to get stuck on screens.
Similar to what happened to Portland during the Western Conference Finals, opposing teams will pick-and-roll the Nets to tears. To make matters worse, Brooklyn's big man, Jarrett Allen, is a center who prefers to hang closer the rim. He's not the type of player who will "hedge" a pick-and-roll to buy time for Irving or Russell should they get slammed by a screen. All signs point to Allen being Brooklyn's center of the future, and even if he isn't, centers who can blow up pick-and-rolls don't exactly grow on trees.
Brooklyn's backcourt may score 60 points per game, but allow 50 on the other side of the floor. With not one, but two undersized players who struggle to slide around picks, Nets' fans better prepare for a whole lot of hairpulling after high-screens:
Scoring can waver; both Kyrie Irving and D'Angelo Russell struggled greatly during the playoffs. Defense—especially bad defense—is dauntingly consistent.
Potential Off-Court Issues
Criticizing Kyrie Irving for everything he does off the floor is admittedly low hanging fruit. However, even with the ad nauseam reporting, it's something that should be assessed when thinking about his future in Brooklyn.
The thing that made the 2019 Brooklyn Nets special was not so much basketball related. Rather, it was how much this team embraced one another.
The sideline line dancing has become a meme for the millennium, yet it was just one instance of the Nets' top-tier chemistry. In Brooklyn, there was no animosity about roles within the rotation and, more importantly, no hard feelings about salaries–even with a plethora of upcoming free agents. Instead, the Nets were a sum of their parts that produced the most surprising playoff run in franchise history. Culture has become a big buzzword around these parts, and for good reason.
Kyrie Irving is the antithesis of the word "culture." Bill Simmons' "67 wins" rant has become a running joke on social media at his expense. But realistically, coming into the 2019 season, his declaration really wasn't all that outlandish. With one of the brightest young cores in the league consisting of Jayson Tatum, Jaylen Brown, and Terry Rozier, Irving himself, (perhaps) the league's best coach in Brad Stevens, and two All-Star talents in Al Horford and Gordon Hayward, the Celtics were seen as the team to beat within the Eastern Conference for the next half a decade.
Eight months later, the Celtics watched the Eastern Conference Finals from their couches like the rest of us. The blame for the catastrophic failure falls firmly on Irving's shoulders. He spent the season pinning Boston's failures on his young teammates, criticized his coach's decision making at end of games, and worst of all, undermined his new team by pining about his time with former teammate LeBron James.
A couple of things became clear about Irving following his potential Boston exit. First, he is not comfortable as a lead option. And second, he does not enjoy playing next to younger teammates.
If Kyrie Irving were to come to Brooklyn, he would be the number one guy for a very young ballclub and—wait, whaa??? Do you see my conundrum?
Who is to say that Irving wouldn't detonate Brooklyn's culture from within? And, realistically, what is the difference between Boston and Brooklyn? Culturally speaking, Boston has a wonderful front office led by the mastermind Danny Ainge. The Celtics also possess the bright young mind of coach Brad Stevens. It's not like they're the Phoenix Suns.
While Irving may buy into what Brooklyn is building now, who is to say he won't change his mind? Not too long ago, Irving told Celtics' season ticket-holders, "If you have me back, I plan on re-signing here." With a backcourt of two ball-dominant players like Kyrie and Russell, growing pains are to be expected. Irving hasn't shown much patience in tumultuous situations like this.
The CJ-Dame comparison has been a theme of this article, so let's cut back to it for the last time, shall we?
Damian Lillard is the ideal number one option. As the outspoken leader of the young Trail Blazers, and an active participant in outreach projects within Portland's community, Dame embodies Blazer basketball. He's everything you could want plus more from a franchise player.
CJ, on the other hand, willingly took a backseat role to Dame. He only grips control of the offense during Dame's off-nights, which happen sparingly. CJ's work within a highly scrutinized role is incredibly commendable.
Say Irving comes to Brooklyn. What does this mean for the growth of D'Angelo Russell? D-Lo blossomed as the lead creator last season, but he also had free rein over the offense. Would playing with a star of similar skillset hinder his improvement? No longer would Russell be able to play through his mistakes. Irving doesn't exactly seem particularly forgiving in this regard. Jaylen Brown certainly learned this hard way.
Flip things around and it gets even more confusing. Would Kyrie Irving—a guy who has unapologetically trumpeted his performances in big moments—willingly take a backseat to a 23-year-old playing the same position? I'd bet my life savings that the answer is no.
Final Thoughts
Let me reiterate: The Nets should bring Kyrie Irving aboard during free agency, especially if he's the best player available. The Nets have long-yearned for a star player, and Irving certainly fits the bill.
While I may have concerns about his fit, Irving would bring Brooklyn's ceiling and floor up a level. Not to mention, having a top 12-to-15 player on Brooklyn's roster would elevate the status of the Nets in the eyes of other stars and their agents; akin to having a Bat-signal with Irving's face and the words "join me!" projected across the Downtown Brooklyn skyline.
There are reservations with Irving–both culturally and defensively speaking. While he may bring up Brooklyn's ceiling, the Nets' upside could be shrouded by an impervious cement roof. The addition of Kyrie Irving will undeniably alter the Brooklyn Nets as we know them. It remains to be seen if that change is worth the hoopla.