The New York Liberty open a new era on Friday, one that welcomes back local legend Tina Charles and introduces a promising new guard tandem.

The Garden party is over. In its place rises a new batch of Brooklyn defenders.
The New York Liberty begin their 23rd season of play on Friday night against the Indiana Fever (8:00 p.m. ET, YES). They'll retain their traditional aquamarine and black aesthetic, as well as many players left over from squads that won 66 games over three seasons. The new Liberty hierarchy, however, looks very different, and Friday marks the first official game under new management.
Put into exile by the Madison Square Garden Company, the Liberty are now under the faithful watch of successful businessman Joseph Tsai. The Hong Kong-based billionaire is also the minority owner of the Brooklyn Nets. Tsai is committed to seeing the Liberty's reputation as a sterling WNBA franchise restored.
"As one of New York's proudest franchises, the Liberty has played a vital role in New York City over the past 22 years," Tsai said in a January statement. "The Liberty and WNBA exemplify what it means to compete at the highest level, serve as role models in the local community, and bring greater opportunities to female athletes. Our goal is to continue this important work and help bring the WNBA into its next phase of growth."
The Liberty enter this new era reeling from a historically brutal season. The team's 2018 season, produced under an aura of uncertainty, produced a 7-27 ledger, third-worst in the league and by far the worst record in franchise history.
Yet, as Brooklyn further transforms into a borough of basketball, there are plenty of exciting storylines and happenings …
Brooklyn's in the House
Tsai's purchase allows the team to truly be the "New York" Liberty again. As MSG searched for a buyer, they put the Liberty in Westchester exile, moving all but two home games from the titular building to Westchester County Center in White Plains. The cozy venue hosts, at most, 2,000 for Liberty sellouts.
The trips to WCC will continue in 2019, but thanks to Tsai and his group, there is a commitment to making sure the Liberty not only return to glory, but to do so within city limits. The Liberty are one of three original WNBA franchises to retain their debut market and identity from the 1997 inception.
Barclays Center will host one game this season, the August 11 visit from the Seattle Storm. On a more permanent note, Liberty players have set up their homes in the area. The team practices on the campus of St. Joseph's College.
Liberty assimilation has begun.
"It's extremely important," star player Tina Charles said of the team's Brooklyn prescience. "That's what I think will make the difference between this ownership and the last ownership we had: showing value in our fans and getting us back in the city where we can be reachable."
Charles is no stranger to Brooklyn. After all, the Queens native spent countless hours growing up in the borough that houses her father's Calypso record store Charlie's Records. The store became the subject of her directorial debut at the Tribeca Film Festival.
She hopes the Liberty become an equally recognized Brooklyn staple.
"I think it's great for my teammates," she said.  We've been up in Westchester the entire time and, me personally, when I think New York City, I don't think Westchester. I'm glad they have an opportunity to be in the city and get to know the city life."
Check out Durr and Nurse to end the 3rd quarter:#WNBA #LibertyLoud pic.twitter.com/sB8APTkTiY

— Geoff Magliocchetti (@GeoffMags5490) May 19, 2019
Durr-Nurse is in
Unlike their former MSG brethren, a bittersweet reward awaited the Liberty at the end of a long season: moving up on lottery night. Owners of the second overall pick, the Liberty chose guard Asia Durr out of Louisville.
Listing all of Durr's senior season accolades would require a Twitter thread at least a dozen posts. The most important thing to know is that she's a dangerous playmaker, one capable of changing the entire course of games. For instance, the Cardinals were 18-2 when Durr reached at least 20 points.
At Durr's side for nearly every step of her WNBA career thus far has been Kia Nurse. The UConn alumna was last season's first-round pick for the Liberty. She reached double figures in six of her first seven games, but struggled to find a true consistent spot in the middle of the summer. By the time injuries decimated a majority of the Liberty roster, Nurse had become a team leader of sorts. She played the full 40 minutes in last season's finale in Phoenix. Hints of a larger role for Nurse have been on display this preseason. She reached double-figures in each of the four games and ranked fourth in scoring with 17.3 PPG. Primarily known for her defense in Storrs, Nurse is looking forward to the next step.
"I'm in a different role than I was at UConn. I'm in a different system that allows me to do a little more offensively than I did in college," she has said. "If I can get things going, it'll open it up for my teammates."
One of those new teammates is Durr. Nurse was on hand in New York when the Cardinal was drafted. She was instantly a fan, calling her a "great person and a great basketball player" and recalling a hotly contested college showdown.
Durr remembers Nurse and that 2018 matchup well. After shooting 7-for-19 that night with Nurse all over her, Durr is glad the two are no longer adversaries.
"(She) face-guarded me the whole time, stood on top of me, couldn't go anywhere," the rookie said. "I'm glad to be on her team now!"
Together with the local Charles, the duo could be the faces of New York basketball for the next generation.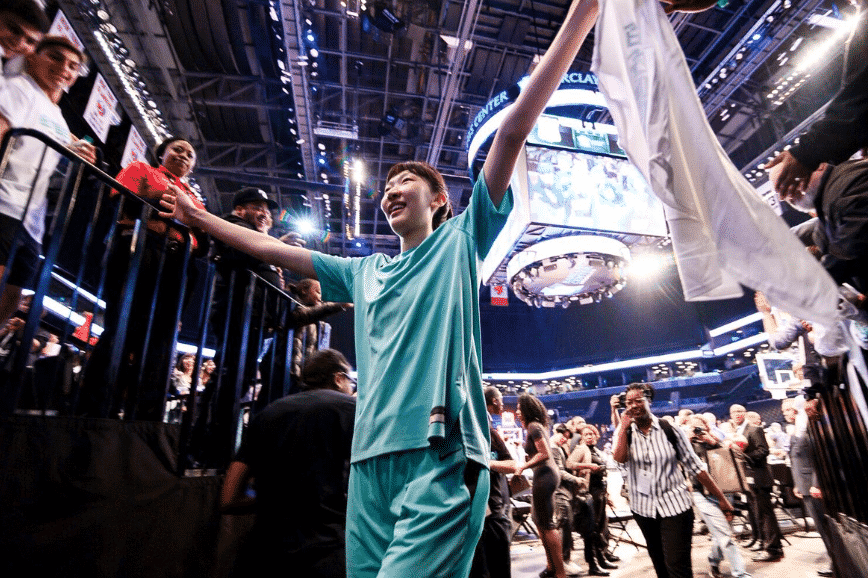 Han's Not Solo
Durr wasn't the only flashy addition the Liberty made on draft night. Also along for the ride is second-round center Han Xu.
The 19-year-old has perhaps needed mere weeks to go through what many professional athletes go through in their whole careers. She's faced countless members of both domestic and international media, has served as a source of inspiration and hope for a whole nation, was compared to one of the best to do her job (Tsai loosely mentioned she could the WNBA's version of Yao Ming), and came up clutch in a big game. When her former comrades from the Chinese national team visited Brooklyn, Han was the leading scorer alongside Nurse.
Han is the first Chinese-born player to chosen in the WNBA Draft since 1997. She's anything but alone in her American journey. Her new teammates have immediately embraced her, and Han was all smiles when talking about the smooth New York transition.
"I definitely have a lot of fun playing basketball with (my teammates)," Han said through her translator, Hannah Rothkuo. "It's been such a cool experience and they've all been so supportive and so helpful to any of the questions that I have."
Core Four
In terms of veteran newcomers, the Liberty chose to stick with familiarity. Preseason staples Tiffany Bias and Reshanda Gray each played their way onto the roster, while Tanisha Wright was readded to the squad in a multi-team trade. The most notable transactions, however, were ones the team chose to make again.
Brittany Boyd, Amanda Zahui B., Rebecca Allen, and Nayo Raincock-Ekunwe each rejoin the Liberty after testing free agent waters. Each brings her own unique skill set to the table and will play big parts in the New York reclamation project. For example, Boyd finished last season tied for fourth in assists per game (5.3) after missing all but two 2017 games with an injury. Raincock-Ekune will add an interior prescience that was sorely missing from last season's squad. She had spent last season's playing in France.
Zahui B. is one of the league's strongest contenders for Sixth Woman of the Year Award. In 29 games off the bench, the former second overall pick set a new career-high average in points (7.7). She shot a personal-best 50 percent from the floor and discovered a three-point prowess with 21 deep triples.
The Sweden native believes her a championship run in Hungary this spring will prove extremely beneficial, as she was particularly proud of her speed and conditioning.
Meanwhile, Allen struggled to gain minutes in head coach Katie Smith's lineups last season, but established a reputation as a tenacious defender. Allen finished second in scoring on Australia's national Opals squad at the FIBA Women's World Cup, behind only MVP contender Liz Cambage. Rumors have since surfaced that the Victoria native could be in Friday's starting lineup.
The returning free agents are part of a proven group. The aforementioned 66 wins were tops in the Eastern Conference from 2015-17.
"We got our pieces, our core is there. We just want to keep getting better," Smith said. "We're constantly thinking about how to improve our team. I like our group. We got some really good people, really good players. We're always trying to add and get ourselves even better."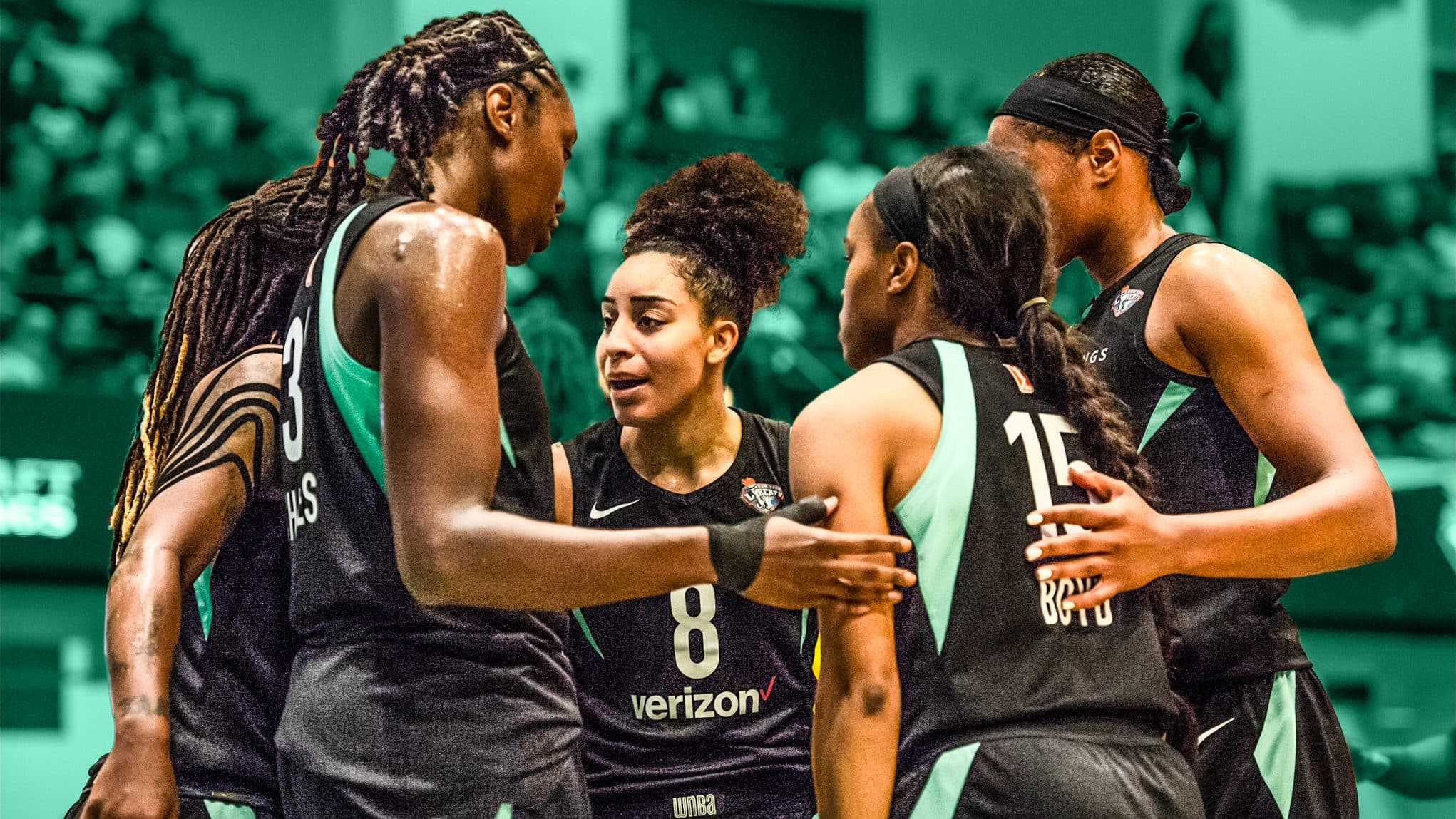 Prediction
With the WNBA very top heavy, especially after Las Vegas' jackpot trade for Cambage, the semi-rebuilding Liberty could get lost in the mix. However, there are several factors working in their favor.
New York can get off to a hot start with five of their first six games coming at home. If they can establish some early traction, they can quickly recover from last season's mulligan and be part of the playoff conversation.
The Liberty's interior game could be the difference between wins and losses, as failure to grab clutch rebounds was their undoing in several games last season. They'll be missing Stokies in the early going, but the additions of Han and Raincock-Ekunwe should help.
Getting back to the top won't be easy. But if the Liberty can separate themselves in a crowded logjam beneath the WNBA elite, they can find themselves back in the familiar land of the postseason.
Prediction: 16-18, 7th in WNBA (WNBA Playoffs 1st Round)
Roster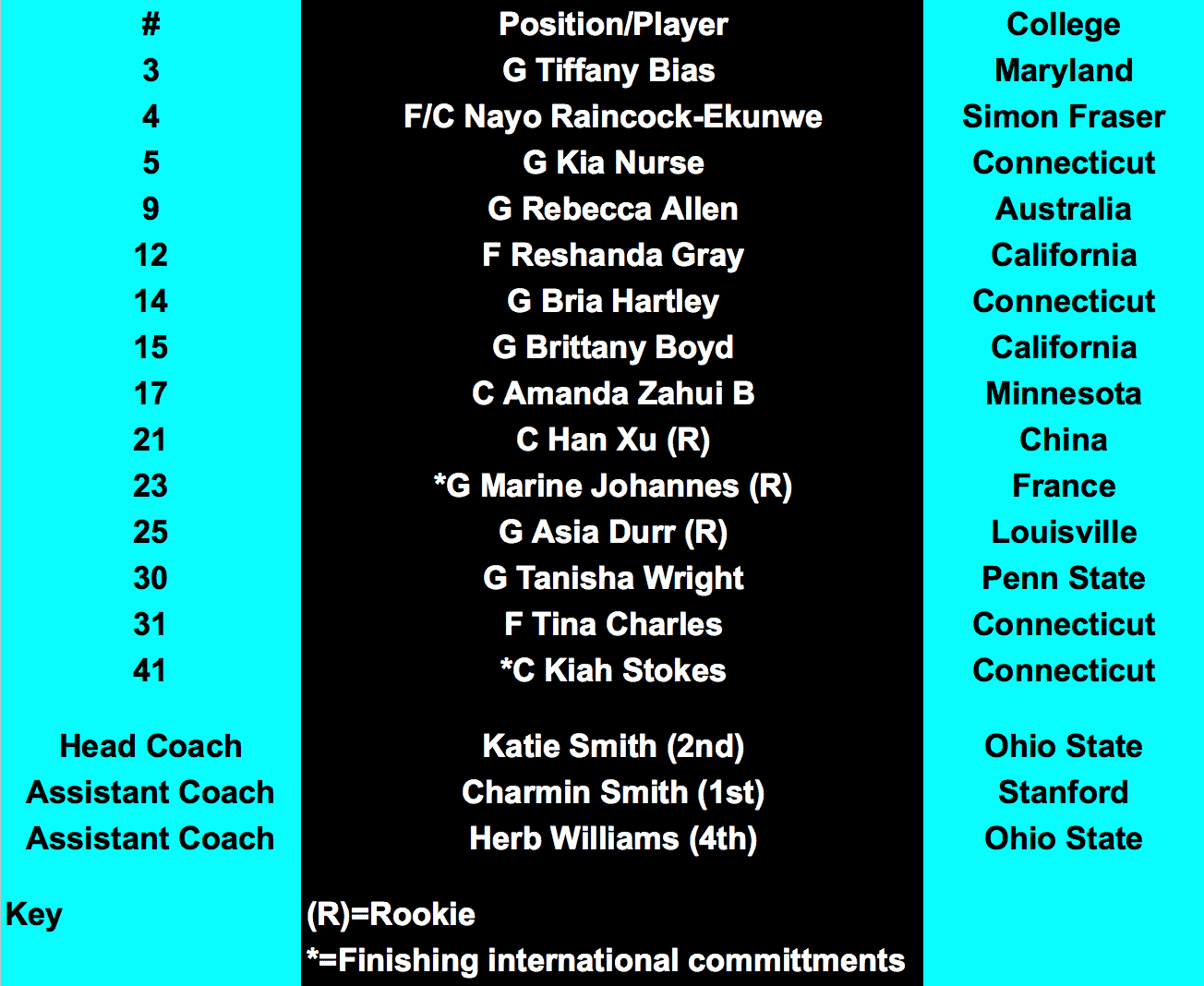 Schedule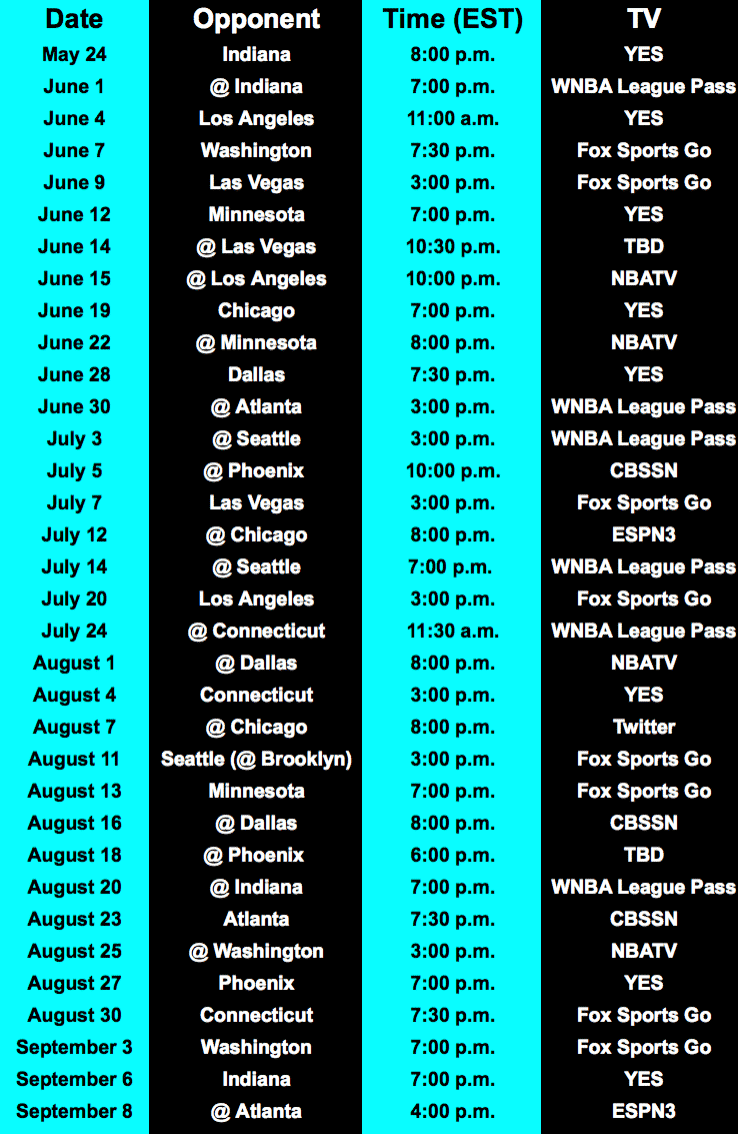 Follow Geoff Magliocchetti on TWITTER