Perhaps it took Adam Gase's bold inside moves to show the New York Jets the errors of their past and current personnel ways.

Think about it from an organizational standpoint. Attempt to live it. Drink it in. Assess.
If you were shown the errors of your previous and current ways, would you adjust or maintain a similarly wayward path?
Call Adam Gase what you'd like. Unproven, agitating, deceptive, aggressive and dangerously ambitious are just several of the many tags slapped on the newest New York Jets sideline boss since the reported power struggle ended in flames. Label Gase whatever you'd like; what you can't do is claim the Jets rid themselves of a proven winner for a complete wild card.
They rid themselves of a general manager with a shaky track record for a complete wild card.
This is Adam Gase's team. The interim GM tag so abruptly slapped on his back proves it. The eventual incoming general manager—whether it be Joe Douglas or another—will be tied at his hip.
The firing of Mike Maccagnan rid the franchise of a great individual who fell short in the areas that count most. Perhaps it took the aspirations of Gase to wake up the Jets to such a notion. Maybe Gase was required to show the organization its personnel and team-building sins.
Maccagnan's cornerstone players are few.
Darnold was, of course, the third overall pick in 2018. Adams, the best safety in the NFL, was chosen sixth the year prior. Big Cat, graciously accepted in the six-hole in 2015, is a talented but frustrating talent at times. "Cornerstone player" is arguable when discussing Leo.
Nothing is more impossible than attempting to evaluate Maccagnan's final draft. The status of Quinnen Williams, Jachai Polite, Chuma Edoga and company cannot factor into this equation.
Aside from top-six picks, what's been accomplished?
Chris Herndon's mid-round talent feels promising, but one season is, well … one season. We all thought Dustin Keller was something special after his rookie campaign. Robby Anderson represents a nice undrafted free agent snag. James Carpenter and Avery Williamson signal Maccagnan's most efficient free agent hauls.
Names like Darrelle Revis, Christian Hackenberg, Darron Lee, Lorenzo Mauldin, ArDarius Stewart, Terrelle Pryor, Spencer Long and a dirty laundry list of others far outweigh the slight positives.
What makes Maccagnan such a polarizing figure in Jets fandom are the few cornerstone names versus the nitty-gritty. Due to the importance of the franchise quarterback and nastiness of Adams, the positives of the household names/moves sometimes cover up the ugliness that is the actual structure of the depth chart.
This most recent offseason added more stud names to the pile. C.J. Mosley and Le'Veon Bell, the man who Maccagnan and Gase reportedly clashed over, threw the Jets fan into a state of positive frenzy.
Franchise quarterback? Check. Stud strong safety who can takeaway impossible matchups? Check. The best running back in the NFL (at least he was the last time we saw him)? Check. A defensive quarterback needed to lead Gregg Williams's defense? Check.
On the surface, everything was steering in the right direction. For once, the Jets, not the big-brother Giants, were the toast of the NFL town.
Appearances, however, rarely equate to reality when the meat of the team is sorely absent.
The Jets have won the offseason many times prior only to yield marginal results. A year ago, New York spent a bundle in free agency with Pro Bowl-less Trumaine Johnson leading the crop. Free agency big-spending itself is a major black mark on Maccagnan's resume. Regularly, the team's possessed a bundle to spend due to the idea talent hasn't been drafted and developed. Big spenders rarely do well pertaining to Super Bowls.
Top-5 Rankings, Results
2018
Bears, $233.5 million, 5-11 to 12-4
Jets, $202.3 million, 5-11 to 4-12
Jags, $147.8 million, 10-6 to 5-11
Titans, $146 million, 9-7 to 9-7
Saints, $142.7 million, 11-5 to 13-3
2017
Jags, $178.8 million, 3-13 to 10-6
49ers, $169.9 million, 2-14 to 6-10
Ravens, $63.5 million, 8-8 to 9-7
Bears, $133.1 million, 3-13 to 5-11
Saints, $126.9 million, 7-9 to 11-5
2016
Jags, $230 million, 5-11 to 3-13
Giants, $213.8 million, 6-10 to 11-5
Broncos, $193.7 million, 12-4 to 9-7
Raiders, $156.1 million, 7-9 to 12-4
Jets, $141.7 million, 10-6 to 5-11
2015
Jets, $182.8 million, 4-12 to 10-6
Jags, $176.4 million, 3-13 to 5-11
Dolphins, $155.4 million, 8-8 to 6-10
Raiders, $150.3 million, 3-13 to 7-9
Titans, $134.7 million, 2-14 to 3-13
2014
Bucs, $152.3 million, 4-12 to 2-14
Broncos, $127.6 million, 13-3 to 12-4
Giants, $113.7 million, 7-9 to 6-10
Jags, $112.9 million, 4-12 to 3-13
Falcons, $110.4 million, 4-12 to 6-10
2013
Dolphins, $159.9 million, 7-9 to 8-8
Colts, $142.8 million, 11-5 to 11-5
Titans, $133.3 million, 6-10 to 7-9
Eagles, $103.8 million, 4-12 to 10-6
Vikings, $101.3 million, 10-6 to 5-10-1
2012
Saints, $220.1 million, 13-3 to 7-9
Bucs, $162.4 million, 4-12 to 7-9
Broncos, $152.5 million, 8-8 to 13-3
Ravens, $135.3 million, 4-12 to 10-6
Bills, $128.2 million, 6-10 to 6-10
Seven seasons featuring the top-five free agent spending teams equals 35 instances.
The overall record prior to the big-spending offseason: 228-332
The overall record after the big-spending offseason: 268-291-1
The win difference turns out as a mere 40 between 35 teams over the last seven seasons. Think about this. The five highest-spending organizations over the last seven seasons have only combined for 40 extra victories via the following season.
Considering all of the money, all the talent, there's no way 40 should be the number.
Le'Veon Bell himself is an entirely different category. Over the last eight seasons, never has a team employing a top-three paid running back captured the Vince Lombardi trophy. The closest mark was Ray Rice's fourth-highest salary when the Baltimore Ravens used Joe Flacco's insane playoffs to the chip.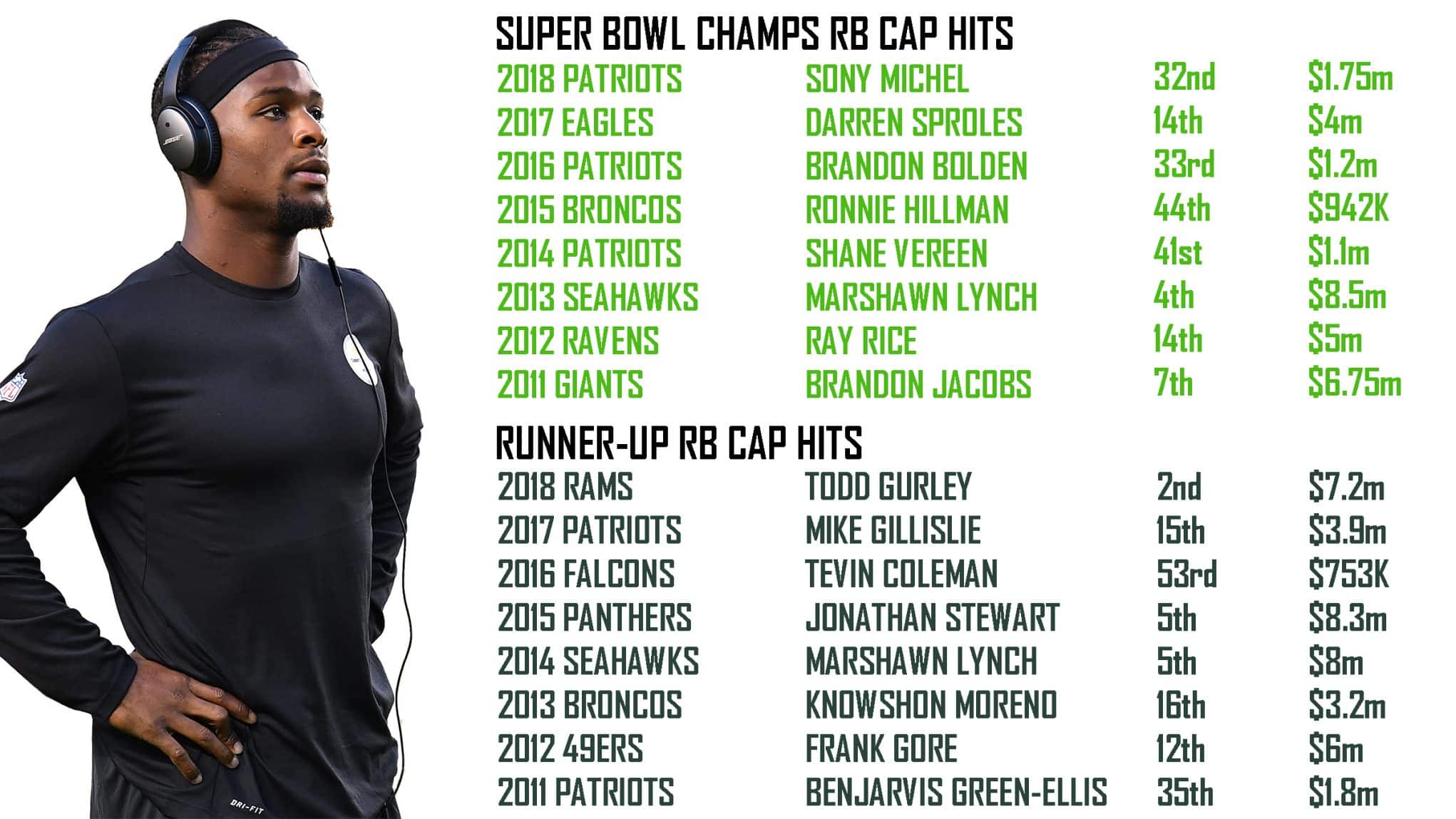 Bell is now the second-highest paid back in the league, earning a cool $13.5 million average annual salary.
Oh, and don't forget about Kirk Cousins, the man Maccagnan wanted to lead the franchise. If not for a Cousins snub, young Darnold would be elsewhere.
Similarly to Bell's salary situation, dishing out big-time money to free agent quarterbacks doesn't usually equal Super Bowl success.
Super Bowl Champion QB Cap Hit Percentages:
2017: Carson Wentz and Nick Foles, $7.7M: 4.6 percent of the $167M cap
2016: Tom Brady, $13.7M: 9 percent of the $155.27M cap
2015: Peyton Manning, $17.5M: 12 percent of the $144.28M cap
2014: Tom Brady, $14.8M: 11 percent of the $133M cap
2013: Russell Wilson, $681K: .05 percent of the $123M cap
2012: Joe Flacco, $8M: 6.6 percent of the $120.6M cap
2011: Eli Manning, $14.1M: 11.75 percent of the $120M cap
Cousins is slated to eat up 15.4 percent of the Minnesota Vikings cap this coming season.
The greatest formula for dominant success under the rigors of the hard-salary cap remains drafting the future at the position only to build the team around his manageable contract. What's happened to the Seattle Seahawks since Russell Wilson got his money? How did Flacco's big deal work out for the Ravens?
Unless the free agent owned the name of Tom Brady or Aaron Rodgers, that Cousins-type of money wasn't warranted.
Over five drafts and four seasons, big names and money have been splashed around, finally cemented with sick uniforms unveiled at a party for the ages. Maybe it took a new football mind to point out the Jets error of their ways.
The NFL is a value league, not a superstar one. As great as the Darnold drafting remains to this very day is as scary as it feels moving forward. The house has still not been built. The structure that protects the golden arm resembles a frightening notion.
Maccagnan inherited a team that hadn't possessed a true dominant edge rusher since John Abraham. On the other side of the ball, he took over when D'Brickashaw Ferguson and Nick Mangold were on their last legs. Both critical needs, the foundation of a successful NFL football team, remain critically unsolved.
Jachai Polite and Kelechi Osemele aren't enough. Polite could turn out as a steal, but he'll have to actually watch himself on film, first. Osemele, who'll be 30 by the time camp opens, will have to remain healthy. For a squad in such desperate need at edge and O-line, again, the stubbornness of not doing enough in those areas rang true. (Football teams are always built from the trenches out.)
Christopher Johnson is an energetic leader who also happens to be a football neophyte. His status and connections in the league are still that of a novice. No question about it, Maccagnan should have been gone the moment Todd Bowles was fired. The calendar year excuse via scouting doesn't outweigh allowing an eventually fired GM to spend money and draft the players.
Considering it all, how could it have not been Gase who pointed out these personnel errors, the wayward structural details that have gone unfinished for so long?
Entrusting Gase with the franchise now is no different than entrusting the tag-team of Maccagnan and Bowles in 2015. Maccagnan had never served as a GM and Bowles, never a head coach. Like then, Gase deserves to be questioned, especially after the reported rift and his own words through the troubled times.
But make no mistake about it, it took the ambitious Adam Gase to show the New York Jets their football sins over the last half-decade.
The mere appearance of stability while traveling down the right road doesn't necessarily equate to real success. Jets fans should fully understand this by now.