Lou Lamoriello must decide what to do with players who don't fit the New York Islanders' team structure and what their returns may be.

W
ith a full season sample to work with,
Lou Lamoriello
has to figure out who fits into the
New York Islanders'
long-term plans.
The 2018-19 Islanders knew they would have to take a step back offensively to improve their goals against. Barry Trotz's first season implemented that philosophy nearly to a tee, with a William M. Jennings Trophy to cap off a historic season.
On the flip side, their hampered offensive production contributed to their second-round playoff exit.
Going into the trade deadline this past season (and for most of the season) the Islanders were well-aware of their shortcomings. The Isles finished the regular season 22nd in goals-for, further highlighted by their 2019 postseason.
After outscoring the Penguins 14-6 in the first round, the Islanders were pummeled 5-13 by the high-intensity style of the Hurricanes in the second round.
Now that the season is in their rearview mirror, both Trotz and Lamoriello have the offseason to contemplate how they can improve their squad, and more specifically, which players can be at the forefront of trade discussion this summer.
Nick Leddy
The defense took several steps in the right direction this season. Unfortunately, Nick Leddy did not.
Leddy's performance slowly deteriorated since January 2018 and didn't improve as much as he was expected to with a full season under Trotz. In a system focused on conservative play, the high-flying winger was unable to balance offensive production and reliable defensive play.
For as ugly as his 2017-18 season was, his underlying stats actually worsened in a full sample under Trotz. Leddy's Corsi-for and Fenwick-for both sank from 46.9 to 44.3 percent and from 45.8 to 44.2 percent respectively.
Leddy's struggles likely stem from playing in two drastically different systems that didn't suit his game over the last two seasons. His defensive responsibility rose, yet his production took a nosedive coming off three-straight 40-point seasons.
Part of that dip in production likely stems from the ineffectiveness of the Isles powerplay (29th overall) which should hopefully see changes next season.
Still, Leddy averaged about 21 minutes of ice-time this season and is seen as a top-four, puck-moving defenseman.
The rise of both Scott Mayfield (79 GP, 18 mins/night) and Adam Pelech (78 GP, 18 mins/night) as viable top-four options, plus rookies like Sebastian Aho waiting for their opportunity makes Leddy the victim of a numbers game.
Sending Leddy to another club, even if it is just for draft picks, relieves the Isles salary cap of his $5.5-million contract and opens up possibilities either via trade or on the open market.
Josh Ho-Sang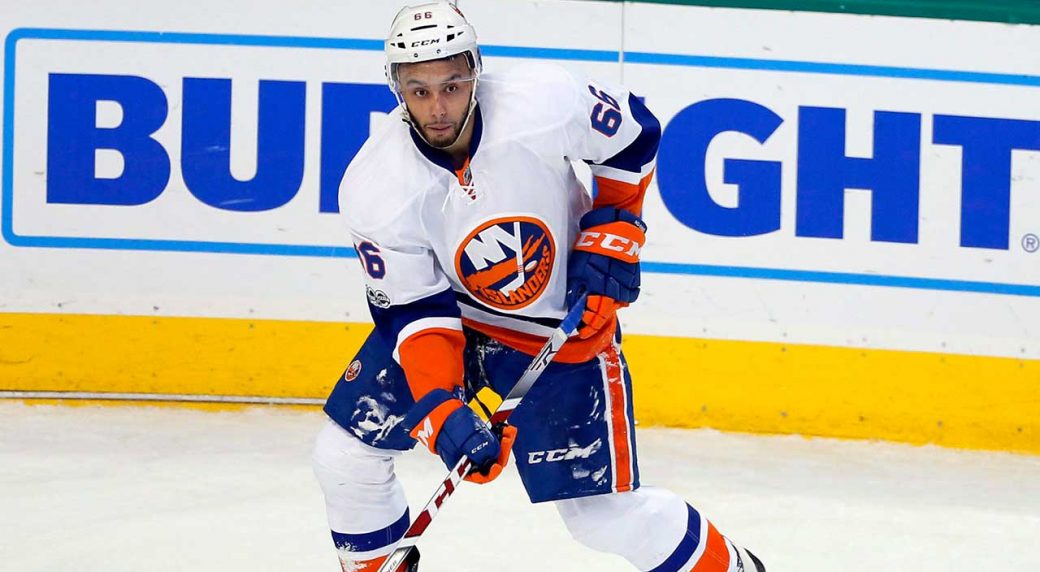 Despite possessing unmistakable offensive talent, Josh Ho-Sang could not find a stable position on the Islanders in the two years since his first call-up.
Ho-Sang was recalled in mid-December after failing to make the team out of training camp. He scored a goal and tallied an assist in a 10-game span.
Trotz cited the reason for his return to Bridgeport as a lack of production. That seems odd in retrospect due to the woefully small sample size of 10 games. Beauvillier was retained despite his offensive struggles all season long.
It's clear at this point that the Islanders do not envision Ho-Sang as a part of their future. Ho-Sang even went as far as to say he wouldn't mind being traded in another eye-opening interview with The Athletic.
As one of the Isles' restricted free agents, Ho-Sang will need an offer tendered to him if the Isles wish to retain his rights. Alternatively, (and at this point, more likely) he can be shipped as part of a bigger package this offseason to find some offensive assistance up front.
Thomas Greiss
The idea of sending off one of the Isles' two most successful players this past season seems ludicrous, but makes perfect sense.
Greiss was lambasted as another Garth Snow mishap at the end of 2018 with NHL-lows in save percentage and goals-against average. Of course, this was just two years after setting previous career-highs in both categories in a full season's span.
Greiss is coming off new career-highs in save percentage (.927), goals-against average (2.28) and shutouts (5). He is entering the final year of a $3.33 million contract and to many teams, a reputable 1A goaltender at under $5 million is a dream.
With his trade value at an all-time high, why not attempt to capitalize on his return? It's unlikely the Islanders plan to pitch Greiss an extension, especially since he will be 34 next offseason and they have yet to see the potential of either Linus Soderstrom or Ilya Sorokin.
Lamoriello is more likely to make a push to retain Robin Lehner, who was seen as the go-to starter in both the postseason and the second half of 2018-19.
Dangling Greiss to a team in search of a starter or reliable alternative would allow the Isles to alleviate more cap space for the inevitable extensions and additions that will take place.
The Isles proved that playing in Trotz's system can allow lesser goaltenders to succeed, so a cheaper alternative in net to allow upgrade in front would be a compromise the Isles would welcome.
Thomas Hickey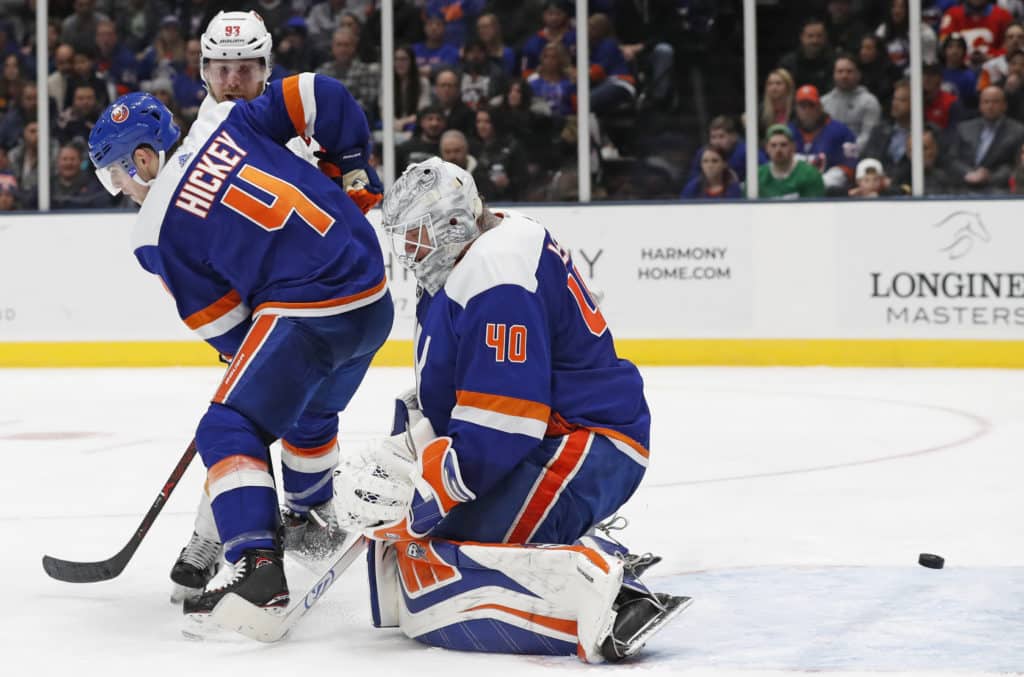 At the start of 2018-19, Hickey looked to be an integral part of the Isles defense. Like Leddy, Hickey now finds himself on the outside looking in.
As a seventh defenseman, Hickey was the most ideal option the Isles had which led to his reinsertion to the lineup when Johnny Boychuk went down with an injury. Then again, choosing from the trio of Luca Sbisa, Dennis Seidenberg and Hickey didn't leave any excellent options.
Hickey took a nasty spill from the result of a missed hit against the Colorado Avalanche on Dec. 17. He would later be diagnosed with a concussion and wouldn't return for months.
The injury resulted in the inevitable recall of Devon Toews, and the rest is history as the Isles defensive structure took strides towards playing as a group.
Keeping Hickey around as a seventh defenseman would work just fine as his $2.5-million annual contract is very manageable for a bottom-four defenseman.
Conversely, it's the same reason to consider moving on from the long-time Islander. With three years left on his contract and the likes of Aho and Mitch Vande Sompel waiting in Bridgeport, the Isles have options this summer.
There will be plenty of clubs looking to shuffle their decks this offseason and Lamoriello is sure to have his hands full. The Isles roster is full of pending UFAs and RFAs, and clubs like the Tampa Bay Lightning will be looking for a major shakeup.
Coming off a surprising playoff run and equipped with an estimated $35 million in cap space, the Islanders are set to have the most eventful offseason since 2014.