With a full slate of rookies incoming, plenty of New York Jets veterans are in danger of losing jobs. Part two of the rundown comes now.

Each of the six New York Jets selected in this year's draft is hoping to claim a spot on the 53-man roster prior to the start of the season. In turn, the team is praying they can each accomplish that feat. There is no doubting the front office would love to have as much youth and as little salary cap commitment on the roster as possible. A successful draft class brings both to the table.
For each roster spot a rookie secures, it, of course, means that in turn there is another player who will lose the game of musical chairs.
Recently, I went over the Jets that could be threatened by the team's Day 1 and 2 selections. Which current Jets could see their roster spots threatened by the incoming Day 3 selections?
Round 4, Pick 121 overall: Trevon Wesco, tight end, West Virginia
It's plain and simple: the Jets drafted Trevon Wesco to block.
Due to the Jets already having a promising receiving tight end in Chris Herndon, this was a selection that irked part of the fanbase. However, it makes a good amount of sense for the Jets.
In 2018, the Jets relied quite a bit on Eric Tomlinson and Jordan Leggett as blockers. The two had featured roles as pass protectors, run blockers, and as blockers on the return teams. For the most part, they performed at about an average level in their roles.
Wesco was a dominant blocker at West Virginia. It's a skill that isn't terribly valuable (hence his being drafted on Day 3), but one that does have an impact nonetheless. If Wesco can translate his blocking ability to the NFL, he can do a lot for an offense that is lacking on the offensive front.
Blocking is a very transferable skill that ages well. If a tight end or fullback prospect was a legitimately elite blocker in college, then there is a strong chance they should be able to carry that over into the NFL. Then, if a player can come into the NFL and block at a high level early in his career, they should be able to provide value in that role for a very long time.
All in all, when you draft a player for his blocking skill, he's a very high-floor type of prospect. You can feel confident that talent will transfer and provide consistent value year over year.
Wesco seems like he can be that kind of player. Even if he never becomes a receiving threat, if Wesco can come right in and provide above-average blocking out of the gate, he's an immediate upgrade and could stick around in green for a long while.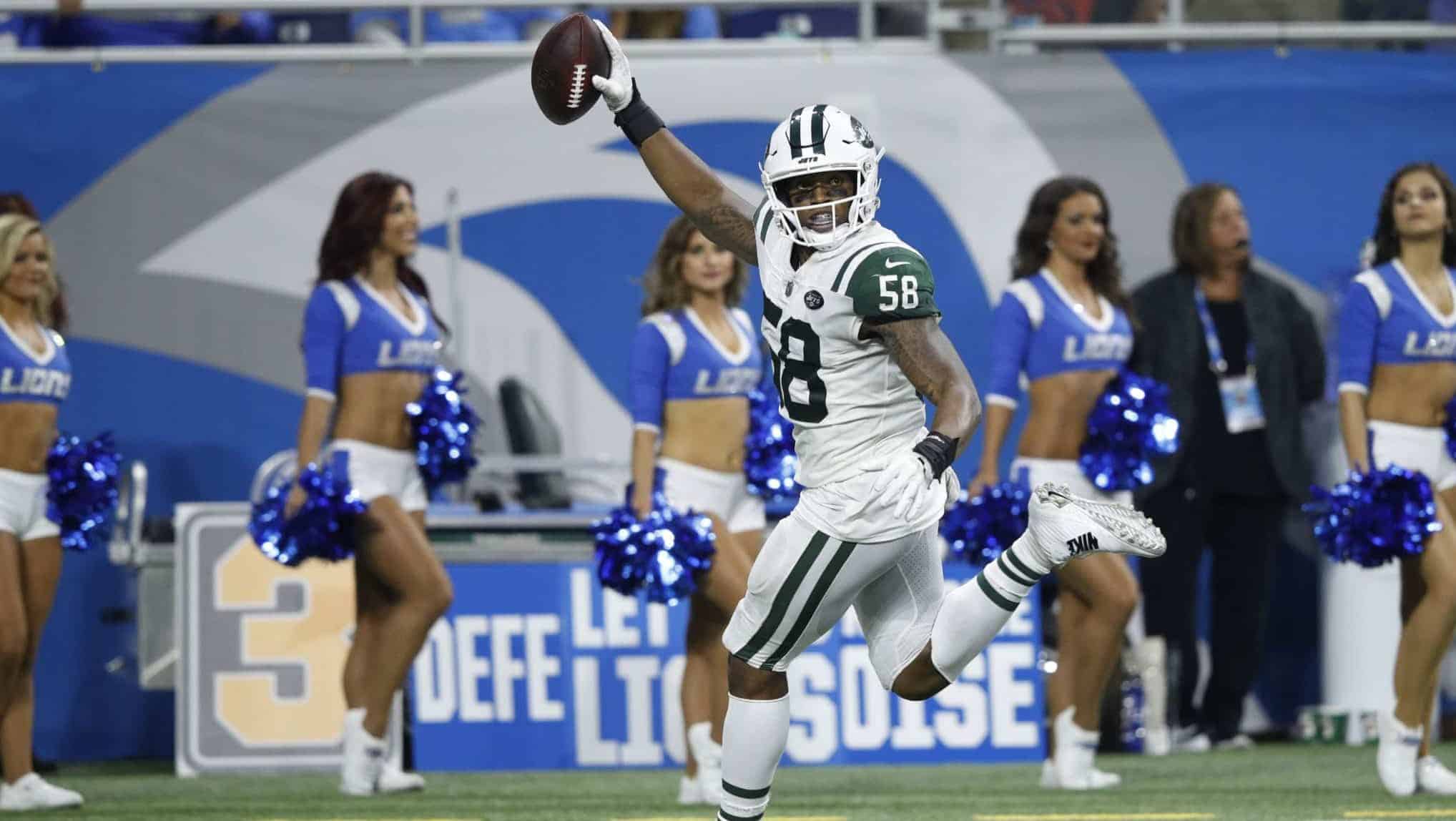 Round 5, Pick 157 overall: Blake Cashman, linebacker, Minnesota
Giving C.J. Mosley a gargantuan deal already told us a lot about what the Jets thought of Darron Lee. As if it wasn't enough, they then went out and picked a player with a nearly identical skillset in the fifth round, even with similarly valued players at positions of greater need still available.
That man is Blake Cashman. He was a very productive linebacker at Minnesota who is most known for his talent in coverage, similarly to Lee.
Now, Cashman is only a fifth-round selection. He was not a high-priority addition. There is no guarantee that he even makes the roster, let alone unseat a former first-round pick under the same general manager.
With that said, it's very telling how aggressive the Jets have been towards adding talent to the inside linebacker room. The refreshed defensive staff, spearheaded by Gregg Williams, certainly does not think very highly of Lee's ability to make an impact for them.
It seems clear Lee is going to have nothing handed to him on this depth chart. He'll have to compete to make himself the top reserve—if he is even still a Jet come training camp time.
Round 6, Pick 196 overall: Blessaun Austin, cornerback, Rutgers
Austin is a talented cover corner with chronic injury issues. He has appeared in only five games over the last two seasons due to two ACL injuries.
He reminds you a lot of a man the Jets selected two years ago just one spot below where they took Austin—Jeremy Clark, the 197th pick in the 2017 draft.
Clark, a lengthy specimen at 6-foot-3, 220 pounds who converted over from wide receiver, was considered a project from the day he was picked.
The project hasn't gone too well, with Clark appearing in only two games over his first two seasons. Each game came in Week 17 as the team emptied out the practice squad barrel.
Despite his struggles to make an impact so far, Clark could have a shot to make a name for himself this summer. The Jets are very thin at cornerback. As of right now, Trumaine Johnson and Darryl Roberts are the penciled in starters. Johnson is a roster lock, and Roberts likely is as well, but the door is open beyond those two.
Clark could have the opportunity to compete with the like of Derrick Jones and Rashard Robinson for a backup spot at outside cornerback. Jones seems like the leader in the competition, given his strong preseason and Week 17 outing in 2018. Robinson has more experience, but has been absolutely brutal when on the field.
The shot is there for Clark – but now Austin enters the fold. If the rookie is healthy, there is no reason he can't seriously compete for the third spot on the outside corner depth chart.
With the Jets cornerback room scarily thin, the competition will be wide open. Directly in the middle of that mix could very well be two oft-injured sixth-round picks.
Will they finally achieve full health and showcase the talent that got them this far?
The Jets sure could use a surprise like that.