The talented New York Jets draft class will come into the fold and immediately push veterans for roster spots.

All six New York Jets selected in this year's draft are hoping to claim a spot on the 53-man roster prior to the start of the season. In turn, the team is praying they can each accomplish that feat. There is no doubting the front office would love to have as much youth and as little salary cap commitment on the roster as possible. A successful draft class brings both to the table.
For each roster spot a rookie secures, of course, it means that there is another player who will lose the game of musical chairs.
Which current Jets could see their roster spots threatened by the incoming draft class?
Round 1, Pick 3 overall: Quinnen Williams, DT, Alabama
The Jets selected Nathan Shepherd with the 72nd overall pick in the third round of the 2018 draft. With Shepherd already turning 25 years old in September of his rookie season, the Jets were likely hoping that the Fort Hays State alum could make an instant impact for them. Despite playing at a small school, the 6-foot-4, 315-pound defensive tackle made a name for himself at the Senior Bowl and seemed to have the physical tools to immediately contribute as a three-technique.
That didn't happen. Shepherd appeared in all 16 games and amassed brutally poor production, collecting only five solo tackles, five quarterback knockdowns, one tackle for loss, and zero sacks. He had minuscule success as a pass rusher and was handled surprisingly easily in the run game.
If Shepherd developed into a quality starter for the Jets right off the bat, then perhaps the team might not have even considered Williams at No. 3. Because of Shepherd's struggles, the Jets still needed another piece on their defensive line alongside Leonard Williams and Henry Anderson. The position remained a need.
So, we can now assume that Quinnen Williams, Leonard Williams, and Henry Anderson will eat up the majority of defensive line snaps for the Jets. Shepherd will be left to scrounge for scraps. As a best case scenario, he could win the top backup role, sliding in for certain situations and serving as the top reserve in case of injury.
Round 3, Pick 68 overall: Jachai Polite, EDGE, Florida
Because of their severe lack of talent along the edge last season, Brandon Copeland was able to earn the opportunity to start throughout the season. While far from dominant, he was admirably decent, collecting five sacks and 14 quarterback hits.
However, regardless of how gritty or surprisingly okay Copeland may have been, he was still a below average starter. The Jets can, and need to, do a lot better at this position. That's why they took a swing for the fences at No. 68 with Jachai Polite.
One can assume Jordan Jenkins has one of the starting outside linebacker spots locked down. Known mostly for his edge-setting ability in the run game, Jenkins took some baby steps forward as a pass rusher in 2018. He posted career bests of seven sacks and 15 quarterback hits, both numbers besting the totals he accumulated over his first two seasons combined.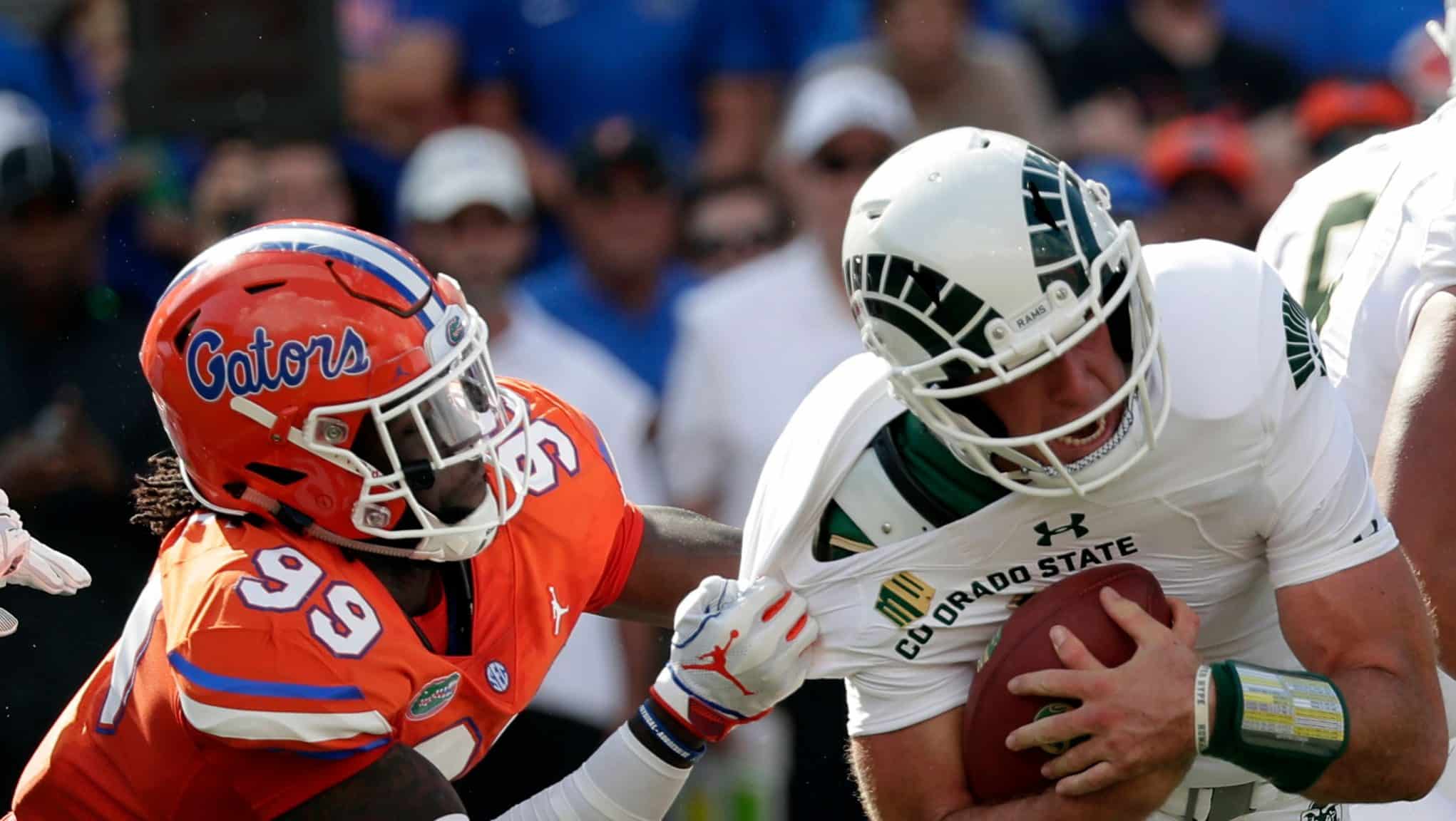 Polite will have the chance to push Copeland for a starting spot opposite Jenkins. The former Gator had top-15 talent and tape, but slipped dramatically after a horrendous pre-draft process. Polite is without a doubt the most talented pure EDGE pass rusher on the Jets roster, but can he round out his overall game and off-field profile to win the Week 1 starting job?
It's right there in front of him. Polite will have every opportunity to seize that starting job. Against weak competition, he's in control of his own destiny.
Round 3, Pick 92 overall: Chuma Edoga, OT, USC
Threatens: None
Like Jachai Polite before him, Edoga is a swing for the fences. He has been known to be a terrifying mauler at times, but has a lot of technical deficiencies to round out before he can be a quality starter in the NFL.
Edoga played right tackle in college, but has a profile that suggests he could make a transition to guard.
Either way, it seems Edoga is going to need some time before he can push for a starting spot, even against a weak Jets offensive line. I think the Jets took Edoga with the plan to develop him for a year and allow him to take over a starting position in 2020. Kelvin Beachum and Brandon Shell will both see their contracts expire after this season. Brian Winters could also be cut after 2019 without the team taking a cap hit. Edoga should have the time to refine his technique and try his hand at both positions before taking over as a starter next year.
It's been a while since the Jets had a healthy pipeline of developing talent on the offensive line. Edoga could finally get the farm up and running again.