Kenny Atkinson has been the clubhouse leader of the Brooklyn Nets, but their first-round flameout exposed some areas for improvement.

Much has been made about point guard D'Angelo Russell's shooting woes across the internets, but Brooklyn Nets head coach Kenny Atkinson had some foibles of his own. While players play the game, Atkinson could have done more unlock Russell in the first round against the Philadelphia 76ers.
Russell was a part of the not-so-illustrious club of playoff letdowns, next to stars like Donovan Mitchell and Russell Westbrook. Given his success as the heart and soul of the Nets' playoff push, it was puzzling to watch Russell fail to grasp the moment during the postseason.
Russell's poor shooting numbers were especially pronounced during the opening quarters of all five games. For the sake of this article, I'm going to throw his shooting statistics from Game 5 out the window, as Brooklyn appeared to have counted themselves out before tip-off even commenced.
Through his first four games against Philadelphia, Russell was a combined 8-for-32 (28.9%) from the field during first-quarters. However, Russell's field goal percentage rose considerably during the second halves of those games—he was a combined 18-for-37 (48.6%).
With this in mind, what had Russell searching for answers at the start of games? Was it nerves? Did he need to alter his pre-game preparation? Or was it a product of Russell's teammates?
In all honesty, I'm not a psychologist. I couldn't tell you if Russell's struggles were all in his head. What I can tell you is that the numbers support the idea that Russell's floundering was teammate-related.
Through the first three games, Kenny Atkinson ran a starting lineup of D'Angelo Russell, DeMarre Carroll, Joe Harris, Jarrett Allen, and Rodions Kurucs. If you follow my Twitter, you know just how bad these lineups performed. (I've been running the numbers into the ground).
This five-man lineup recorded an 82.5 offensive rating, a 141.1 defensive rating, and a net rating of negative-58.9. That is catastrophically bad yet—even after Game 4's alterations to the rotation—it was still Brooklyn's most-utilized lineup of the series (in 25 minutes total). In fact, it more than doubles the minute total of Atkinson's second-most utilized lineup of Jared Dudley, DeMarre Carroll, Ed Davis, Spencer Dinwiddie, and Caris LeVert, which played in 12 total minutes during the series.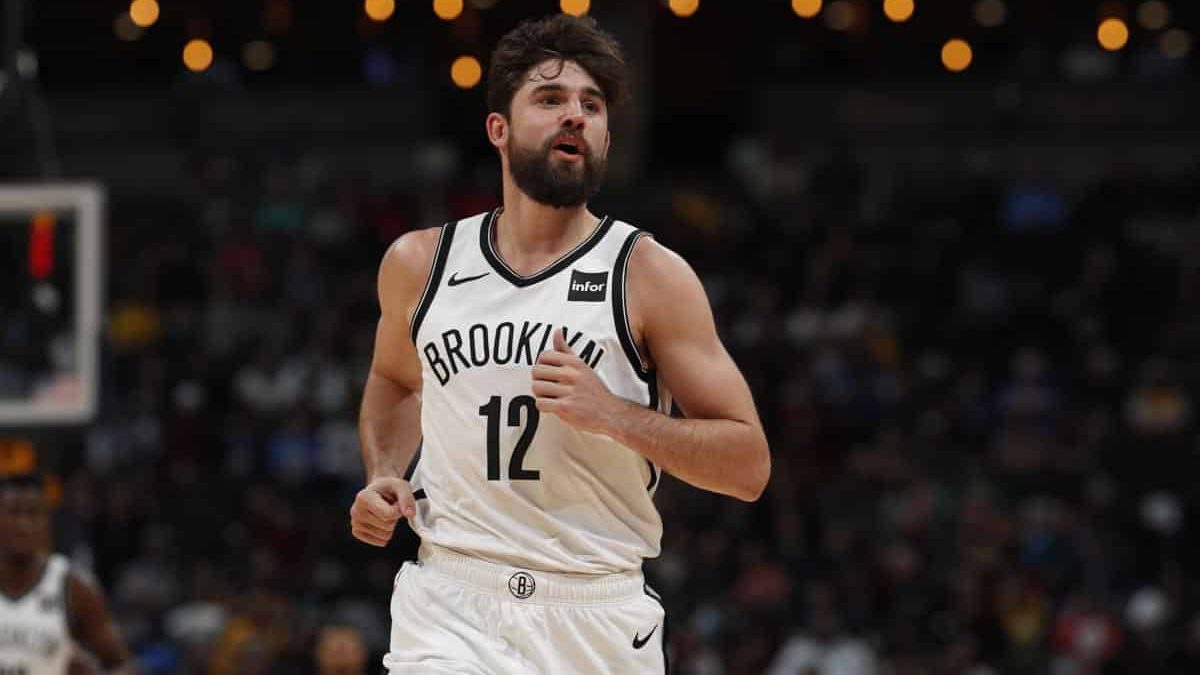 It didn't help that the two "shooters" in Atkinson's OG starting lineup went ice-cold in the playoffs. Joe Harris was held hostage by his shooting stroke which, unfortunately, chose to take the spring. Harris—the best three-point shooter according to percentage in the regular season—saw his wide-open (defender 6-plus feet away) three-point percentage drop from 48.6% in the regular season to 33.3% in the playoffs. Even worse, 18.6% of his shots were wide open – the highest frequency of any such shot when compared to open (4-to-6 feet), tight (2-to-4 feet), and very tight (0-to-2 feet).
For those of you who see those numbers and let out some sort of a high-pitched scream, this is basically saying that Joe Harris was left wide-open a lot, yet still couldn't knock down anything.
DeMarre Carroll wasn't much better. While he certainly doesn't share the aura of being a league-leading marksman, he's a player who can get into a rhythm from three-point-range. In the month of January, Carroll was practically unconscious, averaging 14.4 points while canning 39.3 percent of his 5.3 attempted threes.
That hot hand clearly cooled off. Carroll finished the series at 29.4 percent from deep.
With two frigid shooters stocked next to a playoff rookie in D'Angelo Russell and two non-shooters (Rodions Kurucs and Jarrett Allen), Brooklyn's original starting lineup went 16-of-53 from the field and 7-of-22 from deep while playing together. Helpless Nets fans lost their minds, as Brooklyn's most efficient offensive players (Spencer Dinwiddie and Caris LeVert) were bound to the bench.
In Game 4, Atkinson made the change the world was waiting for. He slotted Caris LeVert into the starting lineup along with Brooklyn's King Leonidas. Adding offensive fire-power next to Russell almost immediately made the difference for Brooklyn. In Game 4, the five-man lineup of Russell, LeVert, Harris, Allen, and Dudley produced a 104 offensive rating, an elite 80 defensive rating, and a very healthy plus-24 net rating.
(Russell, meanwhile, went 2-for-8 during the first quarter of Game 4. Maybe he was in his own head after all).
It was an excellent adjustment but it should have been made earlier. Even without looking at the numbers, it was incredibly prominent that things just weren't working during the first three games.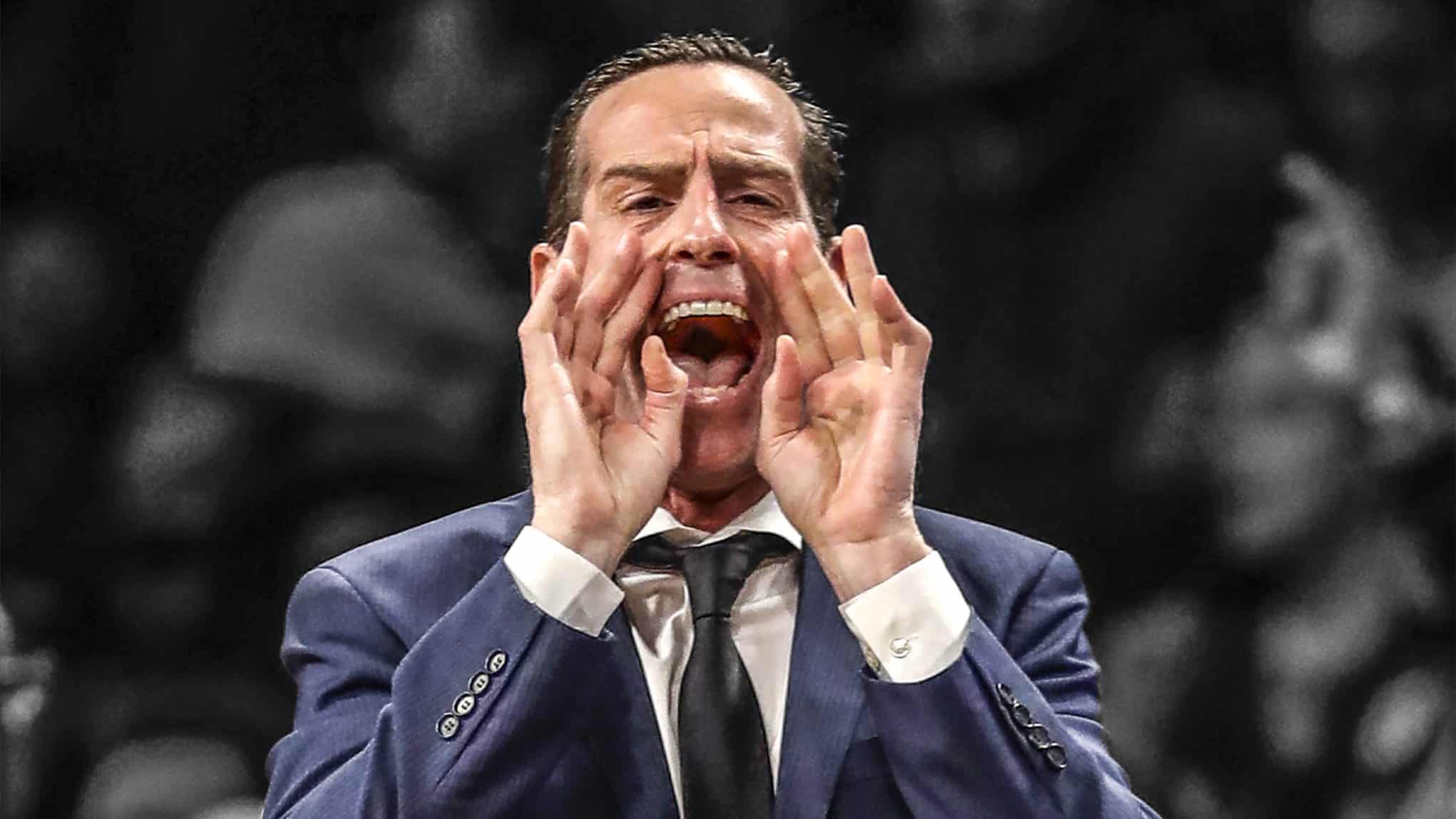 Atkinson has been top-notch in many different facets of coaching. He's an excellent motivator, capable of leading his team back from severe deficits—a great example being March's 28-point comeback against the Sacramento Kings. He's also very solid with the X's and O's of the game and has groomed a gorgeous motion offense full of improvised cuts, high-percentage drives, and a barrage of threes. Atkinson even successfully implemented light use of the zone defense.
But most of all, outside of a man who goes by the name of "Pop," he might be the league's best at player development. His successes with scrap-heap finds like Harris, Dinwiddie, and to a degree, Russell, are all mini-miracles in themselves. For every Dinwiddie reclamation project, there's a Semaj Christon, DeAndre Liggins, or Justin Holiday crash-and-burn. The team across the East River has a plethora of young point guards they're attempting to develop, yet I'm not sure if any of them are even halfway decent.
Make no mistake though, Atkinson still has areas where he can improve. We saw it first hand during these playoffs—his biggest next step is recognizing adjustments for his rotations.
The series versus the Sixers wasn't the first time he ran into this problem.
Two of Brooklyn's most played starting lineups from the regular season had negative net-ratings. At the beginning of the season, he refused to remove a then-15-pound heavier Jared Dudley from the starting lineup. That Dudley-inclusive starting lineup moved at a snail's pace, recording an average of 98.76 possessions per 48 minutes. If held consistent, this would be the fifth-slowest pace in the league. That is a far cry away from Atkinson's idealistic lightning-quick speed, and it made it tough for the Nets to get into their sets early.
Kenny Atkinson started this series off like gangbusters. In Game 1, he ran a dropback defensive system that completely erased the offensive impact of Philadelphia's Ben Simmons. However, when Brett Brown countered in Games 2 and 3, Atkinson failed to adjust his rotations accordingly. Much like many of his players, April represented Kenny Atkinson's first postseason as a head coach and he was forced to figure things out on the go.
He's done a miraculous job rebuilding Brooklyn's culture in just three seasons, improving dramatically as a coach along the way. This postseason was certainly a valuable learning experience for Brooklyn's man at the helm. I'll bet he comes back next year even stronger.