The Brooklyn Nets have advanced to the playoffs for the first time in four years. Now, they face a team with the fiercest starting lineup east of the California border: the Philadelphia 76ers.

A great portion of New York has been waiting seven long months to type these words: the Brooklyn Nets are in the NBA Playoffs. By knocking off the Miami Heat in Dwyane Wade's final NBA game, Brooklyn secured the sixth-seed in the Eastern Conference.
In doing so, they now face the fearsome-five Philadelphia 76ers in the first round of the NBA playoffs.
Digesting the 76ers as a team is no easy task. Brooklyn's opponent has reshuffled the deck on numerous occasions. In November, Philly sent "The Homie" Dario Saric and defensive stalworth Robert Covington to the cold abyss of Minnesota in return for All-Star wing Jimmy Butler.
Later in the season, Philly swung a blockbuster deadline deal with the LA Clippers to acquire All-Star-level power forward, Tobias Harris.
As a result, it's pretty tough to get a read on Philly's current group. Philly's big four (or five – including the heroics of JJ Redick) have only played together for 26 regular season games. Not to mention they've been torn apart by injuries as the season has winded down.
Brooklyn has faced off with Philadelphia on four occasions: the teams are 2-2 during these contests.
Keep in mind, Philly's starting lineup has changed a ton throughout the course of these four games. Just for perspective, Markelle Fultz started at point guard during the first Brooklyn-Philadelphia game. Yeah. That feels like a million years ago.
Still, though, a couple of things are evident about these two teams when they play each other.
Even though Brooklyn and Philadelphia surprisingly went 2-2 in the rebounds battle during the regular season series, expect the 76ers to dominate the Nets in this category.
Brooklyn has mustered 30 defensive rebounds per game against Philadelphia this season—the sixth-worst mark against the 76ers among all thirty teams. Although the Nets are an efficient offensive rebounding team (thanks to Ed Davis's tenacity), they aren't particularly adept at grabbing boards on defense. Expect Philly to feast on second-chance opportunities.
The second (and more important) point is undeniable: Brooklyn has no answer for Joel Embiid.
Raw stats only tell half the story with just how dominant Embiid has been against the Nets. In four games, The Process has averaged 30 points, 14.3 rebounds, five assists, and an outrageous 60/45.5/80.4 shooting line.
At 7-feet tall (his actual height is likely closer to 7-foot-2) and 250-pounds, Embiid is a mismatch nightmare for the Nets. Brooklyn's struggles with containing bigs have been a hot-button issue for three months and counting. Unfortunately for the Nets, Philadelphia's biggest strength is at the center position.
Even so, Brooklyn can make up ground in other areas. Let's start off with the offense.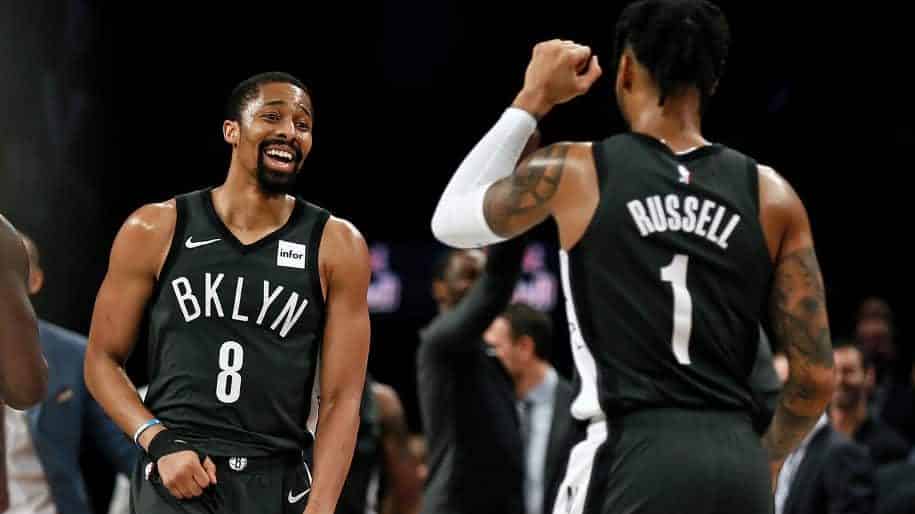 An advantage on offense
Coach Kenny Atkinson runs one of the cleanest motion offenses in the association. Influenced by offensive juggernauts like the 2014-2015 Atlanta Hawks, Brooklyn ranks third in points per possession via off-ball screens and fifth in the number of pick-and-roll possessions. On top of this, Brooklyn shoots a ton of three-pointers with a fifth-most 36.2 per game.
Philadelphia—for the most part—has a fairly average defense. They do a couple of things well.
First, they rarely allow open shots. Part of this pertains to how damn huge their starting lineup is; four out of Philly's five starters are 6-foot-8 or taller. Being a large human is unsurprisingly an advantage when contesting seemingly open looks.
This surprised me a bit: Philadelphia is also elite at defending three-point shots. The 76ers rank sixth in threes allowed and fourth in opponent three-point percentage.
Philadelphia does have some distinguishable holes in its defensive game. After all, there's a reason they rank 14th in overall defensive efficiency.
There's no other way to put this: the 76ers flat-out stink at defending guards. Over 82 games, guards averaged 63.3 points per game against Philadelphia's defense. Folks, that's the third-most in the NBA, and it places Philly in a class with the truly horrific Chicago Bulls and the blah Detroit Pistons.
Here's where things get interesting.
Brooklyn's backcourt is among the elite at scoring. With a 67.7 point average, the Nets' guards are in the same class as the Chris Paul–James Harden Houston Rockets and the CJ McCollum–Damian Lillard Portland Trailblazers.
Call me crazy, but that looks like one hell of an advantage. Brooklyn's biggest strength on offense (guard play) is Philadelphia's biggest weakness on defense. This discrepancy is Brooklyn's trump card in the series.
The Nets run a future-forward offense that aims to generate shots at the rim and three-pointers. Now, as we have seen, Philly is very good at stopping the three-pointer.
They aren't as staunch at defending the rim. Opponents averaged 30.9 at-rim shots against the Philadelphia 76ers. That is a far cry away from the number one team in this category—the Milwaukee Bucks—who allowed a mere 25.5 restricted area shots.
During the 4 regular season games, Brooklyn recognized this inefficiency and drove the ball into the teeth of Philadelphia's defense at the third-highest rate in the league. However, these weren't aimless flails toward the rim. The Nets had the efficiency to match this heightened volume, scoring on 68 percent of their total drives.
Spencer Dinwiddie has been the instigator to Brooklyn's downhill dominance in Philly. In just 26.3 minutes per game, Dinwiddie has averaged 23.8 points and 5.5 assists on a particularly nifty shooting line of 57.7/61.1(!!)/88.9. These numbers are partially inflated by Din's hallmark 39-point breakout from December. But still, his statistics are tough to argue with.
Dinwiddie can leverage his rare combination of size (6-foot-6), speed, and handles at the point guard position to blow by Philly's defenders. Meanwhile, the 76ers are without a Dinwiddie antidote on defense.
Ben Simmons is still a year away from having the required defensive awareness to keep pace with Dinwiddie's dizzying handle. The current iteration of Jimmy Butler is half a step too slow to keep up. T.J. McConnell (6-foot-2) and JJ Redick (6-foot-4) are at a height disadvantage on defense; Dinwiddie can simply shoot layups over the top of them.
Keep in mind, Dinwiddie has been slumping since March. He's seen his percentages from 2-point range and 3-point range drop by nearly 10 percentage points each.
Brooklyn will need Dinwiddie to bring his A-game against Philly. Versus the Sixers in the regular season, Dinwiddie scored on 70 percent of his shots within 5 feet of the basket. If he's able to channel this type of energy again, Dinwiddie could be Brooklyn's biggest X-Factor in the series.
One thing is for certain, Philadelphia's defense caters to D'Angelo Russell's midrange game. While Philly has been able to slow down D-Lo from long-range, Russell's raw statistics against the 76ers are still a near-match to his season-long stats.
This is what makes Russell so great: even if a defense finds a way to shut down one part of his game, he ups his scoring in other areas.
Case and point: Russell has made 14 of his total 18 shots (77.8 freaking percent!) from the non-restricted painted area. AKA floater range. That's right, those Steph Curry-esque high-arching flip shots that I wrote about in February? They've landed softly through the twine against the Sixers.
It isn't a fluke that Russell has found space in this range. The 76ers' defense allows the eighth highest shooting percentage from floater territory. Embiid is great as a rim protector, but venturing away from the restricted area expends a ton of energy for someone his size. To conserve, Embiid tends to hang back.
I bring all of this up to say that these shots will continue to be available for Russell. Although—statistically speaking—these types of shots are seen as inefficient, numbers-aficionado Kenny Atkinson will have to suck up his pride and allow Russell to jack up his flip shots. This may be as wide-open as it gets versus the Sixers.
One last thing. The 76ers have had no answer for Joe Harris. Lumber Joe has been able to knock down 55.6 percent of his three-point shots and 56.8 of his total shots against Philadelphia.
Keeping up with Joe is no easy task. In transition, he hustles relentlessly to get a blip of an opening to pop for three. In the halfcourt, he's even better, bursting around picks to launch above the break bombs. A non-stop mover, Joe ranks within the top 20 in average distance covered per game. Although his top-speed is far from lightning quick, keeping up with Joe Jesus is a nightmarish defensive assignment.
Brooklyn boasts four players who can slither away from Philadelphia's massive defense in the players just named and Caris LeVert (who looks good lately!). Even if the 76ers are able to contain, say, one or two of Brooklyn's smaller players, the Nets have more in the cavalry.
In fact, going small could prove to be the difference maker for Brooklyn in the series.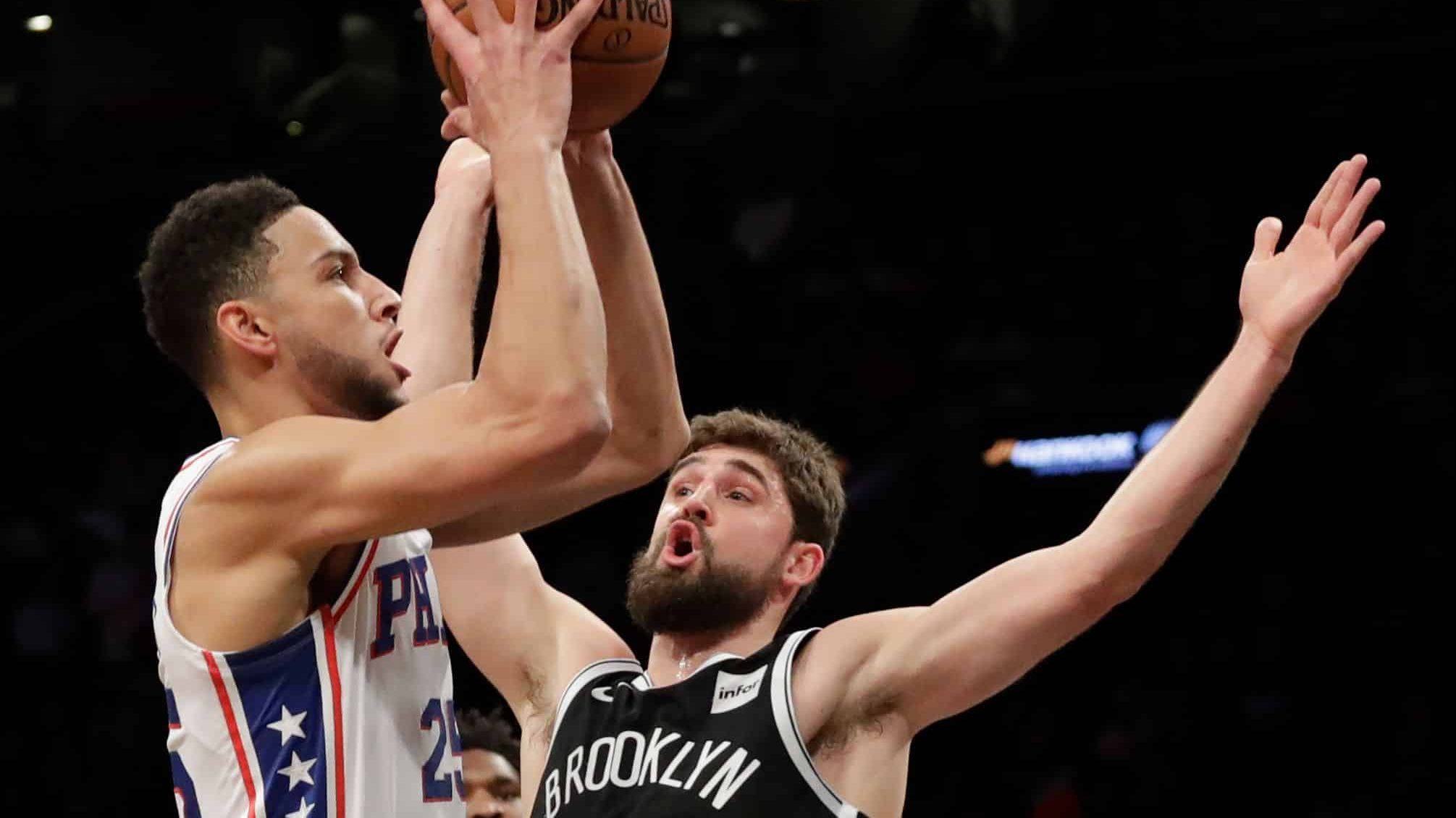 Possibilities on defense
Let's not beat around the bush, attempting to halt Philly's starting lineup of Ben Simmons, J.J. Redick, Jimmy Butler, Tobias Harris, and Joel Embiid—which ranks within the top-11 of five-man lineup net-rating—will be an uphill battle.
As mentioned before, Brooklyn has (how to put this lightly?) issues … containing Embiid.
Brooklyn's main defenders for Joel Embiid have been Ed Davis, Jarrett Allen, and Rondae Hollis-Jefferson (when the Nets are playing small). Joel's points difference data — which is points per 100 possessions in a specific matchup versus season-long points per 100 — are not shy about the truth.
When guarded by Jarrett Allen, Embiid averages 3.5 more points (per 100) than he normally does. Allen's frail frame is a major disadvantage against Joel, and the Cameroonian center can have Jarrett Allen feeling like a Katy Perry lyric during post-ups.
Things haven't gone much better with Ed Davis and Rondae Hollis-Jefferson in the picture. Their problem is synonymous: Embiid can simply shoot over the top of the 6-foot-10 and 6-foot-7 (should-be-power-forward-but-playing) centers. The Process averages 3.3 and 11.7 (yikes) more points per 100 possessions with Davis and RHJ, respectively, in his path.
Embiid is going to continue to get his against the Nets. There's no denying that. The only thing stopping him is health issues, which … might be a problem?
Brand says he's optimistic that Embiid will play. https://t.co/kYEdai5vMf

— Keith Pompey (@PompeyOnSixers) April 10, 2019
(Raise your hand if you're confused. I sure am.)
The staple of Philly's offense, outside of simply dumping the ball to Embiid on the low-block, is the handoff. The 76ers rank number one in handoff possessions per game, handoff points per possession, score frequency off handoffs, and … you get the point. Handoffs are really goddamn important to what Philly does.
Philly's main form of handoff action is between Embiid and Redick. Redick runs around picks like an energizer bunny if you replaced his double-AA battery with a lithium-ion version. Embiid, meanwhile, is just freaking huge and can use his massive 250-pound frame to wall off multiple defenders and give Redick space for the open shot.
The handoff between Embiid and Redick may be one of the most unstoppable actions in the NBA. However, very good teams can find a way to slightly slow down the 76ers' sniper.
Last season's second-round matchup between the Philadelphia 76ers and the Boston Celtics should serve as a blueprint for Brooklyn's playoff defense.
Brooklyn's first takeaway should be to sag off Ben Simmons, thereby taking away his passing lanes and forcing him to shoot from distance. (Unfortunately for Brooklyn, Simmons may still be able to score at the rim whenever he wants. Even if he hangs back, D'Angelo Russell is slow footed and might not stand a chance should Simmons get into his first step. This strategy is a lot more reliable with do-it-all center, Al Horford, running things at the quarterback position).
The second takeaway is more important: Boston kept star defenders Marcus Smart and Jaylen Brown glued to the hip of the tireless Redick for a majority of the possessions. It paid off; Redick recorded considerably fewer points per 100 against both Smart and Brown.
Now Brooklyn doesn't have anyone on its roster who can defend at the level of Brown or Smart.
… except for the recently resurgent Caris LeVert.
Over the last two weeks, LeVert has found his feet, especially on defense. LeVert has consistently chased his man around picks and has stayed in front of them.
Notice LeVert's hustle in the video above. Indiana's Domantas Sabonis and Doug McDermott run a simple handoff play where Sabonis dumps the ball to McBuckets and subsequently sets a tough pick. Normally, this would work seamlessly.
LeVert, recognizing the incoming action, uses his inflatable tube man-like frame to squeeze past Sabonis' pick and fronts McDermott until he dumps the ball off. Top notch stuff.
Here, LeVert uses his frame to his advantage – jumping into the path of a Duncan Robinson catch-and-shoot three and then using his gangly arms to force the guard into a tough step-back three-pointer.
Let's be honest: the leap from containing Duncan Robinson and Redick is like ripping off the training wheels of a tricycle and jumping on a 20-foot-high circus unicycle. Talk about a (puts sunglasses on …) tall task.
All jokes aside, LeVert is in the big leagues now with Redick: one of the all-time off-ball shooters. In a very limited sample size, he's done a pretty good job against him. Redick posted a negative point difference with LeVert defending. (A sizable difference, too! -11.9!) Blown up over the course of a seven-game series, we'll see if LeVert has the horses to keep it up.
If all goes right, shutting down Redick could be a game-saver for the Nets. In games where Redick scored less than 11 points, the 76ers had a 3-6 record. Obviously, this is a small sample, but Redick is their only reliable outside shooter. (And yes, if you're wondering, Tobias Harris is shooting 32.6 percent from three since landing in Philly and is clearly struggling with his pseudo-spot-up role).
Taking Redick out of the equation could greatly throw off Philly's offense—akin to shaking up a snowball. With the threat of the deep ball thrown out, things could get pretty uncomfortable for Philadelphia. Embiid may toss up more ill-advised three-pointers. Jimmy Butler's shot selection could get pretty wonky. Ben Simmons may even be forced to take a jumper! (gasps).
Should this happen, expect tempers to flare up in Philly's locker room. I mean, hey, Jimmy Butler and Joel Embiid aren't exactly soft-spoken guys.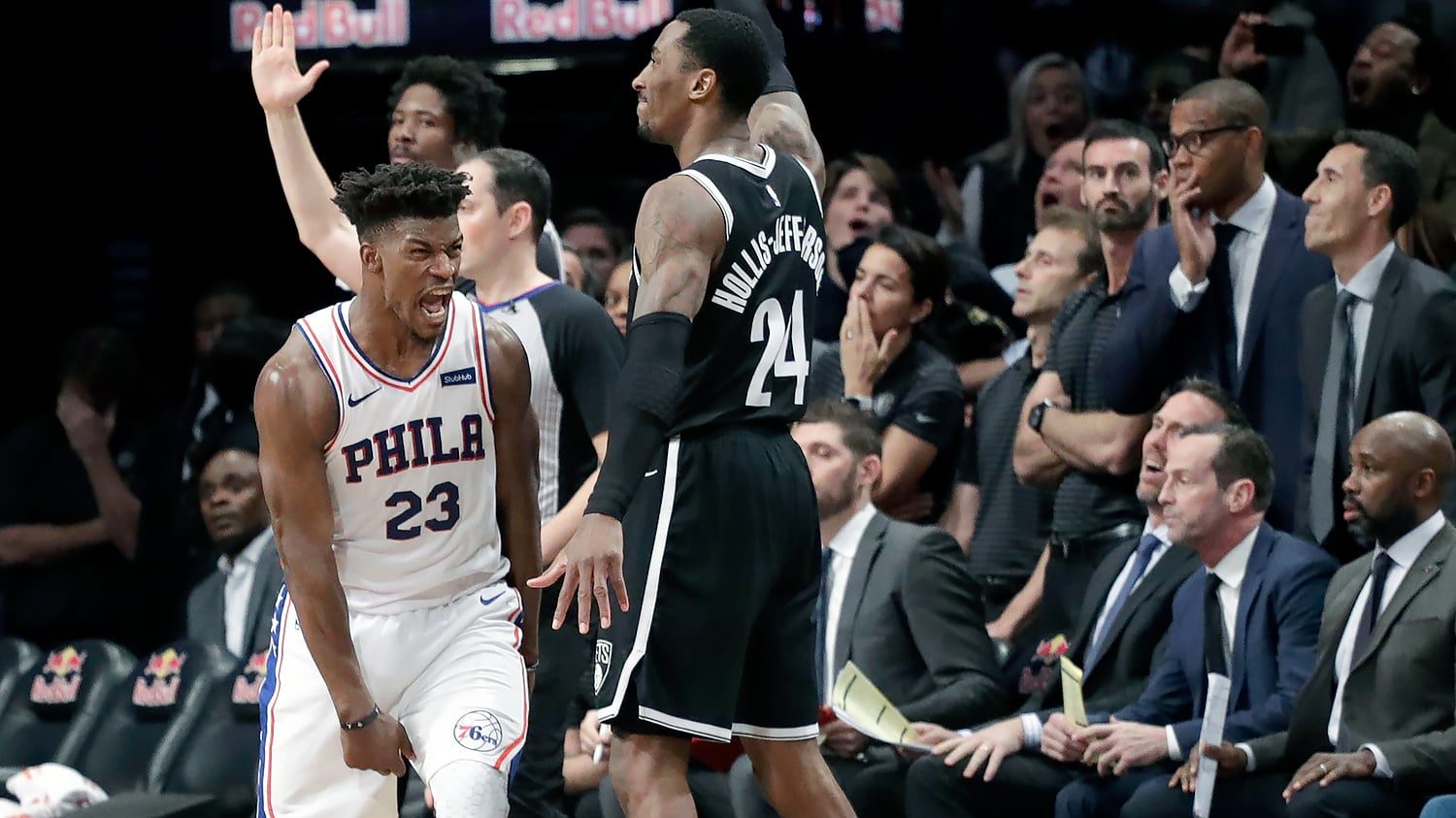 Prediction
In all honesty, I expect most of Brooklyn's advantages to occur. Brooklyn's guards will be able to score at will. As a team, The Nets will make shooting from deep difficult for the 76ers—ideally by locking up that pesky J.J Redick!—and slowing Philadelphia's offense to a slog. I also expect Brooklyn's pristine chemistry to both annoy and evoke feelings of jealousy within the Sixers' brisk and awkward locker room.
Even if everything falls in line for Brooklyn, it will still be one hell of an uphill battle. This may be a total cliche to say, but at the end of the day talent wins out.
All season long, fans of the Nets pined for the opportunity to sign Tobias Harris in the offseason as the new star in Brooklyn.
Tobias Harris is fourth on Philly's depth chart. Put that in your perspective pipe and smoke it.
Assuming he's healthy, Joel Embiid will unequivocally be the best player in this series. Even worse, Brooklyn doesn't have a viable option at center to deploy on defense. Even if they threw all care into the wind and stacked their three available bigs on top of each other, it still wouldn't get the job done.
When it comes to making playoff predictions, sometimes it's best to go by "best player in the series."
Philadelphia 76ers will beat the Brooklyn Nets in six hard-fought games.
Staff Picks
Danny Small—Editor-in-Chief
Although The 76ers are the clear favorites in this one, the Brooklyn Nets have a puncher's chance. Joel Embiid's health is the biggest factor that will play into this series. If he can't play in Game 1, Brooklyn could steal a win and completely turn this series on its head.
If Embiid plays, but he's hobbled, the Nets will still have a shot to knock off Philly. Brooklyn will look to push the pace and run Embiid off the court if they can. Look for the talented backcourt of D'Angelo Russell and Spencer Dinwiddie to punish the Sixers drop coverage in pick-and-roll.
Perhaps I've watched too much Brooklyn and not enough Philly this year, but give me the Nets in six games. Embiid's health is a huge question mark and the 76ers still haven't had time to fully develop their chemistry. Of course, talent almost always wins out and the Sixers have the Nets beat there. But there's something about this matchup, Embiid's health, Brett Brown's job security, and impending free agency that has me thinking Nets.
I'll say it again: Nets in six.
Zach Cronin—Contributor
Spring has sprung. And it's brought us a Brooklyn Nets playoff berth for the first time since 2015. Their 42-40 record was good enough for the sixth seed and earned them a matchup against the Philadelphia 76ers. As exceptional as Philadelphia has been, this series rides on one player: Joel Embiid.
In four regular season games against the Nets, Embiid averaged 30.0 points and 14.3 rebounds on 60.0 percent shooting. Brooklyn has nobody to guard him. Jarrett Allen isn't strong enough, and Ed Davis is too short. A fully-healthy Embiid could almost single-handedly dispatch the Nets in five games. He occupies so much real estate and demands non-stop attention, allowing his teammates to roam and settle into the spots they're most comfortable. On top of that, he's a low-post savant. But, at this point, we don't know when he'll play. According to multiple reports, Embiid's status for Game 1 is uncertain.
The Nets, luckily, have a star of their own. D'Angelo Russell didn't have a memorable season series against Philly outside of his 38-point outburst back in November. But he built a tremendous amount of momentum in the campaign's final contests. His scoring average ballooned to 26.7, and he shot 45.8 percent from the floor over his last 10 games. Moreover, Caris LeVert began looking like his pre-injury self, which helped alleviate Russell's load. Any success Brooklyn experiences will be spearheaded by those two. Spencer Dinwiddie and Joe Harris will also have to step up considerably. The same applies to Davis and Allen.
Although I'm rooting for an upset, I understand how steep a hill that is for the Brooklyn Nets to climb. The Philadelphia 76ers are an elite team. Even without Joel Embiid, Ben Simmons, Jimmy Butler, and Tobias Harris are more than enough to advance to the second-round. Brooklyn will need to play nearly perfect basketball — few turnovers, non-suspect shot selection and, most importantly, lockdown defense. Still, we can't overlook Philly's star power. My prediction is that the 76ers eliminate the Nets in six games, possibly five if Embiid returns in a timely manner.