Reggie Bush. Matt Leinart. Jay Cutler. Mario Williams. Vernon Davis. Vince Young. The 2006 NFL Draft top-tier talent pool was, as the kids say, "Off the chain." The young draft pool represented such a filthy collection that Joe Benigno couldn't stop uttering the words, "Bro, we need Vince Young in a Jets uniform. Bro, I wouldn't mind that Texas kid. Bro, we need a quarterback."
Remember, it was the season in which the organization's quarterback was working with a water pistol of an arm. A wet noodle at times. So injured and so incredibly surrounded by lack of talent (by way of a 4-12 mark) that everything was on the table.
When the dust settled, quarterback was not the selection. No Heisman Trophy-winning Leinart. No Jeff George prototype in Cutler. The brand-spanking new regime that was Eric Mangini and Mike Tannenbaum didn't mess around. The New York Jets selected lengthly tackle D'Brickashaw Ferguson in the four-hole and then followed it up with beastly Nick Mangold 25 selections later.
The star-studded instant-gratification skilled players had arrived and the rookie GM-HC duo said, "No thanks; we'll go with the boring yet far more impactful strategy."
Chad Pennington, a 30-year-old man who missed 13 games the year prior and 22 of a possible 48 the three years prior to the 2006 campaign, wasn't replaced. Instead, the last dominant personnel duo to walk Florham Park, New Jersey attacked the most critical aspect of any offense: the offensive line (which constitutes nearly half, 5-of-11, of the football-playing unit).
That 4-12 squad immediately improved to 10-6 during a season in which some experts tabbed them as arguably the least talented squad in the land. It was a playoff team with little-known Jerricho Cotchery as the No. 1 wideout (side-by-side with Laveranues Coles). The offense's top back was little Leon Washington coming in with a cool 640 yards on the ground. Kevan Barlow and Cedric Houston each chipped in with nearly 400.
Skill players not even the video game Madden recognized helped the Jets miraculously reach the playoffs. Most importantly, the foundational decision eventually led to the latest franchise triumph—back-to-back AFC title games.
It's a story that correlates with New York Jets dominance sprinkled in over a long AFL-rooted history yet one told on far too few occasions.
The offensive line means everything in football.
Currently assembled, Sam Darnold's naked body is chilly in the harsh pro football winds. Kelvin Beachum, Kelechi Osemele, Jonotthan Harrison and Brandon Shell is something extremely scary on paper. Mike Maccagnan has allowed this nonsense to go on far too long.
Only two of Maccagnan's 28 total NFL Draft picks identify as offensive lineman. In 2015, he selected Jarvis Harrison in the fifth round. A year later he traded up to snag NFL blood rich Brandon Shell in the same spot (fifth round). That's it. When compared to the offensive line attention provided by the Indianapolis Colts of the last couple seasons, the Philadelphia Eagles, or New England Patriots, it doesn't take a robot like Elon Musk to identify a true problem.
Yet draft after draft, year after year, fandom witnesses and believes the same story. This is the year it'll all be figured out. This is the season it'll all come together. The excuses have been aplenty.
Heading into the 2018 season, Wesley Johnson was the issue. The man was brutal at center and the quick fix was a replacement. Moreover, Brian Winters's nagging injury held him back in 2017.
No dice.
Rolling into 2017, Ryan Clady was the scapegoat. You remember Clady, the four-time Pro Bowl and two-time First-Team All-Pro left tackle who was acquired for a fifth-round selection equalling a "low-risk, high-reward" scenario. He was specifically brought in to replace the retiring Ferguson.
It didn't work out, of course, but more curiously, his age at the start of his first Jets season (30), the value he fetched (fifth round), and his previously injured down year, identically resemble New York's only big-time O-line acquisition this offseason (Osemele). Clady has even fetched far more success than the new left guard prior to his New Jersey arrival (four Pro Bowls and two First-Team All-Pros compared to two Pro Bowls and one First-Team All-Pro).
Due to Clady's failures, Beachum was next in line as the savior. That didn't work either.
The remarkable "patchwork offensive line narrative" rages on. Not even a higher-profile name such as Matt Paradis lured Maccagnan's attention to the point of dishing out the dough. Le'Veon Bell was far more appealing.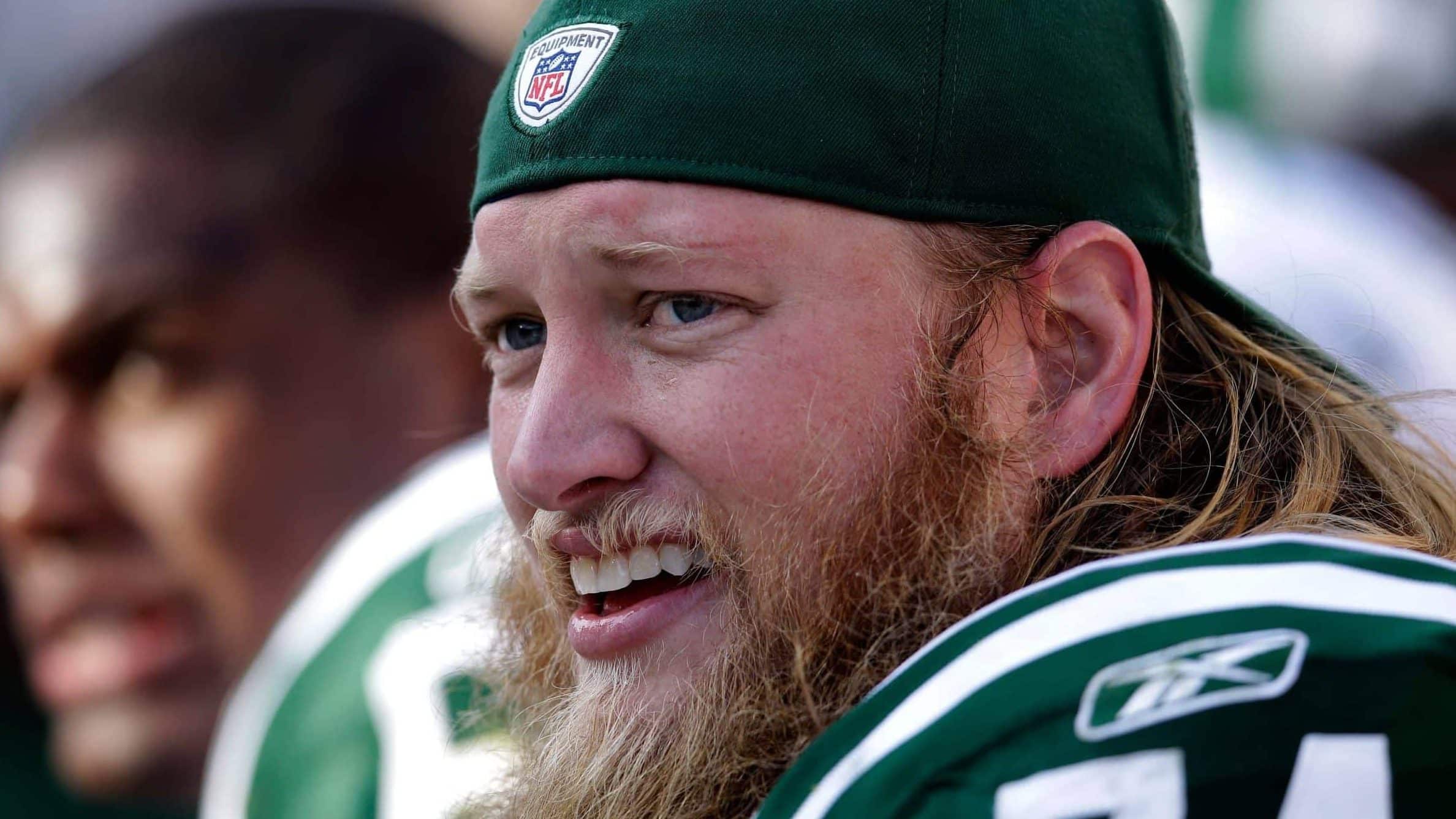 More amazing than the slow-learning concept resulting from the patchwork strategy is the lack of attention organizational history requires. With any dominant Jets offense (or team, for that matter) that has existed came with it high-quality offensive linemen.
Joe Namath enjoyed two studs leading the way. Winston Hill, arguably the best offensive lineman in franchise history, was a 27-year-old master left tackle. Dave Herman represented one of the best guards in football. They also employed a future 15-year Jets starter at left guard in Randy Rasmussen who didn't even start.
Rasmussen was an old man by the time the 1981 AFC title game team led by Richard Todd rolled around. He was also helped by the likes of stud tackle Marvin Powell and center Joe Fields. After a decade of frustration, the Jets drafted Powell fourth overall in 1977.
The Ken O'Brien teams of the mid-to-late 1980s may have dazzled the eyes with their high-flying attack of Al Toon, Wesley Walker and Freeman McNeil out of the backfield, but it was Fields, Dan Alexander and long-time professional Jim Sweeney who deserve much of the praise (especially during the Todd years).
The mid-to-late 1980s line absolutely suffered through its fair share of pass-protection problems. Rushing the ball, however, came easier. The point isn't to pick one or two seasons, rather to understand that each O-line overhaul (the mid-1960s with Hill and Herman, the mid-to-late 1970s with Fields and Powell, the late 1990s with Mawae and Fabini, and the mid-to-late 2000s with Mangold and Brick) sparked the greatest eras in organizational history.
Aside from a brief flirt with dominance during the "Bodyguards" one-season era of Boomer Esiason, the Jets had hit an O-line low in the mid-1990s.
Then came Bill Parcells, a man who understood the importance of a serious offensive line. By his second season as sideline boss, he had taken a five-man unit in 1996 and turned it into a stellar group by replacing three of the five players. Jumbo Elliott and Matt O'Dwyer were the only two who survived. Out were Harry Galbreath, Roger Duffy and David Williams. In were Jason Fabini (fourth-round selection), Todd Burger and, most importantly, Kevin Mawae (free-agent signing).
You already know the impending result. A 10-0 lead in Denver looked so promising. Nevertheless, the Jets, thanks to a nasty collection up front, were back on top.
Mawae and Fabini anchored a solid line moving forward. Kareem McKenzie, selected in the third round in 2001, helped the Jets to a playoff berth and then, during his sophomore campaign, the team's last AFC East title in 2002. His immediate loss directly coincided with the Jets O-line downfall and a New York Giants Super Bowl stunner over the perfect New England Patriots.
Mangini and Tannenbaum turned Fabini (an old man by now), Adrian Jones, Jonathan Goodwin, Pete Kendall and Brandon Moore (2015) into D'Brickashaw Ferguson, Nick Mangold, Anthony Clement, Kendall and Moore (2016) over the course of a sole offseason. Yeah, that's right; it took them just one offseason to correct the issue with an incredible number of holes to fill at every depth chart spot.
They didn't mess around. Just like Parcells, the duo understood the critical nature of the unit. They understood the game is always won in the trenches.
They didn't wait until "next year."
Namath had Winston and Herman. Todd and O'Brien played behind Powell and Fields. Vinny Testaverde and Pennington enjoyed Mawae and Fabini. Pennington and Mark Sanchez lived on Ferguson and Mangold.
Who does Sam Darnold have? When will have him? Will it even happen at all?
Everything we've witnessed from the current regime suggests that they firmly believe premium talent isn't required along the offensive line. We're now incredibly four-plus years into the trek running on two-straight seasons without a drop of O-line draft infusion (zero total picks).
It'd make fans rest easier this time around in knowing at least one edge pass rusher and/or center was secured during free agency, but alas, it was not the case yet again. This means that No. 3 overall pick looks more likely a Josh Allen or Nick Bosa choice. If it unfolds in that direction, where is the O-line talent coming from?
The New York Jets have dug themselves one serious hole up front. With every opportunity passed, the scenario grows worse.
At some point, it needs to be understood that "next year" doesn't cut it as it pertains to the offensive line. This long-lost yet integral offensive line story is enough to understand just that.