With the New York Giants in full rebuild mode, they have to make sure that they employ either Dwayne Haskins or Josh Rosen by April. 

When the New York Giants traded three-time Pro Bowl receiver Odell Beckham Jr. to the Cleveland Browns for Jabrill Peppers and, and a first and third-round draft pick (17th & 95th overall), the rebuilding message was clear.
Although general manager Dave Gettleman didn't use the word rebuild in his conference call on Monday, and instead stated the team is building and that the object is to win as many games as possible every year., everybody realizes it's going to take time to turn a franchise that's gone 8-24 over the last two seasons.
The centerpiece of any NFL rebuild is finding that stud franchise quarterback. With 38-year-old Eli Manning entering his 16th and final season under contract, Gettleman must acquire his successor this offseason.
The two quarterbacks that have been linked to the Giants the most are Ohio State quarterback Dwayne Haskins and Arizona Cardinals quarterback Josh Rosen.
Haskins, who set a Big Ten record by throwing 50 touchdowns in his final year at Ohio State, is seen by many as the safest bet out of all the quarterbacks in this year's draft.
On Tuesday, the Giants had a contingent that had dinner with Haskins and then attended the Ohio State Pro Day on Wednesday. Their actions this week show that the Giants have an interest in Haskins. The question remains, "How can they get him?"
Giants have deep contingent at Ohio St. pro day + had dinner w/QB Dwayne Haskins last night, per source (as @MikeGarafolo said). Group includes Pat Shurmur (as @rydunleavy said) and senior VP of player personnel Chris Mara among others. Doing due diligence on a top QB prospect.

— Jordan Raanan (@JordanRaanan) March 20, 2019
It's far from a guarantee that Haskins will still be on the board when the Giants pick at six. Two teams that are ahead of the Giants, the Raiders and Buccaneers, could take Haskins since neither team has given an indication that they're committed to their current quarterbacks (Derek Carr & Jameis Winston).
Another scenario is that a team such as the Miami Dolphins, who currently have the 13th pick, could package that pick along with next year's first-round selection to trade up and take Haskins. This scenario is not farfetched considering the Dolphins traded Ryan Tannehill to the Tennessee Titans, and just signed 36-year-old Ryan Fitzpatrick.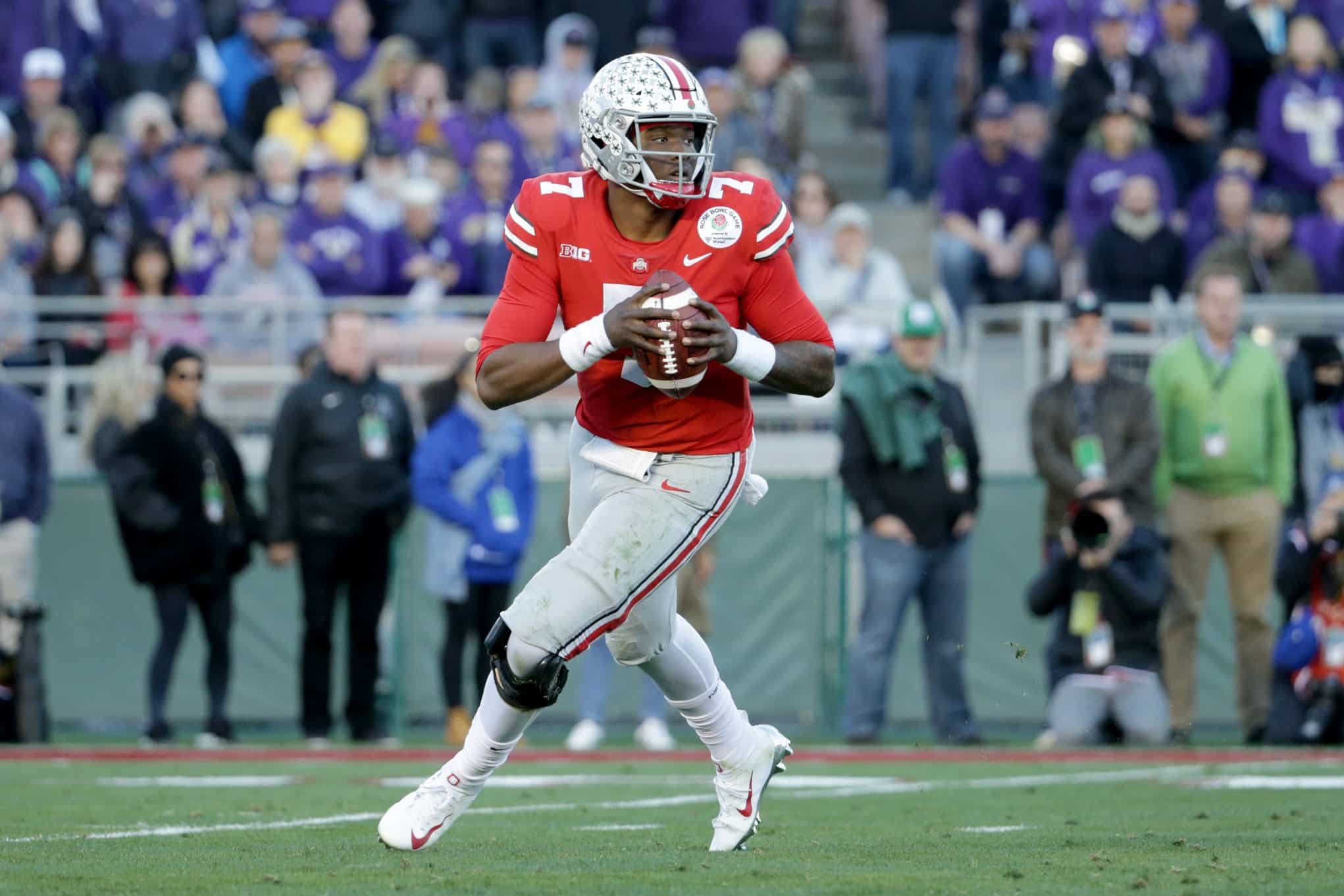 So if Gettleman and the rest of the Giants contingent have a deep interest in Haskins, they can't risk staying at six while hoping Haskins falls into their lap.
If things play out as expected and the Arizona Cardinals take Kyler Murray with the first pick, the Giants have to try to trade up with the 49ers at two or even the Jets at three to ensure that they get Haskins. Trading away their sixth and 17th overall picks should be enough to pull off the trade.
This would also make more sense on why they would trade a game changer like OBJ so that they can acquire the pick to get their future franchise quarterback.
But the Giants only need to trade away their two first-round picks if they feel Haskins is their guy. If Rosen is the guy they choose, they can trade for him and possibly keep their first round draft picks.
If the Cardinals do what's expected and take Murray with the first pick, then they will surely trade Rosen, who they took with the 10th pick in last year's draft, to avoid locker room turmoil.
Rosen appeared in 14 games last season, throwing 11 touchdowns, 14 interceptions and completing just 55.2 percent of his passes. Rosen struggled as a rookie, but it's hard to envision any quarterback having success with the lack of talent on the Cardinals roster. Rosen, like most quarterbacks, would figure to have a better year two. It's also easy to envision a disgruntled Rosen if they welcomed in Murray.
This is one heck of a throw by Rosen. https://t.co/ihlqRvLkTL

— Jason Leach (@JasonKLeach) March 7, 2019
All 31 other teams know the Cardinals will be desperate to move Rosen and wouldn't want to part ways with their first-round pick to acquire him.
This is where the Giants can offer their second-round pick (37th overall) in exchange for Rosen. An early second round pick is probably the best the Cardinals can get for Rosen at this point, and although Rosen may not want to sit and learn from Manning for a year, the notion that he'll be the quarterback of one of the marquee franchises in the NFL will give him solace. Another positive Rosen can take away in this scenario is that the Giants will use their two first round picks to build a better roster for Rosen.
As we described, there are two realistic ways the Giants can acquire either Haskins or Rosen and Gettleman needs to make sure he gets one of them. He can't afford to wait until 2020 to draft Manning's successor. The Giants possess far less than the 12 picks they have this year, and who knows what draft order the Giants will have next year.
If Dave Gettleman's tenure as GM with the Giants is going to have success, he must do whatever it takes to get Dwayne Haskins or Josh Rosen.