With their season hanging on by a thread, the Brooklyn Nets need to put up dominant performances over the course of the next four road games.

Well, that couldn't have gone more poorly.
Four days and three games later and the Brooklyn Nets no longer have a winning record. Brooklyn entered Thursday's game against the Oklahoma City Thunder with a 36-33 record. The Nets also sat comfortably in sixth-place in the Eastern Conference.
Now, the team is 36-36 in a season that feels like it's hanging on by a thread.
Last week, I published an article that offered an in-depth preview of the first three games. Unfortunately, I went 3-for-3 on my predictions. The Nets lost every game they played in.
Going 0-3 was a disappointing yet predictable outcome; this seven-game road trip has been an object of fear in the eyes of Nets' fans for months.
The absolute basement of the losing stretch occurred during Sunday's game at the STAPLES Center. Lou Williams sank a deep, off-balance, one-footed bomb of a three-pointer to give the Los Angeles Clippers a huge statement victory. It was, by far, the lowest point of the Brooklyn's season. (And yes, that includes the eight-game losing streak from early December).
After being on the wrong side of the most exciting game-winner of the NBA season, the Nets are in more danger than ever of falling out of the playoffs. The games left on Brooklyn's schedule are no joke—the average winning percentage of Brooklyn's remaining opponents is .607.
Meanwhile, their once buoyant lead over the teams fighting for the eighth-seed has been completely sapped. Brooklyn only has a 1.5 game advantage over the eighth-place Miami Heat and a 2.5 game cushion over the ninth-place Orlando Magic.
To a fault, Brooklyn has been a team that takes care of business. The Nets beat the teams they need to (26-15 versus below .500 teams) but lose to better opponents (a putrid 10-21 record versus above .500 teams).
This winning discrepancy speaks volumes about the identity of this team. The current roster has a ceiling and a very hard one at that. Without a superstar player or even surefire All-Star on the roster, it's very tough for the Nets to compete with the best of the best on a night-to-night basis.
Unfortunately for Brooklyn, competing with the league's best teams on repeat is their ultimate destiny for the remaining month of the season.
The Nets' upcoming opponents are as follows: the Sacramento Kings, the Los Angeles Lakers, the Portland Trail Blazers, the Philadelphia 76ers, the Boston Celtics, the Milwaukee Bucks, the Toronto Raptors, the Bucks (again), the Indiana Pacers, and the Miami Heat.
Assuming that Brooklyn continues to follow its pattern of falling short against elite teams, there's a very good chance that the Nets could go 3-7 during this stretch. Only three of Brooklyn's remaining opponents have losing records. Even then, that's assuming that the Nets take care of business against the Heat; a team that is 2-1 against Brooklyn this season.
Fortunately for Brooklyn, eighth-place Miami's schedule isn't much easier. Only three of its remaining opponents are easy wins on paper (the New York Knicks, the Washington Wizards, and the reeling Dallas Mavericks). The Heat will have to go through Philadelphia, Boston (twice), Milwaukee, Oklahoma City, San Antonio (currently on a league-best nine-game win streak), and Toronto during its next thirteen games. I'm no mathematical genius, but that seems like seven very tough games to win outright.
Orlando's upcoming schedule is much more inviting. Although the team has been ridiculously inconsistent this season, the Magic will have the opportunity to earn easy victories against the Hawks, the Knicks, the Grizzlies, and the Pelicans. They also play against two sub-.500 playoff-hunt rivals in Miami and Charlotte. If the Magic can get it together, there's a very good chance that the team could win six of its final 11 games.
Even so, winning six games would place the Magic at 39-43 to finish the season. That is, um, not very good for Orlando, folks. Brooklyn would need to lose every single game against winning teams to finish the season with 43 losses. (And you have to assume that they'll upset at least one team down the stretch).
Teams regularly rest their stars near the end of the season once a playoff spot is locked. Toronto and Milwaukee both show up in Brooklyn's final four-game slate of the season. Given that the Bucks have a sizable three-game lead over the second-place Raptors, Toronto and Milwaukee's seeding may already be set in stone. With this in mind, expect Giannis Antetokounmpo and Kawhi Leonard to be sitting out games by then.
My point of all this is to say that Brooklyn will likely stay in the playoff hunt. Now, the question is: who will their first-round opponent be? And how far will Brooklyn slip down the standings?
To answer these important questions, we must take things one step at a time and look at the Nets' immediate schedule. Here is a preview of the remaining four games of Brooklyn's seven-game road trip.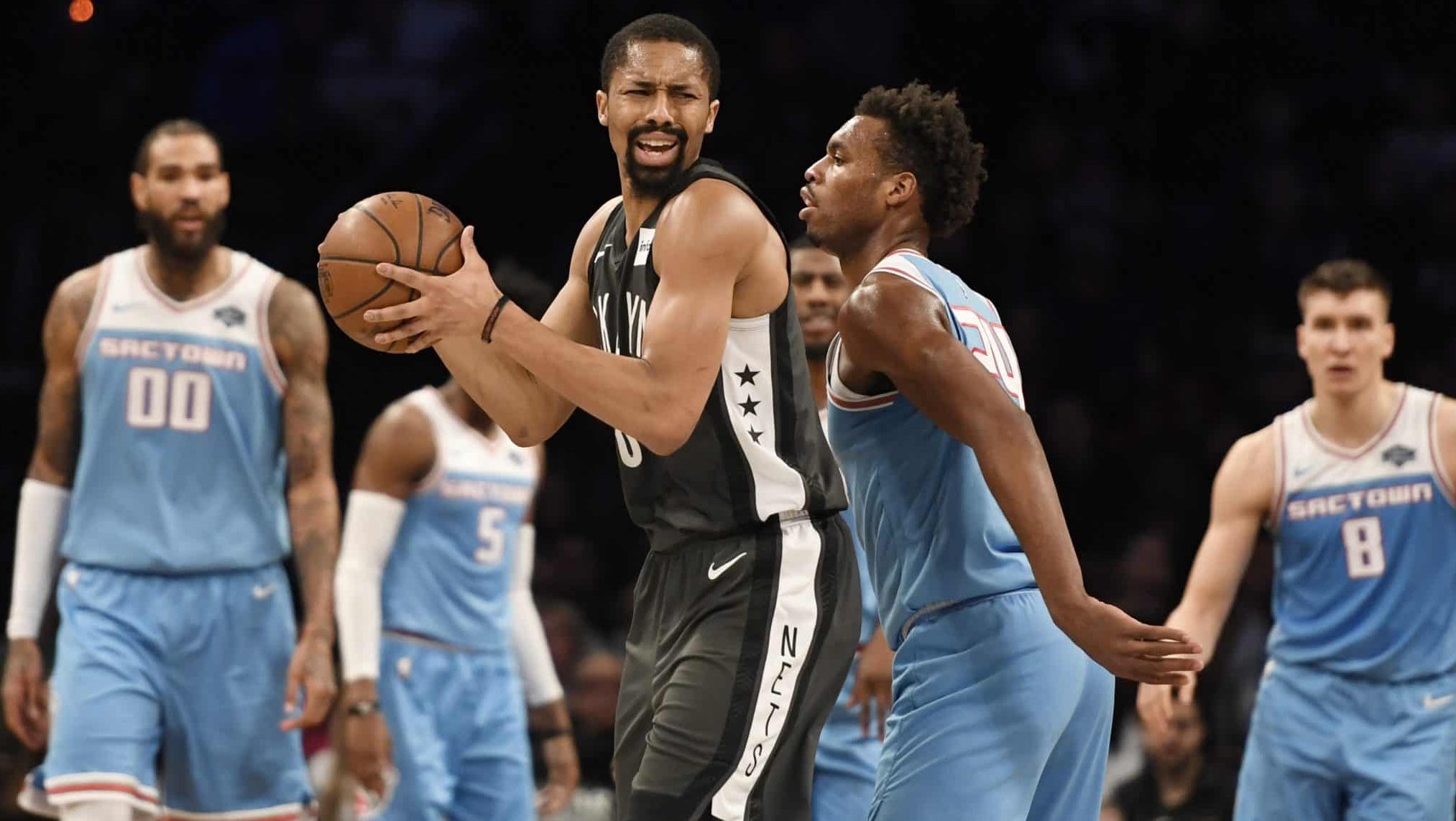 Tuesday, March 19 @ Sacramento Kings (34-35)
The Sacramento Kings' season has mirrored Brooklyn's to an eery degree. For the first four months of the 2019 season, both Sacramento and Brooklyn were the Cinderella stories of the NBA. Both teams were playing winning basketball and were in line to make playoff appearances with very young rosters.
However, similar to what's happened in Brooklyn, it appears that the clock has hit midnight for the Kings. Over their last fifteen games, the Kings have gone 6-9 with costly losses against the Minnesota Timberwolves and the Washington Wizards.
The Kings now sit a full six games outside of a playoff spot. As someone who adored watching the Kings this season, it's a total shame.
Similar to the Nets, Sacramento is not up to the task of playing elite teams. Sacramento has mustered up a catastrophically bad 11-26 record against squads with winning records. Sac's record against winning ballclubs is worse than that of the aggressively tanking Dallas Mavericks, the utterly lost Memphis Grizzlies, or the New Orleans Pelicans, who have been crying Anthony Davis mutiny since early February. It's the number one reason why the Kings will be watching the playoffs from the sidelines this season.
The Kings and the Nets have played each other once before: a Jan. 21 game in which Brooklyn blew Sacramento out of the water by 29 points.
Comparing Brooklyn and Sacramento is an incredibly interesting task just because of how similar these two teams are. Both franchises are led by extremely young point guards in De'Aaron Fox and D'Angelo Russell. These young distributors are flanked by two of the league's best spot-up artists: Joe Harris and Buddy Hield.
Bogdan Bogdanovic and Spencer Dinwiddie are two willing scorers who come off the bench and create instant offense for Sacramento and Brooklyn. Both players can generate their own looks at will and don't necessarily require other teammates to set them up in the half-court.
To be completely transparent, I have inclination regarding who will come out on top in this game. The Nets will have 48 hours to recharge their batteries after the tough loss in LA. The trip from Los Angeles to Sacramento isn't particularly brutal—about an hour-and-a-half-long flight—so the Nets will have had plenty of time to reset and prepare for the competition.
One thing I think we can all agree on: This game has the potential to be incredibly exciting. Both teams are fighting for their playoff lives, so expect an all-out battle.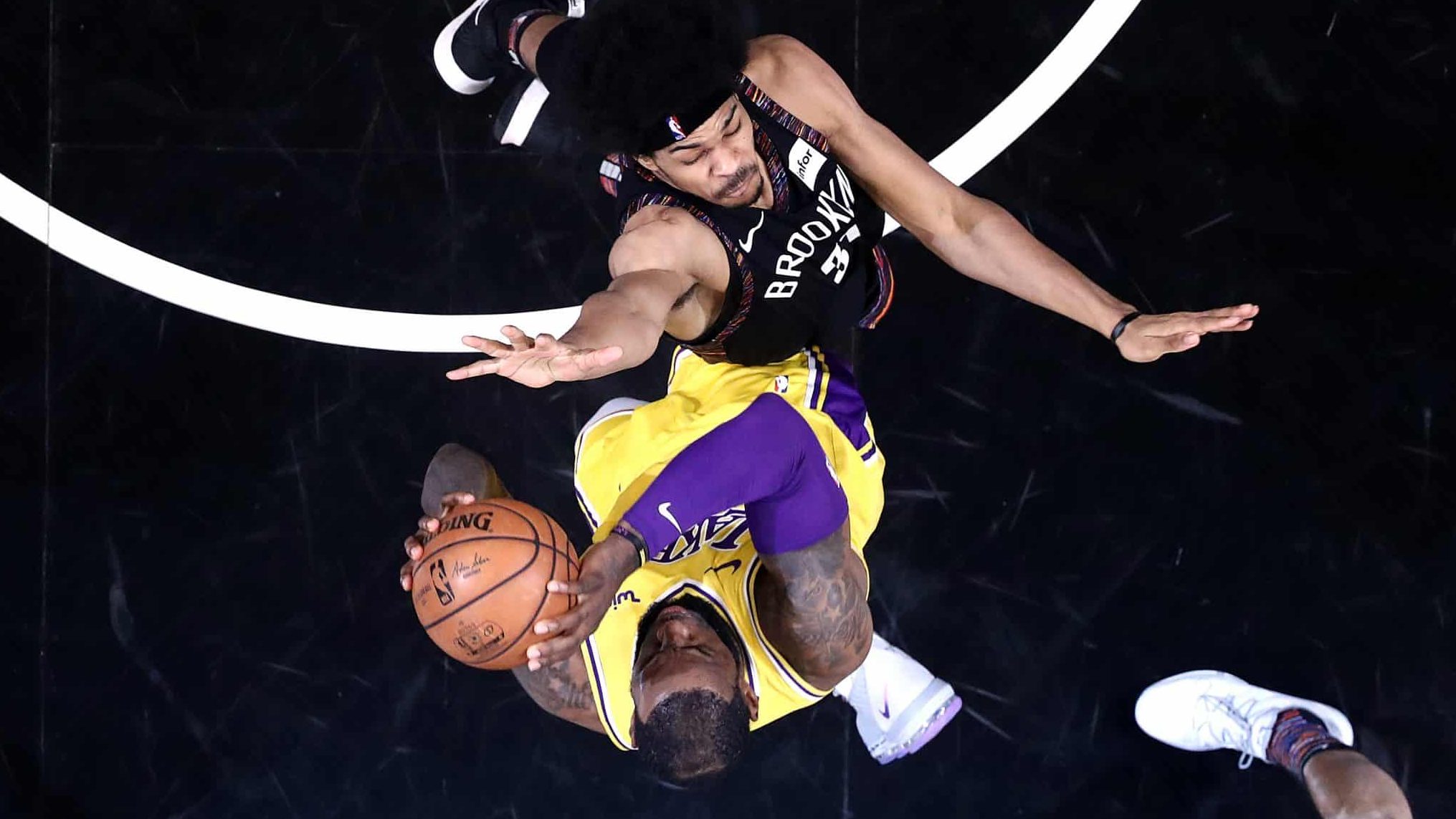 Friday, March 22 @ Los Angeles Lakers (31-39)
Let's play a quick game of "never have I ever."
Never have I ever expected to feel so confident against a LeBron James-led ballclub.
It's ok, don't be shy. You can all raise your hands with me.
This season has been the stuff of nightmares for the Laker faithful. After adding the best player in the world during the offseason, the Lakers seemed all but likely to break their five-year playoff drought. Through December, Los Angeles certainly fulfilled that prophecy—playing at a mid-tier playoff-level.
Then, mortality in the form of a groin injury finally caught up to The King and the season went down the tubes.
Pilling on the Lakers is the hip thing to do at this point in the season. It's easy. It's fun. And most of all, it's deserved.
As it turns out, assembling a team with the talents of JaVale McGee, Michael Beasley, and Lance Stephenson isn't exactly the best path to winning. Shocking, I know. Despite adding LeBron James to the roster, Magic Johnson and Rob Pelinka absolutely dropped the ball when trying to put together a winning basketball team in 2019.
The Lakers have been devoid of shooting all season long. Their combined 33 percent from deep is a despicable mark; only the 17-win Pheonix Suns have shot worse from three.
Once a robust defensive team, the Lakers have slowly engulfed LeBron's tendencies to take plays off on defense. Losing Lonzo Ball to injury certainly had to hurt in this regard, but the Lakers' free fall on defense should undeniably rest on the broad shoulders of its star. In his absolute apex, LeBron James was once one of the best two-way players in the league.
Now, he's unmistakably a one-way player who earns mixtapes of his defensive lowlights in his honor.
Los Angeles' play has hit rock-bottom since the leaked Anthony Davis trade rumors. Over their last fifteen games, the Lakers are 3-12; the second-worst winning percentage in the Association.
During this stretch, the Lakers have put up a disastrous bottom-six 114.1 defensive rating. Offensively, they haven't been much better. The Lakers' offensive rating sits at 24th among all 30 teams since the trade deadline.
The symbolic moment of this Lakers' season occurred during Sunday's game against the Knicks. In the midst of his team blowing an 11-point lead in the span of three-minutes, LeBron James took the ball to the hoop for a game-winning layup attempt.
With time expiring, James' shot was defiantly blocked by Mario Hezonja: a guy who averages 7.8 points on 39.9 percent from the field and is more of a meme than a basketball player. (Glancing at his resume through this frame of thought, it's honestly shocking that he wasn't a part of the Lakers' Shaqtin-A-Fool-friendly roster this season).
Look, betting against LeBron James is never a smart option. Although the Nets came out on top during their previous matchup, James is still capable of having big nights. It doesn't appear that the Lakers are rolling out the tank just yet; LeBron played in 35 of the 48 available minutes against the Knicks.
But when LBJ is playing alongside a starting lineup consisting of Kyle Kuzma, JaVale McGee, a washed Rajon Rondo, and Reggie Bullock, I'll count my chickens before they hatch.
This one is Brooklyn's to lose.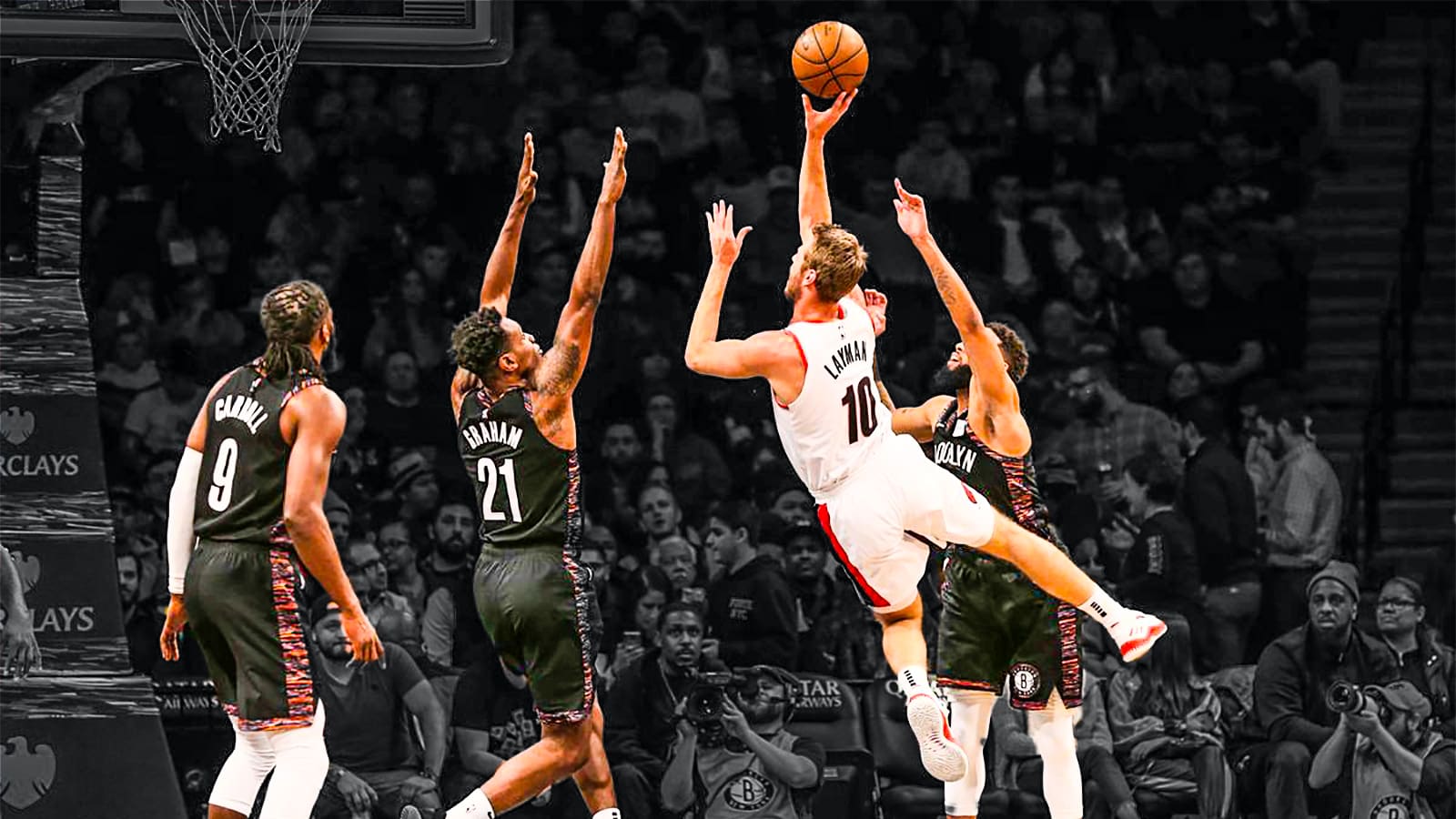 Monday, March 25 @ Portland Trailblazers (43-27)
Of the remaining stretch of games, Portland is by far the most playoff-tested team that Brooklyn will face on the road.
The Trail Blazers have been a postseason team since the 2013-2014 season. At that time, a core of LaMarcus Aldridge, Damian Lillard, Wes Matthews, Nic Batum, and Robin Lopez tore through the Western Conference with the best record of the first three months of the 2013-2014 season (which was ludicrous at the time). Fast-forward two years and two disappointing playoff-bounces later, and all four of Matthews, Batum, Lopez, and Aldridge took big paydays on different teams in other cities. Portland was left with nothing but a barren roster and a young Damian Lillard.
For all of the chatter about the LA Clippers or the Boston Celtics' impressive rebuilds on the fly, Portland's roster revamp might be the quickest turnaround in recent memory. After losing four-fifths of its starting lineup during the summer of 2015, Portland recovered the very next season and advanced to the 2016 playoffs as the fifth-seed, and even progressed all the way to the second round. (Where they would lose to the eventual NBA champion, the Golden State Warriors).
The 2015-2016 season was the year that Damian Lillard and CJ McCollum burst onto the scene as one of the most electric backcourts in the NBA. Portland has continued to build winning teams around this core and this year is no exception: Portland is currently in fourth place in the Western Conference.
To be clear, Portland is going through its own share of turmoil. Against the San Antonio Spurs, star shooting guard CJ McCollum went down with an apparent knee injury (that would later be diagnosed as a popliteus strain). McCollum is currently scheduled to be re-evaluated in a week.
Unless something drastic changes, McCollum will likely be held out for the game against Brooklyn. Losing McCollum's 21.3 points per game could be a major blow for Portland. It could also inhibit the offensive firepower of his backcourt partner, Lillard.
This season, McCollum and Lillard have spent 2,005 of their total 2,450 minutes playing together on the floor. McCollum is an excellent off-ball player and is the team leader in catch-and-shoot points (4.1 per game), catch-and-shoot three-point attempts (3.2 per game), and is third in catch-and-shoot three-point percentage (40.4).
This makes life a hell of a later easier for Dame. Glancing at the pair's on/off numbers, Lillard scores a full 10.7 more points (per 100 possessions) when CJ McCollum plays next to him.
Portland has played in two games this season with McCollum sidelined. The first was a December game in which Portland held the Pheonix Suns to 86 points. (Pheonix has a season-long average of 107.1 points per game).
Portland's second crusade without their starting shooting guard occurred on Monday against the Indiana Pacers. Once again, Portland was able to hold the opposing offense below 100 points. (98 to be exact. Indiana has averaged 105.8 points per game since Victor Oladipo's late-January injury).
While McCollum's injury limits the team offensively, there's no denying that Portland's defense is more stingy when he's off the floor.
Part of this pertains to just how much he and Lillard share the floor together. Portland's undersized backcourt has long been a source of tension within the organization. McCollum and Lillard's porous nature was put on full blast last season during the humiliating sweep at the hands of the New Orleans Pelicans.
Unfortunately, this season has been more of the same. Portland allows 108.6 points per 100 possessions when McCollum and Lillard share the floor; a middle-of-the-pack mark if held consistent over a full season.
However, with McCollum off the floor, Portland's defensive rating with Lillard jumps all the way to an uber-impressive 98.3 points per 100 possessions (a godly average). While, yes, sample size might be at work here, there is some serious Ewing Theory on this Portland roster. After all, there's a reason that McCollum has been a popular trade candidate for a majority of the last two seasons. It's tough to go far with such a small backcourt.
As we have seen this season, Brooklyn struggles majorly against the league's top defenses. The top-seven defensive teams are as follows: Milwaukee, Utah, Indiana, Oklahoma City, Boston, Memphis, and Toronto. Outside of Memphis, has Brooklyn showed any signs of life against any of these squads? Just last week we saw Utah and Oklahoma City blow holes into the Nets' motion-heavy offense.
If anything, a Portland team sans McCollum might further exasperate problems for Brooklyn with defensive intensity.
These teams have already met up once before. On Feb. 21, the Blazers absolutely crushed the Nets on their home Barclays floor, 113-99. Even scarier, Portland's best player, Damian Lillard, had an uncharacteristically awful game and finished 5-of-21 from the field.
Instead, it was Portland's big man rotation that caused major problems for the Nets. With the newly acquired Enes Kanter in the lineup, the duo of Kanter and Jusuf Nurkic recorded 45 points and 21 rebounds (along with 8 offensive boards).
Containing opposing big men has been Brooklyn's Achilles heel during the road trip. Jarrett Allen represents the only Net who is larger than 6-foot-10. Unfortunately, bigs have eaten Allen's lunch during the last few games.
Rudy Gobert put up a monstrous 23-17 game while Montrezl Harrell dropped 20 and 10 during the LA Clippers' victory. Both players pushed Allen around like a ragdoll.
Allen is ahead of schedule in many ways. He's excellent at protecting the rim especially in the face of driving guards and wings. Allen regularly swats away layups by shorter players.
But, he is woefully underprepared against larger big men. I've said this before but his struggles are nothing to worry about. He's 20 years old and, biologically speaking, is going to be undersized against centers who are entering their primes. It will be years until Allen fully fills out.
Still, though, a weakness is a weakness and Portland is the right (or wrong, in Brooklyn's case) team to exploit it. Since the All-Star break, the Blazers' are fifth in the NBA with 14.8 second-chance points per game. On the flip side, Brooklyn is the third-worst team at containing second-chance action. Call me crazy, but that seems like a pretty bad matchup.
Oh, and if you still need more conviction that this game could be troubling for Brooklyn, Portland is 26-9 at home with one of the most thunderous crowds in the NBA. So yeah, good luck hearing Kenny Atkinson yell out defensive rotations and playsets.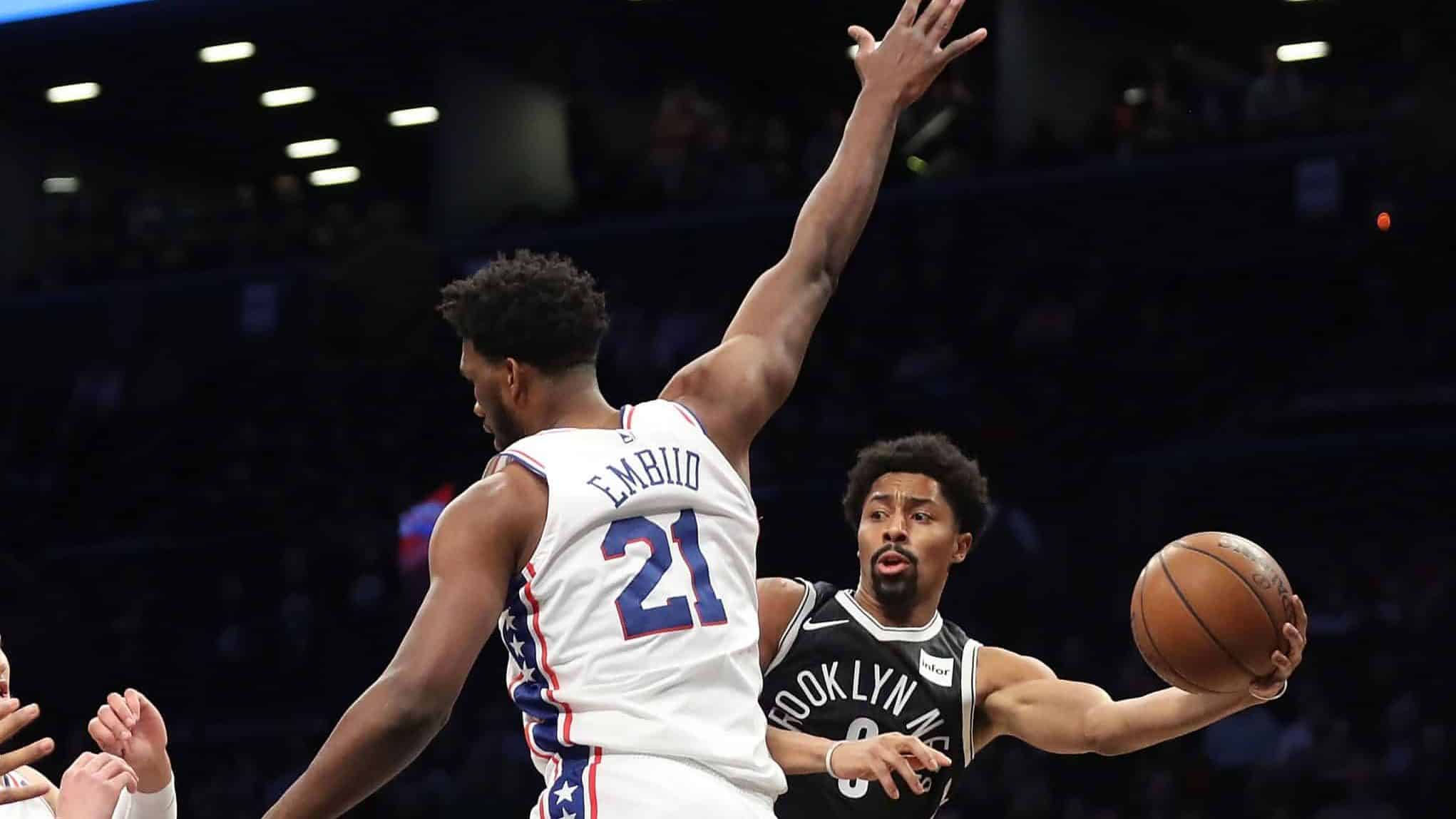 Thursday, March 28 @ Philadelphia 76ers (45-25)
Philly has gone through so many roster changes that it's kind of tough to make heads or tails with them.
In November, they traded defensive stalworth Robert Covington and stretch-big Dario Saric for an All-Star talent in Jimmy Butler. Then, after somewhat encouraging results, the team made its second splashy move of the season. At the trade deadline, Philly flipped a package of Landry Shamet and draft picks to the Clippers in return for Tobias Harris.
Since adding Harris to the lineup on Feb. 8, the 76ers have recorded the eleventh-best offense in the NBA. Not exactly worldbeating, right?
Hold your horses. In the 16 games played with Tobias in the lineup, Philly's star, Joel Embiid, was withheld from eight of them due to a knee injury.
This stretch of games without Embiid occurred right smack in the middle of the Harris-Philly tenure. Considering that Philly was still working to integrate Harris into the lineup when the "Big Four" first assimilated, you could argue that Philly has only played in four "real" games with their All-Star-level foursome.
Philly has looked pretty good in those games, too. Since Embiid's return, the 76ers have won four straight games with solid victories against the Pacers and the Kings, and a great win against the Bucks. During this stretch, Philly has averaged 116.3 points per game while recording the sixth-best defensive rating.
As a whole, advanced metrics are highly complimentary towards Philly's new starting lineup. The combo of J.J. Redick, Joel Embiid, Ben Simmons, Tobias Harris, and Jimmy Butler has recorded the eleventh-best Net Rating (17.2) of any five-man lineup combination in the NBA (minimum of 100 minutes played).
Brooklyn hasn't gone head-to-head with this iteration of the 76ers, making it a bit tougher to project.
[membership level="0"]
One thing is clear about Philly: Even with the acquisition of Harris, the 76ers don't have the right personnel to contain guards who can create their own shots from deep. Opposing guards have averaged 64.5 points per game against Philadelphia's defense; the largest mark in the NBA. (Directly above Philly is Chicago, Detroit, Cleveland, and Charlotte. Looking at the makeup of those squads, that's not exactly exquisite company).
Finding space in the paint to shoot is tough against Philly—a team that has Ben Simmons and Joel Embiid protecting the rim. However, the right offense can stretch Philly's defense to its limits. Philly doesn't have a guy who can guard volatile scorers like Damian Lillard, Stephen Curry, and Kyrie Irving—all of whom can pull up from deep at any moment.
Jimmy Butler can't keep up with smaller guards. Ben Simmons has the speed to defend opposing point guards, but he gets stuck on screens due to his immense size (6-foot-10).
Lillard, Curry, and Kyrie's teams have a combined 6-1 record against the 76ers. Curry has especially taken the matchup personally, averaging 34.5 points per game.
Brooklyn's biggest strength is that they have two point guards on the roster who can create their own shot. It's no coincidence that Brooklyn is 2-1 against Philly (with the 76ers requiring a Jimmy Butler game-winner in the solo victory).
With more freedom to operate, Spencer Dinwiddie and D'Angelo Russell have both dropped 38-plus points in a game against Philly's defense. Brooklyn will need these two to be on their A-games to upset Philly on the road.
This is easier said than done. Since Dinwiddie returned to the lineup, the fit of him and Russell has been awkward. During Brooklyn's successful January stretch, these two would alternate quarters with their scoring. Now, they are alternating games (and subsequently losing them).
If Dinwiddie and Russell can both have efficient volume-scoring nights, then Brooklyn stands a fighting chance against the surging 76ers.
Prediction: Brooklyn will go 2-2, placing the Nets at 2-5 over the full seven-game road trip. The Nets will squeak by with a close victory against the Sacramento Kings, record a convincing victory against the Los Angeles Lakers, lose to the Portland Trail Blazers by double-digits, and lose by four to seven points against the Philadelphia 76ers.