For the first time since drafting Odell Beckham Jr., John Mara and the New York Giants put on the big-boy pants that once led to Super Bowls.

December 20, 2015, the day Odell Beckham Jr. cemented the New York attention.
On a Sunday afternoon in the swamps of North Jersey, Beckham put his individual rights over the benefit of the New York Giants. From swipes to jabs, jawing to pile-driving, he and Josh Norman came together in a fashion that embarrassed a football world. (Rough rivalry is a great thing as long as it doesn't come in repetitive team-crippling form.)
Both players joined a special petulant club that day. Over four years later, both men are successfully joined at the hip while housed in a brand-new club.
Dave Gettleman's "too much to handle" club.
The 2015 First-Team All-Pro cornerback enjoyed a breakout season during the Carolina Panthers Super Bowl run only to be left out of Gettleman's Carolina picture shortly thereafter. The Panthers rescinded the franchise tag and he was free to negotiate with whomever.
Norman's production has since dipped quicker than Carmelo Anthony's NBA approval rating. Three average seasons in D.C. proved the long-time NFL scout right on the matter.
Earlier this week, Gettleman officially joined the two at the hip by shipping Beckham Jr. to the Cleveland Browns for Jabrill Peppers and the No. 17 and 96 overall picks in the 2019 NFL Draft.
While it's true Gettleman will receive the bulk of praise or blame in the coming years, make no mistake about the following statement: this was an ownership move. There's no path to trading such a player without C-level approval. John Mara finally endured enough and decided to refit his organization with the big-boy pants it once sported with pride.
The highly-emotional fans who can't understand the move oftentimes fail to separate two distinct OBJ truths. On one hand, the kid is absolutely possessed with a good heart. He's a good kid from a pure value perspective. Many teammates love his company and he's ripe to party when the moment serves fit.
Simultaneously, he's toxic within the team environment.
This is not the NBA. The NFL isn't a world served up with a LeBron James who makes the entirety of differences for whichever team he decides to hop to during his any given moment. Ownership, the front office, the coaches and every player will see it best to put up with such a monumental stud despite character shortcomings. It's just that damn important in such a league.
This is football. This is the sport in which 53 grown men go to battle every Sunday, the game that depends on trust in one another to a point of no return.
The Norman situation is just one. It represents just the first explosive attention grab. The off-the-field and in-between-the-lines nonsense that's gone on for half a decade is enough to halt any progress towards building a successful winner.
In fact, I first wrote about it a couple of weeks prior to the Norman blowout. It came after the Jets game in which Beckham kicked the ball out of frustration, yielding a 15-yard penalty at the most crucial juncture of the game. (Oh yeah, there's much more of this to come.)
Having already cemented his star status with "The Catch" in a meaningless primetime affair (in which the Giants lost, of course), the new instant-gratification sports world led to a crowing of a far-too-soon individual. Beckham Jr. still had miles to travel before he was ready to assume top-of-the-league prowess. If he wanted to be the best, he needed to change his ways. If he wanted glory, he needed to make the great catch, not the spectacular one.
He's yet to even come close.
In June of 2014, just weeks after his drafting, Beckham's first sticky situation cropped up involving a fake fiancee/girlfriend. No doubt this one isn't on Beckham fully (at least we don't think), but we're off and running.
In December of 2015, of course, as already detailed, the Norman feud begins. From there, a childish array of social media posts surface. Seriously, how does this help the Giants win football games?
In reference to Norman getting beat in a playoff game:
???

— Odell Beckham Jr (@obj) January 17, 2016
That boy should thank me for all I've done for you !!! Your welcome tho … Lol

— Odell Beckham Jr (@obj) March 25, 2016
@Obj_3 As your boy @Drake would say "trigger finger turn to Twitter finger's" huh?
I'm not Guna sub Tweet you Ima @ You.
So wassup?

— *Joshua R. Norman (@J_No24) March 25, 2016
What is this? If we wanted to see children sending tweets, multiple daycares are available. The social media aspect of OBJ's life presents far-too-many examples. From head-scratching remarks to rebuttals due to sensitivity, it's been madness for five years.
Then, in October of 2016, Norman part two commenced involving Minnesota Vikings defensive back Xavier Rhodes:
Have we not yet learned defenders will be targeting you, Odell? Have we not yet learned a price is to be paid for front and center stardom? It comes with the territory as does letting the childish stuff go.
It's pride oozing out in all the wrong fashions. The prideful professional wants to kick the opposing player's face in while the play is still live. Once that whistle blows, however, pride can remain while doing right by your squad.
In December of 2016, Beckham headbutts the locker after a loss against the Philadelphia Eagles. In January of 2017, he leads a wide receiver trip to Miami just a week shy of his first (and only) NFL tournament game. (Oh yeah, Justin Bieber was there.)
Beckham then put forth a miserable effort in Green Bay (after the nation-wide talk surrounded Eli Manning holding the team back), literally dropping his team's chances of running away with it in the first half. All that talk and limelight equaled a dud on the greatest stage, his one and only (to this day) opportunity.
In September of 2017, he urinates like a dog in the endzone. Perhaps a little performance art, but the idea now that this man must rehearse his touchdown celebrations every evening is of little doubt. What Jerry Seinfeld's speaking into the hair comb in front of the mirror is what OBJ represents in football form.
The penalties, oh the penalties. Emotion and sheer will don't always go hand in hand. Positive emotion is a quality attribute. Beckham Jr. hasn't figured out how to keep it away from the detriment department.
After coming up with the biggest play of the game during the Norman battle, in a tie game, mind you, No. 13 decides it's a good idea to step over him in the endzone.
@J_No24 @OBJ_3 shut the fuck up you are fucking garbage! Cam is he still mad? pic.twitter.com/mzfj1YAq3G

— #GettlemanHasAPlan (@NelsonGafanha) March 25, 2016
Luckily, no flag was thrown. This is Odell. Tie game with just minutes left, no team is big enough to control his selfish "look at me" actions.
Interestingly, Beckham said all the right things to the media following the game in which he was eventually fined and suspended one game.
"You never want to hurt your team like that. I have learned it all throughout my life, you know, always the second man gets called, always that it is just unfortunate – you go back and watch the film tomorrow and you learn from it."
Hence the "Beckham wants to win and says all the right things" movement began. The continuous "he needs to be jacked up to play better" craziness was spewed until it all came crashing down with bizarre actions unfolding before our very eyes.
The right words suddenly stopped at some point over the two years or so.
After his urination bit, Beckham incredibly offered up words suggesting he didn't care if his penalties hurt the Giants, via Gary Myers of the New York Daily News.
"For sure, but when I get in that end zone, I'm going to do what I do to try and spark this team," he said. "The consequences are going to be what they are. It's like life. You have to deal with the consequences. That's something I can take. Our team – we're motivated from that. I don't think it set us back any."
Simply astonishing. To slightly suggest nonsensical penalties come with the territory is a locker room disaster, pure and simple. Fans just can't grasp it due to the idea the team actually kept the noise in the locker room.
Through it all, the team decided to give into his payment demands (even after another incident involving a female, pizza and a little white powder). Five years, $90 million with $65 guaranteed. Finally, the kid got his dough. Finally, he'll grow up and do right by the team, the culture. This was the prevailing thought in and around East Rutherford.
Come on. Did you really think that was the path?
Beckham and Lil' Wayne took to the studio in incredible fashion. Among the topics discussed was his current happiness in New York. Naturally, after receiving his big-time deal, he left the question open-ended.
Other factors to consider are injuries and age. The kid hasn't been the most reliable player.
Of a possible 80 career games, he's played in only 59. This includes the final four games of this past season in which Saquon Barkley and the offense didn't miss a beat. In fact, they looked better without the crowned LSU prince at certain points.

The Eli Manning consideration is also up for grabs. It's absolutely true that Eli's play has dipped without OBJ's elusive presence on the field.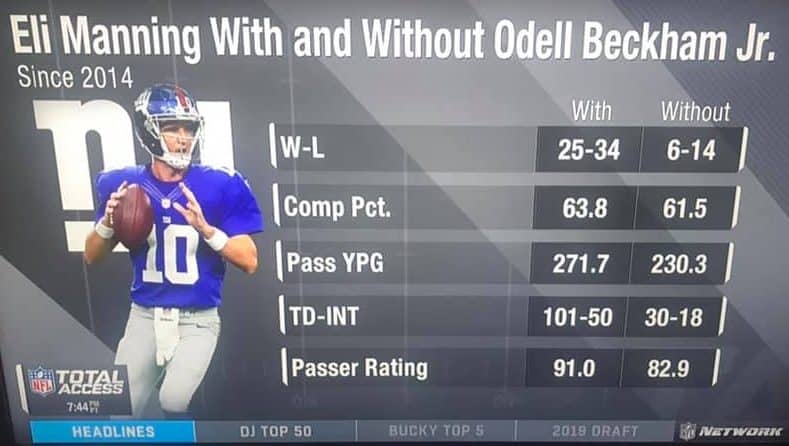 What's also true is this means very little.
The quarterback should see a dip in play when his No. 1 target is out. We're not comparing Eli with Beckham to Eli with a different No. 1 wideout. The graphic compares Eli with Beckham to Eli without a No. 1 wideout. If Beckham is part of the team, his play on the field will be missed. As part of the roster, the usual gameplan, the two scenarios simply cannot be compared.
Eli's play without the kid can only be compared post-Beckham, meaning with another No. 1 option not named Odell Beckham Jr.
Either way, with or without OBJ, the Giants represent a losing team. This is the critical aspect of the story.
Honestly, there were prior signs. Take the stiff cheap-shot-and-run incident in Buffalo earlier in the 2015 season as evidence:
Odell Beckham gets jacked up gets up and throws a punch #Bills #BilllsMafia pic.twitter.com/pkf6g44pZT

— People Over Profit ✌?❤️ (@Jiillyy) October 5, 2015
"Punching and running" strikes a chord with every player in the league. It's a respect issue that can't go unpunished. Victor Cruz, at times, did his best to call out defenders "targeting" his teammate, but lines had already been crossed in the eyes of many proud professionals.
The Giants, uncharacteristically as an organization, stuck with the Beckham program. In the eyes of neither the franchise nor the media (for the most part), the kid could do no wrong. Instead of tough love that might have turned it around, bowing down to his every word detailed the narrative. His actions were reinforced—even by Tom Coughlin on Norman day—to the detriment of not only the Giants, but the player himself.
He desperately needed a little tough love yet the rationalization game from all angles raged on. The excuse-making served as a reason to point the finger elsewhere.
Until now.
Instead of bowing down to a player who's clearly on another anti-squad level, they've dug their heels in the sand. Rather than running scared with the misery of what merchandise sales would look like without No. 13, they said "enough."
The Giants threw it back to the old days with this move. They threw it back to the likes of Lawrence Taylor who, yes, may have suffered through his issues, but rarely hurt his squad on or off the field. They said, "We need the next unassuming bull that resembles Mark Bavaro." They said, "Jeremy Shockey part two is officially over."
The organization essentially staked its claim to building the right team within the right culture with the proper individuals making up one cohesive unit.
Fans can rage all they want in Gettleman's direction. They can question his vision to the cows come home.
Remember, this is a man whose resume speaks volumes. As a scout with the Buffalo Bills, he helped bring four Super Bowl appearances. As a scout with the Denver Broncos, he helped build two Super Bowl winners. In the scouting department with the Jints, he helped build those teams that knocked off Tom Brady twice on the greatest stage. As a general manager in Carolina, he took Cam Newton to a Super Bowl.
Nine Super Bowl appearances (four in Buffalo, one in Denver, three in New York, and one in Carolina) and three championships (10 and four, respectively, if the 1998 Broncos are thrown into the mix). It almost sounds fictional. Every city the man travels brings with it Super Bowl opportunities and titles.
What the Giants did in acquiring all this draft capital is right up Gettleman's wheelhouse. In this league, one draft can turn everything around. Literally, just one. Yes, the Giants can compete in 2019. Rebuilding is a notion sillier than Elvis actually accepting Jerry Glanville's ticket. It's the simple and obvious nature of the salary-cap world of professional football.
So go ahead and hate Dave Gettleman. He'll brush it off as quickly as his last Super Bowl trip. Besides, usually, the toughest decisions are those that eventually turn into winning answers. There's a reason franchises like the New England Patriots and Pittsburgh Steelers always contend. They say goodbye to homegrown stars with a hefty dose of perfect timing—just before they teeter out.
In Beckham's case, "teetering out" may not represent his immediate future. But ramping up that Cleveland Browns drama is surely is. So much so that any self-respecting WWE writer would snatch a Browns 2019 storyline up in a heartbeat.
Amazingly, one day after the trade, he's asked to restructure his contract. (Somewhere, Vince McMahon is smirking.)
The stunning (to some) trade of Odell Beckham Jr. is a positive in Jints land. The true and deserving leader that is Saquon Barkley—the perfect kid whose character is a blessing—controls the throne while Gettleman the scout gets to work in a young man's landscape.
As for Eli Manning, well, he's an entirely long and contrasting story. Through it all, though, he didn't say one peep. Through all the antics and silliness, there he was, front and center while playing the perfect soldier.
Consider the team's last relevant season. During the playoff game in Green Bay that saw Beckham come up miserably short and the two-time Super Bowl champ firing gloriously in the first half, Manning didn't dare dream to throw any teammate under the bus. It's just his nature. It's part of the reason he walks around as a two-time champ.
Odell Beckham Jr., on the other hand, well, now has his shot with Baker Mayfield and Jarvis Landry, his former LSU college roommate.
Finally, after so many years of coddling and rationalizing, the New York Football Giants found their long-lost attire that always emphasized "team" over "individual." They finally and fortunately put on their big-boy pants of yesteryear.