Although the man threw three interceptions in his team's Thursday night loss in Philly, New York Giants QB Eli Manning is not the problem.
C
ongratulations
Dieter Kurtenbach
, you have now joined the ranks of the foolish.
Thanks to your short sided hot take of Eli Manning representing the weak link of a New York Giants offense that has underwhelmed us all season long, you've joined the table of your FOX Sports brethren. There, you sit, at the kiddies table while the likes of Skip Bayless and company continue to melt us with their "blistering" takes made for nifty sound bites with full intent to squash the competition.
Eli is the weak link.

— Dieter Kurtenbach (@dkurtenbach) December 23, 2016
Squash the competition, you don't, however, and that table is full of rich men who garner very little respect in the industry for which they get paid.
What ever happened to pure journalism? What ever happened to digging deeper than justifying a hot take title? What ever happened to real sports people informing real sports fans of the truth?
Has it all disappeared in favor of the dork, pocket-protector wearing hot take master?
Fortunately, for us, this topic needs very little digging. In fact, all it needs is a real football mind to witness New York Giants action.
Eli Manning is not the problem, as Kurtenbach so boldly professed in a Friday morning column for FOX Sports.
The offensive line is the reason Ben McAdoo and the two-time Super Bowl Champion quarterback fail to accomplish what they set out for each game.
It's so blatantly obvious that it's embarrassing for anybody to argue differently.
First and foremost, Bobby Hart needs to head to the nearest government office and hand in his man card. If such a card doesn't exist, political leaders need to swiftly create one for Hart to quickly relent. Philadelphia Eagles edge man Brandon Graham owned Hart all night.
Graham's four QB hits were only the tip of the iceberg. When Graham wasn't beating Hart to the outside, he was shooting inside or bull-rushing Hart in a way that'll force a man to rethink his status in this world. Oh yeah, he also picked up a huge holding penalty — just the one he was called for of the many on the night.
Graham's Pro Football Focus grade turned out to top his squad at a cool 92.4. It was a game-high mark, as far as PFF was concerned.
Hart's an obvious weak spot on a unit that is one of the worst in the league. Ereck Flowers, Weston Richburg, John Jerry, and Justin Pugh, who's far and away the best of the bunch, but is only two games into a return from injury, are the behemoths who make up one of the league's worst lines.
From Kurtenbach:
"All three of Manning's interceptions were examples of young, spry athletes taking advantage of a quarterback who just doesn't have the same zip anymore. They were picking on him, if you pardon the pun."

It's a shame that it's gone down this way — this Giants team could have been special. But Manning just doesn't have it anymore, and even with all the talent New York has on both sides of the ball, the Giants will only go as far as their quarterback can take them in the postseason.
What Manning faces on an every down scenario was brilliantly highlighted by Chris Collinsworth. Instead of featuring an average rushing attack — one that could actually force the defense's hand a tad — Eli is playing a disadvantage on every down.
Eagles blitzed Eli Manning on 2 of his 63 dropbacks, per @ESPNStatsInfo. Wow! Confident they can get there w/4 rushers and protect deep

— Jordan Raanan (@JordanRaanan) December 23, 2016
The #Eagles still managed to pressure Manning on 15 dropbacks, second-most vs. #Giants this year.

— Jordan Raanan (@JordanRaanan) December 23, 2016
Defenses literally dare New York to run the ball.
Just as Jim Schwartz did on Thursday night, defenses have done all season long. They play a shell defense with two safeties over the top and cushion across the board. This means seven are in the box and, still, the offensive line cannot rush the ball. 
Paul Perkins — who has seemingly taken control of the No. 1 spot on the depth chart — went for 68 yards on 15 carries in Philly. While the 4.5 yards per carry mark seems OK on the surface, it's extremely robust considering the seven-man box they faced on every down.
Offensive football is a very simple game. The QB and play-caller take what the defense provides. If the defense is aggressive and loves eight in the box — like a Seattle Seahawks D that loves the Cover 3 — the passing game becomes a more prudent threat as one-on-ones open up on the outside. If the defense is in a bend but don't break mode with two deep — like we saw from Philly a night ago — the rushing attack must come through.
If it doesn't, hard times are ahead for the quarterback.
No team in the NFL faces more Cover 2 looks than the Giants. It's easy to understand why. The club ranks 29th in rushing with an 83.4 yards per game clip. Worse yet, defenses never blitz the Giants. They don't need to. Three and four man rushes get to the quarterback with ease.
This falls on the offensive line. Joe Montana and Tom Brady can't successfully thrive against a two-deep look on every down. Eli automatically plays at a disadvantage on every down thanks to the five men in front of him.
Numbers can't describe the entire story.
One of the lone times the Eagles defense showcased a single-high safety in the first half, Eli torched 'em with a 20+yard 9-route to Odell Beckham Jr.
Eli did, however, throw three interceptions. The first one was bad. No veteran QB should ever make this mistake even in the face of a four-man rush that collapsed the pocket around you:
The second pick, coming early in the fourth quarter, again, was a bad one. But it had nothing to do with lack of arm strength. He was simply fooled:
The third one came via a desperation heave in hopes that something magical would happen:
As you can see, as clear as day, a three-man rush gets to Eli the most critical play of the game. Flowers is beaten badly and Eli actually gets hit as he releases the ball.
Kurtenbach, among his many follies, said, "All three of Manning's interceptions were examples of young, spry athletes taking advantage of a quarterback who just doesn't have the same zip anymore. They were picking on him, if you pardon the pun."
Simply incredible.
Has Eli Manning suffered through a down season? You bet. His 86.2 QB rating, lowest since 2007, is evidence of that. But it is his brilliance that has allowed his QB-INT ratio to stay firm at 26-16, rather than seeing a lesser QB put up a 16-26 mark behind this horrid offensive line.
And it is horrid, epically so.
It is Manning's talent and cagey experience that allows a low team sack number of 21 to not creep over the 50 mark. It is Manning sensing everything around him that forces this O-Line to save face.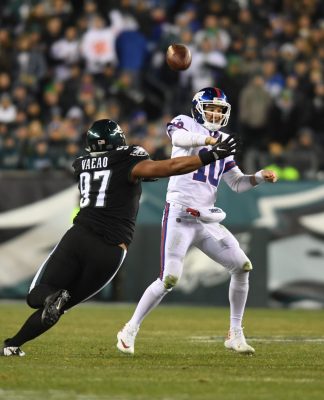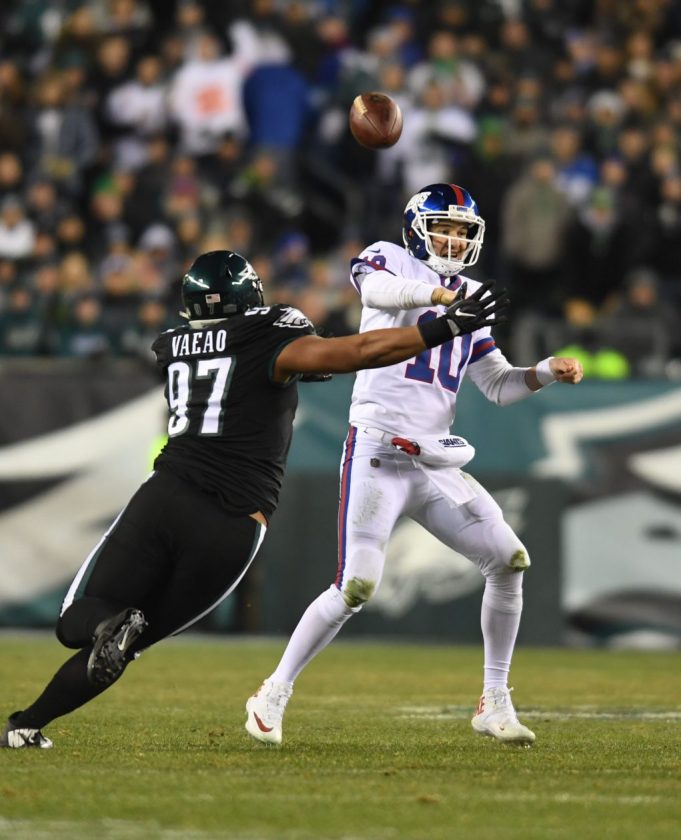 Manning's throwing of the ball — whether you believe it's on a downslope or not — is only a fraction of the equation in relation to what goes on every play.
There is no stat that can tell us how well Manning makes up for each offensive line deficiency.
Heading into the season, Pat Kirwan of the Real Football Network, named Manning the best QB in the league when facing a blitz. According to his analytics, Manning was only sacked once time for every 94 blitzes he faced in 2015. Interestingly enough, second on the list was Ryan Fitzpatrick who was sacked just once for every 47 blitzes he faced, a number far below the top spot of 94.
The point is, Manning does his job and then some. He covers up his O-Line's deficiencies to a level that leaves the casual onlooker blind.
You can claim Manning's experienced a down year all you want. That's fair. That's real.
What you can't do is claim Eli Manning is the reason the New York Football Giants can't legitimately compete for the Vince Lombardi Trophy in 2016.
That's not real. The offensive line is clearly the culprit.
If you do get on Manning, however, be careful. He may just smack egg all over that Fox Sports face of yours, yet again — for the third time in his Pro Football Hall of Fame career.