With the Big East Tournament beginning Wednesday at Madison Square Garden, check out our storylines and picks for the conference tournament.

Once again, all 10 Big East teams are at Madison Square Garden this week for the Big East Tournament.
It has been a crazy year in the conference that was filled with many unpredictable results. In fact, most of the seeding for this week wasn't decided until the final day of the regular season on Saturday.
The #MarchToMSG Is Over. The Stage Is Set

See you at @TheGarden Wednesday night.#BEtourney | @CBBonFOX pic.twitter.com/kWQUIFQep9

— #BIGEASThoops (@BIGEASTMBB) March 10, 2019
Most experts would say that this has been a down year for the Big East as a whole. While six of the 10 teams finished .500 or better in terms of conference record, four of those teams were tied for third place at 9-9. Villanova ended up winning the Big East on a tiebreaker with Marquette and they enter New York City having lost five of their final eight games.
In terms of how many bids the conference will get in the NCAA Tournament this Sunday, there are only three likely locks in 'Nova, Marquette, and Seton Hall. Seton Hall most likely punched its ticket to the big dance this past week when they defeated Marquette and 'Nova at the Prudential Center.
As for a possible fourth team, schools like St. John's, Georgetown, and Creighton are in the conversation depending on how far they progress this week.
Due to all the parity in the league, it is going to be tough to find a consensus on who will cut down the nets on Saturday night (6:30 p.m. ET, FOX). However, that doesn't mean we aren't going to try. But, before we do that, let's take a look at a few key storylines to watch during all of the basketball this week.
Golden Eagles Not Flying High
For most of the Big East season, Marquette was the dominant team in the Big East unless they were playing St. John's. They have the likely Player of the Year in the conference in Markus Howard. With that being said, it is a major surprise to see them heading to New York on a four-game losing streak and as the number two seed behind Villanova.
When you look at one of the reasons behind the losing streak, the Golden Eagles have a tendency to turn the ball over. Their 432 turnovers for the year are the most of any team in the conference and their -1.87 turnover margin is ninth in the league (Xavier is last at 2.48).
On offense, Marquette has two players averaging in double figures, but it is no secret that this team usually goes as Howard goes. The junior guard averaged 25 points per game, shot 41.6 percent from beyond the arc, and 90.2 percent from the charity stripe. While he has nine 30+ point performances this year, the junior went 10-for-36 from the floor against Seton Hall and Georgetown this past week. He did have 28 points against the Hoyas on Saturday, but that was on 25 shots.
If you are looking for others to watch besides Howard, junior forward Sam Hauser (one of two Hauser brothers on the team) shoots 91.9 percent from the foul line and had 14.8 points per game. However, he has scored less than ten points in two of the last three games. When he isn't scoring, he's leading the team in rebounding (7.1 per game).
The Golden Eagles have the ability to light up the scoreboard at any time. If they are going to make a deep run in the NCAA Tournament, their defense might just be the reason why. This year, Steve Wojciechowski's squad has allowed 69.2 points per game (second in the league) and they have held opponents to a conference-best 40.4 percent shooting.
Marquette won't start their Big East Tournament run until Thursday night. The question will be whether or not the time off will allow them to get back on track in time for the big dance. Regardless, Howard is a player that is must-see TV every time he takes the floor.
Locals Going In Opposite Directions
On February 23, St. John's and Seton Hall faced off at MSG with the Red Storm coming out on top, 78-70. At the time, it looked like the Red Storm were on their way to the NCAA Tournament and Seton Hall was squarely on the bubble. Fast forward a couple of weeks later and the local teams have had the roles reversed.
As mentioned earlier, Seton Hall is likely going to the NCAAs after their huge week and Kevin Willard's team finished third in the Big East. One of the main reasons for that is junior guard Myles Powell, who has put the Pirates on his back all season long.
Powell was second in the Big East in scoring (22.6 points per game) and has had 20 or more points in four of his last five games. With the Pirates losing a lot of their senior leaders from a year ago, Powell has taken that next step both on the offensive and defensive ends of the floor (two steals per game).
While Powell has been the primary scorer, sophomore guard Myles Cale has stepped up when called upon in some big games. On Dec. 22 in a road game against Maryland, he had a season-high 23 points. Plus, he had 19 points in Saturday's win over 'Nova.
Seton Hall will begin its Big East Tournament on Thursday night in the last quarterfinal game against Georgetown in what should be the most anticipated quarterfinal game. With the way both of those teams have played lately, the winner has a great chance to win the conference.
As for St. John's, their three-game losing streak took them from a near NCAA Tournament lock to playing for their tourney life on Wednesday night as the seven seed against DePaul. When you consider the Blue Demons have already defeated the Red Storm twice this year, you can't like St. John's' chances to come out on top.
You could make the case the Red Storm have been the most disappointing team in the conference. Yes, they have one of the top guards in the conference in Shamorie Ponds (19.8 points, 5.2 assists per game), but Chris Mullin's team has been inconsistent all season long in terms of finding reliable scoring options despite all five starters averaging in double figures.
We will have a more in-depth look at the DePaul matchup in a later article, but one of the things the Blue Demons have done well against St. John's is getting the ball down low since the Red Storm don't have much size. It will allow them either to get the offensive boards or kick it out to an open three-point shooter.
With the lack of depth the Red Storm have, it is tough to expect a long run this week. However, one or two wins would get this team to the NCAA Tournament, which was their preseason goal.
One of the main reasons for the recent losing streak is their defense as St. John's has allowed 80 or more points in each of the last three games. That is hard to fathom when you consider Justin Simon is one of the better defensive guards in the league. Simon won the conference's Defensive Player of the Year on Monday:
Congrats to @simon_Says_so on being named the 2018-19 @BIGEASTMBB Defensive Player of the Year! One of only three #SJUBB players in program history to receive the honor! ???

ARTICLE ➡️ https://t.co/dD1NuGNr30#WeAreNewYorksTeam pic.twitter.com/SMBcTP35iJ

— St. John's BBall (@StJohnsBBall) March 11, 2019
A loss on Wednesday would mean the hot seat would get even warmer for Mullin and a likely trip to the NIT. The pressure is on St. John's to deliver this week for sure after a rough end to the regular season.
Georgetown Going For Gold With Ewing
For some New Yorkers, getting to see Patrick Ewing as MSG is always a good sign. In his second season as the Georgetown head coach, Ewing has a team that is a year ahead of schedule who puts up positive results. While the Hoyas have a lot of work to do to make the NCAA Tournament, they will at least get an NIT shot as the program goes in the right direction.
When you talk about the Hoyas, the conversation starts with center Jessie Govan. The senior from Queens can not only dominate the paint, but he has the ability to hit the perimeter jump shot (41.3 percent from downtown). Govan has played less than 30 minutes each of the last two games after playing 42 minutes in a double-overtime win over Seton Hall on March 2 (21 points, 12 rebounds).
Govan might be the featured player, but a player to watch is freshman guard James Akinjo. Akinjo had 25 points in last Saturday's upset win over Marquette (tied a season-high). Yes, he has had four straight double-digit scoring games, but Akinjo's main strength is his ability to pass the ball. His 5.4 assists per game were the most of any player in the Big East. That alone will lead to your game being raved about by one of the better point guards in the NBA:
James Akinjo … PG for Georgetown is the toughest point guard in the country

— Damian Lillard (@Dame_Lillard) March 9, 2019
If you like drama, then Georgetown just might be the team for you. This year, they have played five overtime games with two of them going into double overtime. Since March is the month for close finishes and buzzer beaters, at least they can provide the entertainment factor this week.
Despite losing 101-69 to DePaul on March 6, the Hoyas come into New York City having won four of their last six games with three of those wins coming against the top three in the conference. With that kind of success, you have to think Georgetown is riding a lot of momentum heading into this week.
Blue Jays Building Late Bubble Case
Creighton is one of those teams that has been flying under the radar and is sneakily creeping up the NCAA Tournament bubble. The Blue Jays ended the season on a five-game win streak to finish 9-9 in conference play. While two of those wins came against DePaul, Creighton does have a road win at Marquette to hang its hat on.
On Saturday, Mitch Ballock stole the show against the Blue Demons. The sophomore guard had 39 points and was 11-for-12 from three-point range. To put that into perspective, Ballock had 36 combined points in the four prior games, but he is a 43 percent shooter from behind the arc.
Greg McDermott's team has a lot of balance on it as four players average in double figures led by sophomore guard Ty-Shon Alexander and his 16.1 points per game. The Blue Jays average 79.3 points per game (second in the Big East) and they shot 48 percent from the floor as a team. So, while they may not have that headline star, they still have one of the better offenses in the conference.
If Creighton wants to feel good about their NCAA chances, they will probably need to at least make the final. Yes, they have a neutral court win over fellow bubble team Clemson and the aforementioned Marquette win, but they also have two losses to St. John's.
Creighton's first game is on Thursday at 2:30 p.m against Xavier. The two teams split during the regular season with Xavier picking up an overtime win in their most recent meeting on February 13. One of the keys in this game is going to be whether or not forward Naji Marshall plays for the Musketeers. Marshall sat out Saturday's game against St. John's due to an ankle injury.
The frontcourt will be the area to watch in this one with possibly Marshall or Tyrique Jones going up against Martin Krampelj for Creighton. Krampelj sat out part of last season with an ACL injury and has returned to form as the junior has had double-digit rebounds in three of his last four games (6.9 per game for the season).
Now, it is time to make some picks.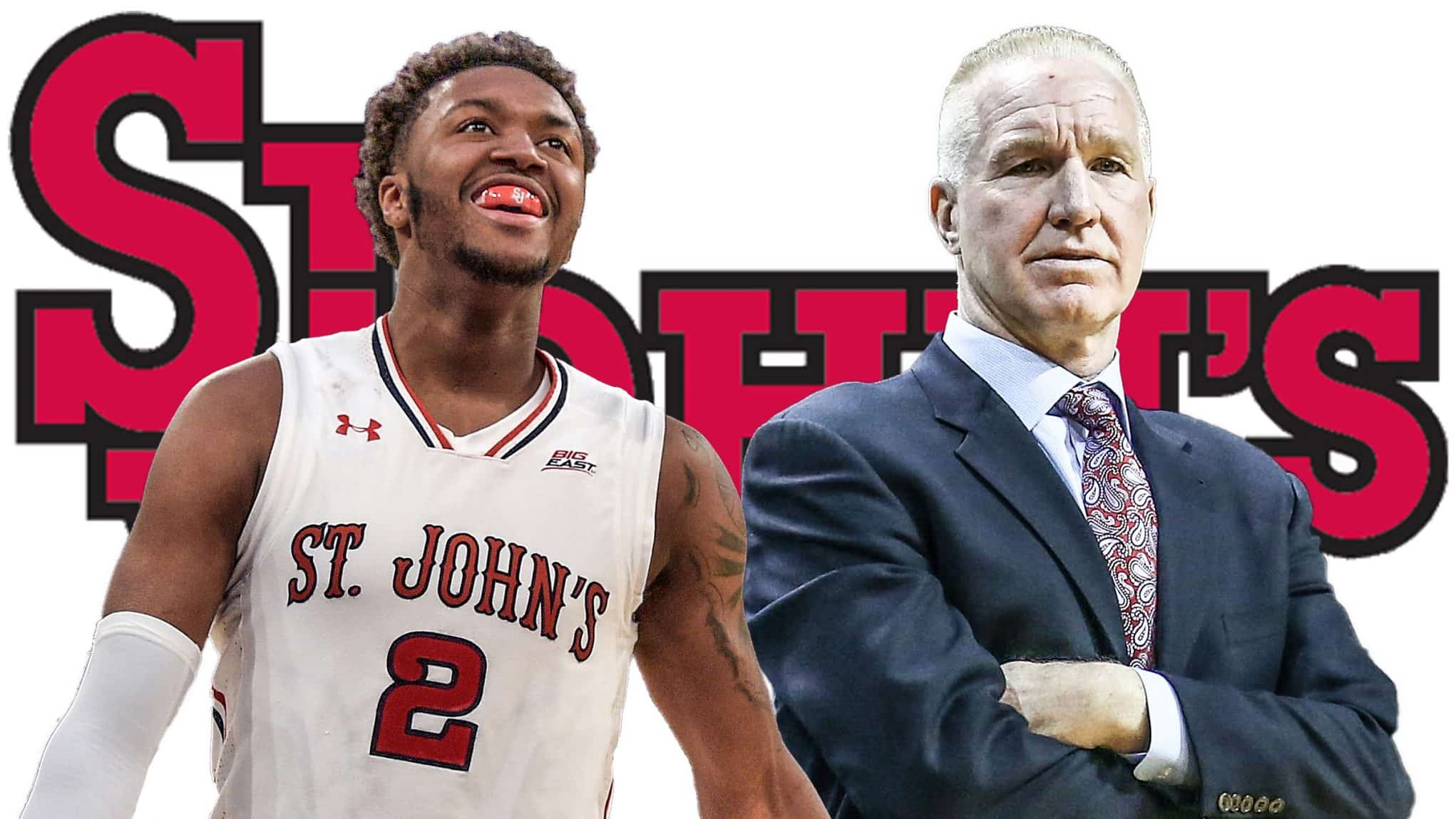 First Round – March 13
(8) Providence over (9) Butler
(10) DePaul over (7) St. John's
Quarterfinals – March 14
(1) Villanova over Providence
(4) Xavier over (5) Creighton
(2) Marquette over DePaul
(6) Georgetown over (3) Seton Hall
Semifinals – March 15
Villanova over Xavier
Georgetown over Marquette
Final – March 16
Villanova over Georgetown
These two long-time rivals haven't played each other in a Big East final since 1982, so maybe call this one a little overdue. Ewing was a freshman then when Georgetown won the title. While the Hoyas beat the Wildcats 85-73 on February 20, 'Nova gets the check mark because of the experience they have.
True, Jay Wright's squad lost some key pieces from last year's National Championship team. However, Phil Booth and Eric Paschall are back and Booth finished fifth in the conference in scoring at 18.6 points per game.
The question mark for Villanova will be whether or not their role players will make the big plays necessary to provide help to Booth and Paschall. For example, forward Jermaine Samuels had 29 points against Marquette in a win on February 27 and he only averaged 5.5 points per game during the year.
If Villanova is going to win the Big East title, then the defense is going to be the calling card as they only allowed 67.1 ppg. It is concerning that they ended the regular season on a little bit of a slide, but this is more a confidence pick that Wright can find a way to get the most out of his players.