With NFL free agency now just days away, the final plea for the New York Jets to ignore Le'Veon Bell's services has arrived.

No. Don't get him.
Nevermind the ultra-sleek examples calling for the New York Jets to finally put an end to their offensive superstar wasteland. Refuse attention towards the writers claiming the "fit is right."
The Kirk Cousins "fit" was also supposedly "right."
OK, bring it on. Shout out the obvious statement that the two situations aren't the same at all. "Apples to oranges," I believe is the term. The very same who shout that out amazingly attempt to compare Le'Veon Bell's arrival with Curtis Martin's.
Again, apples to oranges. When Martin arrived in 1998, Bill Clinton was in office. Monica Lewinsky was headline news. And the NFL running back still acted as a true workhorse. C-Mart was worth the heavy salary under the salary-cap, especially at age 25 (upon his arrival).
The Le'Veon Bell situation screams of desperation. Somebody has to yell from the rooftops relating to this subject on the eve of the legal tampering period unfolding.
Mike Maccagnan and the New York Jets, please ignore Le'Veon Bell on the open market.
Age
Bell, 27, isn't young. Folks, do you actually understand how old 27 is for an NFL running back? Year in, year out, age is a supreme factor among the league's top rushing leaders.
2018 Total Yards From Scrimmage by RB (with Age):
Folks, we are in living in fantasy land (pertaining to those who believe signing Le'Veon Bell is a good idea).
The asterisks signal the running backs currently older than the perceived free-agent whale. Only Adrian Peterson and Lamar Miller qualify. Bell is 27 now and will be 28 next February.
2017 Total Yards From Scrimmage by RB (with Age):
Todd Gurley, 23
Le'Veon Bell, 25***
Kareem Hunt, 22
LeSean McCoy, 29
Melvin Gordon, 24
Alvin Kamara, 22
Mark Ingram, 27
Carlos Hyde, 27
Ezekiel Elliott, 22
Jordan Howard, 23
C.J. Anderson, 26
Lamar Miller, 26
Frank Gore, 34
Devonta Freeman, 25
Alex Collins, 23
Christian McCaffrey,
Duke Johnson, 27
Isaiah Crowell, 24
Jay Ajayi, 24
Jerick McKinnon, 25
Latavius Murray, 27
Bilal Powell, 29
There goes Bell in the two-hole, racking up 1,946 total yards from scrimmage for the Pittsburgh Steelers during the 2017 campaign.
Don't' be confused; the anti-Le'Veon stance isn't an assassination on the man's overall talent and previous production. He's represented, arguably, the best back in the land over the last half-decade.
It's a simple matter of future investment under the unforgiving hard-salary cap, literally the engine that builds Super Bowl teams.
In any event, it's a youth charge yet again during the 2017 campaign.
2016 Total Yards From Scrimmage by RB (with Age):
David Johnson, 24
Ezekiel Elliott, 21
Le'Veon Bell, 24***
DeMarco Murray, 28
LeSean McCoy, 28
In each of the last three seasons, never has a man 27 or older finished in the top three in yards from scrimmage. In 2018, you'd have to get all the way down to the No. 13 spot (Adrian Peterson) to pick somebody out currently older than Bell.
The rebuttal? Fresh legs. Le'Veon's business decision that took him out for the entirety of this past season makes his age 27 feel like a 26-year-old.
All that does is get us into more fishy water: the man's complete unreliability.
Unreliability
Of a possible 96 career NFL games (six seasons), Le'Veon Bell has participated in just 62.
Think about this for a little bit. The man has missed a total of 36 games, good enough for 2.25 NFL seasons.
Whether it comes by way of injury, suspension or the most recent business decision of sitting out, he's as unreliable as it gets. It equates to a terrible long-term guaranteed investment at the money he currently requires on the oftentimes misguided NFL open market.
Cap Situation via Devalued Position
Figure a ballpark in the neighborhood of four-years, $60 million with $45 million guaranteed. This may be a conservative package.
Total: 4-years, 60 million
Signing Guarantee: $25 million
Total Guarantee: $45 million
Bell's year one cap hit will represent an astronomical number. With that monstrous $25 million bonus at signing, his yearly payouts would average $8.75 million per.
Base Salary:
2019: $10.5 million
2020: $9 million
2021: 8 million
2022: 7.5 million
The 2019 cap hit would equal the 2019 base of $10.5 million combined with whatever guarantees are alotted for that season.
Combined Guarantees:
2019: $10 million
2018: $7.5 million
2017: $5 million
2016: $2.5 million
Frontloading the deal is the key. It'll allow for the opportunity to cut losses after year two if the unreliable workhorse isn't working out.
Total Cap Hits:
2019: $20.5 million
2018: $16.5 million
2017: $13 million
2016: $10 million
The pushback (in the pro-Bell camp) is obvious and relentless. "The New York Jets come equipped to the open-market party with over $100 million in cap space." Bell can be afforded while still addressing other needs.
Of course, that pushback is true. What's missed is that it doesn't fit the narrative of a Super Bowl-winning team. Never do championship teams pay the running back an inordinate amount of money.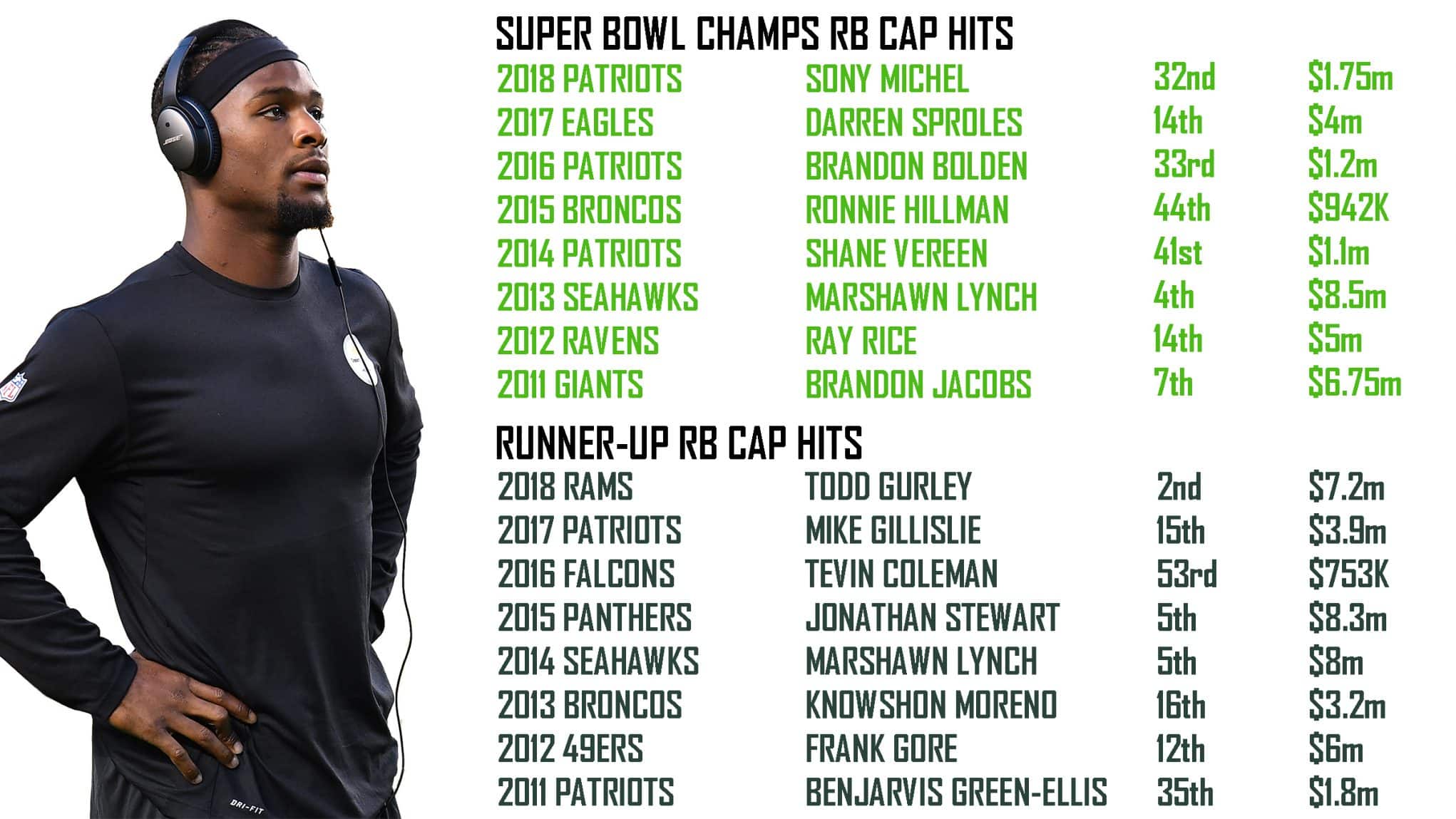 The runner-ups rarely do as well.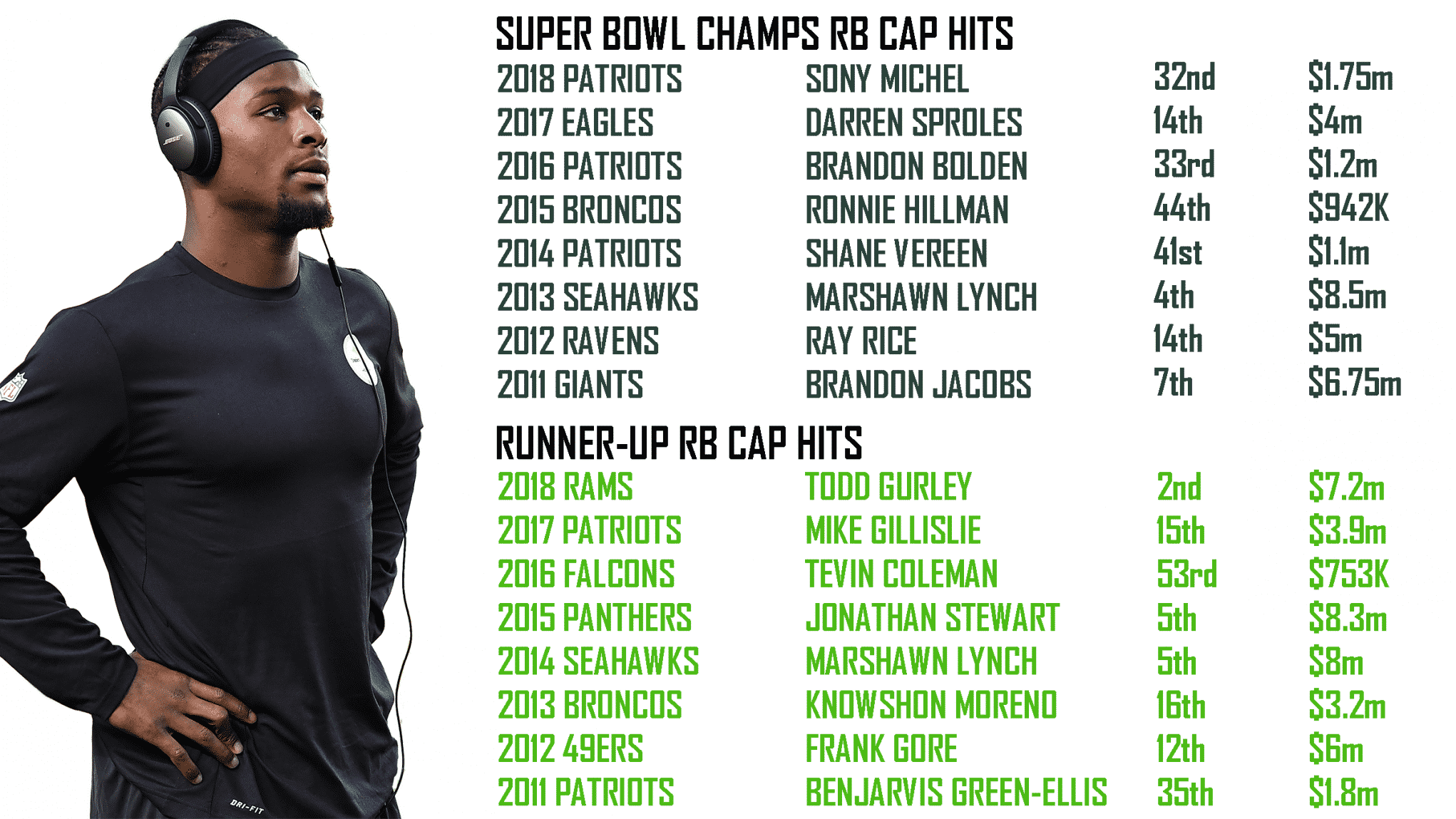 Why is this the case?
Quite frankly, it's simple; the running back position is one that bleeds value. It's a young spot (perhaps the youngest) that equates value while also on the cheap (mainly through the draft). It's also a spot that can be had by simply hitting on the right guy in the mid-to-late rounds of the NFL Draft.
RB Acting as Position that Bleeds Value
Le'Veon Bell himself isn't a first-round pick. He was a second-round selection out of Michigan State.
Routinely, studs are discovered in the most shadowy of places. Why load up such a percentage of the cap for a 27-year-old when the next stud can be had by simply drafting well?
Le'Veon Bell: 2nd Round
LeSean McCoy: 2nd Round
Joe Mixon: 2nd Round
Kerryon Johnson: 2nd Round
David Johnson: 3rd Round
Alvin Kamara: 3rd Round
Kareem Hunt: 3rd Round
James Conner: 3rd Round
Tevin Coleman: 3rd Round
Marlon Mack 4th Round
James White: 4th Round
Tarik Cohen: 4th Round
Devonta Freeman: 4th Round
Chris Carson: 7th Round
Phillip Lindsay: Undrafted
Yeah, folks, a Le'Veon Bell-type stud can be found in the draft and extremely cheap as per the loaded deal he's ready to receive.
The NFL running back position is one that bleeds value.
Extremely Reliant Upon the O-Line
One of the more under-the-radar aspects to Bell's candidacy with the New York Jets is his running style. The man is one of the more intelligent, patient runners in the game. He's rarely tackled for a loss yet takes his sweet time in setting up the second level.
Bell sets up the MIKE more frequently than any human. It contrasts with New York only due to the idea the offensive line isn't ready for him.
In the event Maccagnan does inject youth and move the O-line to a position of primetime, there's still a variable at play. Considering Bell's unique patient style, there will be a period of adjustment not normal to the average situation.
It's not a killer in terms of a negative, but it's a realistic notion and must be discussed when understanding the big fish is already 27 years of age. He and O-line will take several weeks to figure it out.
Le'Veon Bell's patience and vision is something the NFL hasn't witnessed in a long time. Watch the way he sets up second-level defenders.

There will be a serious adjustment period if the #Jets signed him, but this is NOT the reason I say no to Le'Veon Bell with the Jets. pic.twitter.com/36YbYWpv3L

— ESNY Jets Film Room (@jetsfilmroom) March 10, 2019
Again, it's not a dealbreaker, simply something worth noting. His unique style absolutely changes the mindset of every offensive lineman on the field. Instead of more surge power, standing straight up in the effort of longer engagement is required.
The best teams in the league deploy a young nucleus up front and if Mike Maccagnan decides to solely handle the O-line improvement through free agency alone, he'd be making a grave mistake.
New England Patriots
Los Angeles Rams
LT: Andrew Whitworth, Free Agent (2nd Round, CIN)
LG: Rodger Saffold, Drafted (2nd Round, LAR)
C: John Sullivan, Free Agent (6th Round, MIN)
RG: Austin Blythe, Waivers (7th Round, IND)
RT: Rob Havenstein, Draft (2nd Round, LAR)
Kansas City Chiefs
LT: Eric Fisher, Drafted (1st Round, KC)
LG: Cameron Erving, Trade (1st Round, CLE)
C: Mitch Morse, Drafted (2nd Round, KC)
RG: Laurent Duvernay-Tardif, Drafted (6th Round, KC)
RT: Mitchell Schwartz, Free Agent (2nd Round, CLE)
New Orleans Saints
LT: Terron Armstead, Drafted (3rd Round, NO)
LG: Andrus Peat, Drafted (1st Round, NO)
C: Max Unger, Trade (2nd Round, SEA)
RG: Larry Warford, Free Agent (3rd Round, DET)
RT: Ryan Ramczyk, Drafted (1st Round, NO)
Look at the over-the-top effort each of the top four teams from 2018 put into the O-line. Andrew Whitworth was a completion move. Without the young nucleus, he'd be lost.
Look at the New Orleans Saints and correlate their recent explosion of success with Alvin Kamara at the exact time Ryan Ramczyk was snagged in the first round.
New York Jets
After the recent addition of Keleche Osemele, it really does look like the Jets may not address the O-line in the draft, again. It's plausible based on the idea Maccagnan has drafted just two at the unit in 28 total picks spanning four seasons (both in the fifth round, 2015 and 2016, respectively).
Unless Kelvin Beachum is cut or isn't a stone-cold lock to start at left tackle (instead, snagging one early in the draft), this line is not ready for Le'Veon Bell (even if Matt Paradis is acquired).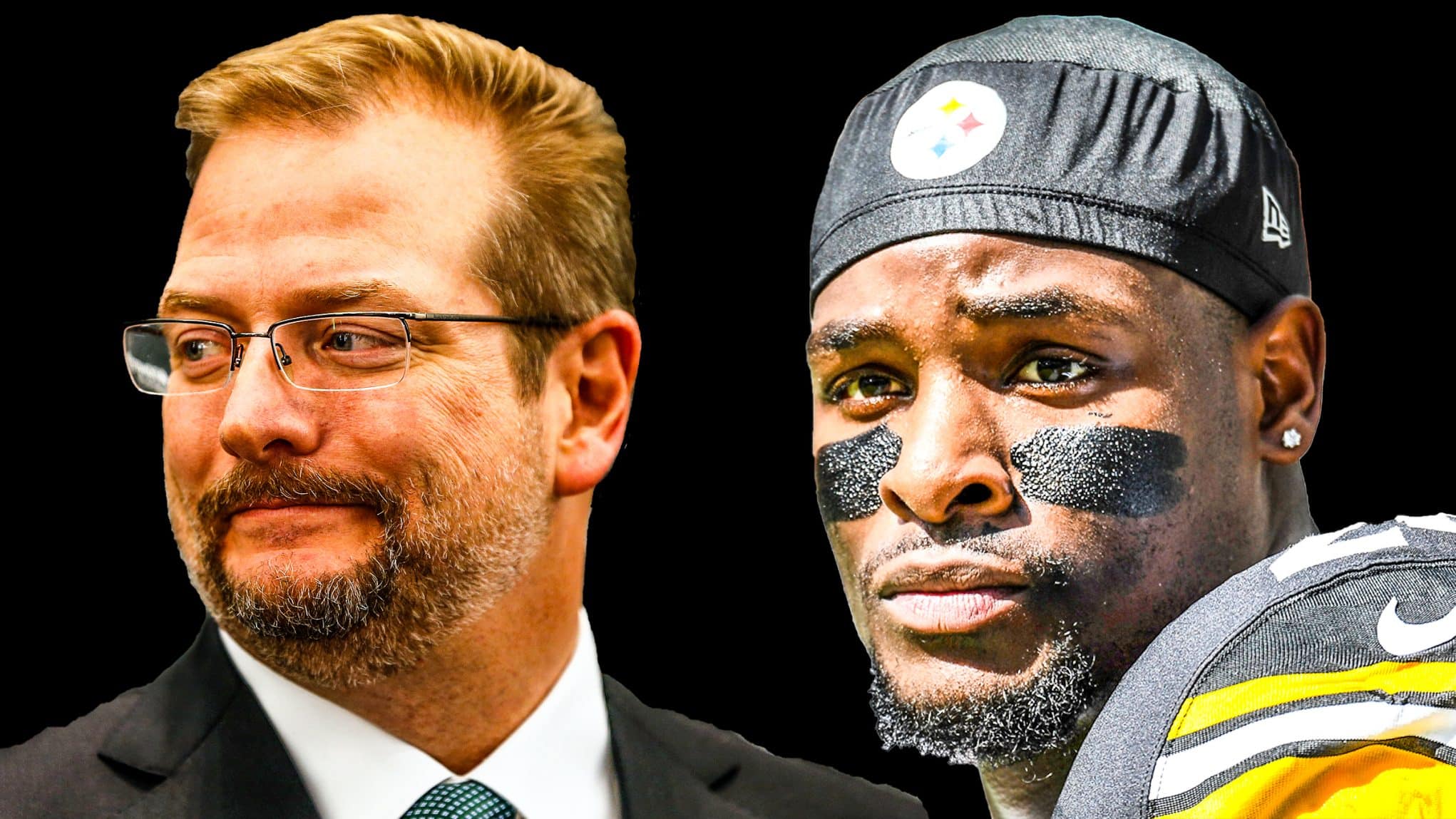 A Roster-Completion Move, Not a Building-Block
Le'Veon Bell, Antonio Brown—these guys are the extra sprinkles, the shine to the already built birthday cake. The actual base of the cake (the offensive line, the four-man conventional pass-rush, the affordable young nucleus) has yet to show face.
By dishing out monstrous money to the one position that bleeds value unlike any other for a man who'll be 28 in year two is a move that sets the salary-cap future back a few notches. It's a hindrance that'd be rationalized by silly factors such as "the Jets haven't possessed a stud weapon in some time."
Great offensive lines breed great weapons. If it weren't the case, the Kansas City Chiefs would have been dead without Kareem Hunt. It untrue, how in the world did C.J. Anderson do his January thing? If false, we would have no idea who James Conner is.
In 2017, Le'Veon Bell finished the season with a 4.0 yards per carry. In 2018, James Conner sported a 4.5 mark while still acting as a legitimate threat in the passing game. Bell's career yards per carry is 4.3 (while putting up sparkling numbers of 4.7 in 2014, 4.9 in 2015 and again 4.9 in 2016). Conner's 2018 per attempt production is better than Bell's from an overall standpoint.
Name the last stud free-agent running back acquisition that helped a Super Bowl-winning team to glory? DeMarco Murray? LeSean McCoy? Adrian Peterson? Marshawn Lynch? The reason it doesn't happen isn't simply due to the idea studs don't hit the open market. They do. It's that after the rookie deal, the running back is screwed by time. The shelf life doesn't jive with overwhelming second-contract success.
Positives:
Signing Le'Veon Bell would immediately improve the New York Jets offense.
Negatives:
Everything else.

Salary-cap ramifications
Age
Positional devaluation
Positional value on the cheap
Individual unreliability
Simply improving today doesn't automatically equate to the right move for tomorrow. Improving just a little right now doesn't necessarily move the chain towards building that Super Bowl team Jets fans desire and deserve.
If the world changed tomorrow and the salary cap suddenly vanished, well, then, my friends, it's on. Go get the man and get to work.
Unfortunately, that's not the reality of the National Football League, the entity Jerry Glanville so famously once dubbed "Not For Long."
One of the greatest reasons the Pittsburgh Steelers field success one year following another is the organization's understanding of the system. They rarely sign mega free agents and always say goodbye to stars at the right time. It's a system that'd be foolish to shun.
Elijah McGuire is not the greatest NFL back; that much is certain. But the Jets are not quite ready to worry about it. Too many other spots are on the plate and up for grabs.
Pairing McGuire with a sturdier, short-yardage bull who doesn't wreck any portion of the cap is more than enough under the normal circumstances of an average-to-good O-line and Sam Darnold in tow—at least for now.
Do you honestly believe James Conner would tear it up with the Jets 2018 O-line? The trenches on both sides of the ball massively lift the production everywhere else. What Jamal Adams will do with a legit four-man conventional pass rush is a scary proposition.
Resist the temptation. Ignore Le'Veon Bell on the open market and build the house, the young nucleus that's rewarded with the longterm success New York Jets fandom deserves.